As you know, the trumpet is a timeless and unique instrument which is famous for being able to create the highest pitch voice among many instruments.
It can be said that trumpet is perfect for delivering your passion and love for music. Hence, now we will suggest for you some of the best trumpet players whose performance is highly appreciated.
However, we do not make sure that this list will really suitable for you as it seems to be subjective. Let's take a look at our selection and see if they are your favorite.
Top 15 Greatest Trumpet Players of All Time
1. Louis Armstrong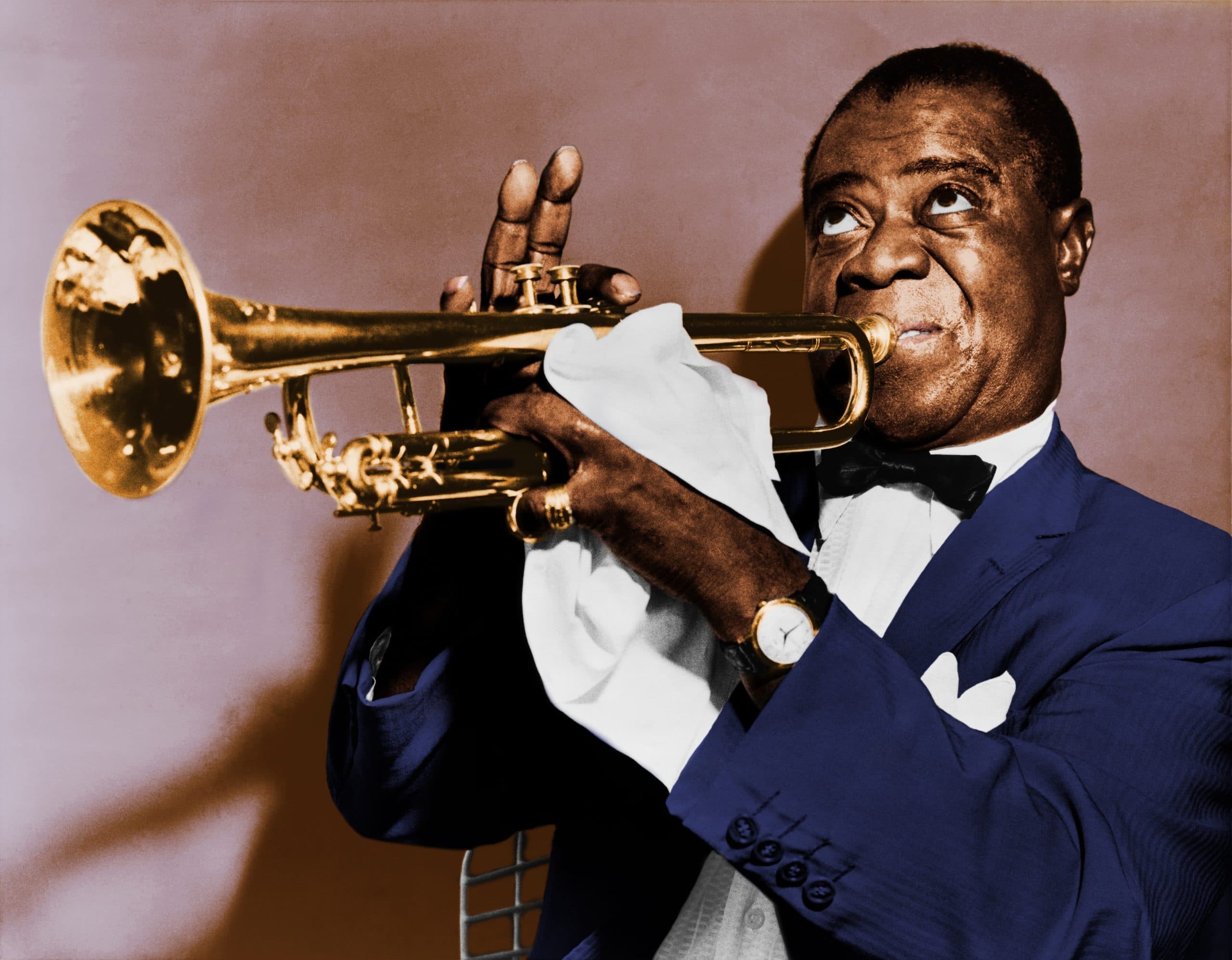 Being one of the most powerful factors in the world of jazz as well as the best trumpet player ever, Louis '"Satchmo" Armstrong created masterful phrasing and virtuosic, groundbreaking trumpet playing as well.
His singing along with these fantastic things highly motivated age groups of musicians for decades.
He was born in New Orleans and passed away in New York. Not only was Armstrong an outstanding musician but he also was fondly known. He attracted to both inside and outside audience of the jazz's world.
At the early stage of his career, Armstrong had played on New Orleans riverboats. After that, in the early' 20s, he moved to Chicago in order to take part in Joe "King" Olivers Creole Jazz Band.
Some extraordinary trumpet songs were recorded throughout the mid' 20s. During this period of time, some of his best playing such as "Potato Head Blues" and "West End Blues" were produced with his notorious Hot Seven and Hot Five groups.
Not until 1956 when the movie "High Society" was published did his attractiveness begin spreading more widely until his death. As a passionate artist, Armstrong did not stop working.
In the few following decades, he released some superb recordings such as "What a Wonderful World" and "Hello Dolly." Just few years before his death of 69 years old in 1971 did the stop touring up.
However, he was still considered to be one of the most powerful artists in the world of jazz and the best trumpet player ever. His entire career was occupied with recognition, honors, and awards.
2. Chet Baker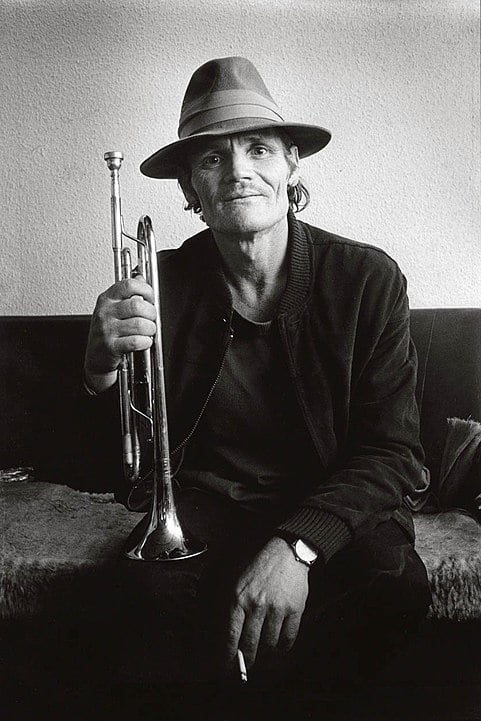 He's born in Oklahoma, one particular thing was that hardly had anybody know about his death. People widely believed that Baker committed suicide by using the drug.
It was at school that he started to learn to play the trumpet and developed it during the time playing in a band of the US Army. However, he was extremely successful in his career when joining the famous Gerry Mulligan Quartet.
The performance that he made at that time received lots of commendations mainly due to the playing combination of trumpet and Mulligan's baritone sax.
Moreover, he also recorded Chet Baker & Crew, one of many fine discs with tenor player Phil Urso (who stayed in Denver in the '90s and died here five years ago)
He was considered as a talented trumpet player; however, he faced the severe problems of drug, particularly during his adult time.
In his career, Baker released many albums, and he seemed to spend much time for his work without having time for rest. That's is the reason leading to his death in Amsterdam in 1988.
3. Lee Morgan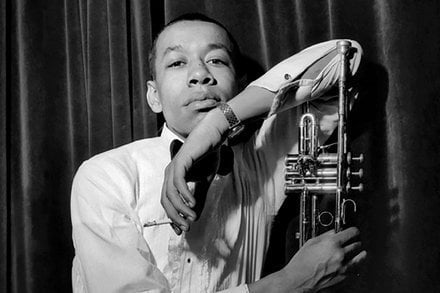 ​At the age of eighteen, Lee Morgan started out playing in Dizzy Gillespie's big band as the main force in hard bop.
After that, he continued to record John Coltrane's epic 1957 album, Blue Train, as well as many discs with Art Blakey's Jazz Messengers and Hank Mobley.
4. King Oliver
The birthplace of Joseph Nathan (King) Oliver was in New Orleans. However, he spent his last year of life in Savannah.
He was originally a jazz cornet bandleader and player, and he was well-known for owning a strange playing style, as well as becoming the first person to use mutes in jazz.
In addition to being the best trumpet player, King Oliver was also known as a talented composer. Thus he became the teacher and mentor of Louis Armstrong.
He was such a great person that Armstrong had to claim:"Jazz would not be as it is today without the contribution of Joe Oliver."
In 1922, he formed a group called "King Oliver and his Creole Jazz Band" which gained much success.
After that, in later years, because Olive had trouble with playing trumpet owing to his gum disease, he had to hire other trumpeters to continue the solo work.
It is really sad to say that because of Oliver's weakness in business, he had been stolen a lot of money from dodgy managers.
5. Fats Navarro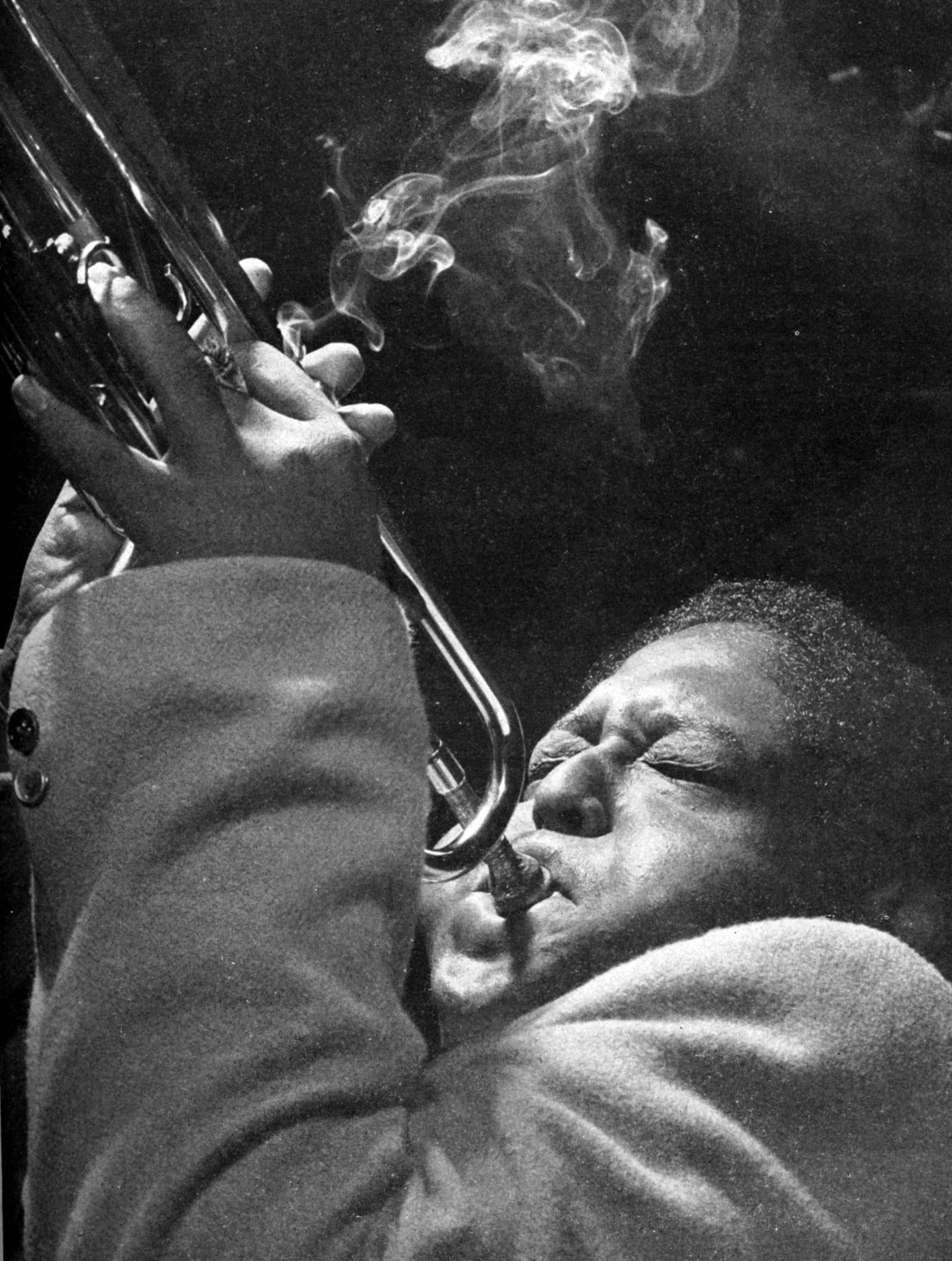 It will be a big mistake if we do not mention about Theodore "Fats" Navarro, one of the best trumpet player of all time.
He showed incredible ability and was regarded as a potential trumpet player, however, unluckily, he died very early, just at the age of 26.
The underlying cause of his death was a combination of tuberculosis and heroin addiction.
Besides Dizzy Gillespie, Navaro was known as one of the bebop's greatest trumpeters, as well as influenced much on Brown.
Throughout the '40s, Navarro recorded and performed with Kenny Clarke and Tad Dameron.
6. Alison Balsom 
Alison Balsom was a well-known English famous female trumpeter. She was an excellent player in the classical trumpeters' world. Balsom was born on 7 October 1978.
She was one of the greatest female classical trumpet players, and that made her unique.
When listening and watching the sound and the way she plays, you can easily be attracted by her skill and beauty.
I am really impressed with her extensive discography. I also admire her very much because of her dedication to creating music and record albums.
7. Clifford Brown 
Trumpeter Clifford Brown died at an early age of 25 in 1956 because of a car accident.
But he still inspired and impacted lots of players, such as Freddie, Donald Byrd, Lee Morgan, and Hubbard.
Fats Navarro was the one having significant influences on Brown that was represented in many of Brown's albums recorded before his death.
Typically are the incredible album with Sarah Vaughan (a singer) in 1955, some fantastic records with Max Roach (a drummer), Clifford Brown with Sarah Vaughan.
As a composer, Brown wrote two works- "Daahoud" and "Joy Spring," which became the standard of Jazz.
8. Miles Davis 
One name maybe familiar to you is Miles Davis. He was so talented that he took charge of many tasks at the same time: a composer, a bandleader and of course, a great trumpet player.
Davis was considered as a monumental innovator and especially the greatest trumpet player. He influenced and changed music many times.
With the release of his Cool album (although recorded in the late 1940s, it was not issued until 1956), Davis started the break of a new movement of the smooth jazz.
He was born Alton, Illinois in a family with the middle-class background. Only at the age of 12, he had begun learning how to play trumpet.
His memorable and great achievement was to become a pioneer in making some changes in the West Coast genre of jazz.
In 1959, he released an album called "King of Blue," which quickly became the best-seller album in the history of jazz. After that, Miles continued to extend his magic with electric instruments.
As you know, this experiment was the beginning of combining fusion and jazz rock together. Miles David died in Santa Monica in 1991.
Ten years later, Davis introduced a new fusion of jazz and rock with the Bitches Brew and in a Silent Way. Unlike Dizzy Gillespie playing at high notes or breakneck speeds, Davis choosed to enjoy the middle register.
To him, the magic of music does not lie in the space between the notes you played; it's the ones you don't play.
9. Art Farmer 
In the '50s, Art Farmer began playing bop with Sonny Rollins, Gerry Mulligan, Horace Silver and Gigi Gryce throughout the '50s.
However, the warm-toned Farmer started out other styles beyond bop.
Because Farmer could play with various styles, he was hired by many arrangers such as George Russell and Quincy Jones.
Farmer and Benny Golson together established the Jazztet in 1959, and in 1960, they released a brilliant disc called Meet the Jazztet.
Take the role as a leader; Farmer continued to release some great albums, including 1963's Live at the Half-Note, which focused on guitarist Jim Hall.
10. Donald Byrd 
In the late '50s and early '60s, Donald Byrd started out releasing some some damn fine hard bop albums on Blue Note such as Fuego, Byrd in Hand and the most famous album called A New Perspective, while other trumpeters still continued to be fond of funk and soul jazz until the '70s like Black Byrd and Places and Spaces.
Bryd took the role of a sideman. Moreover, he performed and recorded with many legendary players in terms of Sonny Rollins, Herbie Hancock, Eric Dolphy, Jackie McLean and Wes Montgomery.
In the early '90s, a wonderful combination of jazz and hip-hop had been made by Donald Bryd and rapper Guru.
At first, Guru tapped Bryd to play on Vol.1 Jazzmatazz and then Vol.2: The New Reality.
11. Derek Watkins 
Derek Watkins was considered as the best lead player by his fellow professionals in his generation. He suffered from cancer and died at the age of 68.
Watkins joined in most of the soundtracks in the films of James Bond, typically are Dr. No in 1962, Skyfall in 2012, the iconic theme in Monty Norman and Goldfinger of John Barry as well as the one in For Your Eyes Only of Bill Conti in 1981.
12. Arturo Sandoval 
Arturo Sandoval is a perfect and blazing trumpet player from Cuba. He attracts lots of audiences around the world due to the supercharged tone as well as the highest register. That's also the reason making him the greatest trumpeter up till now.
Especially, when playing with the lower sound, he can give you a really comfortable and relaxed feeling.
He can play anything, even with the change from tackling classical repertoire to jazz in the same concert.
He's also eager to learn to extend his repertoire. Furthermore, Sandoval always wants to satisfy the crowd by playing high notes to show the music value; however, he still does not release any record greater than the ones of his preceded trumpeters.
13. Freddie Hubbard 
After releasing the first debut-Open Sesame, 1960, Freddie Hubbard continued to work as a colossal player in hard pop, besides trumpeter.
It was partly due to his stint during three years with Art Blakey (The Jazz Messengers) in the early 1960s.
Some of his best hard bop record at this time were Hub-tones, Breaking Point and Ready for Freddie. Over ten year later, he tried soul jazz and post-bop.
And in the early 1970s, he issued the recordings of Straight Life and Red Clay which are also the ones marking his five-decade career.
14. Dizzy Gillespie 
Not only was Dizzy one of the first architects developing bebop but he was also the crucial contributor to the Afro-Cuban movement.
Dizzy did a great job in each field he specialized in which are virtuous player and leader. For example, he could play trumpet at dizzying tempos and even high register.
Besides, he also released lots of albums before he died at the age of 75, in 1993.
He published lots of records during the 1950s, typically are Bird and Diz, Diz and Getz and the live album in 1957 which is recorded at the Newport Jazz Festival.
Gillespie also took responsibility for one of the stellar plays (with Bub Powell and Charlie Parker) on the legendary live album of Quintet at Massey Hall which is among the most wonderful bop records.
15. Maynard Ferguson 
Maynard Feguson, who is a leader of a band as well as a trumpet player, died at the age of 78 of kidney and liver failure.
His extraordinary, fortitude power and lip-torning-apart high-note command factually terrified all brass players around the world at his time.
60 albums were recorded throughout his career, all of which lasted for above 60 years. Besides, he took in television, movies and a chain of awards as well.
"When he played lead, like an octave or two octaves above the band, it just lifted you out of your chair." said his saxophonist Lanny Morgan.
Furthermore, Ferguson could play decent jazz as well as really sensible ballad solos in the right place.
Nonetheless, in the opinions of nearly all of big  bands' fans, it was such an electrifying arrow into the stratosphere that they had heard.
Summary
The best trumpet player greatly has been contributing to the art of the world and make our world more beautiful and diverse.  Hopefully, you find this article useful and knowledgeable.
If you find your favorite trumpet player or have any questions, please let us as well as our readers know by commenting below.

William Cramer, the founder of Fire Inside Music, started to learn music in 2012 with a piano. He has continued to level-up his playing skills and wanted to share his journey and knowledge with other beginners. He launched Fire Inside Music in 2017 to make playing music more approachable for everyone looking to master a musical instrument.