Hello guys! Welcome back! Since our previous post, have you chosen an ideal piano for your desire yet?
If not, why don't you continue to check out our Yamaha MX61 review? Yamaha's model in that review is quite affordable and compact, which makes it a good pick.
Read on to know more about this remarkable piano as well as its exceptional features and related aspects.
Highlights Of The Yamaha MX61

Let's start with the following shortlist of specs and characteristics of Yamaha MX61 before going into details:
The onboard VCM FX engine
Music production suites
16-part multi, 128-note total polyphony
61 high-quality velocity-sensitive keys
Real-time control over DAWs and VSTs
Effective MOTIF sound engine
Controlling up to eight elements per voice
Essential iOS FM digital synthesizer app
Dropout-free live performance
Recording/playing back stereo audio on 16 MIDI channels
Complete analog and digital connectivity
1/8-inch aux line input
Auto shutdown setting after a period of inactivity
Bundled software: Cubase AI, Steinberg Prologue, Yamaha YC-3B
Dimensions (W x D x H): 38.7″ x 11.7″ x 4.4″ (984mm x 299mm x 112mm)
Weight: 4.8kg (10 lbs., 9 oz.)
An In-Depth Yamaha MX61 Review
Now, it's time for what you get from the Yamaha MX61 model:
Smart Design
You want to get a perfect controlling center for your studio or stage, don't you?
The MX61 with lightweight design as well as excellent effects and controlling features will be your best pick.
The smart combination of its highlights has attracted lots of music producers and performers.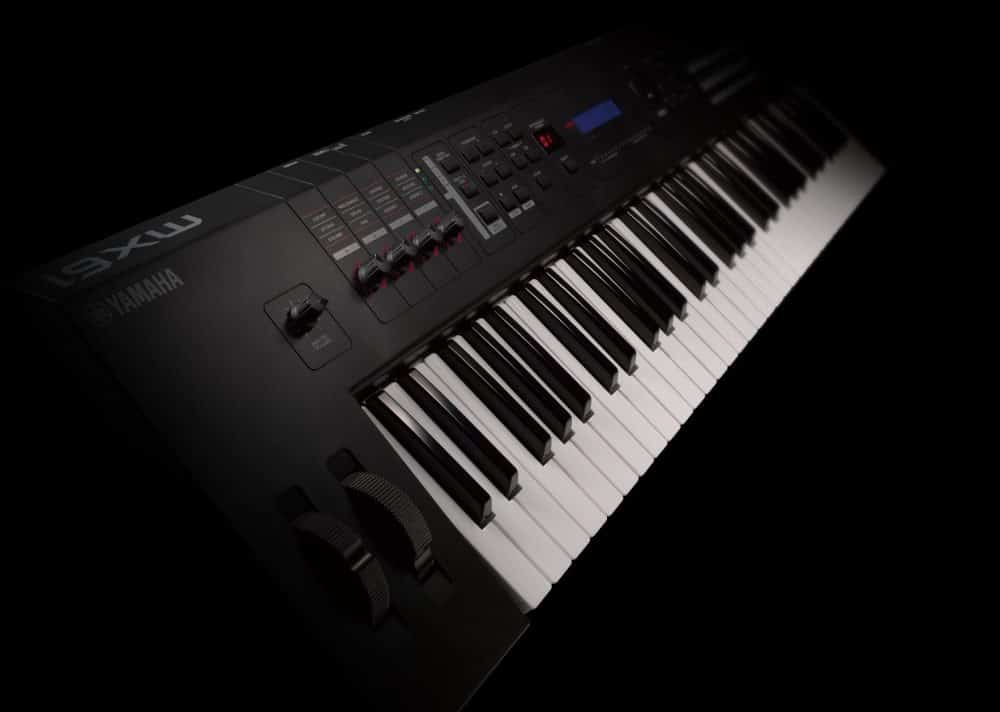 While many keyboard controllers use mid-priced OEM keyboards, this model comes with an expertly crafted and unique keyboard of the brand.
Plus, you can easily use the built-in indented handle to carry this 4.8kg body and display it in your compact home studios as well.
Besides, it features a streamlined interface for the various voices selection. That superior category selection will allow you to find the necessary voice conveniently.
Also, the model can function as an audio interface. You can edit and then store sounds right onboard.
Rich Sounds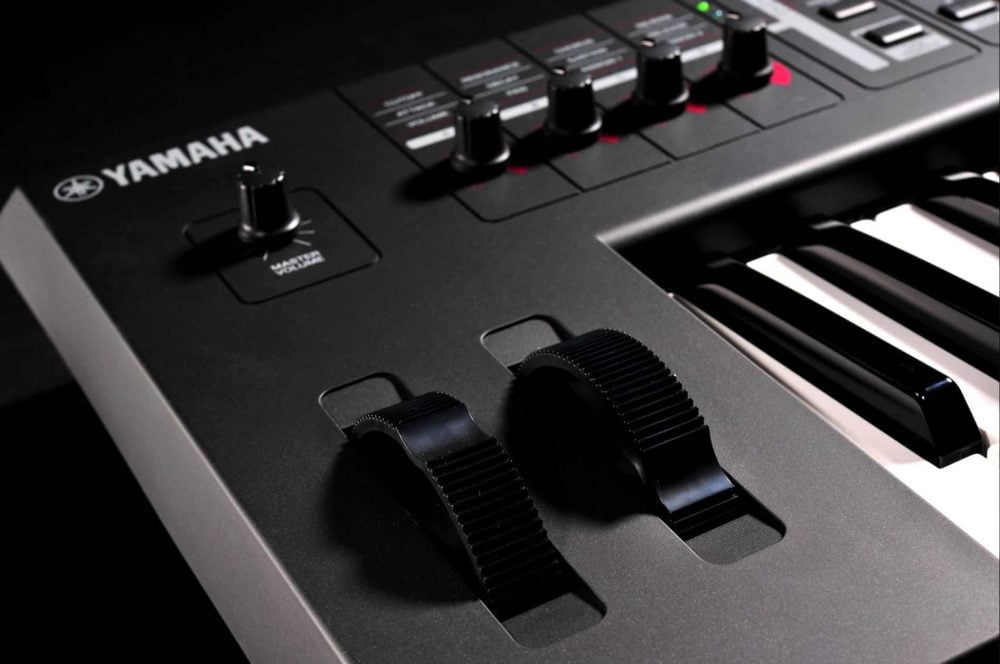 How about the produced sounds?
The MX61 model's sound quality is exceptional, with 128 voices of polyphony.
Notably, as a part of Yamaha's MX series, the MX61 has over 1000 Voices directly derived from the well-known Yamaha's MOTIF XS series.
Due to the variety of sounds, ranging from realistic and rich acoustic ones such as electric piano, drums, or strings to complicated synth ones, you will have all of the favorite voices at your fingertips.
Overall, in its price range, the sounds are not bad. Many of the other Yamaha's competitors cannot provide users the similar sound quality in their models.
And this is one of the things we appreciate about Yamaha's awesome keyboards.
Convenient Connectivity
The connectivity is another notable aspect of the MX61!
This synthesizer will enable the full integration with your personal computer thanks to the iOS music software and bi-directional USB audio/MIDI interface. The interface allows plug-and-play connectivity with no drivers installed.

Thanks to that feature, you will be able to record internal sounds immediately to the PC for excellent sound without approaching analog systems.
Furthermore, the USB-to-device port on the rear will enable the flash drive connection and help you transfer and store data efficiently.
The USB connection will also help you listen to all sound through the headphone output of the synthesizer.
Additionally, there is a 1 x 1/8-inch aux line input allowing you to connect your mobile devices or tablets, too.
Also, you can connect this item to PA gears or external studio monitors to review DAW tracks. It works with almost all music monitoring software.
Controls
Navigating this MX61 is also easy as pie. Its black and white keys are quite smooth, balanced, and playable.
Atop panel, there are sleek, sturdy and convenient knobs and buttons for more exceptional sound management and internal sounds control.
Its multifunction knobs can help access functions via knob function buttons.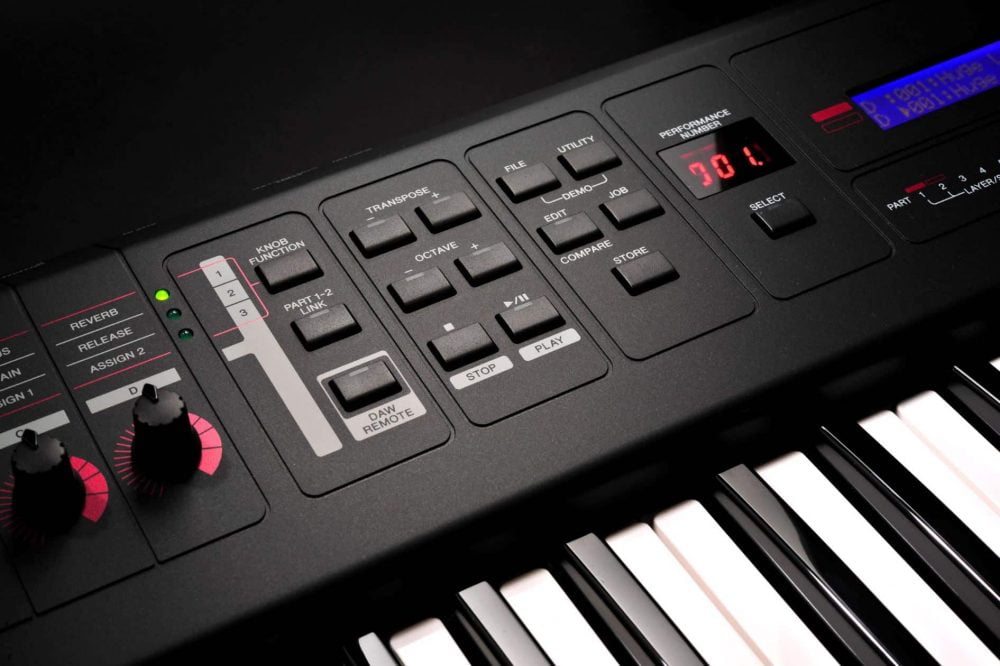 They are also available for DAW functions in case your instrument is in DAW Remote status.
The streamlined and comfortable interface will let you seek, edit, or store sounds more quickly. If you want to tweak that interface according to your preferences, don't forget to make use of its template editor software.
Notably, the advanced templates can combine with AI Knob and Cubase, which gives you complete control of parameters.
Single sound programs or voices are in logical positions in 16 different categories. It is not difficult to find them by utilizing the item's category button and the jog wheel.
Those category buttons will also allow you to achieve  16 different sounds and to switch between them with only a touch.
Sleek Package
In that package, you will get the specified power adapter (PA-150 or an equivalent suggested by the brand), owner's manual, and Cubase AI Download information.
That manual will let you know how to set up the model in the right ways and how to perform some basic operations. Don't forget to read this document before using your instrument.
For further information, you can visit this link right here and consult other online materials, including reference manual, synthesizer parameter manual, and data list.
Pros And Cons Of The Yamaha MX61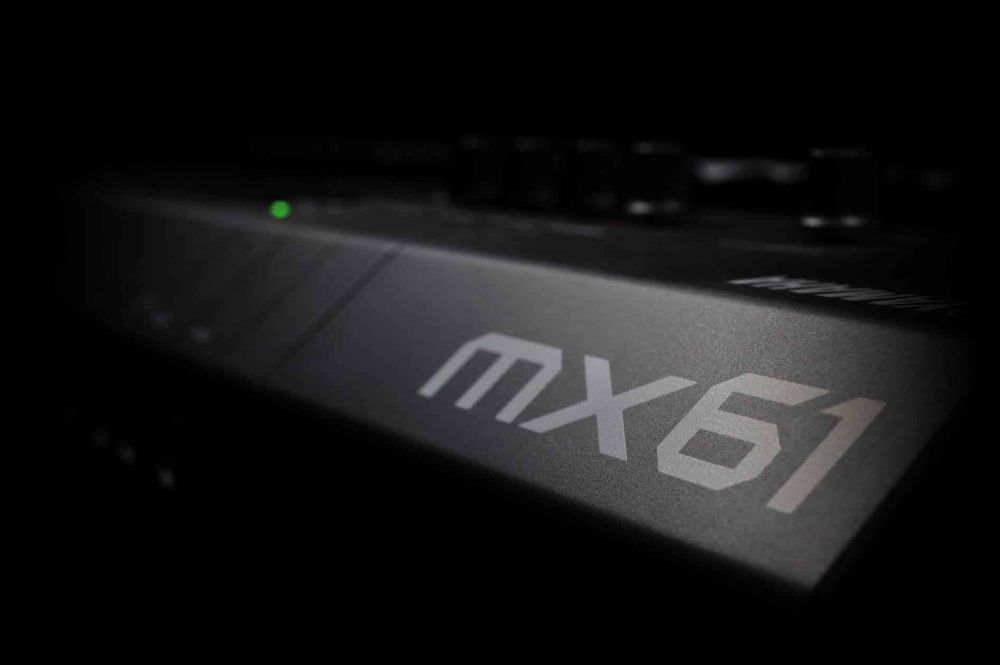 Overall, the versatile MX61 keyboard is famous for both affordability and portability.
Up till now, it has catered for the needs of users who enjoy space-saving pianos.
It is also an ideal tone generation model for your onstage performance as well as MIDI track's live playback.
This excellent keyboard, with many handy features at a fair price, will make newbies satisfied as well.
In addition to some mentioned significant features, this digital piano also has some minor setbacks. \
A few customers aren't keen on its plastic body. The keys of the MX61 are a bit light to touch. In case you get used to standard-sized products, you may find those keys reasonably small.
Anyway, with cool features, intuitive design, and superb sound quality, the Yamaha MX61 is still a worthy investment you should consider when shopping for a proper piano.
Pros
Ultra-lightweight capability

Neat and portable design

A user-friendly display

Good price tag

Pleasant sounds

Excellent synthesizer

Powerful performance controlling

Easy-to-set-up performance mode

The latest innovation, technology, and features

Being simple to use

Convenient knobs

Being ideal for teaching at schools
Cons
Plastic body

A bit small keys for some users
In Comparison With Other Models
Yamaha MX61 Vs. Korg KROSS 61
Both models are friendly-budget options with preset stuff much, a variety of effects and sounds.
They are a perfect workstation for your music arrangement and production.
Aside from the AC adapter, but Korg KROSS 61 also runs on AA batteries. That means you can carry it anywhere.
While Korg KROSS 61 doesn't have internal memory for sequences,
Yamaha MX61 comes with a free library for finding the samples effortlessly.
All in all, despite some differences, each of them will support your music requirements. You should consider what you need to get the right one.
Yamaha MX61 Vs. Roland Juno Ds61
In general, these portable models have pro sounds and other enhanced performance features.
A notable feature of Roland Juno Ds61 is the versatile 8 x AA battery or AC operation.

Yamaha MX61 doesn't run on batteries. Roland Juno Ds61 is suitable for solo performers, singers, songwriters, or home hobbyists but not users who need to create complex sounds. Let's consider your demand to pick up a proper one.
FAQs
Q: Does this instrument come with any built-in speakers?
A: This MX61 doesn't come with any built-in speakers. So, you have to use external equipment to monitor the sounds.
Make sure to connect that equipment according to the correct guideline of the manual. Turning off the power of all devices before the process is necessary.
Q: I am considering between Yamaha MX61 vs MM6. Which one is better?
A: These Yamaha's models are compact and easy-to-learn. They arrange all of their sounds by categories, which allows you to find what you need in rapid ways.
But there are still some differences. For example, the MM6 features 418 voices and 32 notes polyphony. Plus, there are eight different keyboard sample categories.
No matter what differences are, these products bring you powerful Yamaha features.
Q: What are those specific voice categories?
A: The voices are divided into different categories, based on the general sound features or instrument types.
Those categories include Acoustic Piano, Keyboard, Organ, Guitar, Bass, Strings, Brass, Sax/Woodwind, Synth Lead, Synth Pad/ Choir, Synth Comping, Chromatic Percussion, Drum/ Percussion, Sound Effect, Musical Effect, and Ethnic.
Q: Can I use my available stand for the new MX61?
A: You had better purchase the stand specified for your MX61 model and use supplied screws when attaching it, too.
Otherwise, there can be unexpected damages toward some internal components of your instrument.
Is the Yamaha MX61 Worth Checking-Out?
After consulting our Yamaha MX61 review, you may wonder whether this synthesizer is right for you or not.
In general, this furniture-style instrument will suit your studios. In case you feel okay with simple products on your musical journey, then this Yamaha model is still an excellent option for you.
Here, we would not highly recommend a model in that price range to users with an intermediate level in the music-making industry.
However, if you know how to make use of this synthesizer in proper ways, you will get lots of value from it. Take it into consideration right now!
If you find our review helpful, don't hesitate to share it broadly! Thanks for reading!

Jack is the leading publisher of Fire Inside Music. He is teaching piano at a music school in Los Angeles. Since he was a teenager, Jack has had a great passion for music, the thing he enjoyed most was singing and playing the piano. He has excellent keyboard experience, works with William to help players select the best instrument to invest.