If you're just starting out, the last thing you need is a wrong choice of your first piano keyboard. Making a wrong choice can cost you a lot, and we're not talking just financially.
It is understandable for you to spend much time considering a digital piano keyboard, especially if you are a starter. I still remember that it took me a few weeks to decide on my first instrument. Well, you might be thinking why I spent such a long time. The answer is so simple.
I had no idea what I should have done at that time, what features will I need to help me practice music; then I did a lot of research. And if you are in my shoes, there is no need to worry. I am here today to make sure that you won't waste as much time as I did.
Are you curious about what models are the best for learning with a beginner's budget? In this guide:
You will know 10 best beginner digital pianos and keyboards.
You will also learn some critical features that will help your decision.
Top 5 Best Keyboards for Beginners
1. Yamaha EZ-220 – Perfect Match For Learners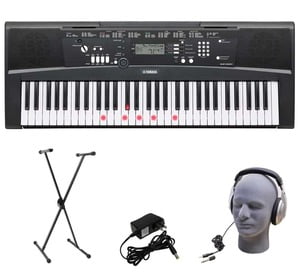 Perhaps you might wonder why playing the piano is such a tough task from scratch.
But, believe me. It will be exciting when you get used to gliding your fingers on the keys.
In this case, Yamaha EZ-220 can give you a hand with its 61 lighted touch-sensitive keys.
The lights key will help user learn visually. It gives you a view of seeing which note to play next, or which notes form a chord.
These keys are ideal for you to follow a song during your practice sessions. Just choose your favorite song from 100 built-in list and enjoy yourself with touch sensitivity.
Talk about learning, EZ 220 comes with an Education Suite offers many ways of learning how to play, and fingering guide.
What is the fingering guide anyway? Well, as a starter, I used to forget the positions of my fingers all the time. Are you having the same trouble as I was? If yes, here is the good news.
The LCD includes a fingering guide so that you can press the right lighted keys quickly and learn correct techniques faster.
At first, the practice can be such a challenge and tiresome task.
Why don't you spice it up with 392 instrument sounds, including strings, guitars, bass, drums, piano and much more?
Then the next time, you can quickly push boredom away from you.
Besides, the Yamaha EZ-220 allows you to connect wireless to your iPad applications, which let you open online music sheets and put on the holder quickly to read and play.
You don't even need to turn the page by yourself, Yamaha Page Turner app for iPad will do it for you. Then now you can indulge yourself in your favorite melodies.
These wonderful features make it worth to add Yamaha EZ-220 as one of the best keyboards for beginners in the market.
Pros
Multiple built-in songs and sounds
Wireless connectivity
High portability
Touch-sensitive keys
Cons
Not so realistic feel
Loud background output
No built-in recorder
See the Latest Price
2. Hamzer 61 Keys Digital Piano Keyboard
If you need fairly simple features and don't rely too much on learning assistant systems, Hamzer 61-key portable instrument can be your great "sidekick" in your musical journey.
Although 61 keys seem to be fewer and smaller than those of a standard keyboard, it is much light and portable for you to get better practice.
What's more, it comes with a stand, built-in speakers and a microphone so that you can make your practice more interesting by singing along with your music or entertaining your friends with a variety of rhythms and voices.
For detail, Hamzer includes 255 timbers and rhythms; 61 percussion, some pre-built effects as sustain, vibrato, ensemble and sample songs.
What if you need more enhanced features?
They are available for you to advance your entry levels on the journey of becoming a musician.
You can also customize the tempo of the metronome, and make use of rhythm sync and fill-in and auto-bass to spruce up your melodies.
How fantastic it is! Now you can adjust and master your volume and sounds on your own.
You also need to practice a song many times until you're good at it. In this case, use the record and playback options.
It will help you a lot to develop your skills and share your masterpieces. Hamzer 61 keys certainly one of the best value keyboards for learning!
Pros
Microphone, built-in speakers and stand included
Extensive library of timbres, rhythms, and percussion
Easy-to-use LCD
Recording and playback features
Battery-powered and portable keyboard
Cons
Smaller and lighter keys
No touch-sensitivity
Low durability
3. RockJam RJ761 Electronic Piano Keyboard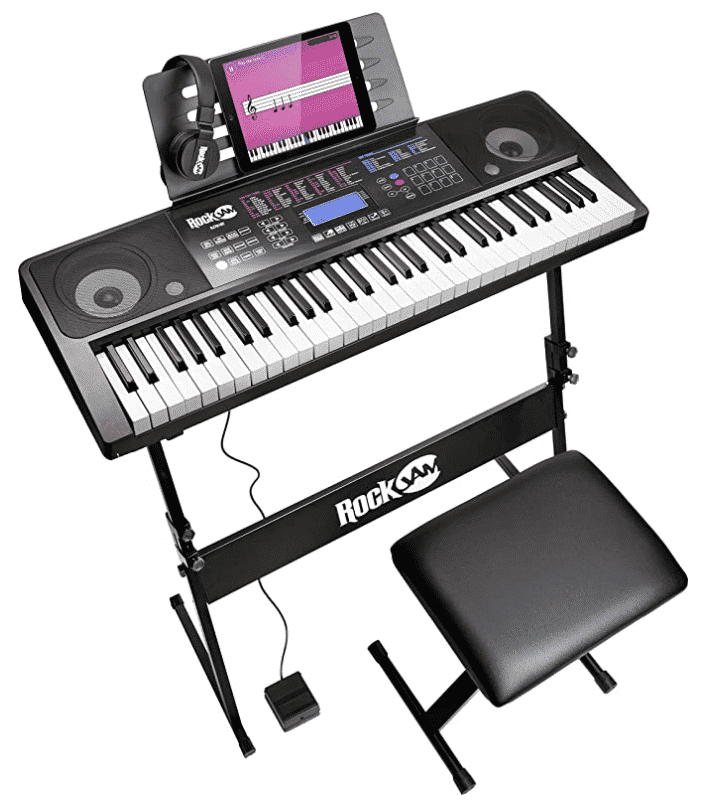 If you ask me about the affordable electronic keyboard before investing in higher-end instruments, I would say that it's RockJam RJ761
RJ761 is a great keyboards for beginners nowaday. Why?
It comes with an integrated learning mode that can teach you to master the basic keyboard techniques and perhaps even assist you learn many songs.
It works with its own app to provide advice on your play, so the RJ761 is certainly built for starter level players to grow their skills gradually.
Not only does the keyboard offer you essential features for learning, but also enhances customization which can work well on stage with a band.
Similar to others keyboard, you can make use of this product to enjoy and record your own songs.
No matter who you want to be, a musician or a piano player, it won't let you down.
Although some people think that Rockjam looks like a toy, it can surprise you with embedded 30 preset songs, 200 rhythms and 200 sounds.
But, a note for you is the Rockjam has only 61 keys. Still, as a starter, you might not need professional heavy keys yet.
My favorite features are the large LCD screen and the control pad.
This screen can allow you to keep track of what is being shown and make precise adjustments accordingly.
Also, it includes many useful accessories for you.
Let's imagine that we're opening the box, and you will feel like Christmas is coming soon.
The box contains the keyboard, a sustain pedal and an X stand, a padded piano stool, and a headphone for quiet practice lessons. Moreover, this model has USB port which will allow you to connect with modern devices.
With the attractive benefits it brings, this keyboard package is a good product on a budget.
Otherwise, you need to buy everything separately. It sounds like a fair point, doesn't it?
Pros
Multiple integrated sounds, songs, and customizations
High portability
Large LCD and pad control
Free Simply Piano application
Cons
Smaller keys
USB port not really good
Loud default volume
Note: The older version is RJ561, it doesn't has sustain pedal and USB port. As well as less built-in sounds and songs compare to RJ761. So if you don't care about that, then RJ561 is a better and cheaper choice.
4. Casio CTK2550 Portable Keyboard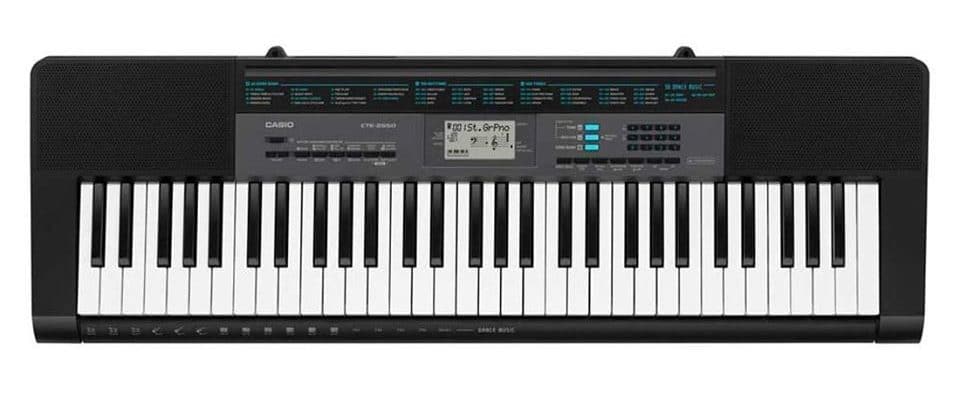 Well, some people assume that the low cost means poor performance.
But, Casio CTK2550 is one of the top portable keyboards for beginners in our list.
Needless to say, if you are an experienced pianist, you won't pick this product up.
However, as a beginner keyboard, CTK2550 can make you feel delighted thanks to a wide range of sound options. Believe it or not, 400 choices! You can have fun and be more creative all the time with different styles.
Besides, if you intend to move the keyboard a lot, it is convenient to transport and have a good time gliding your fingers on the keys at any place.
With 61 cores, the model still can offer a full range of voices, rhythms and even built-in Dance Music Mode. Dance Music Mode allows you to create and remix EDM quickly and smoothly, experience yourself as a music producer.
What if you want to play your favorite songs? It is still possible.
You can take advantage of the MIDI function to import them into the keyboard CTK2550 and play along.
Also, it allows you to connect with the Chordana Play app. This app also comes with a game-like piano roll and the music score, so that you can keep track of your progress and enhance your skills.
All in all, this keyboard proves that Casio still creates some top level keyboards or digital pianos but also affordable.
Pros
Portability
Battery power for outdoor performances
Easy-to-use LCD
400 built-in instrument voices
Chordana Play app compatibility
Cons
Lighted keys
No touch-sensitivity
See the Latest Price
5. Casio SA76 44 Keys Mini Keyboard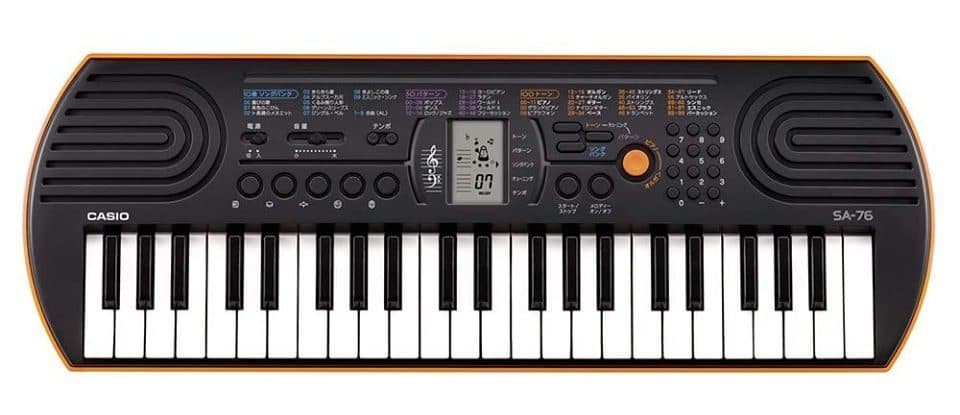 Casio SA76 is a good choice for the best keyboard for beginners who are children under 13. This is a children's best keyboard designed to help them create their first playing steps.
It has an amazing amount of features that will fascinate every child, boosting their creativity and love of music.
Casio SA-76 offers over 100 tones, rhythms and songs, with high quality of sound.
This also has 5 dedicated drum tone buttons, able to use at the same time with the keyboard keys. You can play a rhythm while your friend perform a drum solo!
There is also a super-easy feature of switching between piano and organ mode.
Casio SA76 is simple and inexpensive for children and perfect for igniting the curiosity in playing music!
Pros
If you want to practice, there are rehearsal songs waiting to be discovered.
You can practice along them and develop your playing skills.
Cons
This is not an instrument for adult players, so don't treat it as such.
If you want something more than a children's instrument, it probably isn't for you.
It's really good for children who are starting out, but it has its limitations in sound quality and output.
See the Latest Price
Top 5 Best Digital Pianos For Beginners
1. Casio PX-160 – For Immediate And Advanced Learners

Are you finding a choice with excellent realistic sound as acoustic pianos?
Absolutely. Let's take a look at a Casio keyboard, the PX-160 – one of the best digital piano from this brand.
A plus point here is the excellent touch response with 3 sensitivity levels, weight, and velocity with a simulated ebony & ivory touch, which can enhance a real touch of a high-quality acoustic piano.
That explains why it can be a perfect fit for students expecting a full and rich sound.
It has a newly developed string set sound that sounds beautiful, or layered with PX-160's grand pianos, electric pianos, harpsichord etc.
Especially if you usually play and practice traditional songs, you will be pleased with the sound output and reliable skill-building support.
You can adjust freely to play your signature songs and be more creative with built in sounds, piano lessons, a metronome, and a dual keyboard function. By and large, you will love it.
After a while, you will be amazed by how fast your skills are improved with the support and realistic feel from this digital piano.
Are you dreaming of becoming a composer?
This piano can make your dream come true!
The instrument tones, digital effects, onboard recording features enable you to create, share, and perform your own music without any hassles.
Pros
88 full-size sensitive keys
Realistic touch of an acoustic piano
Simulated ebony and ivory key surfaces
High portability
Cons
Breakable included accessories
Lateral movement when playing
See the Latest Price
2. Alesis Recital – Nice Touch Of A Real Piano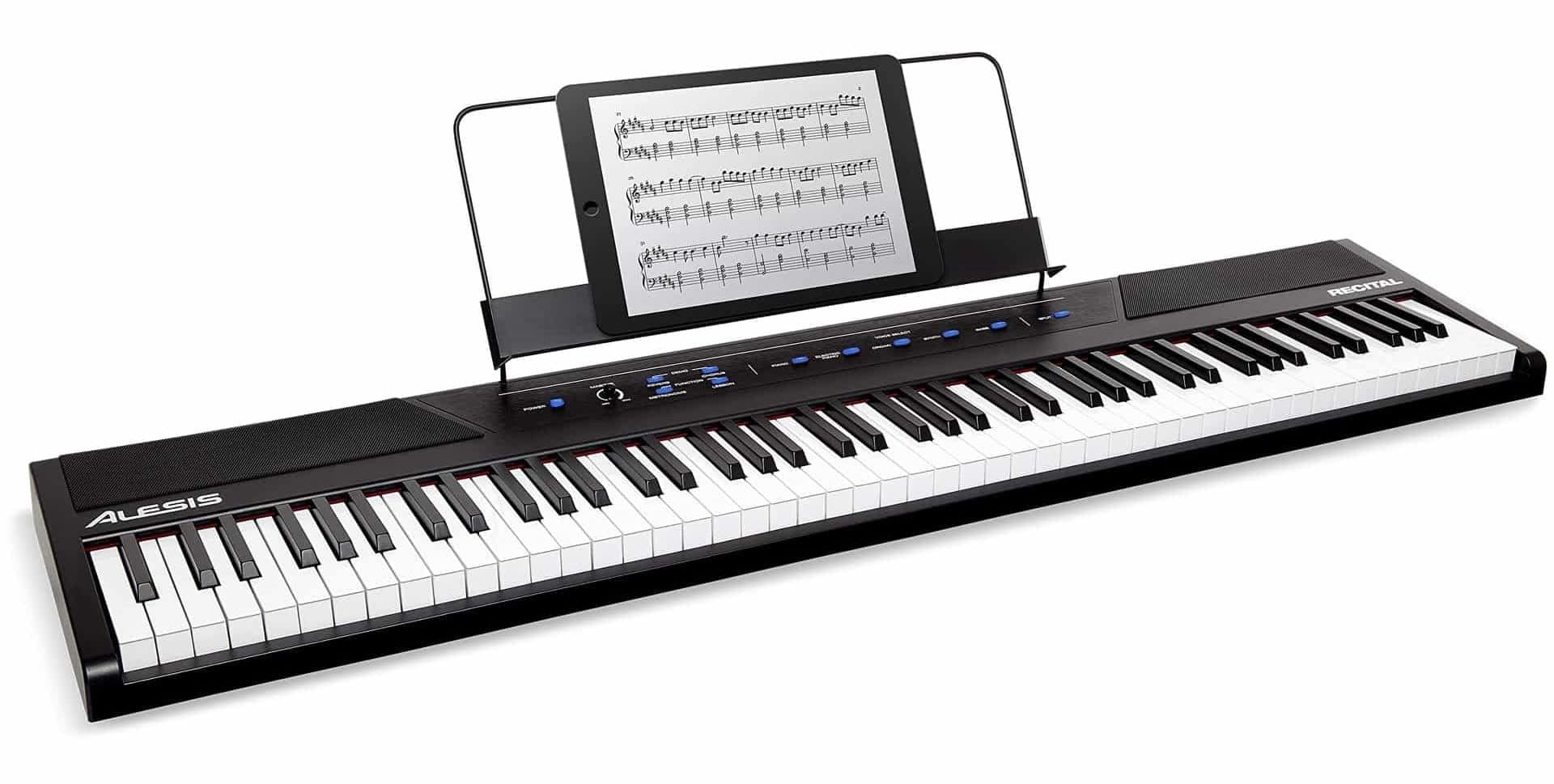 The Alesis Recital can make a good impression on you as a great entry-level keyboard.
While it has an affordable price, this keyboard stands out with 88 full-sizes semi weighted keys for a nice touch response.
Although the product doesn't come with full weighted keys, it's worth your pennies to give it a go thanks to authentic feel and layer and split functions.
These functions can let you personalize the built in sounds and create your own pieces of music.
This Alesis features 5 voices: Acoustic, Electric, Organ, Synth, and Bass, also built in FX: Chorus, Reverb, and two built-in 20W speakers that deliver crystal clear, room filling sound.
Of course, as a good keyboard piano for beginners, it has an extensive learning mode. So, you can change into the next level effortlessly if you wish.
The standard pack include a keyboard and a power supply, you will get others accessories as a sustain pedal, a bench and a stand If you purchase the Alesis bundle.
Moreover, don't miss a chance to sign up for the keyboard piano learning app Skoove Premium since buying the Alesis Recital offers you a free automatic 3-month subscription.
Pros
Reasonable cost
Full-sized weighted keys
Power by batteries
A small screen on the top panel
Cons
Doesn't have recording/playback capabilities
3. Yamaha P-45 Weighted Keys Hammer Action
The Yamaha P-45 is another pretty compact digital piano that's sold separately with the stand, so it's perfect for carrying out and gigs around.
The piano sound is designed to be modeled on a grand concert, and is really realistic in sound quality. If you expect a real touch of an acoustic piano, you will love it just like I do.
P45 is has 10 settings for different piano types: 2 grand, 2 electric pianos, 2 organs, 2 harpsichords, 1 strings and 1 vibraphone
With ten sound settings, a headphone out, and 64-note polyphony, you won't have any troubles weighting action of the piano keys while varying your melodies and rhythms.
My favorite feature of the Yamaha P-45 is the Graded Hammer Standard (GHS) action accompanied by four different levels.
This feature helps it stand out with realistic feeling while playing.
More than that, the P-45 comes with touch-sensitive. And both hammer action and touch-sensitive are adjustable. This feature allow you to set the P-45 to match your own style and skill.
As a learner, of course, sometimes you would love to get around the keyboard first. These keys will give you a hand in focusing on the right notes.
Comes with good features, beautiful sounding, P45 become very popular. It is an undoubted fact that P45 is one of the best digital piano from Yamaha.
For anyone who confuse between Yamaha P45 and P71, check our comparison for more detail.
In summary, P45 and P71 are the same, they created 2 models for different retailers. Yamaha P71 is an Amazon Exclusive, it has a better price.
Pros
A beautiful sounding digital piano
Touch of a real piano
Easy-to-use design
High portability
Cons
No built-in recording feature
High polyphony
See the Latest P45 Price
See the Latest P71 Price
4. Yamaha YDP163B Console Digital Piano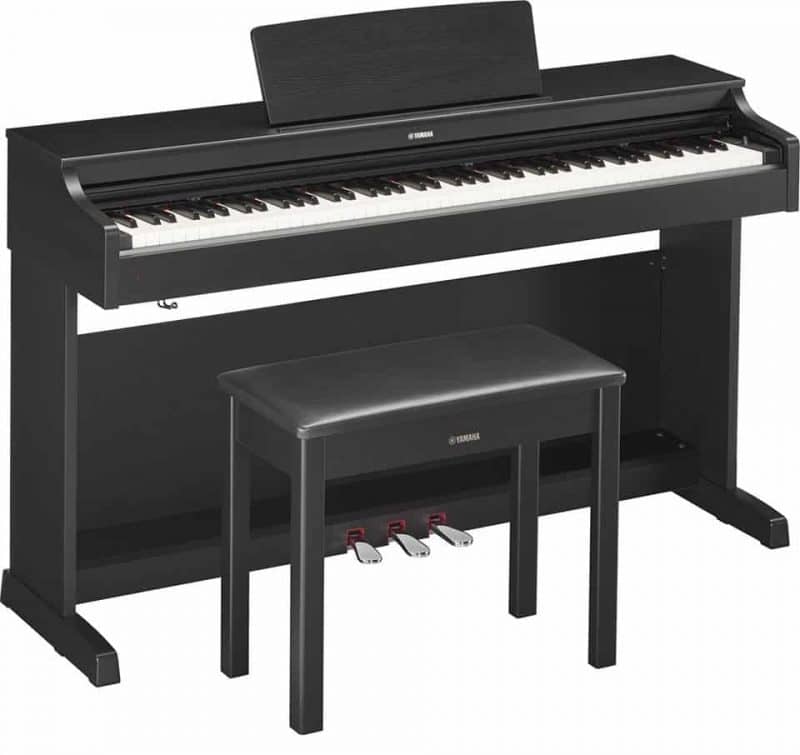 Yamaha makes a wide range of musical instruments and has an outstanding array of samplings in its digital pianos to replicate the CFIIIS grand piano with great precision.
The YDP 163 is the one for serious piano learners, it is a more costly (but excellent quality) model to consider.
It is famous for the better GH3 classified hammer action and the touch of ivory feeling keys.
Compared to the forerunner YDP 162, YDP 163 comes with high-quality features such as an excellent clean CF sound-engine imitating Yamaha CFIIIS grand piano sound, accompanied by other nine sounds.
It's perfectly sampled from excellent tonal standard acoustic pianos.
Three pedals offer a lot of sound control and make you confident with the tonal controls you will have.
YDP-163 is a good option for beginners because it includes 50 classic piano songs as well as a music book called "50 Greats for the Piano" to help your piano journey.
Not to mention, the piano has touch-sensitive keys to help beginners quickly learn correct techniques while the unit requires less power consumption.
There is also a simple recording feature so that you can hear and then criticize your play.
What if you want to connect with other devices or share your songs? You can effortlessly use USB-midi and Bluetooth functions function.
Besides, with the powerful speakers, it allows you to enjoy the sound CFIIIS headsets with the stereo optimizer at home and even on stage.
It is an excellent choice for starters and classical pianists with real action keys, good sound quality and the beautiful design of rosewood and black walnut in America.
Pros
High quality, natural and vibrant sounds
Included bench
Advanced Graded Hammer 3 action (GH3)
Powerful speakers
Cons
Limited tones and sound effects
No built-in rhythm
No organic piano element
5. Yamaha P125 Weighted 88-key Digital Piano

One more excellent digital piano comes from Yamaha. The P-125's simplicity design makes it perfect for beginners, and it's fairly lightweight  and easy for taking out.
For the sound and key quality, the keyboard of this piano is a plus point when it is the Graded Hammer Standard 88-key, which creates the best sounding as that of a real acoustic piano.
Its weighted keys and 192 polyphony can help you handle even complicated songs.
What can make you impressed more is the piano sound similar to a Yamaha CFIIIS 9′ concert grand piano, which is one of the famous piano models by Yamaha.
It's also compatible with the smart-pianist app by Yamaha, working well with iOS. So, you can quickly choose your favorite sounds and rhythms with a user-friendly interface.
It's a good choice if you're looking for a simple and great sounding digital piano.
Pros
Realistic piano default sound
Various built-in sounds, rhythms, and songs
A smart-pianist app compatibility
Usability for home use and performances
Cons
Limited sound-effect solution
No Bluetooth connectivity
The electric pianos mode sound kinda cheesy
Keys are not realistic as other models but still good for a piano keyboard for beginners
See the Latest Price
How to Choose the Right Digital Piano for a Beginner? Consider These Main Factors
1. How Much to Spend on Your First Keyboard/Piano? What is the Budget Range?
From $200 to $500 if you have a small budget and interested in playing. Many people assume that more expensive automatically means – better.
This is so far from the truth.
If you're just starting out, you probably don't need top-notch equipment and instruments. Yes, quality is important, and yes – good quality usually comes with a high price on it, but it's not always like that.
For a beginner, it's much better to start on a cheaper instrument, and gradually go up the scale.
Why?
Because buying the most expensive instrument for a keyboard piano novice is like buying the most expensive car for a 21-year-old.
It isn't necessary, and it can also cause a ton of problems, because first you have to familiarize yourself with the instrument.
Before you turn into a fantastic player, the most important thing is to learn the ropes. Also, you have to take into account that you may not end up loving your instrument.
Yes, it may sound impossible right now, but this is always an option, especially among the younger generations. Why if you spend thousands of dollars for a keyboard and after a couple of moths realize that you're not too keen on keyboard after all?
Yes, you can always sell it, but you'll save yourself a lot of fuss by keeping things straight and simple. So, our advice is to start with an average-priced instrument, and then move on up, after some time.
2. What Size of Keyboard/Piano Should You Use?
The bigger, the better? Well, maybe sometimes, but not in this case.
Don't always go for the biggest keyboard possible, because you probably won't need it.
If you're an absolute beginner, be sure to go for a smaller one, or a medium-sized one, because that will fit your needs perfectly. If you're a bit more experienced, but still in the apprentice universe, you can go for a bigger keyboard.
But again, bigger doesn't mean better. You should know exactly why you're buying the instrument.
What kind of music do you want to play?
Where do you want to play – at home for yourself, or with a band?
What is your end goal – to be a professional musician or not?
All of these things should be taken into account, so take your time and think wisely. Keyboards come in so many sizes, and for a reason. If you're not sure, ask a professional for advice, but be sure to put enough thought before deciding upon a certain type of keyboard.
3. Testing is everything
Before buying a car, you usually take it out for a test drive. Well, it's the same for instruments. The last thing you want to do is to buy a keyboard without playing it a little.
Why?
The answer is quite simple – to hear what it sounds like. An instrument is a "living thing", and it should be treated as such.
You absolutely have to test an instrument before buying it, or you may easily end up with a bad one. Of course, if you're a beginner and don't know how to play – that may be a problem.
In that case, bring a friend with you to the music store.
Even better – bring a professional musician, if you know someone like that. It's always better to have an experienced person trying out an instrument. They will be able to play it, test it, see how it sounds like and ask the right set of questions for the salesperson to answer.
If, on the other hand, you decide to shop online and order a keyboard, be sure that you have a money-back guarantee. What if you're not satisfied with the instrument you buy, for any reason? Having a money-back guarantee with remove a lot of potential problems down the line.
So, testing your instrument, and making sure you can return it if unsatisfied, is absolutely necessary if you want to purchase smart.
FAQs
1. Which is better for beginners, a keyboard or a piano?
There really isn't a definitive answer to this question, as it depends upon a person's preference.
However, if you're an absolute beginner, it might be a bit easier to start with the keyboard and then move on to the piano.
The reason for this is that piano can cause create too much resistance on the fingertips. It may also be more difficult in terms of producing sound.
If you are new to the instrument, your fingertips are very soft and play piano can make them feel quite sore and painful.
Also, keyboards give sound more easily than pianos. In order to get sound from a piano, you really have to press the keys hard. Keyboards are more suitable for softer playing, as they don't require that much force upon the keys.
All in all, if you're a novice, it would probably be better to start off with a nice little keyboard instead of a piano.
2. Can you use keyboard for learning piano?
Absolutely.
Of course, in order to develop a complete grasp of the piano, it's necessary to play one.
However, if you're still learning to play, it's great to start on a keyboard first. By doing this, you will get to know the basics of the keys, basic techniques, finger positions and scales.
Afterwards, it will be much easier to change instruments and focus solely on learning piano, if that's what you want.
Once you decide to switch to the piano from the keyboard, you can expect minor difficulties along the way, while your fingers get used to the "new surroundings".
Luckily, this period will last just for a short time, and you'll be able to fully enjoy piano playing soon enough.
3. How many keys should a keyboard have for beginners?
This is an interesting question, as many novices get quite confused when confronted with a choice of buying a keyboard. The real problem here is not the number of keys a keyboard should have, but its use and "applicability" to your exact needs.
Keyboards range from 25 to 88 keys, but you shouldn't focus too much on the number of keys to give you quality.
If you're a beginner, you probably won't need too many keys, as you would probably be learning the ropes in the first couple of months.
However, if you get a bigger keyboard, you will start adjusting to the more professional-looking instruments right from the start.
All in all, you won't make a mistake if you get a smaller instrument, with just a couple of octaves.
Anyway, you would be better off as a professional musician with a bigger keyboard by your side, because it will give a lot more to draw from.
4. How many months will it take for beginners learning to play the keyboard?
It depends, really.
If you are committed and highly motivated, you will be able to learn the keyboard in a month, or two – the basics, at least. If, on the other hand, you want to turn into a professional player, it may take several years before achieving your goal.
The famous guitar player, Ry Cooder, once said that you never "learn" your instrument, you simply advance on it. This is so true. Don't get into the whole keyboard-playing thing expecting to become a pro overnight. However, you can become quite a player if you keep your focus on three important factors:
Persistence
You have to stay committed and never lose sight of your end goal, so – being persistent is crucial.
It is going to be very hard at times, but it doesn't mean that you won't have the desired results in the end – on the contrary.
By being persistent and determined to master the art of keyboards, you will eventually reach your destination. But it will not happen unless you work like hell.
Jimi Hendrix was famous for his superb, innovative guitar-playing, but it's a well-known fact that he spent twelve hours per day playing his instrument.
That is – 12 hours on average. Oftentimes, he would play even longer than that. This only goes to show that, unless you put in a substantial amount of work – you will never learn to play the piano.
You may be able to play around with it, but it won't be considered proper playing. Therefore, make sure that you practice on a regular basis (at least three times a week) if you want to learn the keyboards.
The best option would be to practice daily, but if you cannot find that much time – three times per week will do for starters.
Just be sure not to lose your temper along the way.
Patience
Patience is also very important, especially while making baby steps in your keyboard-playing. Don't rush things, as learning how to play an instrument cannot be rushed.
Keep practicing, and allow for the knowledge acquired to sink in.
Work hard
There is no such thing as an overnight success, although many people tend to believe this myth. What we call an overnight success is usually someone who's been working hard for at least a decade.
You may become well-known overnight, but that's not success – it's just fame.
True success is always the result of hard work and dedication.
So, work hard, stay motivated and dedicate yourself learning the keyboard. Eventually, you will become a true player.
5. How long it takes to master a musical keyboard?
This depends on what you want to achieve. In order to become a real master of your instrument, it should take you at least ten years of daily practice, hard work and dedication.
And this doesn't mean that you would be able to play just about anything that comes your way. Being a master means knowing a certain field of music quite well, and being able to play well in one genre, or sub genre.
No one can be the best there is in all the genres. If you're into blues and jazz, don't expect to become a master of classical, or even pop music, for that matter.
Each musical genre has its own set of intricacies that are to be explored and embraced. All in all, if you really work hard, after a decade or you you'll be able to master your instrument and be truly great at playing it.
6. What is the best way to learn a musical keyboard on your own?
There are many ways of learning a musical instrument on your own. Probably the best and quickest way is by watching others play. You can watch YouTube videos and tutorials on the subject, and learn a ton of useful stuff.
Mind you, there is so much online content that you can easily get lost searching for the best there is. It's best if you start small and simple, from simple phrases, licks and tricks to help you along the way.
If you're completely new to the instrument, then it's probably the best to start by watching videos about music theory and technical stuff. It's equally important to sit properly as it's important to play well.
A great thing about videos is that you can pause them any time you like, and rewind to double-check on a certain point in the playing. You can even slow them down and learn how to play a specific part, or a couple of notes, at your own pace.
There is always an option of finding a tutor, or playing in a makeshift band, with your friends.
But if you want to learn on your own, then you should definitely go for online videos, as they're the best. Once you start learning with online videos, you should make a special folder for your playing.
There, you should put all the links to videos you covered, with side notes to track your progress.
This is great for your future development, because you will be able to see how you slowly turned into a better musician, and how you mastered playing the keyboard.
It's also a great idea to track your progress by keeping a diary, with entries for each practice session. Just put a date, what you covered on that day, and how you feel like after playing.
Was it satisfactory? Are you tired? Did it feel boring or enjoyable?
These types of questions will keep you focused and engaged.
Conclusion
Finally, we've walked you through the top 9 hand-picked beginner digital piano and keyboards. If you're still here, I really appreciate it, my beloved readers.
Also, welcome to the piano world! As a starter, you might be confused a bit from choosing a good teacher, managing your time, to buy a keyboard to preparing for practice sessions.
But, there's no need to worry. Believe me. You will be fine, and have much fun play piano. I hope that this article can help you in your decision-making and grow your music passion.
Don't forget to leave your ideas or comments below to let me know what you're thinking and experiencing. I will come back soon with more useful information. Stay tuned.

William Cramer, the founder of Fire Inside Music, started to learn music in 2012 with a piano. He has continued to level-up his playing skills and wanted to share his journey and knowledge with other beginners. He launched Fire Inside Music in 2017 to make playing music more approachable for everyone looking to master a musical instrument.