A MIDI controller can make your digital audio workstation feel and play more like an instrument.
You can control more parameters and make changes in real-time if you use a MIDI controller surface, which can be either pads or keys, or a combination of both. In this guide, we're looking at the best MIDI controllers for Logic Pro X.
The Logic software series is made by Apple, and currently, Logic Pro X is one of the industry-standard pieces of music software.
It is easy to run for Mac users, but the controls can be a little bit tough in some scenarios, and by having controls laid out on a hardware controller, you can make it far more enjoyable and open up new possibilities for your performing or composing on Logic Pro X.
Logic MIDI Controller Buying Considerations
Knobs, Keys And Pads
In order to properly control your DAW, you should consider whether you will need keys, pads, or knobs. These can all control your music software in a different way. For example, a pad may be struck to trigger a sample or a drum sound so that you can compose drum patterns.
Keys function just like any other keyboard but need a virtual instrument to assign the sounds. Knobs and sliders can be set to control different software parameters such as turning things up and down or changing filters and parameters.
There are far more MIDI keyboards out there than other types of controller, but there's plenty of choice for all sorts of musicians. So, if you would prefer a pad controller for Logic then you will have no issues finding the right option.
Finding an option with keys like a piano allows you to play piano sounds, synthesizers, and more.
Logic Vs Other Software
So what could make a MIDI controller good for Logic but not great for other software?
There are a few things that should be considered when you are looking to buy a MIDI controller that works well with your software.
It seems that a lot of the MIDI hardware out there is geared toward Ableton Live.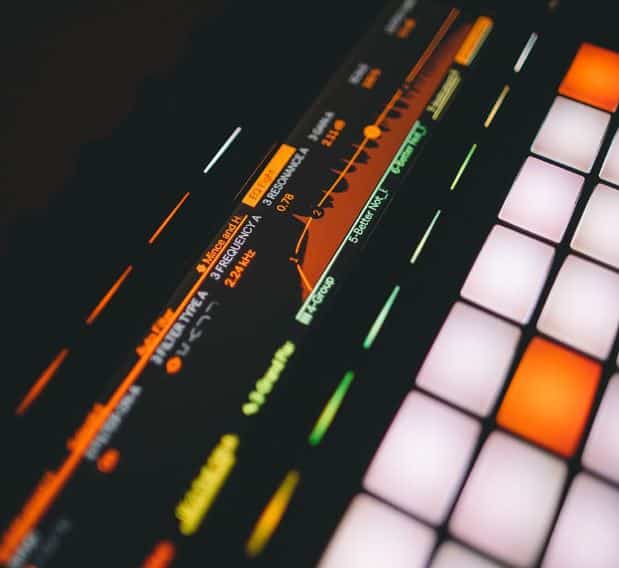 This sort of makes sense as Ableton software is designed largely for live performance and the interface lends itself to quickly and easily linking to hardware controllers. There are even some bespoke built controllers for Ableton. However, many of the Ableton Live controllers will work pretty well with Logic.
Logic can be used for production, or, with some tweaks, it can be used for live performance. There are plenty of interfaces for expanding the capabilities and your control over the software, as we explore in this guide.
Logic Pro has the benefit of being very professional and widely used in the industry. It acts as the central point for a lot of recording studios, mobile production suites, and even bedroom producers.
Keys or No Keys? How Many Octaves Do You Need?
Whether or not to buy an option which can be played like a keyboard is definitely a decision to make based on whether or not you are looking to easily play keys and melodies.
If you're already familiar with playing the piano then you will need to find an option that has keys in order to make the most of this skill. A MIDI keyboard functions like any other keyboard or digital piano except for the fact that it needs the sounds to come from the computer or software itself. It is basically just controlling the sound, but the actual audio needs to be generated or triggered from the software, in this case, Logic Pro X.
If you are an accomplished player, you will probably want to get a bigger keyboard such as a 61-key model, or you may even want to get a full-sized, 88-key MIDI keyboard that can allow you to play even complex songs and melodies and to turn your MIDI controller into a sort of digital piano while it is connected to the software.
As well as how many keys, think about the actual quality of the keys and whether they are touch-sensitive, velocity-sensitive, or, even better, provide weighted keys for a realistic piano feel.
Can I Just Use A Keyboard?
There are loads of keyboards out there that offer MIDI compatibility.
Some models are not sold as specific MIDI controllers, but they can be used to control virtual instruments, and connect to your computer via a simple USB-MIDI cable.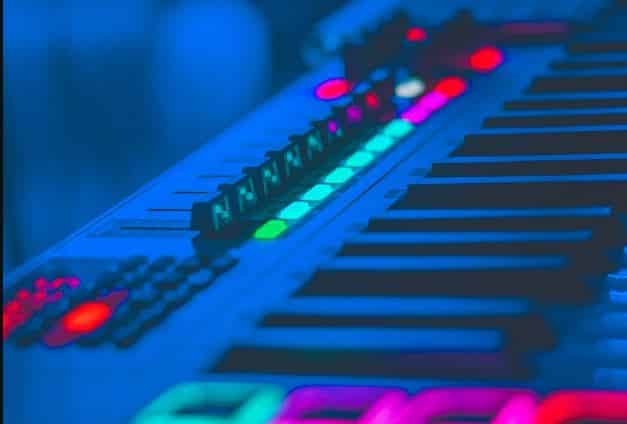 These models are usually good for those who just want to be able to play melodies and notes on a keyboard but don't have the same functionality as MIDI controllers that offer additional features like sliders and knobs.
If all you need is to play in some chords then a keyboard that has USB-MIDI compatibility could be perfect, but think about whether this will limit you, and whether some added functionality might actually be better.
Benefits Of Owning A MIDI Controller
The benefits of owning a MIDI controller can have an impact upon the live performance aspect of being a musician and the studio aspect of being a musician.
In the studio, it can streamline the process of composing and sound design. Think of it this way, if you want to tweak your sound while you play, assigning knobs to the different filters and sound parameters can make it so much quicker and easier to do this. Instead of having to go between your keyboard and your software constantly, you should be able to control everything from your MIDI controller.
Additionally, a MIDI controller is probably the best way for a musician to take a song written on a computer and turn it into a live performance, assigning the sounds and loops to the different aspects of the pads and controller surface and then playing live, with the option for variation.
MIDI controllers can be really flexible and you can set them to alter all sorts of different parameters in Logic Pro X. You can assign sounds, trigger, and stop loops and control effects all from one simple controller, assuming you choose the right model.
Best MIDI Controllers For Logic Pro X
M-Audio Code 61 (Black) | USB MIDI Controller
This MIDI controller links up with Logic perfectly and has a combination of pretty much all of the features you would hope for including a mix between keys and pads. Some software is included and this can even be used as a tie-in to Logic, enhancing what you can do in the DAW.
Features:
61 keys with touch sensitivity.
16 assignable velocity-sensitive trigger pads.
USB-MIDI connection and 5 pin MIDI in and out to control analog synths.
Hybrid 3 and Loom virtual instruments included.
USB powered.
Mackie/HUI transport control makes it easy to link with DAWs.

Faders, knobs, and keys. Everything you could need as a musician is at your fingertips with this model from M-Audio. They offer a good mix between value and elite features. This MIDI controller isn't the cheapest, but it's pretty affordable considering the features it has.
It's really easy to link to your DAW, so ties in nicely with Logic, and the Hybrid 3 and Loom VSTi's that are included can be used with Logic.
The keys are a great plus point, and have a realistic, acoustic piano feel to them. They are full-sized when compared to a piano and they're velocity sensitive with aftertouch, which means they feel beautiful to play and allow for a lot of expression.
Pros
Easily connects and integrates with Logic.
Loads of assignable controls for Logic DAW and plugins.
USB powered.
Realistic and expressive feel.
61 keys is big enough for playing two-handed.
Cons
Switches and knobs feel a little bit flimsy and low-quality.
Not as easily portable as some other options.
Akai Professional MPK Mini MKII – Best 25-Key Controller For Logic Pro X
Akai has a large range of MIDI controllers and their reputation in the music tech industry is pretty impressive. The MPK range has multiple sizes, but we're focusing on the mini MKII which fits loads of features into a compact design, suitable for use in the studio or in a live environment.
Features:
USB Powered.
4-way stick for dynamic modulation.
Plug and play connection.
AIR music tech VSTi's included.
8 drum pads and 8 knobs to assign controls.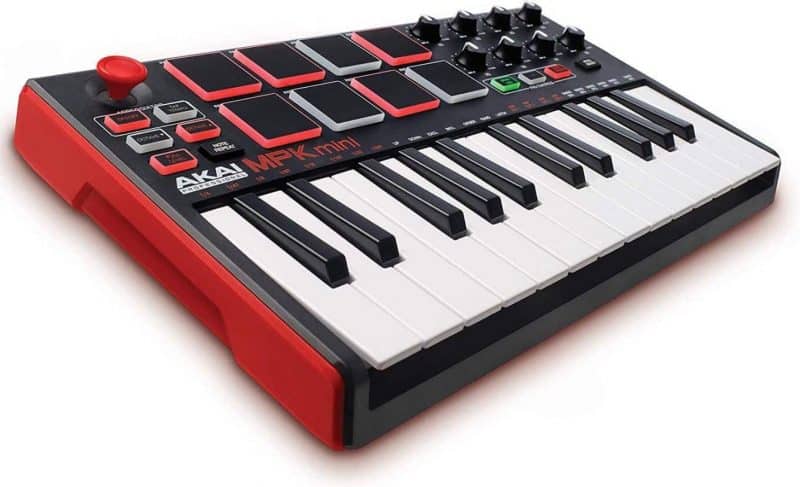 This easily connects to either Mac or Windows PCs and has plug and play capabilities so you don't have to install any drivers. As well as being powered by your USB connection it also has backlit pads which means you can see it just as easily on stage as you would be able to in broad daylight.
As well as a good quality keyboard, it also includes plenty of pads that you can assign and there is also an arpeggiator and multiple assignable knobs. You might not get to play with all of this flexibility with some other MIDI controllers.
If you buy this MIDI controller, it is compact and easy to use in pretty much any scenario. It comes with an included production package, so you can control some extra synths made by AIR music technology to go along with the control of your DAW.
Pros
Small and portable.
Includes a keyboard and pads.
Backlit pads.
Plug and play compatibility with Logic Pro X.
Cons
Can only be played one-handed as it is small.
AKAI Professional MPD218 | Ultra Portable USB Bus Powered 16 Pad USB/MIDI Pad Controller – Affordable MIDI Pad controller
Another option from Akai, this is one of the affordable models on the market and is a quality, portable pad controller. Though it doesn't have a keyboard there are plenty of other features that may be great for producers and beat makers.
Features:
16 MPC pads for sample triggering.
3 Pad banks that can be assigned.
18 360 degree pots that can control parameters in Logic pro.
Can be used with iOS apps.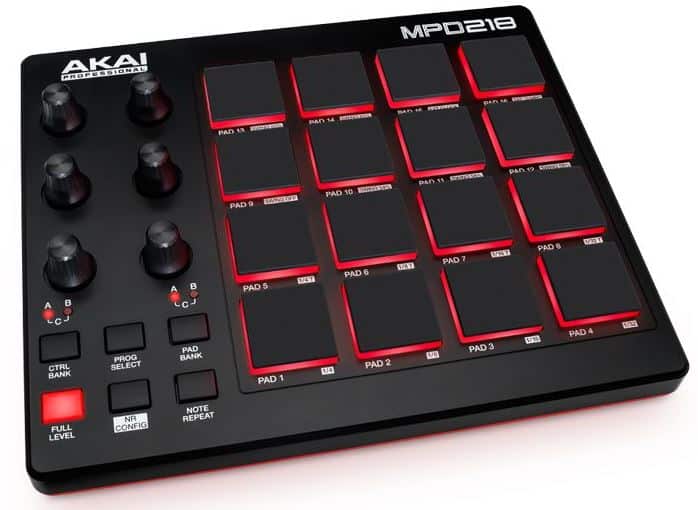 This is arguably best for use making beats, and you can control the levels and even a note repeat function that can allow you to make beats quickly and on the fly, which can be very good for making beats during performances.
One of the positive things about this controller is the price tag, if you are looking for something that is relatively affordable and you don't need a keyboard function then this could be a good choice. It can link to plugins within Logic and is fairly intuitive with the Logic Pro X DAW interface.
Pros
Great for making drum beats.
Control multiple parameters in Logic Pro.
With a camera kit, you can use this with Logic on an iPad.
Includes 16GB of inbuilt sounds.
Cons
No keyboard function for playing melodies.
Tricky to use with iPad and requires the camera kit to connect.
Novation Launchkey 49 USB Keyboard Controller 49-Note MK2 Version – Best 49 Key MIDI Controller
Novation creates some great hardware, and though this is designed first and foremost for use with Ableton Live software it can also be used with Logic fairly easily. 49 keys is a fairly good size for a MIDI controller, and this is a good middle ground between a model that can be taken out to gigs or be used in a studio just as easily.
Features:
49 keys, 16 pads and 8 assignable knobs.
LED display.
Works with Mac or PC.
Can be used with a sustain pedal.
3-year Novation warranty.

This is another MIDI controller that includes both keys and pads so you can play drum beats and melodies just as easily. If you're really skilled you can control both at the same time. There is Ableton software included but if you're looking for the best MIDI controllers for Logic Pro X then you might not need this.
The MIDI controller can connect by just being plugged in so you don't need to worry about drivers. It feels pretty well-made in spite of the fact that it is actually pretty small and portable. There aren't may 49-key models out there but this might well be the very best out there for use in Logic and other audio software.
Pros
You can play some things two-handed on 49 keys.
Lots of pads and knobs which are assignable.
Easy to set up, totally USB powered.
Compatible with sustain pedals for even more control, especially for piano.
Cons
A bit bigger than 25-key models so not as portable.
There are lots of options and it can be hard to navigate through these on the interface.
Nektar Impact LX49+ Keyboard Controller – Most Control
The Nektar MIDI keyboard models are really great for musicians. They have a lot of features and functionality and these powerful keyboards can be assigned to do a huge number of audio functions, controlling loads of parameters and triggering sounds in different ways, or triggering loops and samples.
The LX49+ is a 49-key model, which is a great balance between portability and functions as you can still play some stuff with two hands or create "zones" on the keyboard.
Features:
49 note keyboard.
Includes Bitwig DAW.
26 programmable controllers: 9x 30mm faders, 9x MIDI buttons, and 8x potentiometers.
Integrates with Logic easily.
iOS compatible.
Works with Mac and OSX.

This definitely feels more like a synthesizer than some of the other options out there, it has velocity sensitivity and even an aftertouch function so it is lovely to play and sounds like an analog synth if you find the right VSTi!
The Nektar option itself has a lot of functionality that ties in perfectly with Logic Pro X. The 26 assignable parameters can be saved and recalled at any time so you can use different 'profiles' for different performances.
This is also compatible with iOS, so you can do a lot from the iPad or iPad pro. Logic is automatically mapped to Nektar controls. There is an included DAW, called Bitwig, which you won't choose to replace Logic but it can make it really simple and easy to line up your live performances.
Pros
Maps automatically to Logic and it's VSTi's.
26 different parameters that can be set.
Can be used with iOS.
Cons
No Android compatibility.
A bit big and bulky for a 49-key model.
CME, Xkey Air 25-Key Bluetooth MIDI Controller – Best Bluetooth MIDI Controller
The CME Bluetooth MIDI controller definitely looks quite different to some of the other options, as it is absolutely tiny! It's the only Bluetooth design we've featured on the list, but luckily, you can use it with Logic, which quickly and easily recognizes the interface and allows you to control lots of aspects of Logic Pro X even with no wires.
Features:
Full-size piano keys.
Extremely portable. 0.6 inches thick and weighs under 2 lbs.
Velocity-sensitive and has an aftertouch facility.
Made from aluminum for durability.
Compatible with iOS, Android, Mac, PC, and Linux, so works with Logic on all platforms.

When you think about the fact that you don't need any wires to use this, it is a very good option. DAWs don't all work brilliantly with this keyboard. Some software is definitely lagging behind somewhat. Logic doesn't have this issue so we're happy to include it on the list of the top DAWs.
We really think that in the future most audio connections will be Bluetooth, at least to some degree, and this means that the CME is ahead of the curve. Portability is one of the best things about this. You can easily stick it in your bag and it might even fit within an iPad case, ready to take out and about to gigs or band practice.
Reliability with the Bluetooth is sometimes a little bit sketchy, but this is true of all Bluetooth devices really, we've all tried to connect something and failed without knowing why!
Pros
Extremely small and light.
Connects to multiple OS and DAWs.
Can work with phones and tablets.
Cons
Keys are flat and don't feel 'real' to play.
No slider or pad controls.
A bit more expensive than some small options.
The connection is not always 100% reliable, as with all Bluetooth devices.
Nektar (IMPACT LX88+) – Best 88-Key MIDI Controller For Logic
If you are a pianist, and you are looking for a MIDI controller to link up with Logic then you might want to get something that mirrors your piano. 88-keys gives the full range of octaves and if you are good at playing the piano then this can mean you aren't limited by your MIDI controller.
Features:
Semi-weighted keys to mimic the piano.
Split and layer functions.
9 faders, 9 buttons, 8 potentiometers, and 10 more assignable buttons.
MIDI out and USB out.
DAW integrated, easy to use with Logic Pro X.

A lot of people are looking for a MIDI controller that is full-sized which means that you can build a studio around it. Naturally, it's not going to be as portable, but if you are looking for loads of control then this could be a great choice. As well as being able to play even complex songs then you can use the extra modes such as split and layer controls.
The keys are semi-weighted. It doesn't feel exactly like an acoustic piano but these keys are a fairly good substitute. As with the other Nektar models, the way it integrates with software is another big plus point. Linking up with Logic Pro X is very simple and easy.
Pros
Includes split and layer modes.
Control with over 30 buttons, pots, and faders.
Full-sized keyboard to mimic an acoustic piano.
Cons
Keys don't have a hammer action.
Obviously larger and less portable than some options.
Akai Professional LPD8 | Portable 8-Pad USB MIDI Pad Controller – Best Mini Pad Controller
If you're in the market for tiny hardware that can come on the bus or train with you then the LPD8 could be a very good option. Though it is absolutely tiny, it still has some decent features.
Features:
8 knobs for assigning to parameters..
8 backlit, velocity-sensitive drum pads.
Good compatibility and easily links up to Logic Pro X.
USB powered.
It's really simple and though it isn't as powerful as some of the other choices out there it does plenty for the average bedroom musician, you can assign drums to the pads, trigger loops and more.
Obviously, there is no keyboard, however, this isn't an issue for some musicians. You can control drum machines and VSTi's within Logic with ease and it maps to Logic Pro X quickly and intuitively.
Obviously the size is a big benefit, too.
Pros
Very small and light.
Simple to control.
No need for external power.
Easily maps to logic and VST's within.
Cons
No keyboard.
More breakable as it is very small.
Is Logic The Best DAW For MIDI Controllers?
If you are doing it the other way around, looking to buy the right software to go with your MIDI controller, you should think about whether Logic Pro X is the right option for you. Ultimately, it will boil down to what you are most comfortable with.
Both Logic and Ableton Live are leaders in the industry, along with Pro Tools. All can be used alongside a MIDI controller, but Ableton may be slightly better for live use, Pro Tools may be slightly better for studio use and Logic Pro X is a really good "all-rounder".
While we wouldn't stick our neck out and recommend one specific DAW, it is about working with what is most comfortable to you.
Do I Need Keys Or Pads?
It's a good idea to get an option with both keys or pads if you think that you might well use both. If you are a musician who has some knowledge on how to play the piano, then you might prioritize the keyboard function over pads. However, if you are looking to make drum beats or trigger samples then it might be better to get a model with pads instead.
Conclusion
Having a MIDI controller for Logic Pro X can increase the flexibility of your software and how easy it is to control loads of parameters. It is so much more awkward to make these alterations and tweak parameters such as filters and effects live as you are playing or recording. This extra control surface can add a new dynamic to your performance.
We've named the M-Audio Code 61 the best overall as it combines both pads and keys and integrates really well with Logic Pro X, but if you want a more portable option, something such as the Akai Professional MPK Mini MKII might be more suitable and easier to take out and about with you.

Jack is the leading publisher of Fire Inside Music. He is teaching piano at a music school in Los Angeles. Since he was a teenager, Jack has had a great passion for music, the thing he enjoyed most was singing and playing the piano. He has excellent keyboard experience, works with William to help players select the best instrument to invest.