All parents desire an instrument with enough features and playability that their little ones could not instantly get frustrated with it.
But at the same time, we need to know what is enough. Any extra spent on premium features, that are hard to use or understand well for a novice, is all unnecessary.
For a beginner, let start with a piano (or keyboard) from very basic level. And the point is, among a whole heap of keyboards, how can you tell which is the best one?
Take a look at this in-depth of Casio LK 135 review. Hope it will be helpful for your consideration.
The Reason Why You Should Purchase A Casio LK 135
There must be some good reasons why the Casio LK 135 is considered a great place for beginners to look for, as their very first keyboards.

The New Features 
Let's take a look at the updated features of the keyboards first!
Latest Dance Music Mode
The LK 135 and its brand new Dance Music Mode will be a great supporter for you in creating electronic music.
You are free to choose your favorite styles from 50 different patterns of EDM, House, and Hip-hop. Drum, bass or synth also help you add special effects on your tracks.
In addition to this visual aid whilst you or your kids playing, the new Dance Music mode (typical to Casio digital keyboards) is really affordable keyboard to start.
It is suitable for a simultaneous kid and adults, accompanied by a headphone/output jack, microphone.
Music On The Road
Accompany with battery power and AC adapter, the LK 135 allow you to create music on the go.  It's compact, reliable and super lightweight. AC adapter or Battery powered to make it easier for you to bring your music anywhere.
Casio's Innovative Lighted Key System
The most recognizable feature of the Casio LK 135 that needs mentioning, is Casio's innovative Lighted Key system. It tells you exactly which keys you can press to learn one/some/or any of the 100 built-in songs.
Thanks to this excellent feature, beginners can play straight away without hesitation! A large number of built-in songs also mean that there's always something new and interesting thing to learn and experience.
That's what makes all piano beginners and even all your family members satisfied!
You can enable or disable the lighting mode with a button. When pressing keys, you will clearly see the red lightened up (maximum 4 keys simultaneously lit).
This kind of acts is an amazing visual aid to help beginners see clearly where they have to place their hands on as well as label their scale shapes and chord.
Awesome Sound Quality
With hundreds of high-quality Tones and fun Rhythms, this Casio model delivers you a whole new musical century.
You can experience the premium sound via the built-in speaker or connected headphones to give the amplification. They are not too loud but all good to go for what a family or beginner needs.
High-End Feature For The Cheaper Model
The good thing presenting on this basic model is the finger on bass accompaniment mode.
This feature is often available on the high-end series. Astonishingly, Casio offers it to a very affordable keyboard like the LK 135.
A Really Affordable Keyboard
Right before starting to tons of reviews about best starter digital pianos and keyboards, there might be some things that should be clear in mind.
First, who will owe the keyboard or will play it frequently (kids or adults) or what kinds of unique features you want in digital pianos or keyboard. And especially how much money you can spend on it.

Price is one of the most important things to keep in mind. Price can vary depending on whether you require a normal digital piano/keyboard or a model in an upright position.
An enormous expensive instrument (that is nearly unmovable) must be the most obstacles that any beginner dream about. But it is definitely unrealistic!
The good news is that for an affordable amount of money, it is possible to find a modern electric piano or keyboard which is capable of providing great sound and the same dynamics of an acoustic piano, at a package small enough to be portable.
We must tell you that the Casio LK 135 is the keyboard perfectly designed for you – no matter how many different voices or stuff you want!
For those who do not want to splurge on an instrument, but still think of everything needed to kick off playing the Casio digital keyboard, look no further than the Casio LK 135.
A Well-Known Brand
The LK 135 model of the popular brand – Casio is a super-affordable Casio digital keyboard, offering surprising capabilities such as a diversity of 120 different stunning instrument sounds consisting of everything.
From acoustic pianos to strings to exotic instruments from around the world, it is expected to keep you excited all the time.
What's more? Right after selecting one of the 70 available rhythms providing wonderful backings for many different styles of music, you are ready to immerse yourself in some perfect sounds played by yourself!
Easy Learning Experience 
Enjoy The Lessons With 61 Piano Keys
Most might think that it is much easier for a beginner to learn how to play a keyboard if they own an acoustic piano with 88 piano keys.
People also agree that the transition of a student's or other beginning players on a keyboard with 88 keys makes them transition to an acoustic without much difficulty.
However, there's one thing to note: the full number of 88 piano keys are required if you want to play a more complex and much classical music.
On the other hand, it is much easier and less-confusing when the beginners play a smaller keyboard.
Not to mention for the portability and convenience for newbies and, especially younger, players – the fewer keys that they have, the more portable and convenient it is! The smaller instruments with fewer keys (either 76 or 61 keys) are the most popular models.
When playing some famous songs like Pachelbel's canon or Moonlight Sonata, you can feel the difference in sound between the 61 keys and the 88 keys, especially in the lowest notes.
However, for all beginning students, the 61 keys like the Casio LK 135 are still allowed to finish almost every lesson they will initially encounter.
Read more: Casio LK 265 Review
Amateur-Friendly Panel Design
The design of this LK 135 is quite simple but easy to get used with. The song names and styles of music are all on the top of the panel.
You can quickly choose what you want and then, press the corresponding numbers or buttons.
Except for some important buttons (power, volume, numbers…), there are no intro, end and knob buttons on the keyboard, that's why the manufacturer cuts down the cost.
However, they are not a big deal with newbies who have passed the very first piano playing lessons.
Excellent Performance 
It is clear that the Casio LK 135's tone and feel cannot be at the same standard as that of a much more expensive keyboard.
However, it perfectly performs what the box tells you and it makes a lot of people completely content and happy with that.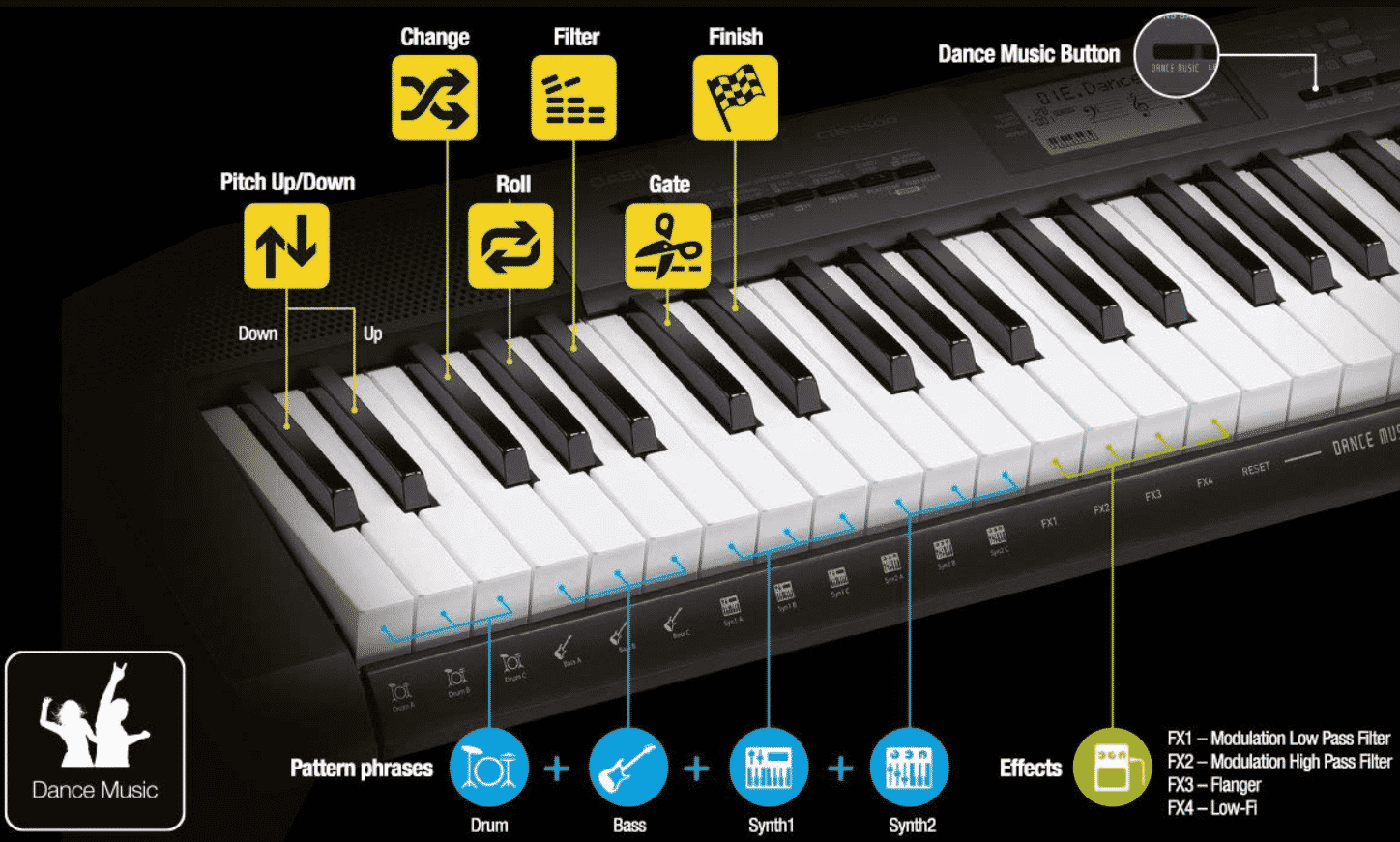 However, most people will tell you that just doing that cannot make you an excellent pianist. And unluckily, the chances you will quickly feel tired of it are not rare.
Small Size And Lightweight 
The last but not least feature of Casio LK 135 is its portability – which is important to keep the piano with your kids much of their time.
Thanks to its weight – 8.6lbs (or 3.8 Kg), its dimensions (94 x 30 x 9 cm), and especially the AC adapter or Battery powered accompanying with it, you can bring the digital keyboard itself as well as your stunning music everywhere you want, whether it is a party, a celebration, or your relatives' houses.
The wireframe and the stand are designed simply in order not to affect the whole keyboard weight.
What We Like
Affordable price
Solid construction
Easy to access and learn
Suitable for beginners
Provide both high-end and basic features
Add dance music
Big song library
Impressive lighting key system
Good sound
Portable and lightweight
What We Don't Like
Not a Midi device (if preferred)
No 3.5mm jack
No sustain pedal
Not support USB, memory card and Bluetooth
Three Must-Know Facts About The Casio LK 135
Nevertheless, this Casio keyboard doesn't provide some features that you may consider as the followings:
Not A MIDI Device
This keyboard is not for professional digital musicians. There is no built-in MIDI connection. You cannot feel the interesting things from computer-controlled music.
No 3.5mm Jack
There are two ports in the back of the keyboard. One is for AC power and the other is for phone or output. Unfortunately, the socket of phone/output is not compatible with 3.5mm jack from most of the modern devices.
Anyway, if you have a headphone with the stereo standard jack, you can use it when playing in the night time for not disturbing the others.
Some great features such as Bluetooth, USB, memory card are also absent on this Casio model. We cannot require too much from that basic keyboard. However, with 100 songs from its library, there are so many things to explore with this keyboard.
No Sustain Pedal
This model doesn't support any sustain pedal. Obviously, there are only 2 sockets for power and phone/output. You can find nowhere to plug your pedal although the symbol "ped" still shows up on the LCD.
You should start playing songs without pedal from the available things that the Casio LK 135 provides.
Here Are The Last Words Of Our Casio LK 135 Review
What do you think about our review so far?
Light and really portable and convenient, the Casio LK 135 is perfectly designed with beginner piano players in mind.
With all the best of what Casio has to offer – from 100 built-in songs built-infinity to play 30 to 255 beats per minute to headphone/output jack, metronome.
The Casio LK 135 is perfect for all the beginner piano players, even the laziest ones will be more than happy and willing to learn how to play a digital piano, how each instrument is supposed to sound like, and especially practice without break.

Jack is the leading publisher of Fire Inside Music. He is teaching piano at a music school in Los Angeles. Since he was a teenager, Jack has had a great passion for music, the thing he enjoyed most was singing and playing the piano. He has excellent keyboard experience, works with William to help players select the best instrument to invest.