In the digital piano and electric keyboard industry, Casio has always been one of the leading manufacturers.
Although many in the music industry consider Casio a producer of toy instruments, this company has been proving that it is a reliable brand recently.
With excellent strides in the feel and tone quality, Casio has a vast range of keyboards from entry-level to high-end console ones.
But which is the best Casio keyboard for you?
The answer is dependent on your demands. And in this article, we will bring you a closer look at different Casio keyboard reviews and when they're suitable.
Let's get started!
Btw, I made this summary video in case you lazy to read:
Does Casio Make Good Keyboards And Pianos?
To find the accurate answer, you need to compare Casio with Yamaha, another famous brand on the market.
Yamaha pianos and keyboards come with a better reputation of top-class instruments. But for the price, Casio models is usually cheaper.
This brand always provides excellent specifications and offers more value for the money. It even recently introduces an aggressive line of products under $1,000.
Overall, which you select mainly depends on your needs and your budget.
Top 10 Best Casio Keyboard Reviews
Best Casio Digital Pianos
1. Casio CGP-700BK 88-Key Digital Grand Piano

With many excellent features, the Casio CGP-700BK makes any pianist fall in love with it right away.
Our first impression is all about its Tri-sensor scaled hammer action, which is just as good as the keys on a grand piano.
Also, it simulates the ivory and ebony feels to create an even better experience.
Another outstanding point is its 6-speaker sound system. With 4 speakers in the top panel, the CGP-700BK has two 40-watt ones on the stand, making its sound just like the traditional pianos.
Besides, there is a dedicated button for acoustic sound as well as 550 instrument tones and effects. This model also includes stereo auxiliary inputs, USB ports, and MIDI/audio sound recording options.
With all these features, you're guaranteed to get a durable digital piano with great rewards and limited risks.
What We Like
Ideal for home, class, studio, and stage
88 weighted keys, giving the feel of a grand piano
Features 6 speakers
Includes a color touchscreen display
Offers 550 instrument tones and effects
3-year warranty
What We Don't Like
The stand doesn't look sturdy
Only records sound as .wav files
2. Casio Privia PX-870 Digital Piano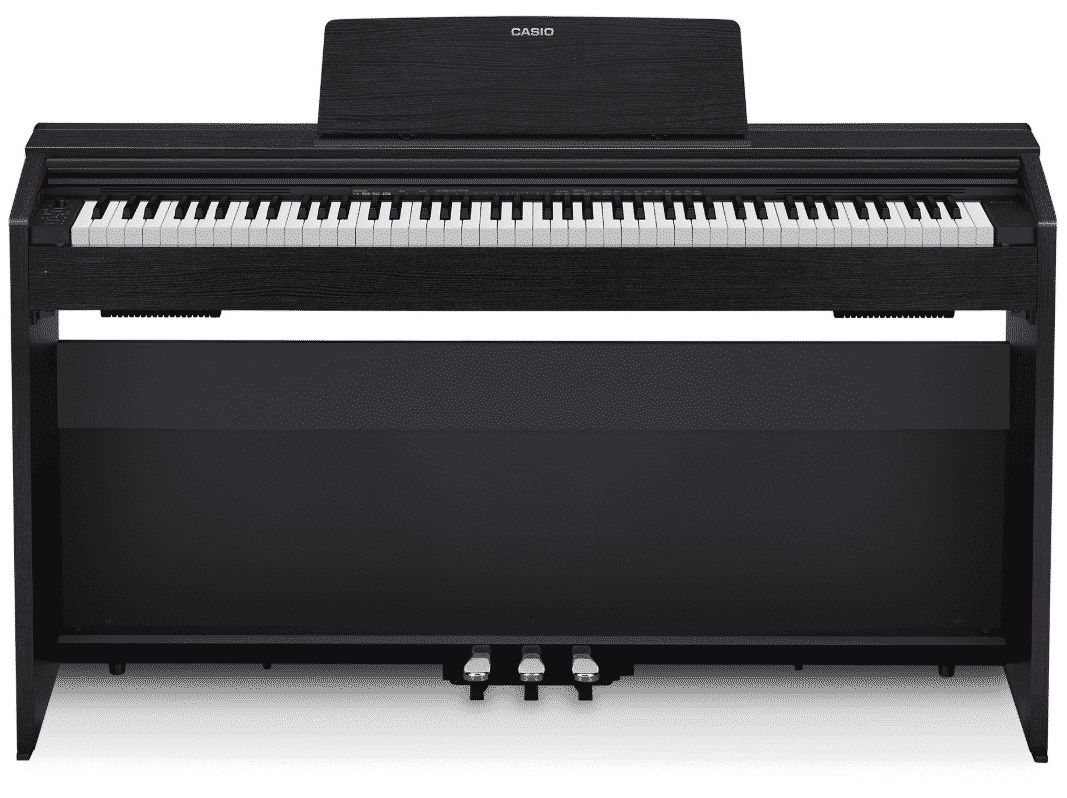 As a flagship piano in Casio's Privia series, the PX-870 has everything you want in a grand digital piano.
As you can see, it's a furniture-style piano that looks and feels like a standard one.
Since it's quite heavy (75 pounds), you can only put it in a particular place in your house.
With the Casio's Tri-Sensor Scaled Hammer Action Keyboard II, it will reproduce sound with delicate details.
Try to close your eyes while playing and you will have the feeling when playing an acoustic instrument.
It also includes other features mimicking the feeling of playing a real piano such as a hall, lid, key off simulators, and stereo resonance.
Another well-designed feature that we'd love to introduce is its Lesson mode, which is helpful for beginners.
It allows you to play lots of programmed songs and even has an instructional DVD to help you improve your music abilities.
What We Like
Compact design with stylish cabinet-work
88 weighted keys
3 built-in pedals
4-speaker system for a fantastic sound
Built-in lesson mode, ideal for beginners
What We Don't Like
Does not include many tones and effects
Not portable
A bit pricey
Read our reviews for Casio Privia series:
3. Casio CDP-240 88-Key Digital Piano

If what you need is a budget-friendly digital piano with tons of great features, the Casio CDP-240 will be your best choice at this time.
This unit has a Scaled Hammer Action keyboard with 88 weighted keys. It also features 3 levels of touch response, allowing you to play a vast range of dynamics.
With a 64-note polyphony, an extensive song bank, and hundreds of built-in tones and rhythms, it is designed and engineered to give you the best sounds.
Thanks to a built-in Step-Up lesson system, you can learn to play at your own pace with ease. Just view notes on a built-in LCD and play with your hands/fingers.
What We Like
88 weighted-key, giving a natural feel
700 built-in tones and 152 preset songs
64-note polyphony
Built-in lesson mode
What We Don't Like
The LCD is a bit hard to see
The speakers are subpar, not ideal for skilled pianists
Read our reviews for Casio CDP series:
Best Casio Mini Keyboards For Kids
Casio SA76 44 mini Sized Keys 100 Tones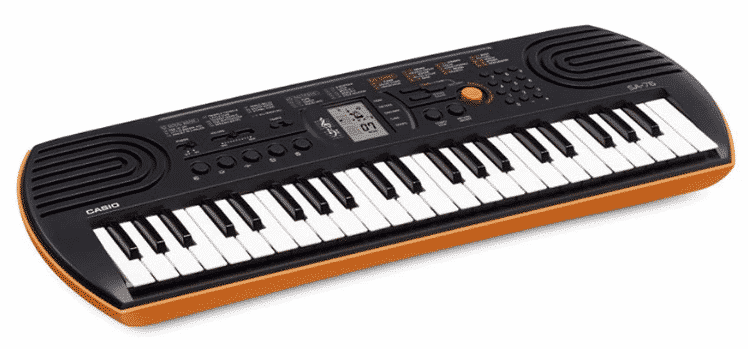 If you are looking to a mini keyboard for your children at the best price, you won't go wrong with the Casio SA76.
With 44 keys, this model provides 100 built-in tones, 50 rhythms, and 10 songs.
It also comes with an LSI sound source and 8-note polyphony, offering the feel of a real piano.
Thanks to an LC display, your kid can control various music options.
Another extra feature that we're sure your child will love is the 5 different buttons for drum sounds.
Since these drum sounds can be availed at the same time as playing the piano, your child can combine both to create his own music.
What We Like
Compact and lightweight
Great keyboard for kids
Great sound quality
Different colors to choose from
Good value for the money
Read our reviews for Casio SA series:
Best Casio Workstation Keyboards
1. Casio WK-245 76-Key Touch Sensitive Keyboard

The first Casio electronic keyboard that we want to mention in this list is the WK-245.
With 76 piano-style touch-response keys, this model is suitable for those who cannot pay for the 88-key units at high prices.
It, of course, gives you ample flexibility to run scales from left to right.
​Also, the 48-note polyphony is quite good for an entry-level keyboard. But if you're an expert pianist, you might require at least 64-note polyphony to get better sounds.
What's more, this digital workstation has 600 tones, 180 rhythms, 152 built-in songs to satisfy the demands of beginners as well as professionals.
What We Like
Ideal for both beginners and experienced players
Touch-responsive keys, giving a nice feel while playing
Offers several great features
Provides an excellent sound
Gives a good MIDI controller over USB
Reasonable prices
What We Don't Like
No MAC support
Black keys are slightly skinny
2. Casio WK-6600 76-Key Workstation Keyboard

If you need an updated version of the Casio WK-245, the WK-6600 is for you.
This workstation keyboard has over 700 built-in tones, 210 rhythms, and 100 DSP effects together with a tone and rhythm editor.
What we love about the rhythm editor is that you can combine different rhythms from the keyboard's memory.
You can even make original rhythms for the Intro, Fill In, Normal, and Ending.
It also includes a 32-channel mixer and a mic/audio input that allows you to jam along with your preferred tunes.
One more great feature that makes this model suitable for beginners is the Step-Up lesson.
It has over 100 pre-programmed songs that will be shown on LCD. Just choose the one you want and start practicing.
What We Like
76 touch-sensitive keys
Loads of tones, rhythms
Features rhythm editors for making and saving original beats
Provides great sounds and feels
Affordably priced
What We Don't Like
Some found the keys start creaking after a few months
Not ideal for live performance
Read our reviews for Casio WK series:
Best Light And Portable Keyboards
Casio LK-280 Lighted Key Premium Keyboard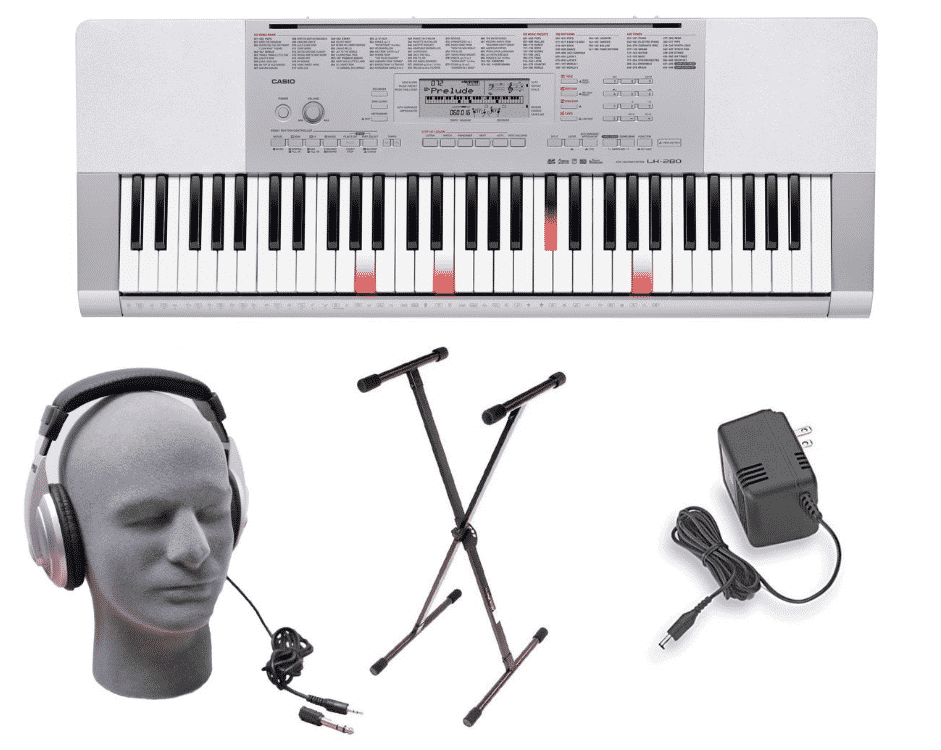 If what you love is to find a lighted keyboard, you should take a look at the Casio LK-280.
These 61 keys can light up and serve as an indicator to help you press the right notes.
Just load any songs you want, and the keyboard will tell you how to play.
Of course, it comes with many other great features.
For example, the keys are touch responsive that is good for learning. It also includes 152 built-in songs for practice, over 600 built-in tones and 5 song recorders.
You are free to add MIDI files and use as learning lessons. The LK-280 also offers a realistic sound like any sophisticated piano.
What We Like
Lighted keys for easy learning
Great sounds
Lots of pre-loaded songs to play
Many great features
Easy to add MIDI files
All-in-one package
What We Don't Like
The stand is little unsteady
Headphones look and feel cheap
Read our reviews for Casio LK series:
Best Rated Casio Keyboards For Beginner
1. Casio CTK-2550 PPK 61-Key Premium Keyboard

If your purpose is to know which Casio keyboard is best for beginners, the Casio CTK-2550 will be the answer.
It's a 61-key keyboard that includes a 48-note polyphony. Although not the best, it's good enough for this model.
Regarding sounds created, this unit provides 400 tones and 100 rhythms that are loads of fun to enjoy.
And they truly give you a lot of depth for any song you're playing.
You don't know how to play keyboards? Don't worry since this product has a built-in lesson system to help you.
It even includes the free Chordata Play app to make learning more fun and a Dance Music mode with 50 different rhythms to allow you to liven up the party whether you are playing or not.
As said, CTK-2550 is an excellent candidate for the best keyboard solutions for beginners. If you just start learning, goes for it.
What We Like
61 touch-sensitive keys, ideal for beginners to learn and practice
Lots of tones and rhythms to enjoy
50 different dance music rhythms
Has a built-in lesson system
Comes with a full set
Cost-effective
What We Don't Like
Keys tend to have malfunctions after a period of playing
The keyboard doesn't mimic the acoustic piano's sound well
2. Casio CTK2400 PPK 61-Key Premium Portable Keyboard

Another great keyboard for new learners in this list is the Casio Inc. CTK2400.
With 400 AHL tones, 150 rhythms, 110 songs for learning and practicing, 48-note polyphony, and 10 digital effects, you are guaranteed to diversify your music and make any improvisation brighter and more colorful.
Interestingly, this unit includes the built-in microphone so that you can record samples and vocal parts.
Although it is no match for a professional studio one, it's good enough to use.
Another great feature is that you can connect your MP3 player to play your favorite songs.
The Casio Inc. CTK2400, with a foldable stand, is compact and can be easily carried along for transportation or stored.
What We Like
Suitable for learning and practicing
Nice sounds to enjoy
Lightweight and easy to transport or store
Offers different tones and functions
Features a step-up learning system and built-in microphones
Good value for the price
What We Don't Like
Headphones have a cheap feeling
Some found that the stand doesn't fit the keyboard well
Read our reviews for Casio CTK series:
Best Casio Stage Pianos
Casio PX-5S 88-Key Privia Pro Digital Stage Piano

It can be said that the Casio PX-5S is one of the best keyboard instruments for the stage since it includes all the essentials you want.
The design looks a little vintage, but under it are all-new technologies.
A few features have been implemented to provide better sound quality and more controls.
The appearance of the Hex Layer tones with 4 programmable arpeggiators and real-time filters is a nice addition. Also, AiR Sound Source helps give more realistic sounds.
And don't miss the remarkable Stage Settings, which allows you to access and manipulate the sounds with ease.
Thanks to an external USB thumb drive, it's easy for you to record your performances and then save them as standard .wav files.
One more excellent thing about this unit is the compatibility with both Mac and Windows devices via USB MIDI.
It also allows this model to be availed as a controller for your iPad by using the Apple's Camera Connection Kit.
What We Like
Suitable for stage performances
88 Tri-Sensor scaled hammer action keys
Comes with a flexible configuration range
Improved AiR system for the great sounds
Features 256 notes of polyphony
Easy to record performances
What We Don't Like
A bit pricey
No built-in speakers, you will need earphones or amplifiers first
FAQs
How To Play Casio Keyboards?
As a whole, using your Casio keyboard is quite easy. As for complex features, such as pre-programmed lessons, just consult the manuals.
After getting the hang of using the keyboard, continue learning some basic skills. And then try to play a simple song like Twinkle Twinkle Little Star.
How Much Is A Casio Keyboard Worth?
When it comes to Casio keyboard price, you can easily find many keyboards from under $100 to even $1000.
You need to determine what you want and how much you could pay. That will help you find the keyboard that is worth every penny.
How To Connect A Casio Keyboard To A Computer?
First, turn off the keyboard and turn on the computer.
Insert one end of the USB cable to the rear of the keyboard and the other end into the computer.
Turn on the keyboard so that the driver will be automatically installed into the computer.
Finally, launch the music software to start.
How To Reset A Casio Piano?
Here is an example of resetting the Casio PX-5S.
Press power ON while holding the [4] and [Num Key] buttons until seeing the "Initializing" on display. Then the Factory Reset produce will be completes.
How To Record On A Casio Piano?
Tap the Rhythm button to start the rhythm mode.
Then hit the Song Memory button to enter recording standby.
Continue pressing one of the Track buttons to choose a track to record on.
Input any settings you want and start recording by hitting the Start/Stop button.
To stop, press the Start/Stop button again.
How To Use A Casio Keyboard As A MIDI Controller?
Connect the MIDI In of the cable to the MIDI Out of the keyboard.
Continue connecting the USB end to an available USB port on the computer.
Then hit the keys on the keyboard to see if there is any MIDI signal is being sent in.
Usually, the USB will be installed on the computer automatically.
After that, feel free to launch the MIDI software to detect any MIDI inputs on the computer.
Conclusion
Casio makes the highest quality keyboards and digital pianos available and every model has its own features and strengths.
So, to choose the best Casio keyboards, it's necessary to know what you want.
Hopefully, our Casio keyboard reviews above will satisfy and help you pick up the most suitable model.
No matter which product you opt for, these units are among the best and will offer you years of wonderful music experience.
GET YOURS NOW and don't forget to share with us!

Jack is the leading publisher of Fire Inside Music. He is teaching piano at a music school in Los Angeles. Since he was a teenager, Jack has had a great passion for music, the thing he enjoyed most was singing and playing the piano. He has excellent keyboard experience, works with William to help players select the best instrument to invest.