It seems that Casio digital pianos are great for not only home use but also studio and stage use. Even, they are an excellent tool for both beginners and piano teachers.
And today, we will give you a closer look at our Casio CDP 235 review, which is known as a new version when examining vs CDP 230.
This digital piano boasts a new improved Grand Piano sound that makes you think about an actual grand piano. Although it isn't, it has been attracting lots of piano players.
So, what is the BIG reason?
Follow us and discover now!
Casio CDP 235 Specs And Features
Before diving into our detailed review, you should have a general look at the Casio CDP 235 at first.
88 weighted keys, scaled hammer action keyboard
700 built-in tones and 200 built-in rhythms
152 built-in songs
90 arpeggiator types and 305 presets
Dual-Element AHL sound source
Digital effects including hall, reverb, and chorus
6-track recording
Step Up Lesson function
LCD screen with backlight
2 full-force sound speakers
AMP Output 8W + 8W
Maximum polyphony of 64 notes
SD memory card slot, MIDI, and USB
Headphone jack, mic, and audio in
Weight: 11.3 kg
Dimensions: 28.6 x 132.2 x 12.9 cm
Includes songbook, music stand, sustain pedal, and AC adapter
A Complete Casio CDP 235 Review
The First Look 
When it comes to the Casio CDP 235 or CDP235R or CDP235CSCB, all are the same. If seeing the model of CDP235CSCB, that means this digital piano offers a bench and stand without requiring an extra charge.
These 88-key pianos are equipped with an effect function that might recreate the rich, warm acoustics of a concert hall. And while playing, you will feel the inherent closeness of a concert hall performance.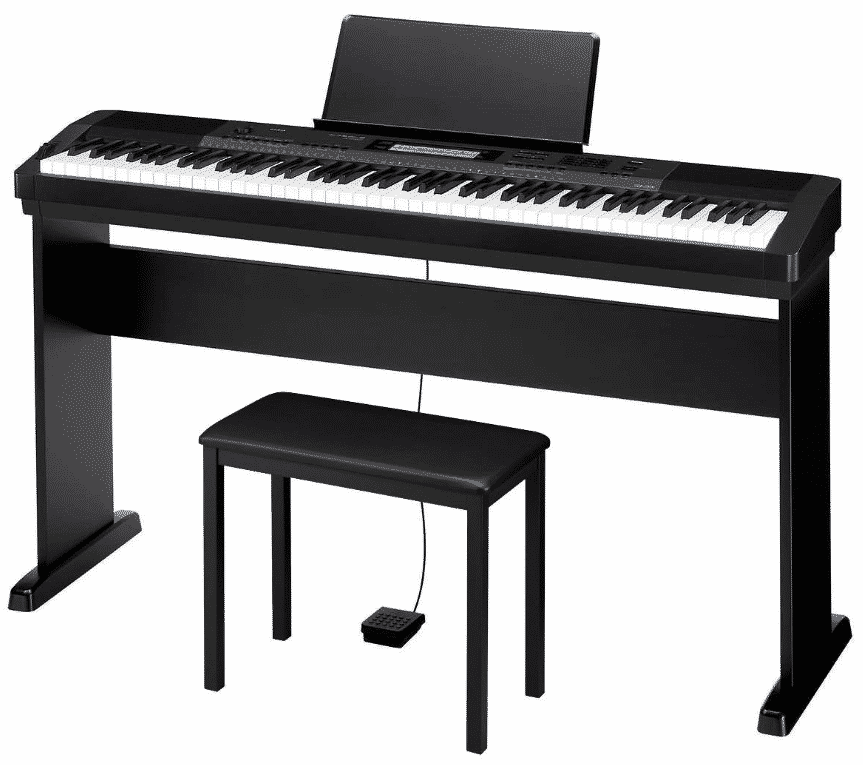 Thanks to the weighted keys, this instrument can replicate the resistance that you always feel when playing a traditional grand piano.
How about its design?
With a slim, compact and lightweight design, you are able to transport it to anywhere you want.
Advanced Features
Since the appearance of CDP 235 is to replace the CDP 230, it boasts about some new features.
LCD Screen
Instead of giving a gold/orange color from the previous model, the Casio CDP 235 comes with the display screen with backlight in a blue color. The button description text is in a white color that makes everything easier to read.
Polyphony
When the first model only comes with 48 notes of polyphony, this instrument has 64 notes of polyphony. That means the piano sound, itself, is better.
Besides, layering two sounds together is less uncertain.
Keyboard
With a spring-less hammer system, the Casio CDP 235 similarly works as grand pianos and gives a naturally firm keyboard touch at the same time.
When playing the lower notes, you recognize they are relatively heavier than the higher notes, like the keys on the grand pianos.
Touch Response
Touch Response allows you to add a subtle difference to notes by changing how much pressure you touch the key.
Speakers
If examining vs Yamaha P115, the speakers from the CDP 235 clearly and powerfully reproduce a rich, dynamic range. With two speaker systems of 8W + 8W amplifiers, they deliver rich, high-quality, and fat sounds from the bass to the treble.
Chord Book
If you don't know how to play a specific chord, you can avail the Chord Book as a reference. Select the chords you want to play, hear their sound and simply practice.
Step Up Lesson
The best way to start a song is to separate it into short phrases, practice each phrase and then put all together. The new function of Step Up Lesson does exactly what you want, allowing you to improve your playstyle.
Thanks to 152 built-in songs with 50 exercise phrases, you can cover a massive range of genres for lesson play.
Or you can load more songs from external sources. But, note that the fingering guide won't be shown for such songs.
Other Features To Consider 
Sounds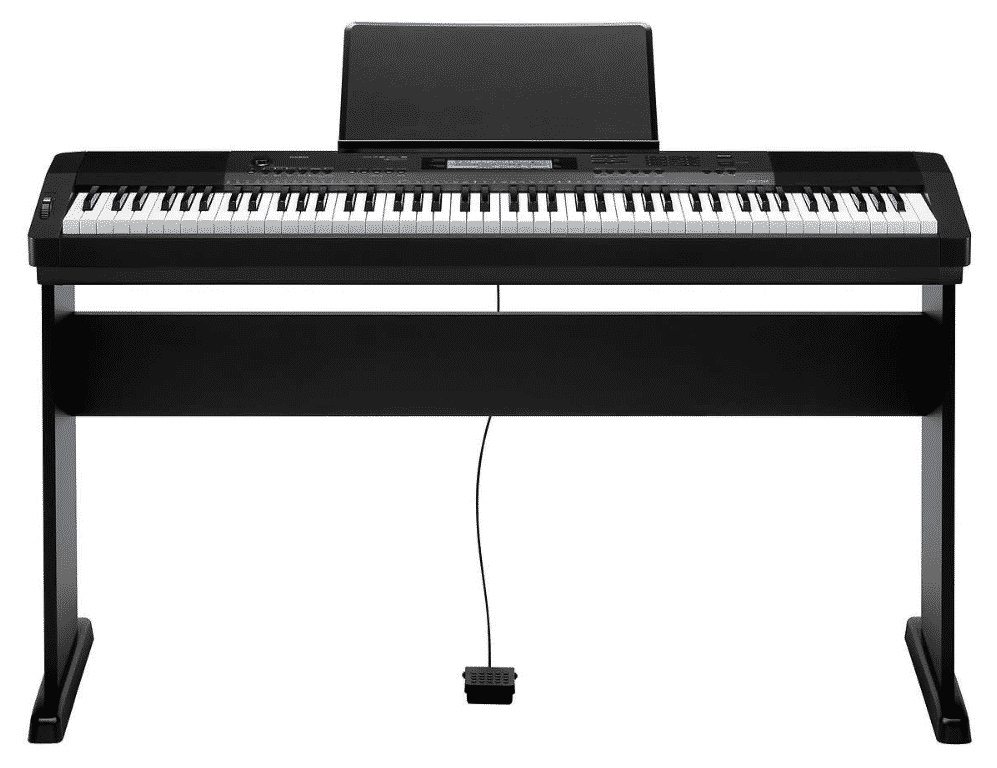 First of all, let's talk about a massive tone list!
With 700 high-quality tones, you can play tunes from different genres. You also welcome 200 rhythms and an advanced auto accompaniment with lots of styles such as Latin, Samba, Cumbia, Calypso, etc.
Thanks to the dual-element AHL sound system, the quality of the tones is exquisite. It's because this system utilizes waveforms of distinct samples of the same notes at the light and strong key pressures.
Music Preset
If you want to change the keyboard setup such as tempo, tone, rhythm, etc., it's best to choose a Music Preset. With 305 music presets, you can cover a massive range of musical genres.
It's ideal for playing a particular song as well.
Connectivity
Thanks to the USB port, it's easy to connect to the computer from Windows Vista to Windows 10 and Mac OS. Especially, the SD memory card slot is convenient for transferring data, up to 32GB.
Or in case you need to connect with another GM-compatible device or with a computer, this instrument offers the general MIDI (GM Level 1) as well.
For Your Entertainment
Aside from some main changes above, the Casio CDP 235 review concentrates on other entertainment features, including:
Sampling And Playing
The sampling feature is an ideal way to create new and creative sounds. For instance, you are able to test a sound from a microphone and perform it on the keyboard.
Or utilize the sampled sounds to create music or play notes if you like. Even, you can add vibrato, reverb or other effects to the sampled sounds to play notes on the keyboard.
Audio Or Mic In Jack
This digital piano is capable of connecting a CD player, digital audio player or other audio devices with ease. You even perform along with music played through the speakers of the keyboard.
And you can sing along with the built-in songs or any song loaded from outside sources by simply using the MIC.
Pros And Cons Of The Casio CDP 235
Things We Like
88 weighted keys, giving an authentic feeling of playing a grand piano
Increased polyphony
Comes with a massive tone list
Features Hall button
Offers two full-force sound speakers
Provides an intuitive teaching system
Good price
Comes with a full set of accessories
Things We Don't Like
The sustain pedal is a bit smaller than the previous model.
Some negative complaints of the key action movement
Other Alternatives As Compared With Casio CDP 235
Casio CDP 235 Vs Yamaha P45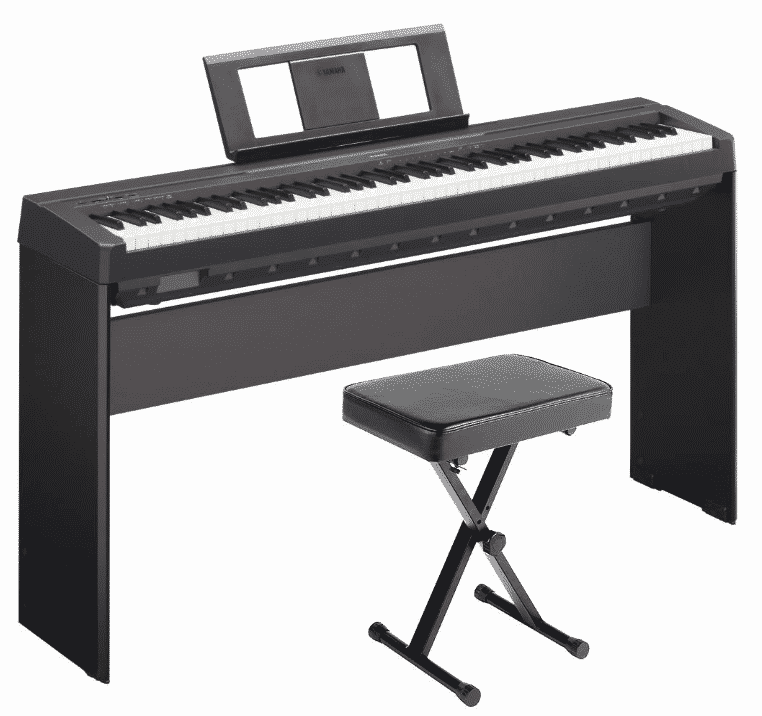 At first sight, both instruments are ideal digital pianos for beginners and students.
The P45 keyboard comes with a full set of 88 graded hammer standard keys. It also owns 64-note polyphony, offering much more vibrant and fuller piano sound.
The AWM stereo sampling only delivers a rich and natural piano sound, not focusing on treble or bass like the CDP 235.
Overall, the Yamaha P45 conveys the realistic sound and touch to experience. And in case your budget is under $500, you can consider this product.
Versus Yamaha P115

The Yamaha P115 is a bit more expensive than the CDP 235, though both are known as the best choice for home use and even performance.
This digital model is close to playing on an authentic Yamaha piano. With 88 weighted hammer action keys, it is capable of controlling touch and responsiveness. It also comes with unique resonance and grandeur lower notes.
Thanks to 192 notes of polyphony, you are able to perform any song you want.
Casio CDP 235 vs PX 160

The Casio PX 160 also comes with 88 weighted keys, but it highlights the famous feature of Tri-sensor Scaled Hammer Action II. By using 3-sensor detection system, it prevents your fingers from slipping, imparts cleaner feeling, and offer a prestigious look.
Although the PX 160 boasts its 128-note polyphony, its built-in songs and tone lists are less than the CDP 235.
When it comes to the speaker system, both CDP 235 and PX 160 are similar.
Casio CDP 235 vs CDP 135

Compared to the Casio CDP 235, the CDP 135 is described as the unbeatable value.
This instrument is equipped with 88 fully weighted keys to offer an authentic feel of an acoustic piano. Its powerful and clear built-in speaker system shows a nice grand sound together with a rich hall reverb effect and other great tones.
Although the Casio CDP 135 doesn't provide a MIDI recorder, it has kept a USB port as well as other features such as transpose, layering function, and metronome. You can check our CDP 135 review for more details.
Compare Casio CDP 235 With CDP 230

In comparison with other pianos, the CDP 230 is similar to the CDP 235. It shares the same key action, sound engine, speakers, sounds, etc.
However, the display screen of the CDP 230 is a bit hard to see since it is in an orange/gold color. Besides, it only offers 48 notes of polyphony.
Overall, if you prefer the CDP line and have a budget under $500, this instrument is ideal as well.
Read more: Casio CDP 100 Review
FAQs About Casio CDP 235
How To Connect The CDP 235 To The Computer/Laptop?
With a USB port, you can transfer data back and forth from the instrument to the computer or laptop quickly and easily. It supports Windows Vista, Windows 7, 8.1, 10, macOS (OS X or Mac OS X) from 10.7 to 10.12.
Additionally, the general MIDI permits connection with a computer or another GM-compatible device.
How To Record My Performances On The Computer From The CDP 235?
To record MIDI performances on the computer, you need to utilize the general MIDI controllers and a USB MIDI converter. The multi-tracking software is also necessary to perform, record and edit the performance on your computer.
Is Using The CDP 235 To Learn Piano A Good Way?
Yes, it is.
Thanks to the 88 weighted keys, it feels much more like the authentic piano keys. It also helps to set up right finger strength and technique. Importantly, it's equipped with the sustain pedal.
As outlined above, the built-in learning system including the Chord Book and Step Up Lesson guide you how to learn to practice chord and master a song. And after playing or practicing, your lesson score appears on the screen.
Another interesting thing is that this instrument offers the voice fingering guide. When the keyboard senses you are making problems, it will warn in a simulated human voice.
How About The Casio CDP 235 Warranty?
Most of the Casio keyboards have a 5-year warranty; meanwhile, their accessories offer a 12-month warranty.
But, depending on different sellers, you MUST check it carefully.
Ready To Buy This Digital Piano?
All in all, the Casio CDP 235 review here is positive.
If you need a digital piano with arranging capabilities at an affordable price, this instrument is what you need.
First of all, the 88-key hammer action keyboard allows you to relish selecting instruments and rhythms easily.
Want a learning tool? This instrument introduces features like Step Up Lesson and Chord Book that encourage any player to enjoy the favorite built-in songs.
One more great feature is that you are able to load more songs from external sources to learn to play or listen. And this helps to improve your playing skills. Wonderfully, a handy feature of Audio in jack allows you to connect a digital audio player to play along with the music via the speakers.
With or without the user manual, using or setting up the system is simple to do. And we're sure that you never feel bored with the CDP 235 no matter who you are, a kid, newbie or piano teacher.
It's time to ORDER the Casio CDP 235 so that you can welcome a reliable way to learn the piano skills on the digital piano.
In case you still have any question or want to know any information, don't mind asking us by leaving your comments below. And please SHARE this review if it is helpful not only for yourself but also the others.
Or don't miss reading other reviews in our site to update more.
Once again, thanks for your reading!

Jack is the leading publisher of Fire Inside Music. He is teaching piano at a music school in Los Angeles. Since he was a teenager, Jack has had a great passion for music, the thing he enjoyed most was singing and playing the piano. He has excellent keyboard experience, works with William to help players select the best instrument to invest.