A digital piano or keyboard can be a great way to learn or play the piano without having to own a big, bulky acoustic model. The best digital pianos do a great job of replicating the sound of an acoustic but have more connectivity, don't need tuning and are portable.
Knowing which model to buy can be tough, especially if you want specific features like a realistic "piano" feel. Our article is designed to help you to establish your own needs and find the ideal digital piano or keyboard for your needs. We've read hundreds of user reviews and provided reviews of 10 digital pianos, along with nominations of what they are best for.
Top 10 Best Digital Piano Picked Carefully
Yamaha P71 88-Key – Best Overall
This is a great mix of value and great features and gives a professional sound while fitting within the budget of most aspiring pianists.
Features:
88 fully-weighted keys.
Yamaha AWM sound engine provides excellent sampled sounds.
25 lbs.
Dual and split mode.
Includes power adapter and sustain pedal.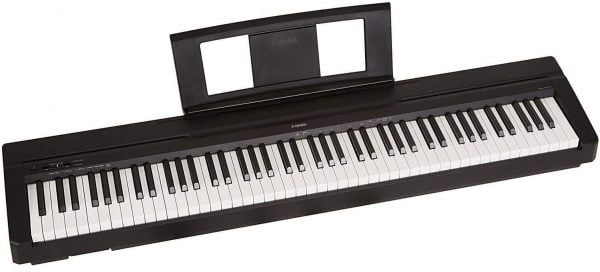 This digital piano is full-sized at 88-keys and these keys are also weighted, making it a fantastic option for someone who wants a fairly realistic piano feel without spending too much. The keys are even graded, so lighter at the top end of the piano.
The lightweight design also makes it a really good choice for taking out and about with you. This can function as a stage piano, and be a great choice for gigging musicians or just for taking to band practice. Obviously, it's fairly wide due to having 88 keys, but if you want full-size then this could be a good option.
It only has 10 tones included, but the AWM engine means these are great quality, and they have been modeled on classic Yamaha acoustic pianos from the past to ensure the best sound.
Pros
Realistic graded hammer action and authentic acoustic piano feel.
Lightweight and portable for an 88-key model.
Relatively affordable for a digital piano.
Comes with a sustain pedal.
Very easy to set up and operate.
Cons
Only 10 voices.
Inbuilt speakers are not very loud.
Yamaha YDP164R - Best Digital Piano For Classical
If you are looking for a console piano to sit permanently in the same place in your home, and you aren't too worried about portability, this can be a good choice.
Features:
88 fully-weighted keys.
Yamaha AWM sound engine for high-quality sound reproduction.
Includes a power adapter and a full set of pedals.
Smart Pianist app compatible.
192 note polyphony.
Full console stand.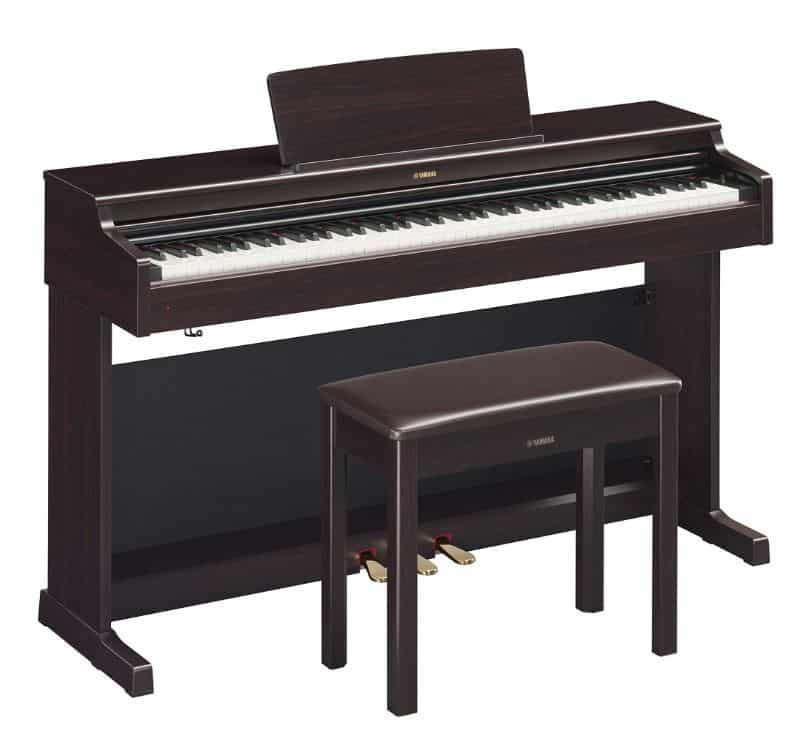 This is a great way to get a full digital piano setup that feels a lot like having an acoustic piano in your home. In fact, at a glance, you could even mistake this for an acoustic piano.
Like a lot of the Yamaha models, it includes the AWM sampling sound engine and models the sounds on the CFX premium grand piano. These make it amazing for playing classical music, and the 192 note polyphony means you can play even complex pieces.
The build-quality feels fantastic, and it comes with a full console stand to keep it safe, obviously, this takes up a bit more space. The keys have a clever GHS weighted action to replicate acoustic pianos, and there's a matte finish to the keys for a moisture-wicking effect so they don't start to become slippery if you get sweaty.
Pros
Full console stand included.
Full set of pedals inbuilt.
Sturdy and excellent build quality.
Compatible with the Smart Pianist App.
Cons
Quite big and bulky, so not portable.
Relatively expensive due to the console stand.
Alesis Recital - Cheap 88-Key Model
Let's say you want the flexibility of 88 piano keys, but you aren't looking to spend huge amounts of money. Well, you can consider the Alesis Recital, one of the best digital pianos for beginners.
Features:
5 inbuilt voices.
5 digital inbuilt effects.
88 semi-weighted keys.
Power adapter and 6D cell battery power.
Loud 20W speakers.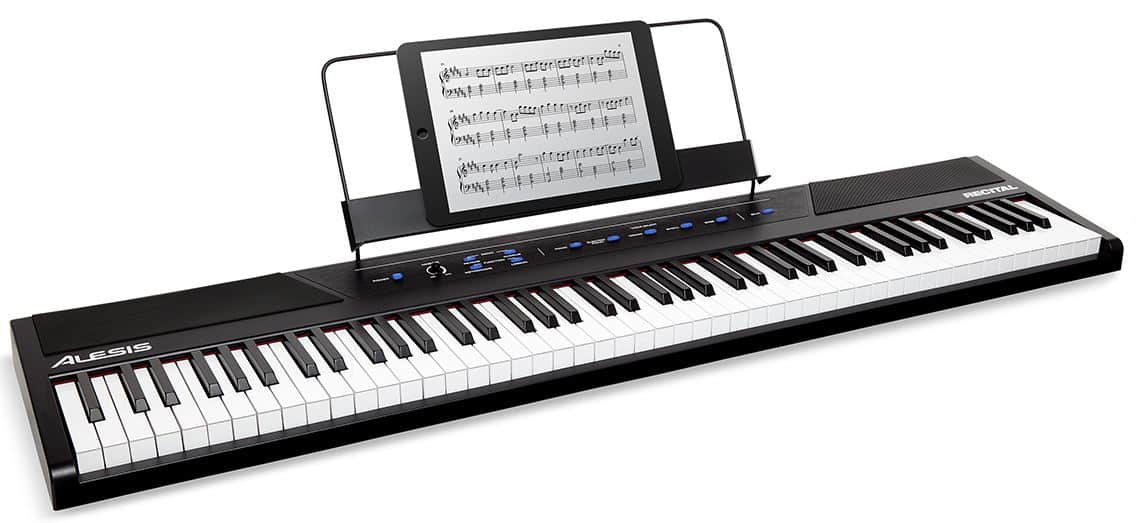 Alesis is a very good manufacturer of affordable audio equipment. The Recital is designed to be a way people can get a cheap digital piano. It still has loads of features of a good beginner digital piano.
The keys are semi-weighted, so not a perfect replica of acoustic piano keys, but close enough for beginners. This is also a relatively lightweight and portable digital piano. You can use a power adapter or 6D batteries, meaning it is simple to take out and about with you.
20W speakers are pretty loud, too. You can clearly listen back and even perform in small spaces with this kind of volume.
While the Recital only offers 5 inbuilt voices, it does make up for this somewhat with 5 digital effects that you can use to add reverb or otherwise change the sound, allowing for a little bit more experimentation with the sound.
Pros
Very affordable.
One of the cheapest ways to get semi-weighted, full-size keys.
Can be powered by batteries.
Comes with 5 inbuilt effects.
Loud and clear 20W speakers inbuilt.
Cons
Not as sturdily built as some other digital pianos.
Only 5 voices included.
Yamaha PSR-E263 - Best 61-Key Portable Keyboard
It might well be the case that you are looking for a portable keyboard rather than a large digital piano, and the PSR range from Yamaha is really popular. The E263 is one of the best-selling 61-key models out there.
Features:
61 full-sized keys.
Access to the Yamaha Education Suite.
Aux input for playing along to MP3 players.
AWM stereo sampling.
400 instrument Voices.
Split and duo modes.

If you don't mind a weighted-key setup and you are looking for a portable keyboard with loads of different sounds then the Yamaha PSR E263 could be a fantastic option. It has the same AWM stereo sampling on offer with some of the digital piano options. It also includes over 400 different instrument voices so you can play almost endless styles.
Split and duo modes are great for practicing, and there's even an aux input to play along to backing tracks. Also, full access to the YES (Yamaha Education Suite) is another big bonus if you are looking to learn how to play.
The keys are velocity/touch-sensitive so they do respond to how hard they are pressed, though they don't feel like acoustic keys.
Pros
Loads of different voices.
Split and duo modes and lots of educational features.
Lightweight and portable.
Ships with a music stand.
Cons
Needs a power adapter bought separately.
Not the most realistic acoustic piano feel.
Casio Casiotone, 61-Key - Best Small And Lightweight Keyboard
The Casio Casiotone weighs in at just 11 lbs and you can see from the streamlined design that it has been made to be perfect for carrying.
Features:
10 x 36.6 x 2.9 inches.
Weighs just 11 lbs.
Can be bought with a stand.
Available in multiple colors.
400 tones.
Works with power adapter or 6 AA batteries.
USB-MIDI control.

This keyboard feels very lightweight and arguably a little flimsy, but if you take care of it you should have no issues with durability. On top of this, it has full-size keys but manages to be extremely portable. The carry handle is even inbuilt, so it is super easy to take from one place to another. This is good if you want to store it away somewhere and get it out to play once in a while.
This feels a little lightweight but the features are not lacking. It has USB-MIDI connectivity so you can use it to control your music software. It also has Chordana app integration for learning and a "dance music mode" which is a good fun way to start to make up songs.
400 different voices are combined with 77 rhythms for lots of opportunities to experiment. The keys don't feel like acoustic piano keys, but they are full-sized and velocity-sensitive.
Pros
Very light and portable.
Chordana app integration to learn songs.
USB-MIDI connection.
Loads of inbuilt voices.
Cons
Feels a bit cheap and flimsy.
Inbuilt speakers lack power.
Yamaha DGX660B 88-Key - Best For Songwriters
This is a fantastic option for songwriters and composers, allowing you to quickly and easily record your ideas ready to use in the future. It's yet another Yamaha model of digital piano, but the DGX660B has some separate features to the other Yamaha pianos in our list so far.
Features:
88 fully-weighted keys.
Yamaha AWM sound engine.
Includes a power adapter and a full set of pedals.
Wireless audio & MIDI features.
LCD score display.
Full console stand.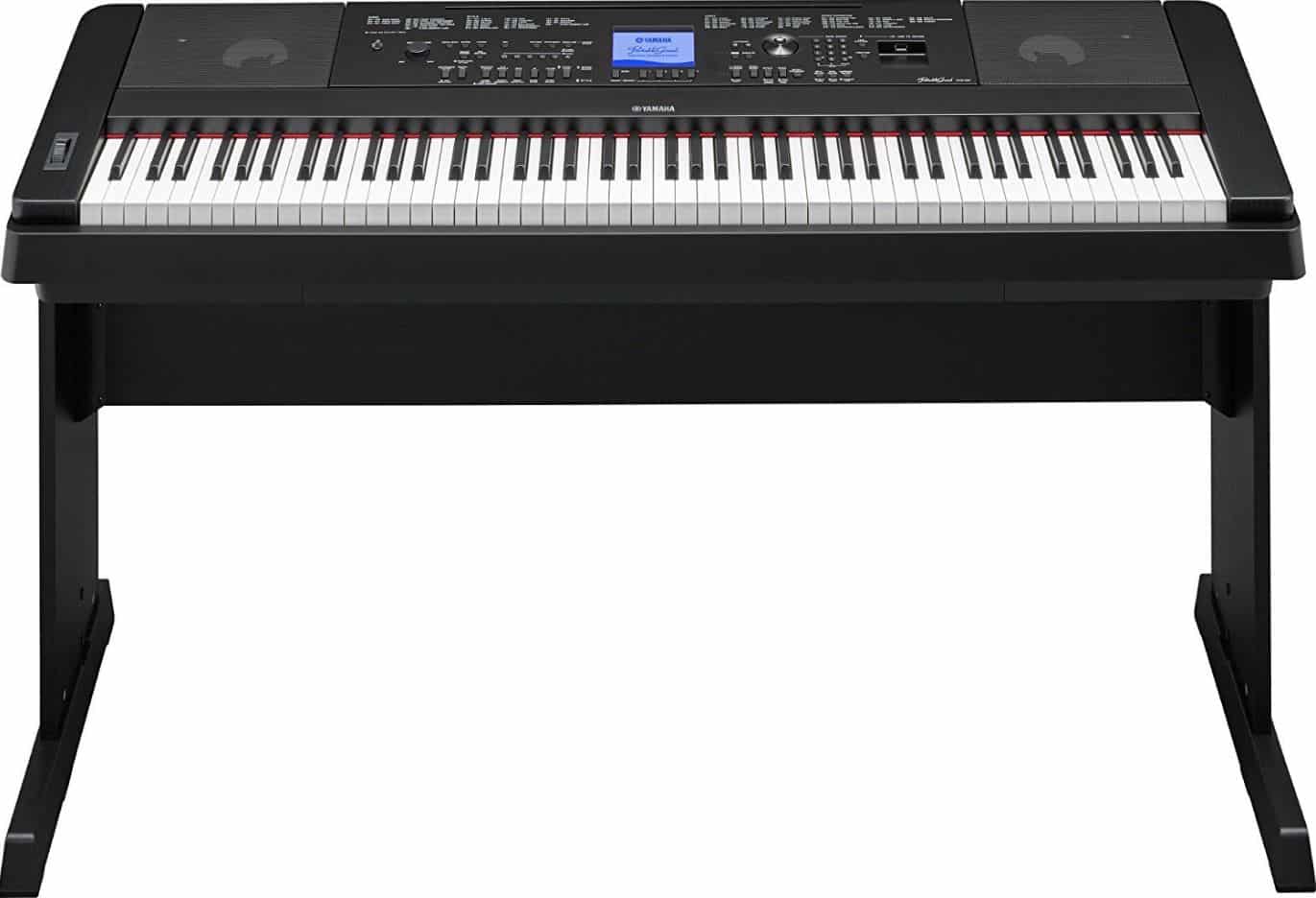 This is an impressive tool for those who want to read music and write songs. As well as having a lot of the features of other Yamaha digital pianos such as the AWM sound engine, it features some recording functions, too.
You can record your ideas directly onto a memory stick in audio format, and there is even an inbuilt microphone input for you to connect your mic and sing while you play.
The LCD display can be set to show chords and sheet music while you play, too. "Smart chord" can help you to learn new chords for jazz and other styles of music. Everything is shown right in front of you on the display to help while you are playing.
Pros
Lots of recording features.
Great for songwriters.
Sturdy console unit.
Wireless audio & MIDI and amazing connectivity.
Cons
Quite an expensive model.
Heavy and not as easily portable as some competitors.
Roland FP-60 88-key - Best For Jazz
Roland is a manufacturer with a track record of making some amazing music gear. Their FP-60 is a digital piano/keyboard that you are likely to see on stages around the world due to its professional sound and portability.
Features:
SuperNatural piano sound engine replicates piano sound.
Ivory piano key feel.
Includes multiple Roland instrument sounds.
Includes EQ.
DP-10 damper pedal included.
288-voice polyphony.
31 piano tones, 15 organ tones, 305 other tones.

The Roland has such a great, professional feel to it. The reason why it is such a good model for playing on stage is the fact that it is well-built, reliable and professional. The 288-note polyphony means that even if you are a talented classical musician, this won't limit you.
You can also control a lot about this digital piano, such as altering the EQ. There is a damper pedal included, but you can use the RPU-3 triple pedal from Roland if you want even more control.
Many of the sounds are sampled from Roland's amazing range of instruments, so you have some interesting tones to play with. This is great for playing jazz music and experimenting with new sounds and genres.
Though you won't be using it on stage, the onboard speaker system is also impressive, which is great for practicing. At 41.9 lbs, it is a bit bulkier than some portable 88-key models, but it has the quality to justify carrying it.
Pros
Loads of sounds.
Professional build-quality and a great feel to it.
Includes an EQ to alter the frequencies.
Cons
Expensive compared to many options.
LAGRIMA 61 Key - Best Cheap Keyboard For Beginners
You might be looking for a keyboard to get you started that doesn't cost a huge amount of money, and the LAGRIMA model could be perfect for this. It's less intimidating in terms of price than some of the other models we've mentioned but has some good features for getting started.
Features:
225 Timbres, 225 Rhythms.
Comes with a portable stand.
Teaching modes include playback function, one-key, and follow.
LED screen.
Great connectivity. Mic input, audio input, and USB output.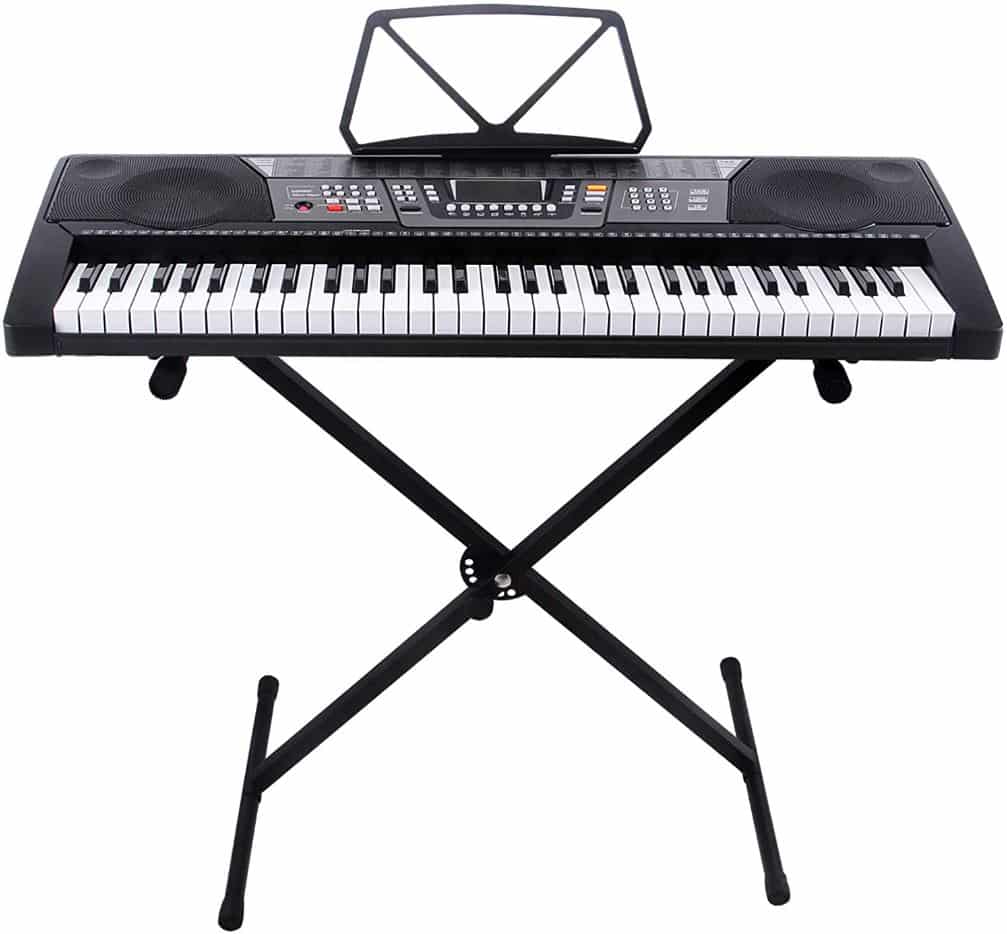 For a budget choice, this has some good tech features. Though the price represents the quality in some ways (it isn't as elite as some other options) this is a good choice for beginners, or those who want a keyboard under 0.
It can be used with a microphone, or you can plug in a phone or MP3 player to trigger sounds to play along with. There are also numerous teaching/learning modes to improve your knowledge.
LAGRIMA is not one of the best-known brands on the market, but if you are just getting started this could be a pretty good solution.
Pros
Very affordable.
Good connectivity so you can use it with other audio devices.
Teaching modes make it good for lessons.
It ships with a portable stand.
Cons
No touch response or sensitivity for nuanced playing.
Tones aren't high-quality.
Novation Launchkey 49 Keys - Best Keyboard For Producer
If you are a music producer, and you create a lot of music on the computer, for example, you might find that it is better to get a USB keyboard controller to transform your music into live performances, or to help to make the songs in the first place.
Features:
Includes assignable knobs and pads.
¼ inch jack socket.
Includes Ableton Live Lite.
3-year warranty.
Backlit.

It should be said that this needs to be combined with software such as a VST in order to function properly, without it, there won't be sound. If you link it to Ableton, however, or other top software, you might find that it is extremely powerful, you can use drums pads, sliders and knobs to trigger samples or control other aspects of audio
This has 49-keys, which means some songs can be played two-handed, and if you master using the keyboard then you will have a lot of capabilities. For the producer, and someone already familiar with samplers and VST instruments, this could be an ideal choice. It can allow you to bring your compositions to life and turn them into live performances.
Pros
Lots of assignable controls.
Comes with Ableton software.
Backlit for performances.
Velocity-sensitive.
Cons
Needs a computer to make a sound.
No inbuilt speakers.
Takes a little while to master the layout and controls.
Not as easy to get a piano sound.
The ONE Smart Piano Keyboard - Best "Smart" Keyboard
We live in an age where everything seems to be getting smarter, and now we can use smart technology in order to allow us to learn a new instrument. The ONE piano can be your tutor as well as your instrument.
Features:
61 light-up keys.
Education features including a free app.
MIDI compatibility.
128 sounds available from the mobile app.
Works with iOS or Android.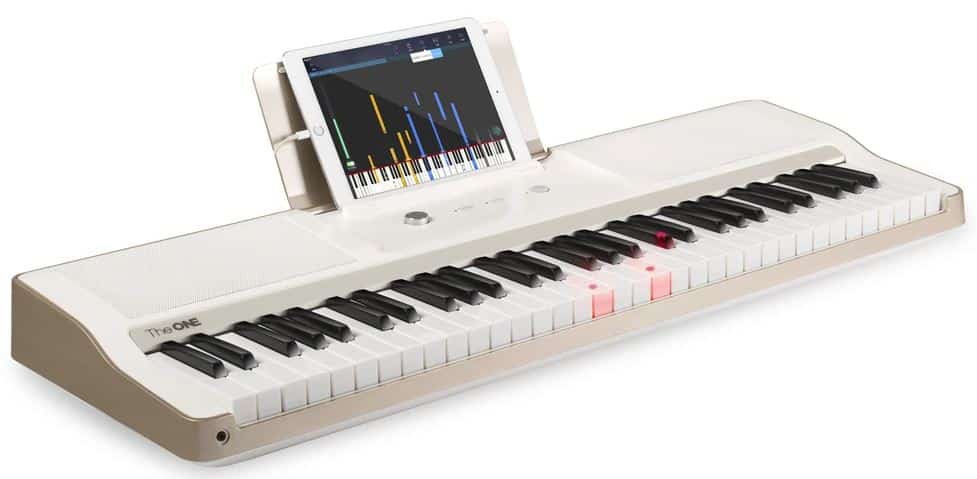 As well as being one of the best digital pianos for beginners, it has full-sized keys that light up. A "follow the light" function means you can learn melodies just by following the next key that lights up.
This keyboard comes with a companion app with a lot of functions and sounds, and this can help you to choose new songs to learn. If you want to use it out and about, you can remove the power adapter and use 6 AA batteries to use anywhere.
It's a good option for children, too, as it has an arcade game mode, so you can turn to learn a song into a game to help your kids stay interested in learning. A lighted keyboard isn't ideal for gigs or for intermediate players, but it is a good beginner digital piano.
Pros
Learning modes including lighted keys.
Companion app which is regularly updated.
61 full-sized keys.
Powerful inbuilt speakers.
Cons
Keys are a bit light compared to acoustic piano keys.
Sound engine is not as good as Yamaha or Casio keyboards.
Buying Guide
Our buying guide is designed to help you to make the ideal choice for you. Once you fully understand the features, you can decide which are the most important for your needs.
Number Of Keys
This is one of the crucial considerations before you buy a keyboard. You don't want to find yourself limited by the number of keys. If you are looking for the most "realistic" piano feel then you should look for an 88-key digital piano or keyboard.
If you don't need your keyboard or digital piano to be quite as portable, you can opt for a smaller model. 49, 61, and 76 key products are available, and all should allow you to play most songs two-handed. On the other end of the spectrum, 25 key models are available but will be limiting for most piano players, or even learners.
However, if you want to train classically, and become a concert pianist, opt for an 88-key model.
Weighted Keys
Once again, this is a feature to consider regarding a realistic feel.
If you have ever played a cheap "toy" style keyboard you will have experienced the opposite of weighted keys.
These keys don't have any variety in terms of their velocity, the keys are either "on" or "off" at the same volume.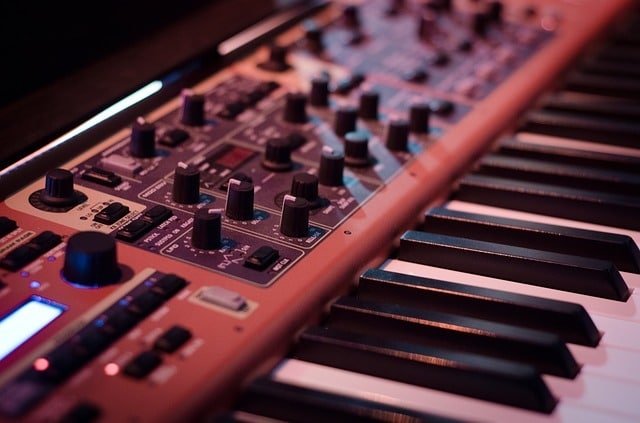 This doesn't allow for nuanced playing. Weighted keys are responsive to how hard they are pressed, with louder volumes when hitting harder.
Some even have a hammer action, or a graded hammer action, designed to make it feel like playing an acoustic piano, replicating the way a piano traditionally makes a sound. Weighted keys are usually one of the key differences between digital pianos and keyboards.
Sounds And Voices
What sounds can your piano or keyboard make? This is one area where the options on this list vary hugely. Some models of digital piano can only make 5 or 6 different sounds or "voices". These allow you to replicate different instruments.
If you are just looking for quality, you may not worry about how many. Quality over quantity is probably more important if you know you are only looking for piano sounds.
Many of the manufacturers have spent a lot of time and money developing sound engines that can replicate physical pianos. For instance, Yamaha's sound engine is modeled on grand pianos from their range.
Many keyboards have a different approach. Some manufacturers provide as many tones as possible. Within a keyboard, you might even get hundreds of tones.
Connectivity And Speakers
This is one of the benefits of getting a digital instrument rather than an acoustic one. You can use it to connect to a variety of different hardware and software with ease.
Many of the models feature USB-MIDI connections, this means that you can connect simply via USB to a laptop, and control music software and digital audio workstations. This can open a world of virtual instrument options and allow you to control synthesizers.
The inbuilt speakers are another big factor. There is no use in having a good sound engine, and lots of sounds to choose from, if you can't hear them very well. Even the best music sounds terrible through awful speakers.
Similarly, you might be able to connect to external speakers. You can also use headphones in order to listen quietly while you practice if you purchase certain types of a digital piano.
Learning Features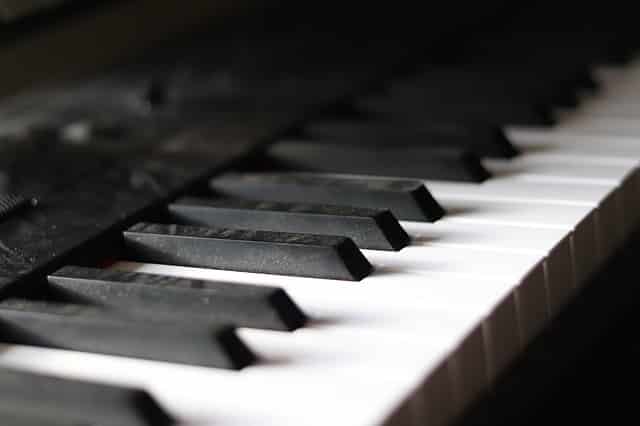 This doesn't apply if you are a pro or even an intermediate player, but a lot of people are looking to buy keyboards or digital pianos to start learning how to play.
If you fall into this category then you might want to find a keyboard or digital piano with companion apps, or even additional learning features.
Lighted keys are one way that keyboards can help people to learn.
Portability
Again, this is a feature that some people will value more than others. If you are in the market for a lightweight option, there are plenty of keyboards out there. However, you might have a trade-off. If you want an 88-key keyboard you will have to put up with a keyboard that is relatively wide, especially if you need full-sized keys.
Some digital pianos and keyboards can come with carrying cases, and folding stands to allow them to be used on-the-go. Some come with furniture-style, console stands, these are designed to stay in one place. A "stage piano" is more likely to be a portable, lightweight option, good for touring bands.
Price
There isn't a huge amount to be said about the prices other than the fact that you can probably find a digital piano or keyboard to suit your budget. Digital pianos tend to be more expensive. They have better sound-engines and usually have some sort of weighted keys.
If your budget is $100 then you can probably find a decent keyboard. However, it won't be elite.
The more you spend, the more features you will get, and though $500 may get you a decent digital piano, around $1000 if you serious in playing, some models are many thousands of dollars.
Bundles
Many of the models on the list are sold as bundles. This is a way for manufacturers to make their digital piano or keyboard more appealing. Bundles can make the keyboard better value. They may include things like pedals, cases, stands, and even full console stands.
FAQ's
What is the Difference Between Keyboards and Digital Pianos?
The two products are pretty similar in a lot of ways, so it can be hard to know the difference when you get started. Digital pianos tend to be made to replicate the sound and the feel of an acoustic piano. They also usually have fewer sounds to offer, but they may be better quality and modeled on acoustic pianos by the same brand.
Keyboards usually have more sounds, but they may be lower quality. They may also not have weighted keys, something that could be a hindrance if you want to become a concert pianist or switch to an acoustic piano.
Are All of these Models Suitable for Beginners?
Some keyboards and digital pianos are better than others when it comes to learning how to play. Learning features and companion apps can make life a little bit simpler. Generally speaking, though, any of the digital pianos and keyboards on the list could be used to learn how to play the piano.
There are so many courses and apps you can use to help you to learn, it's probably the best time ever to learn how to play.
Should I Buy a Console Piano?
Console pianos are great for people who want a piano that will stay in one specific place. If you want the most portable option then you should go for a lightweight piano such as a stage piano, as they are much smaller and easier to take to gigs or practice.
Conclusion
A digital piano or keyboard can allow you to learn how to play the piano, or expand your existing knowledge or performance ability. They also have the convenience of not needing to be tuned, and the extra compatibility to use with apps, sound systems or even to be listened to on headphones.
Choosing the right model will rely on you establishing how many keys you need, as well as the sounds required, and how portable you need the digital piano to be. You will also need to match a product to your budget, as the cost can vary greatly from one keyboard to another.
We've named the Yamaha P71 88-Key Weighted Action Digital Piano the best overall model, as well as having a realistic piano feel and a lot of different features, it is relatively lightweight and portable. It also comes in at a relatively affordable price for a digital piano.

William Cramer, the founder of Fire Inside Music, started to learn music in 2012 with a piano. He has continued to level-up his playing skills and wanted to share his journey and knowledge with other beginners. He launched Fire Inside Music in 2017 to make playing music more approachable for everyone looking to master a musical instrument.