When deciding to buy an electric piano, you will have to consider many things like features, price, brand, size, and more. Therefore, it will be difficult for you to find a specific piano that suits your needs.
Our post will bring you a light key portable keyboards which are suitable for those who are new to piano practice and young children.
If you want this type of product, do not hesitate to discover the Yamaha EZ – 220 review and make a purchase today.
Now we will walk you through the whole things of the Yamaha EZ-220.
Here they are.
Specifications Of The Yamaha EZ-220
First of all, this portable keyboard is the perfect instrument for easy learn-to-play. You can use it even if you've never use any keyboards.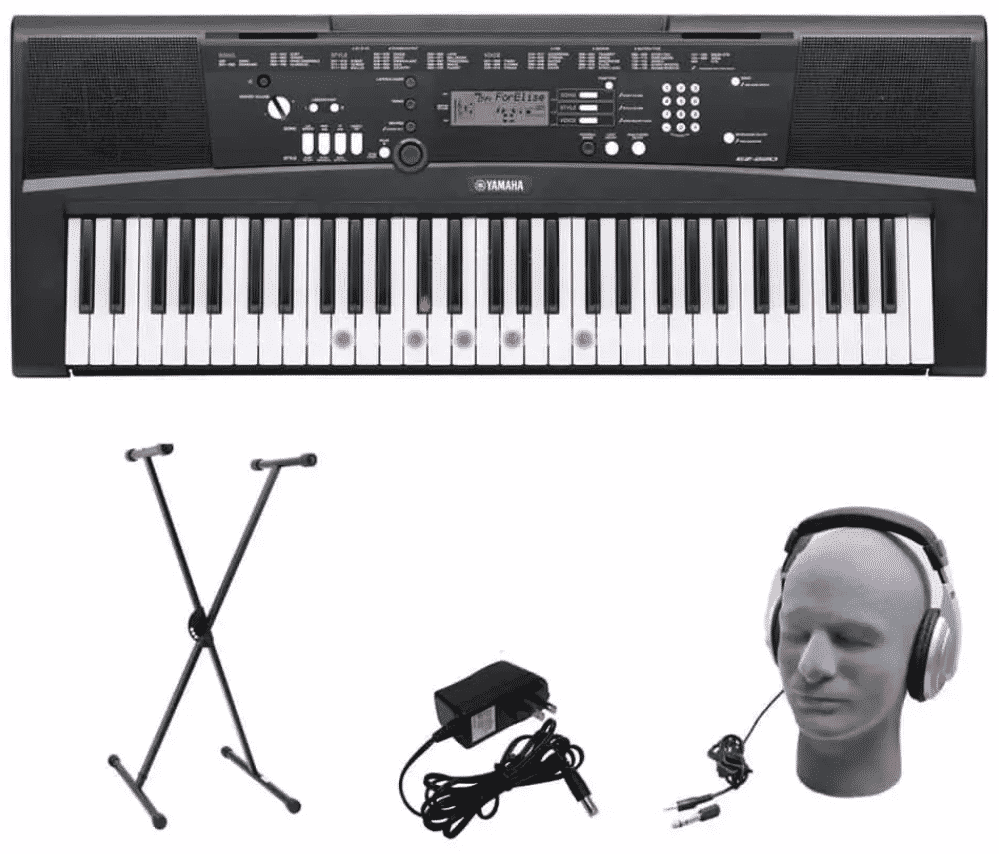 Let's find out the main outstanding specs in the manufacturer's manual.
61 key lighted, touch-sensitive keyboard

100 built-in songs for easy learning with fingering guide

Yamaha Education Suite (Y.E.S) and Yamaha Page Turner app for iPad

392 high-quality instrument voices

Number of Polyphony (Max.): 32

Organ style with clear sounds

The built-in Yamaha Education Suite

LCD display

280 level tempo control

Connectivity: USB TO HOST port, wireless connecting to the free Page Turner iPad app

Dimension: 945mm x 111mm x 348mm

Weight: 4.4 kg (not including batteries)

Colour: Black

Premium Package: Samson HP30 Closed-Cup Headphones, World Tour PA130 Power Supply, World Tour SXKS Standard Keyboard Stand, and user manual. You can pay more to have an included furniture bench.
Our Piano Yamaha EZ-220 Review

As we mentioned, Yamaha EZ-220 with light keys is suitable for young children and beginners to practice playing music.
The most significant educational feature of this keyboard is its lighted keys.
These illuminated keys will allow you to play the notes in the correct order of a particular song without memorizing or remembering it right away.
The lighted feature make learning easier, therefore it become very popular for youngsters and beginners.
What's more?
Easy To Learn And Play
Because of its low price and simple structure for entry-level, EZ-220 has only 61 touch keys, but they can light up to support you playing. The non-weighted keys are perfect for starting playing.
There are about 390 instruments to choose from, such as different variations of guitar, strings, drums, brass, synthesizers, etc. The synthesizer comes with 100 built-in songs with bright keys to help guide you through it all. You can choose to play only right hand, left hand only or both hands.
The keys light up with notes and music coming through the keyboard speaker or headphone jack. This learning system is called the Yamaha Education Suite (Y.E.S). You can easily understand each genre by using this interactive music system. 
There are three modes to choose from when you want to learn songs from different types of music, including:
1. Listen and learn: while listening to the song, you can see the main/track lights in the songbook.
2. Time: bright keys are displayed for the selected hand without sound, while the sound emitted for the hand is not selected. It is useful for one-handed learning of a song independently.
3. Wait: the keyboard shows the bright key and waits for you to play.
Amazing Performance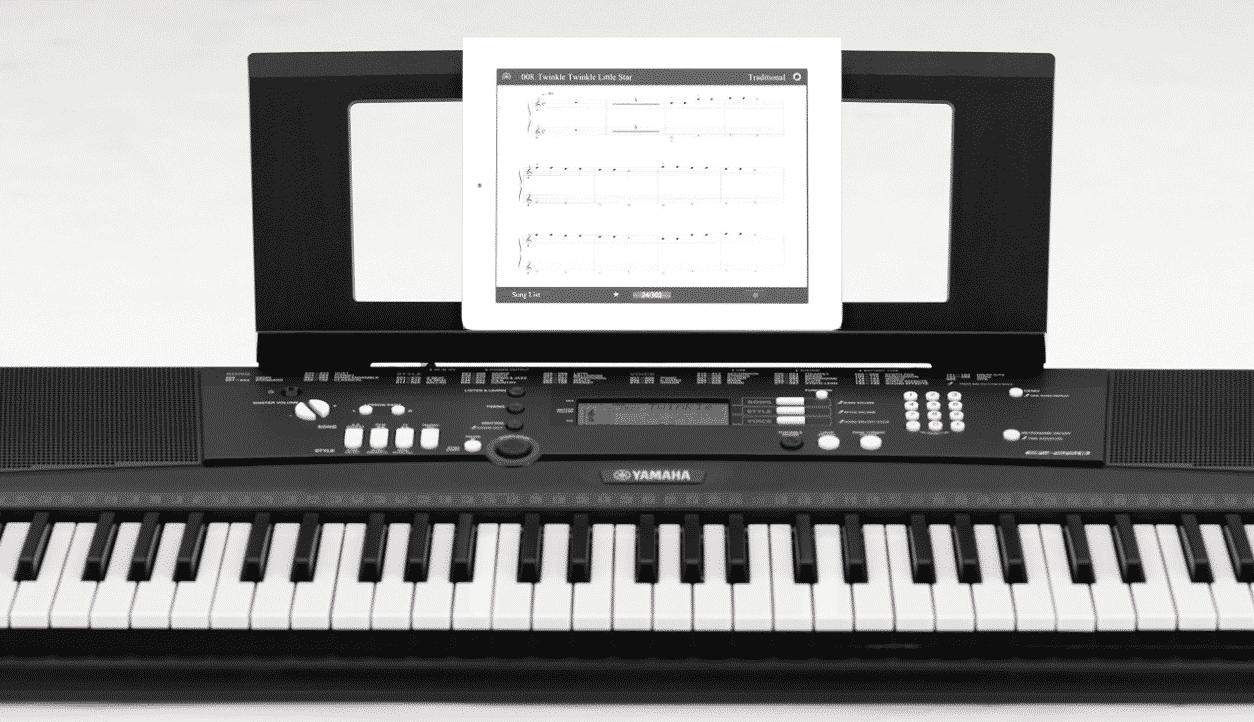 Now we want to talk about the performance of this keyboard.
Everything is automatic, and the song is synchronized with the page-flipping application. Yamaha ensures that these songs are associated with their proprietary iPad apps.
An exciting feature is that most of these applications do not require manual operation. For instance, you can focus on playing the song without having to turn the page yourself thanks to the Yamaha Page Turner App.
You can also connect the keyboard to your laptop via a USB cable. It's great that you don't need an additional USB to MIDI converter to use Synthesia because everything works after configuring the keyboard in Synthesia software.
Interestingly, the iPad communicates with the keyboard via the inaudible sounds that the keyboard emits.
When trying to record our performance, we cannot find a way to do it. The keyboard does not come with such an option. Also, there is no way to layer and loop sounds.
The absence of these features could be annoying for some users. However, you can record your performance through the use of the application audio recording function.
The other great thing Yamaha digital pianos have for you is NoteStar technology. It takes advantage of the iPad's dynamic screen to touch, and built-in audio to provide a simple off-screen listening experience.
Also, Visual Performance is a new type of application to display your music performance from any MIDI device graphically. Many animations can respond to velocity and pitch from your instrument.
Finally, the Piano diary, free iPhone/iPad app, records and stores your performance in cloud servers and replays wherever you are.
Inappropriate Accessories
We find many bad reviews of the accessories in the premium package. They are the stand, headphones, and power supply. Therefore, we recheck them when receiving the package of Yamaha EZ-220.
Samson HP30 Closed-Cup Headphones: the headphone is quite functional, but its sound is not good. Some users also complain that headphone plug is too small to fit the headphone jack on the keyboard.
World Tour PA130 Power Supply: the cord is short. It's not convenient when you have a remote power supply.
World Tour SXKS Standard Keyboard Stand: the stand does not fit the piano well. It doesn't adjust to the optimum width for this keyboard. So you should buy another stand like Yamaha L3C keyboard stand to use for the safety of your piano.
Pros
Great selection of songs
Amazing features for beginners
Automatic adjustment for the tempo
Wide sound options
Loud and clear sound
Light to transport
Easy to set up and use
Bibendum ispum dolor elitis
Cons
Batteries don't last long
There's no AC adapter
Yamaha EZ 220 And Comparison
Yamaha EZ 220 Vs. PSR E343

If Yamaha EZ-220's illuminated keys aren't too important to you, you can choose the PSR 343 with better and more sound. More specifically, the PSR 343 has 550 High-Quality Sampled Voices, and 136 Styles. So, it is for both beginners and accomplished players.
Not only that, you can use the Portable Grand button of the PSR 343 to get the sound of a grand piano. To make you feel like playing a real piano, the touch keyboard allows you to control the sound of the instrument depending on the level of pressing the keys.
While the EZ-220 does not offer the recording, you can save your performance with the PSR 343.
To sum up, spending more budget to buy the PSR 343, you own all the great features we mention above.
Yamaha EZ 220 Vs. Casio LK 280

We think the Casio LK-280 is quite equivalent to the Yamaha EZ-220, so it depends on your personal preference. Some people prefer Yamaha sound, and others select the Casio one. One tip here is to play the piano and choose the sound you like most.
How about their features?
Casio LK 280 is a 61-key lighter action digital keyboard with key lighting system. It also has an excellent piano-style keyboard and 2-layer feedback while Yamaha has only one layer.
The LK-280 includes an integrated digital recorder which you cannot find in the EZ-220. As a result, you can save your music.
Moreover, the Casio LK-280 offers more tones than the Yamaha EZ-220 (48 notes vs. 32 notes), more sounds (600 vs. 392) and rhythm (180 vs. 100) and has some exclusive features like SD Card Slot, Step-Lesson and Teacher mode and Karaoke option to turn the keyboard into an entertainment component.
In short, we can see the Casio LK 280 is better than the Yamaha EZ-220 because it has more polyphonic numbers and easier songs to play. Not to mention, the Casio LK 280 is cheaper than the Yamaha EZ 220.
Read more: Yamaha YPT 255 Review
FAQs
Q: Can this keyboard work with 220V electricity supply?
A: The adapter in this package will not work with 220V. Also, the keyboard itself does not come with an AC adapter, so you can buy the keyboard alone and then get your own AC adapter. You need an adapter that will do 12VDC center-positive, 1A.
Q: Can Yamaha EZ-220 connect to Android devices?
A: There is a particular application that works with this, which is called Page Turner. However, it's just an iOS app, no Android version.
That's the only function the piano provides in terms of interface with the tablet, nothing else. So, you can't connect the iPad and control it, either record from it or do anything else with it.
Q: ​Does this come with a stand to keep the book up?
A: Yes, it does. You have a music stand. It attaches to the rear of the keyboard and can hold the included book and other lightweight paperbacks.
Q: Can I bring it when traveling?
A: The answer depends on how big your vehicle is to store it in the back seat. You may realize this keyboard is not as large as the 88-key type.
What you need to do is check this keyboard size and compare it to your vehicle size. We also recommend using the padded case to protect this piano.
Is This The Right Choice For You?
The answer is yes if it suits your personal needs. Remember that the Yamaha EZ-220 is a smart digital keyboard designed for beginners.
Beyond that, this keyboard provides you many useful features such as light and non-weighted 61 keys, 100 built-in songs, three modes of learning, Yamaha Education Suite (Y.E.S) and Yamaha Page Turner app for iPad.
All these easy-to-learn features show Yamaha's thorough understanding of the beginner's difficulty. From there, it helps them quickly get acquainted and practice their favorite music well.
It's your turn to make a purchase. If you find our Yamaha EZ-220 review helpful for someone, please share it with them. And feel free to leave your comment here for any questions.

Jack is the leading publisher of Fire Inside Music. He is teaching piano at a music school in Los Angeles. Since he was a teenager, Jack has had a great passion for music, the thing he enjoyed most was singing and playing the piano. He has excellent keyboard experience, works with William to help players select the best instrument to invest.