Being a piano teacher, you are always looking for ideas and resources to make your piano lessons more exciting and creative. Or you are finding mentors and recommendations to build your business in piano teaching.
You no longer go anywhere. We're here to help you.
With over 50 best piano blogs prepare below, you can reap many creative teaching ideas, class organization's methods, and guidelines to run a successful piano business. Moreover, you can get recommendations from acclaimed pianists who have a firm position in the piano teaching field.
Let's scroll down and check them out!
Top 50+ Piano Blogger 2022
Timtopham.com  
via Timtopham.com
Tim Topham creates this blog to inspire over 20,000 teachers all over the world to provide motivating piano lessons for their students.
At the same time, he builds up the resources for readers who enjoy growing an online business featuring piano and music section.
In his blog, he passes on his knowledge throughout various topics or themes like teaching piano by ear, group piano lessons, piano studio business, and marketing, etc.
Before building up this blog, Tim Topham owns 20-year experience in education in subjects as varied as IT, mathematics, PE, outdoor education, and music.
At the same time, he holds many professional qualifications such as an MBA in Educational Leadership, Bachelor of Music, Diploma of Education, and an Associate of Music Performance.
Teach Piano Today
via TeachPianoToday.com
Another resource for teaching piano is from Teach Piano Today, the blog owning over 1000 piano teaching posts. On this blog, readers will have detailed guides on running a studio, or creative teaching ideas for lesson activities.
Furthermore, there is a bunch of free printables for every student like music, playing cards, homework pages, reminders, etc.
Behind a successful company always has great leaders. At Teach Piano Today, we have Andrea Dow and Trevor Dow, a married couple, are thrilled to support you throughout your piano teaching journey.
Andrea Dow and Trevor Dow overcame many obstacles in the path of starting and growing the company.
After 5 five years, they have interacted with about 15,000 teachers every week to develop new teaching resources and help others improve their skills in running the piano studios.
Color In My Piano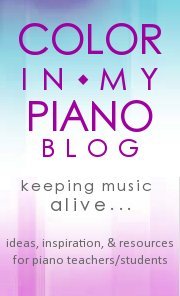 via ColorInMyPiano.com
Joy Morin, a founder of Color In My Piano Blog, is working as a pianist, teacher, and speaker.
She's granted a lot of qualifications in pianos like Bachelor of Music degree in Piano Performance from Hope College, or  a Master of Music degree in Piano Performance and Pedagogy from Central Michigan University.
She enjoys sharing her journey of studying and developing as a piano teacher. Hence, she established Color In My Piano to support other teachers doing better in each piano lesson.
Here, readers can benefit from both free and paid resources from monthly posts to e-books or camps.
Practising The Piano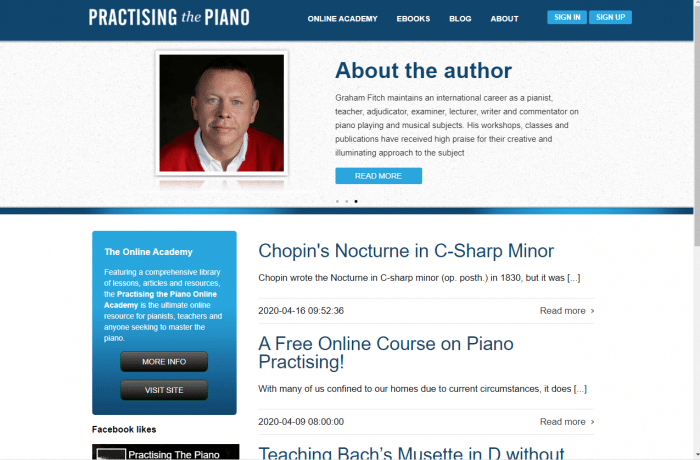 via PractisingThePiano.com
We should not rule out Practising The Piano owned by Graham Fitch when mentioning the blog for pianist, and teachers. Graham Fitch embarked on the career of pianist during much of the 1990s. After that, he maintains to be a teacher, adjudication and published author of piano playing and musical style.
Practising The Piano not only offers vast knowledge for piano teachers via blog posts, but it also includes a page for an online academy.
Thanks to the contribution of renowned teacher and performer Graham Fitch, the online academy owns a wide range of collective expertise for lessons and masterclasses. Shortly, Practising the Piano Online Academy is an online search tool for updated lessons and resources relating to the piano.
The Cross-Eyed Pianist
via crosseyedpianist.com
Founded in 2010, The Cross-Eyed Pianist is well-known as one of the UK's top blogs on classical music and a  vital voice in the world of piano. Each month, it boasts the number of 20,000 visitors to the website.
The talent behind the success of The Cross-Eyed Pianist is Frances Wilson – a music lover, a pianist, and a writer. Frances participates in ArtMuseLondon, Music into Words, London Piano Meetup Group as a co-founder over and above manages PR for 7 Star Arts.
Also, she gained many qualifications in music such as Associate and Licentiate Diplomas in Piano Performance. Throughout her career, she has learned with a lot of famous teachers like Graham Fitch and Penelope Roskell.
ComposeCreate.com
ComposeCreaate.com is another blog for piano where you can find various resources like business solutions, teaching ideas, and composing.
This blog goes under the management of Wendy Stevens, a church musician playing the organ and piano for over 20 years. She also holds a Bachelor of Music in Piano Pedagogy and Masters of Music in Theory and Composition rewarded by Wichita State University. Not alone, she is a member of the American Society of Composers, Authors, and Publishers (ASCAP).
Wendy enjoys helping piano teachers and their students to grow through her articles on ComposeCreate. Furthermore, she loves creating resources to connect with kids. Therefore, she pursues this passion by helping teachers imagine the experience of being a child again to feel the excitement, creativity, and wonder as a child.
Pianodao
via Pianodao.com
Pianodao – The Way of Piano is the blog for piano education from the UK. This site focuses on supporting piano players, including piano teachers, by providing practical wisdom for musical development.
Interestingly, Pianodao gains its popularity as a top independent review site owning more than 300 reviews for books, educational resources, and recordings. Additionally, there is a plethora of music sheet for new players to professionals.
Pianodao boasts its resources from a founder Andrew Eales, a pianist, writer, and teacher living in Milton Keynes, UK. Also, he owns millions of fans on SoundCloud with his original piano recordings and compositions.
Furthermore, Andrew went to Music at the University of Birmingham and got a reward of the Roland Gregory Music Prize.  Also, he holds a postgraduate degree of professional training at the Royal College of Music in London.
Colourful Keys
via colourfulkeys.ie
If you find blogs based in South Dublin, don't forget to visit Colorful Keys by Nicola Cantan. She has a 13-year experience of music education before she started to know things like composing songs, pop music construction, and playing from lead sheets.
At that time, she felt that there lacks an introduction for beginners. That's why she built up Colorful Keys to offer a vast range of resources in piano lessons and teaching posts.
She said that her job was to open the doors to inspiring students to go through their musical journey. As a student or parents, you can find many piano options to choose in her blog. For example, buddy piano lessons are the option of arranging two students to study together. Or well-rounded classes are also available.
Nicola has prepared many blog posts to instruct other teachers like useful styles of lesson planning, or foundation of successful preschool piano teaching.
Music Matters Blog
Music Matters Blog is another blog managed by Natalie Weber, a piano teacher from Derby, Kansas. She started her piano teaching career since she was 17. She applied for more training and finally ran a studio to serve more students around her state.
In Music Matter Blogs, Natalie offers limitless teaching music products which are customized to use for students of all ages. You can find practice incentive themes, piano sheet music, and bible studies as well.
Besides, Natalie categorizes her blog into four different categories: business, news, resources, and teaching. She also arranged webinars like Free piano technique webinar with Josh Wright to share piano playing tops, strategies for playing with less tension.
Melanie Spanswick
Another blog belongs to Melanie Spanswick, who is a British pianist, adjudicator, composer, teacher, and writer. She is well-known for her best-selling books on various aspects of piano playing. She also takes up her position as an artistic director at Ars Nova Festival organized in Malaysia and Singapore.
Her blog – Melanie Spanswick, named after her, writes about her passion for coaching and encouraging other pianists. In her blog, she receives many positive reviews about her books, articles from readers.
She also listed out her articles writing for magazines, newspaper. You can find them here to learn more about how she teaches piano.
88 Piano Keys
via leilaviss.com
88 Piano Keys of Leila Viss contains amazing teaching tips, original arrangements, and a complete music app directory. Moreover, this blog also introduces a new teaching method called Off-Bench Time or Lab Time or Music Tech Time.
Leila Viss, MA from Lamont School of Music, University of Denver. Primarily, she contributed in planning the project of 2013, 2014 MTNA Jazz/Pop Tracks.
Throughout her career, she has a strong passion for applying technology into teaching piano. Hence, she published her book named The iPad Piano Studio: Keys to Unlocking the Power of Apps.
Euro Pianos Naples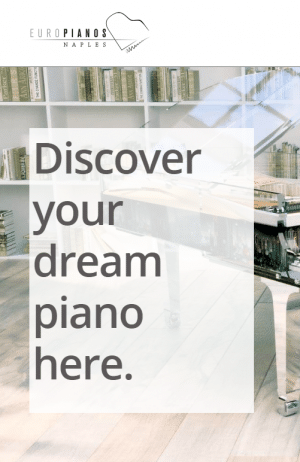 via europianosnaples.com
Euro Pianos Naples is the acclaimed distributor of designer pianos in Euro. Gunter Manchen is the founder of Euro Pianos Naples, which was first located in Toronto. Along with his wife, Gisela and his partner Wayne Chen, he expanded his piano business to Naples, Florida. The brand provides innovative online store offering luxury instruments.
Not only Euro Pianos Naples sells pianos for players, but it also brings out more values by creating Under the Lid Piano Blog. This blog strives to keep readers entertained and updated about every aspect of the piano's world.
You'll receive much interesting information like tips to buy a piano, ideas to decorate with keyboards, photos, and reviews of musical events, etc.
via learnpianoonline.com
Eliza Steeple, an owner of Learn Piano Online, has been teaching piano since 1982. She enjoys supporting and watching her students develop their skills day by day.
Therefore, she has been developing a curriculum, which can be suitable for everyone. She built up Learn Piano Online to promote her online business and to provide students with materials for learning from home.
Visiting Learn Piano Online, you can register the free membership program to receive three levels of the 12-level program. Whenever you finish these three levels, you can upgrade to learn more intensively with levels 4-12.
Interestingly, her blog got compliments from one of the top educators in the world – Walt Disney. That's why she got an offer to write about her site for an article of Disney's Family Fun Magazine.
The Collaborative Piano Blog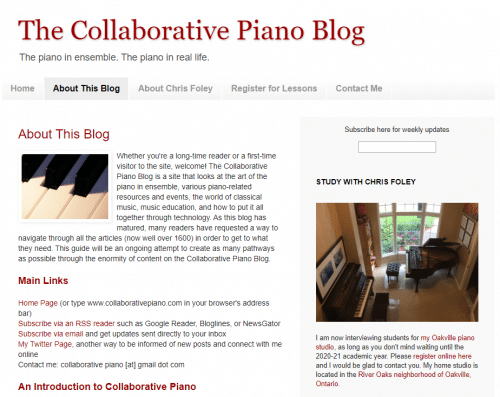 via collaborativepiano.blogspot.com
The Collaborative Piano Blog provides many piano-related resources and current events. Also, it brings you a detailed description of classical music's world. You can get updates of music education in the age of technology in few clicks and scrolls.
Chris Foley is the one who created all well-written blog posts, piano-related updates at The Collaborative Piano Blog. Becoming a Senior Examiner for RCM Examinations, Chris many chances to hear various piano talents across Canada and the US. Adding up to his experience, he teaches piano, collaborative piano, and vocal coaching at the Royal Conservatory of Music.
Along with his real experience, he holds a Doctor of Musical Arts Degree in Piano Accompanying and Chamber Music at the Eastman School of Music.
Josh Wright Piano
via joshwrightpiano.com
Dr. Josh Wright, a no.1 billboard artist, is famous across the US and Europe. He possesses the so-called rarer gifts, the ability to surprise combining with intelligence.
He graduated from the University of Michigan with a Doctor of Musical Arts degree. Not alone, Josh earned Master and Bachelor of Music degrees from the University of Utah.
Along with performing as an acclaimed pianist, Josh loves being a piano teacher. That's why he dedicated to making many online video courses to guide students of all abilities and ages develop their musical technique. All of these courses you can find in his blog – Josh Wright Piano.
Also, on his site, he offers piano lessons, free webinars, free training, and updates for events as well as paid resources (albums, private Skype lessons, sheet music).
Joytunes Blog
via joytunes.com
JoyTunes helps bring music learning to everyone around the world. Visiting this site, you'll find numerous articles about three main categories: Learning to play, Music tech, and Just for fun.
Mainly, JoyTunes focuses on applying cutting-edge technology to fulfill piano lovers musical dreams.
Hence, JoyTunes' human resources did their best to develop Simply Piano, one of the piano learning apps by Google and Apple.
Simply Piano has gained a lot of success since its release. On the App Store repeatedly selected Simply Piano to be an app of the day across the world. Besides, it is the choice of Google's Play Store to be in the list of the Best apps of 2017. Last but not least, it conquered the Top Grossing Education chart in the United States and appeared on the Today Show.
Playground Sessions

via playgroundsessions.com
Playground Sessions Mission includes a group of musicians who are engrossed in making piano learning fun and easy for everyone. To do that, they try to apply innovative technology along with their musical expertise in every product.
At Playground Sessions, Quincy Jones is the Chief Creative Officer, who creates learning methodology, the arrangements, and the curriculum. Along with the CEO, there is a dedicated new piano teacher, David Sides. He can guide you through arrangements personally and supportively.
Furthermore, Playground Sessions receives the contribution of Alex Ness in developing the curriculum. Besides, the Playground has other distinguished musicians and scholars like David Gracia and Dr. Byron Adams.
via claviercompanion.com
Another leading piano resource is The Piano Magazine, where piano teachers, pianists can earn inspiring ideas on every aspect of the piano like learning, teaching, and performing.
Especially, subscribers to the blog will gain access to The Frances Clark Center Teacher Education Initiatives. Another exciting thing on this blog is an annual Collegiate Writing Contest. This exclusive contest brings the opportunity for a winner to have an essay published in The Piano Magazine's print edition.
Success doesn't happen overnight. And the professional staff of The Piano Magazine always try their best to make astounding articles for readers. Hence, this blog includes a considerable number of editors managed by Pamela Pike, a Chief Content Director.
Piano Diana Blog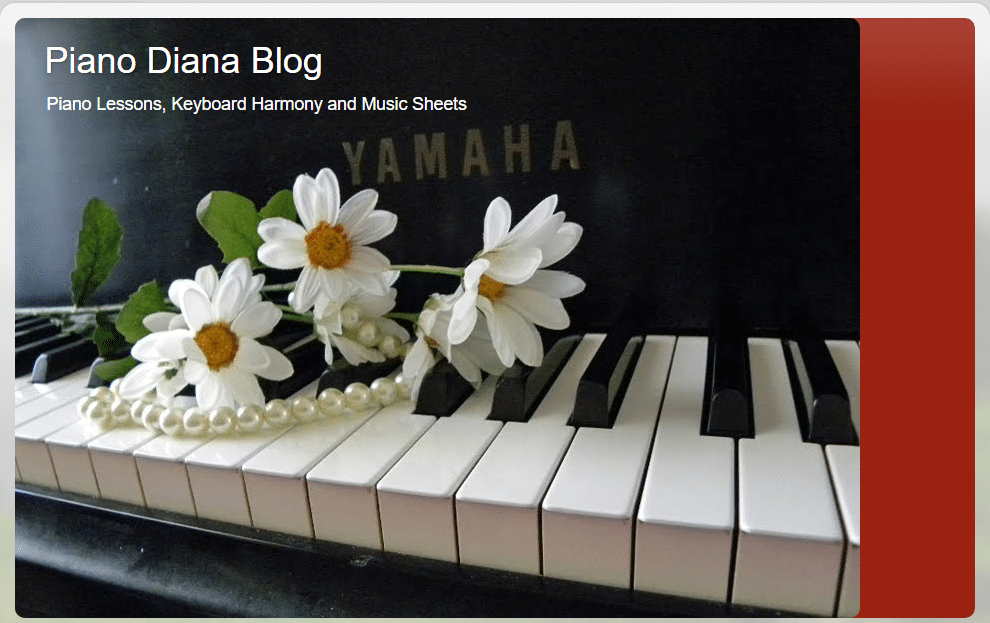 If you want to learn Jazz piano, don't forget to visit Piano Diana Blog of LadyD. She is well-known as a blogger, a book reviewer, and a piano teacher. She has been teaching piano for over 20 years with the joy of sharing knowledge for people.
In her blog, you can expect to be updated about chord charts, new songs, and other music information. Also, there are free tutorials along with piano tips for both beginners and professionals. Last but not least, you will have access to her teaching ideas for not only for Jazz piano but also other genres.
The Fame School Blog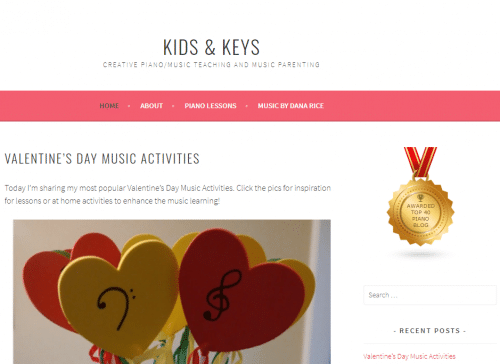 Dana Rice, a 15-year piano teacher, owns the blog of The Fame School. This blog is the showroom for her piano school, where you can find piano lessons as well as Dana's music creation.
She also combines voice and music instruction in piano to teach as varied vital life skills like communication, focus, tenacity, and self-discipline.
This passion originates from her love for music and her devotion to helping children grow their love for music. From the bottom of her heart, she wants to make the art fun and accessible to everyone.
Frans Piano Studio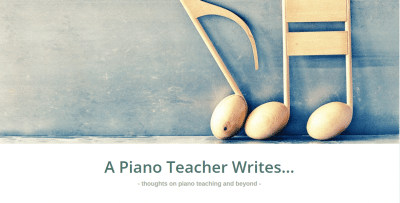 Besides building the blog of The Cross-Eyed Pianist, Frances Wilson also manages Frans Piano Studio and provides resources via its blog. She has created many blog posts inspired by her students' minds. They cover various aspects like productive practicing, apps, reviews of teaching materials, and tutor books.
Frances often receives compliments from her students on having a firm knowledge and the ability to ensure students gain more confidence. Frances acquired these teaching skills throughout her process to earn Licentiate and Associate Diplomas in Piano Performance.
Piano In A Flash
via pianoinaflash.com
Piano In A Flash provides numerous music information, free lessons, and teaching tips about the piano. This site belongs to Scott Houston, who holds 6 Emmy winning awards for public television host. Scott is also a master educator, a piano teacher, and a best-selling author.
Scott gained loads of experience from the public TV show "The Piano Guy" and numerous live workshops. Therefore, he knows how to feedback individually to help them through their dream of learning and playing the piano.
He came up with Piano In A Flash's online classrooms to demonstrate techniques and various hand positions for learners following. These classrooms include personal lessons, teaching methods, and lesson books.
Let's join his virtual lessons to grow your love of learning piano today!
Online Pianist
via onlinepianist.com
You don't need to go anywhere to play or learn the piano. Download an app from Online Pianist and start mastering piano today!
Online Pianist allows you to access hundreds of piano tutorials from both computers and mobiles. Also, you can gather your interesting songs to your songbook.
Notably, the site provides a virtual piano which allows everyone, especially for people who don't own a real piano keyboard or ones who aren't next to the piano.
This piano keyboard includes 88 keyboard keys for computer and five octaves for mobile, ABC letter notes representation, a sustain pedal, and a full-screen mode. To play it, you can use your computer keyboard/mouse or your mobile's touchscreen.
Piano Blog
via pianoblog.com
Matt, the owner of the Piano blog, has a 20-year experience of teaching piano lessons. Additionally, he is a president of the Austin Piano Festival. Besides loving piano, he calls himself as an avid reader, fitness addicted.
Having been teaching for years, Matt knows which path is best for each individual to reach his/her musical goals. He has his private studio to help people in every step of learning the piano.
Besides his studio, he made Piano Blog share his daily stuff over and beyond his tips, tricks, ideas, and ideas about the piano studying. You can find this blog helpful whether you are an adult player, a complete beginner, or a parent of a child.
The Piano Guys
via thepianoguys.com
Now, let's meet guys from The Piano Guys!
The mix includes four talented guys. They are Paul Anderson (producer, videographer), Jon Schmidt (pianist, songwriter), Steve Nelson (cellist, songwriter), and Al van der Beek (music Producer, songwriter).
They came together with the same intrinsic purpose, which is to make positive impacts on people around the world. Thus, they strive for going on tours to bring beautiful music to everyone.
In The Piano Guys' site, they provide hundreds of updates on their tours around the world, their recorded videos, and a shop offering numerous music products.
Not only filmed their tours, but they also made written publishing as a diary to share feelings, activities. Throughout their blog posts and videos, they inspire all subscribers to grow their love of music, especially on piano learning and performing.
My Fun Piano Studio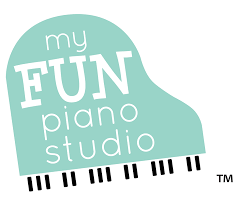 via myfunpianostudio.com
Nowadays, thousands of piano teachers make use of the resources from myfunpianostudio.com to help them start a piano studio. This blog belongs to Kristin, a piano teacher, an author of the famous Piano Magic system, and a curriculum developer.
In her blog, there are three main categories. The piano improv provides video tutorials, e-books for kids, a piano composition for beginners, piano magic, as well as ear training.
Besides, Kristin has arranged the materials thoroughly to instruct people starting their piano studio. You can learn how to structure the piano, how to design a piano studio, how to attract more students, or ways to charge for a piano lesson.
Susan Paradis
via susanparadis.com
Susan Paradis, an experienced piano teacher, brings out the blog named after her where you can find many exciting things. On this site, there are rich materials of piano teaching tips, lessons, and ideas.
Don't forget to try the high-quality sheet music Susan has prepared for you to help you, as a piano teacher, to motivate your students.
Piano Addict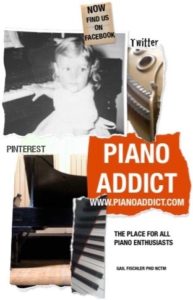 via pianoaddict.com
Gal Fischler is a founder of Piano Addict, which was a Studio Black'nWhite. This place is to teach piano for students at three different studio locations in Arizona.
Then, she came up with  Piano Addict Blog, the international blog to connects all piano enthusiasts to discover playing, learning, and teaching the piano. There are many columns to be seen, such as The Adaptable Pianist, Piano Makers' Corner, The Enterprising Pianist, along with The Musical Adjectives Project, some notes of teaching tools.
Not only does Gail Fischler manage Piano Addict, but she also contributes to FPS Resources, The American Music Teacher, and Grand Piano Passion.
Bulletproof Musician

via bulletproofmusician.com
Bulletproof Musician belongs to Noa Kageyama. He started his journey with music, playing the violin since he was two years old. Gradually, he practiced diligently but felt disappointed about his sound occasionally.
He had been trying to find out the problems and solutions. He finally got into another world when studying psychology. At that time, he knew how to become a complete performer and a musician playing with full of confidence and focus without anxiety.
Hence, he wrote this blog to share with subscribers what he has learned over the years from psychological training along with his musical background.
The most outstanding of the blog is the categories which mention the confidence, anxiety, courage to help people learn, play, and perform piano better.
For example, the column Anxiety includes blog posts to explain the worries of people, or guidelines to keep yourself calm down before auditions and performances.
The Curious Piano Teachers
via thecuriouspianoteachers.org
Sally Cathcart and Sharon Mark-Teggart are the co-founders of The Curious Piano Teachers. They are both have over ten years of teaching piano for children and adults.
On the one hand, Sally completed a Ph.D. degree at the Institute of Education, UCL. She also holds a position in the ABRSM Music Education Advisory Committee. On the other hand, Sharon earned her Masters in Music Education from the Institute of Education at the University of Reading.
Their blog contains valuable materials to guide you through managing the piano studio business. Don't forget to take a look at their products too. They offer great online teaching resources to help piano teachers inspire their students.
Susan Tomes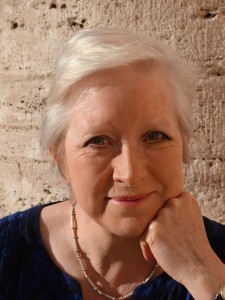 via susantomes.com
Susan Tomes creates her blog to spread out her knowledge for the piano community. She is well-known as the first woman who attended a degree in music at King's College.
Until now, she has released more than 50 CDs, which includes many benchmark recordings. Besides the performing career, she is a competition jury all around Europe. She also teaches master classes and is on the faculty of ChamberStudio in London.
This blog introduces many of Susan's music products ranging from books to her solo and duo recordings. You can also find the schedule for concerts and events which she will attend on this site.
Heidi's Piano Notes
via heidispianonotes.blogspot.com
Accumulating experience after years of teaching, Heid started her blog for Heid's piano studio in 2019.  The blog aims to help teachers, parents, as well as students, to have useful piano resources.
In her blog, she lists out online piano activities which are divided into many levels from level 1 to level 5. Also, she collects ideas for gaming which support piano learning as well. Moreover, she doesn't forget to include methods to spice up music lessons, fun ideas, and resources.
You can learn from Heid about how she organizes a piano lesson through games with effortless preparation.
Music Educator Resources
via musiceducatorresources.com
Jennifer Foxx has been teaching piano lessons since she was 15 years old. From the bottom of her heart, Jennifer enjoys giving out her teaching experience, tips, and other resources to help other teachers.
Other times, she will post articles containing her reviews on piano resources to keep you updated about what's new for music teachers. Occasionally, you can also find her good deals, freebies, and giveaways.
You should subscribe to her blog to earn her fantastic ideas for lesson plans, games, and music-themed cards for students.
Diane Hidy
via dianehidy.com
Let's join the community of Diane Hidy, the first woman to be a fellow attending the American Pianist Association. Moreover, she held a Master degree in Music in Piano Performance.
On her blog, teaching tips have separate categories containing her experience on teaching the piano. She introduces to readers her toolbox, including books, stationery, small toys to help inspire teachers when giving classes.
Also, you shouldn't forget to take a look at her products posted on this blog. There are her song compositions, solo sheet music, books, CDs, etc.
Last but not least, parents having children playing the piano will find this blog helpful. You can learn how to choose the right piano teacher for your kids, following the guidelines of Diane.
Hoffman Academy
via hoffmanacademy.com
Joseph Hoffman has followed his piano teaching career since he was six. Since then, he has contributed a lot for the piano field like BYU opera productions or the 300-voice University Chorale.
Besides teaching piano, Joseph keeps nourishing his dream of running his piano academy. Thus, in 2017, he founded Hoffman Academy to provide private and group piano lessons' teaching. The academy began with 40 students; then overgrow to 250 students educated by 11 teachers.
Hoffman Academy provides a unique teaching method called The Hoffman Method. Its purpose is to make complete musicians who can play and genuinely comprehend music. Notably, the academy creates the learning program with an affordable price even for families on a budget.
iPad & Technology in Music Ed
via ipadmusiced.wordpress.com
Like its name, iPad & Technology in Music Education tells the story of how Paul Shimmons integrated technology into music teaching. He purses the dream of combining technology with music to make things easier for students to enjoy every piano lesson. Also, his dream can answer a question of his district teachers how to make music relative to the modern world.
In his blog, he collected both free and paid apps for music educators which he uses in his classes everyday. Moreover, he provides reviews for applications he's experienced and tips for music creation.
Living Pianos

via livingpianos.com
Living Piano is the first online piano store in the world, having a showroom open publicly in California. The store belongs to Robert Estrin, who is a champion of historical instruments and music technology.
Robert Estrin grew up in a family of musicians. His father is Morton Estrin, who taught numerous concert teachers and other artists. From a young age, he and her sister both learned to play the piano with their father.
What a great thing from Living Pianos is that you can sell your piano by choosing one of three ways (privately, wholesale, or consignment). Besides, there are hundreds of on-sale pianos on the website. If you need one, don't forget to take these good deals.
Jazz Piano School
via jazzpianoschool.com
Another site to visit for Jazz Piano lovers is Jazz Piano School. Remarkably, it has three main choices to support you to master jazz piano.
Firstly, the Main Curriculum includes 600 videos, a step-by-step road map, facebook group, and podcast material to help you reach your jazz piano dream.
The more in-depth program should go to Specialty Course. This medium size course is suitable for learners in need of more specific attention.
The last offer is The Lab, including mini piano course to help learners receive quicker results in less than seven days. You can choose various topics to start studying with The Lab.
Cunningham Piano
via cunninghampiano.com
Cunningham Piano Company, Philadelphia's oldest piano company, has served piano lovers around the world since 1891. Patrick J. Cunningham is the founder of the company and the one run and grew the company from the very first start.
Now, the company has two co-owners: Rich Galassini and Tim Oliver. They are all accustomed to the company for over 20 years.
In each Cunningham Piano's clearance sale, you can have special offers to up to 50% to get your favorite piano. Check out the site and choose the one for you!
If you usually follow its blog posts, you can learn how to make a piano sing, join a workshop, or get reviews of some piano versions.
The Piano Lab Blog
via portlandpianolab.com
The Piano Lab provides piano techniques for people of all ages from kids, teens to adults. You will receive cutting-edge, customized guidelines focusing on establishing necessary musicianship skills.
The blog of the site features amazing tips, fresh ideas, and inspiration for students and teachers.
Doug Hanvey is a teacher in The Piano Lab. He has played piano since the age of 6. Afterward, he kept his learning path to study music composition and classical piano at the Jacobs School of Music, Indiana University Bloomington.
He also earned a master's degree in training adults. Furthermore, he is the author of a book called The Creative Keyboardist and a composer of thousands of songs and piano pieces.
Chupp's Pianos

via chuppspianos.com
Chupp's Piano Service, Inc. enjoys its popularity to be the finest service in restored Steinway piano. The company specializes in rebuilding and repairing other vintage pianos such as Mason & Hamlins and Baldwins. Besides, Chupp's Piano provides a wide range of premium pre-owned Yamaha pianos and new Kawai pianos.
After four decades of experience, Chupp's Piano employees have extensive expertise, making them piano specialist instead of general repair technicians.
The blog on the site of Chupp's Pianos shows you which piano problems usually happen from key sticking to slipping out of tune. Moreover, it provides information about the upcoming offers, sales from Chupp's Pianos.
West Coast Piano
West Coast Piano is not the site for piano resources, but it can help you move your piano when you plan to change your accommodation or send the piano to another place.
West Coast Piano has moved pianos in the Pacific Northwest since 2014. The company provides professional and reliable moving with licensed piano moving specialist to help transport your pianos safely.
Not only does West Coast Piano move the pianos, the team also offers warehouses to store pianos in both short term and long term. During storage, they will wrap your pianos in multiple pads and strap firmly.
You don't need to worry about your piano being damaged by climate changes, humidity. West Coast Piano's warehouses includes climate-controlled facility which will protect pianos from the damage of the environment.
Piano Central Studios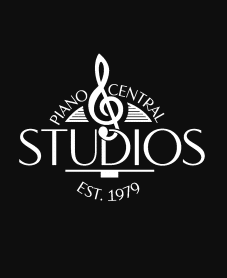 Piano Central Studios has been sparked the piano love in students of all ages since 1979. This piano studio strives to encourage students to discover the power of music for nourishing minds and hearts.
To do so, the team of teachers at Piano Central Studios always try their best to provide valuable programs. There are countless lessons which are designed for specific learners.
For example, kindermusik offers at least five levels for a newborn to a 7-year-old-child. Besides, programs for preschool children, school aged students, or adult students are available.
pianocub.com
via pianocub.com
PianoCub is the place to make learning piano more accessible. It arranges online lessons via PDF materials and video tutorials which fit everyone with the busiest schedule. Besides its convenience, PianoCub offers the learners at an affordable price.
In the site, PianoCub also prepared blog posts which write about piano tips, explanation why to play the piano, etc. Sometimes, there is an article telling about music news around the world.
Let's meet Dr. David Brown, a founder of the PianoCub. He lives in Los Angeles, California, but his musical activities happened all around the world. He once participated in conducting engagements in France and received a composition award in the Czech Republic.
Laura's Music Studio

Laura's philosophy is to approach each individual differently because of his/her uniqueness in interests, competency, and weakness. Therefore, she always tries to modify her lessons to each student's goals, and needs.
Depending on a student's age/level, Laura will design the piano lessons in 30, 45, or 60 minutes. Each student will receive an assignment notebook at the first lesson to keep track of practice goals for each week.
In her blog, she has prepared a category of sheet music, which are suitable for beginners to intermediate players.
Piano Power
via pianopower.org
Abraham Levitan is the director and founder of Piano Power. In 1984, he graduated from Yale University specializing in jazz and classical piano, and rock. Then, he started to give at-home piano class in 2001.
Abraham cannot make Piano Power great alone. Hence, there are over 30 instructors teaching various instruments like piano, guitar, trumpet, violin, etc.
The blog of Piano Power not only shares to guideline for solving piano problems, but it also contains a column of teacher/student profile. Articles in this column introduces a Piano Power teacher along with his/her student to share student's thoughts on piano and the interest while learning to play the piano.
WKMT
via piano-composer-teacher-london.co.uk
Another popular piano blog is WKMT, standing for West Kensington Music Team. This blog belongs to Juan Rezzuto, a pianist with a thorough understanding of piano, music technology, and composition.
At the age of 11, he made the first concert in his hometown of Estancia Santa María de La Armonía. Then, he became a regular performer in the theater halls of the US, the UK, and Argentina.
Juan has a unique approach to piano pedagogy which combines music technology in reading, playing, and writing. This approach is reflected in his blog a lot. He puts many piano resources for taking reference and the information of his courses for people are interested.
Key-notes
via key-notes.com
Albert Frantz started learning piano at the age of 17; then he attended Penn State University to earn his Bachelor degree. In nearly a decade, he became the first pianist to earn a reward of Fulbright Fellowship to Vienna. Also, he joins the Gramola label to make records for it.
He founded Key-notes to offer students different courses and resources to improve their skills. If you want to have access to a complete library of lessons, you should sign up for a new account. After entering this library, you are free to download typeset sheet music from experts and professional recorded audios.
Pianist Magazine

via pianistmagazine.com
Pianist Magazine provides both print editions and online blog posts for readers. The magazine includes expert advice, top tips, fascinating stories, inspiring interviews, from around the world.
The print magazine usually contains 40 pages of sheet music ranging from beginner to advanced in diverse genres of music. Buyers can have a free tutorial CD for each print magazine.
Besides piano writings and magazine, the site offers piano from various brands for attractive prices.
Faber Piano Adventures
via pianoadventures.com
Being a performer and composer, Nancy and Randall Faber have made use of their experience to support piano teachers and students.
They keep in mind that studying piano is not only for performance success but it also is a way for students' cognitive development. Hence, they reflected this philosophy in their teaching method, their wirings, and other publications.
This couple became the authors for more than 300 publications. One of their most notable publications is Piano Adventures method. This teaching method focuses on using analysis, expression, and creativity to grow a musical heart and mind.
Via their blog, you can find piano resources, events and other products for piano learning.
Keyboard Improv
via keyboardimprov.com
Ron Drotos studied jazz piano with Dr. Billy Taylor and finished his musical composition at the University of Connecticut. After over 20 years of guiding students from ages 5-85 learn to improvise fluently, Ron Drotos decided to open KeyboardImprov.com in 2012.
He aims to let learners receive in-person piano lessons and an extensive video course. He is proud to have students from all over the world like the Czech Republic, China, England, Philippine, and the US.
In his blog, he focuses on providing piano improv and explain the role of music in people's lives. Also, he created e-books, Skype piano lessons to help learners find learning piano easier.
Piano Couture
via piano-couture.com
Piano Couture's blog contains articles about playing, learning, teaching, practicing and working with music. You can learn how to set a realistic schedule for practicing piano in four easy steps. Moreover, the blog provides free tutorials for readers to learn playing songs like This love of Maroon 5, or Piano Man of Billy Joel, etc.
Other than blogging, Piano Coutures offers clothing and merchandise to carry out your love with piano. Learning the piano with Piano Coutures is also accessible with the modern method Hack the Piano running on the platform Piano Lingo.
You will learn the universal concepts of music via Hack the Piano. Therefore, you will grow as a musician through every lesson without wasting any time imitating blindly.
Free Jazz Lessons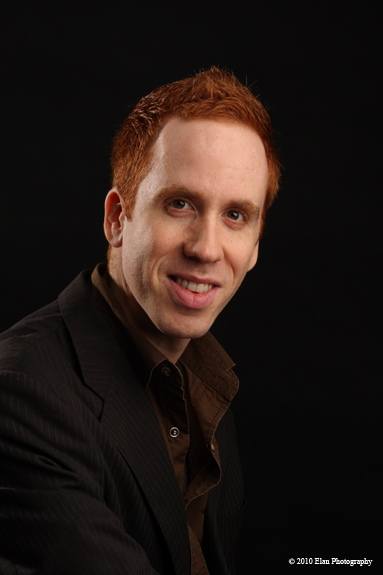 via freejazzlessons.com
Steve Nixon is  an acclaimed jazz and blues pianist as well as an owner of Freejazzlessons.com. He has gone on a tour around the world, performing in the US, Europe, and South America.
He thought that there would be a page filled with full of resources about jazz education for people to make reference. That's why Freejazzlessons.com was born.
Notably, all of the resources he posted on his blog are what he uses regularly to teach students. You should bookmark the page for your reference to learn in the future. Moreover, the jazz blog will get you updated with the jazz piano world, learn about tips and tricks about jazz piano playing.
Piano and Coffee co.

via pianoandcoffee.com
Piano and coffee co. gathers creators from around the world, working together to make the best projects into real life. They bring readers reviews, interviews, and other types of articles about great artists and their work.
Other than articles, the team boasts the records label including six releases. This independent record label is the result of composer Sergio Díaz De Rojas in 2017.
Sergio Díaz De Rojas plays a role as a creative director and a founder of Piano and coffee co. In 2019. he plans to release the second album through French label eilean rec. and go on tour around Germany, Spain, and Peru.
Wrapping up
With 50+ best piano blogs in this article, you will no longer run out of precious resources for piano teaching methods, ideas for running a business, etc.

Jack is the leading publisher of Fire Inside Music. He is teaching piano at a music school in Los Angeles. Since he was a teenager, Jack has had a great passion for music, the thing he enjoyed most was singing and playing the piano. He has excellent keyboard experience, works with William to help players select the best instrument to invest.