As you know, a keyboard workstation is described as a "do-it-all" electronic instrument that can help you play and record ideas instantly. Indeed, when you're going to perform at a live concert or record professional tracks or play with a small church band, this instrument does a great job.
But, is there any best keyboard workstation under $500? Or do I have to pay a high amount of money to get one? Etc.
Since you're here, we will EXPLAIN everything so that you can get the one you want most. Just follow us and you will find the answer soon.
Full Reviews Of The Best Keyboard Workstation In 2020 
Amongst thousands of the keyboard workstations available on the market, we have found out 10 top rated ones. Besides, we've put them in different groups that are suitable for each budget. Please determine how much you can spend and then pick up the best one!
Best Workstations Under 500 Dollars
1. Yamaha PSRE453 61-Key Portable Keyboard

If you're a newbie and have a tight budget, you cannot go wrong with the Yamaha PSRE453.
This 61-key keyboard workstation boasts of showing a huge list of sounds such as orchestra, synth, and percussion. It also comes with hundreds of effects, preset styles, built-in songs, and real-time control knobs for adding quick effects.
Wonderfully, a new DJ pattern mode allows you to practice the EDM genre conveniently.
When it comes to the sound quality, you're guaranteed to get a beautiful sound at all times. A
lthough some claim that the sounds of the guitar or electric guitar are not real, the sounds of the piano are impressive. Whether you like these sounds or not, you can use the control knob to modify them as you want.
Another great feature from the PSRE453 is the arpeggiator. As a note sequencer, you can use it to turn the chords into any melodic pattern of your selection. If you prefer to enjoy the harmonizer, make sure to avail it while playing.
Generally, this instrument is ideal for not only beginners but also experienced players who love advanced features for music production and performance.
Things we like
An ideal keyboard for newbies.
Portable, easy to carry around
Delivers great sounds
Connects computers or smartphones easily thanks to USB Audio and MIDI connectivity
Includes built-in arpeggiator
Good for the money
Things we don't like
Only comes with 61 keys
Pays the extra for the power supply
2. Casio WK-245 Workstation Keyboard

As compared with the Yamaha PSRE453, you just spend a similar amount of money to own a bundle of Casio WK-245 workstation.
It includes the keyboard (of course), power supply, adjustable stand, sustaining pedal, polishing cloth, and an instructional DVD.
One of the first features that we notice is its touch-responsive keys.
Although they aren't weighted, they DO send dynamic volume depending on how hard you hit the keys.
The next beautiful thing is all about 600 built-in tones and 180 rhythms, allowing you to play, style, and follow your inspiration.
Especially, this instrument highlights a 6-track recorder to create musical backing and bring the feeling of playing with a full band.
Also, the Casio WK-245 features the USB MIDI port and stereo input that can record lots of tracks a snap. It seems that all sound great with built-in digital FX.
Even, in case you need more sounds, the onboard sampling is capable of recording everything such as human voices, new instruments or a dog barking.
As a beginner, you will be amazed at what this keyboard workstation offers. Or if you're an intermediate player, you also find out lots of fun features to enjoy.
Things we like
Features 76 touch-responsive keys
Includes the power supply
Offers a 6-track recorder with audio input
Easy to use and portable
Comes at a cheap price with a bundle
Things we don't like
Some claim that the speaker doesn't sound crisp while playing
3. Casio WK7600 76-Key Workstation Keyboard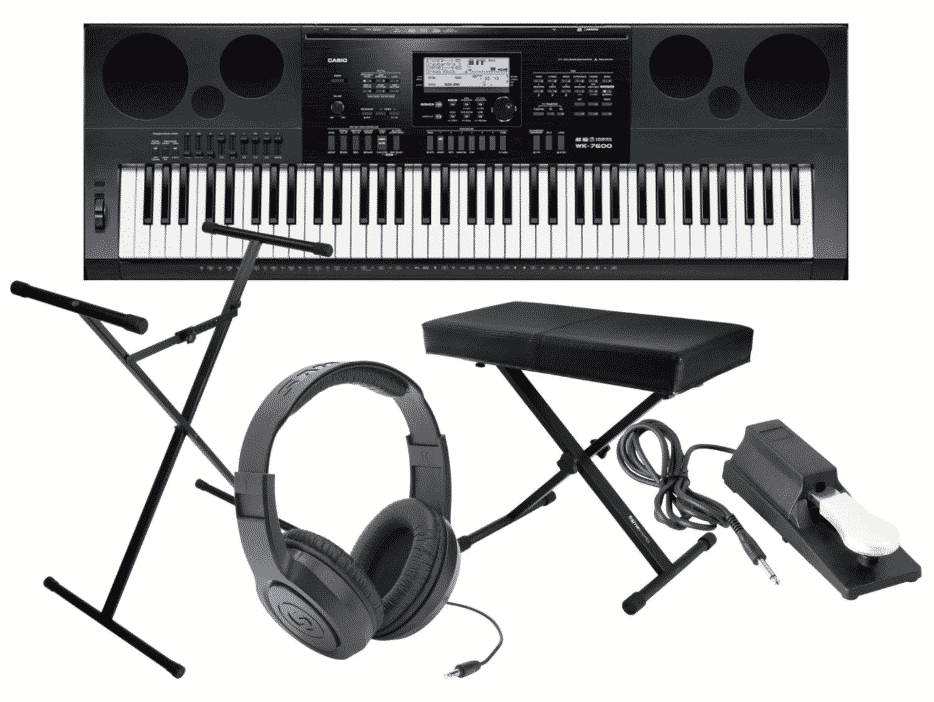 The final choice for the best keyboard workstation under 500 belongs to the Casio WK7600.
The best thing about this instrument is that it has all the tones you need such as vintage electric pianos, dynamic stereo pianos, drums, strings, and a collection of synths and acoustic instruments.
You will welcome 820 tones organized by category, and each can be twisted using envelopes, filters and more to create the perfect tone you want. Additionally, a massive set of DSP effects are available to better these tones as well as adding the touch of realism.
Aside from deep tones, this product boasts of 260 built-in preset rhythms. Just one click and then you can access every style including pop, rock, country, classic, Latin, etc.
Since you can select to get a drummer or the whole band, it's perfect for playing musical ensembles as backing accompaniment and for music production.
Thanks to the 17-track sequencer, it's easy to edit and tweak your performances, make professional tracks and simply save your song file to an SDHC card. From there, you can share your music with anyone.
No matter who you're an amateur or professional, the Casio WK7600 will soon be the right arranger keyboard to play, create and edit your work.
Things we like
Affordable price
Ideal for the studio and stage
Features lots of tones and rhythms to play
Comes with a built-in song and lesson system
Easy to connect with PCs and smartphones
Includes the power supply
Things we don't like
Some reckon that the keys feel a bit squishy
The 64-note polyphony might be limited for experienced players
Best Choices From 500 – 1000 Dollars
1. Yamaha MX61 Music Production Synthesizer

Yamaha has introduced the new MX series with the MX61 Music Production Synthesizer that is known as a good synth for the studio, stage, and anywhere.
This instrument boasts a powerful 61-key music key controller that features more than 1000 MOTIF XS sounds and full integration with PCs or laptops via USB audio/MIDI interface and iOS music software. Besides, it comes with a 16-part multitimbral and 128-note polyphony.
Hence, the quality and variety of its sound are impressive. Even, these features permit you to create and play dense sequences without worrying about sounds interrupting.
Then, let's take a look at the top panel of the Yamaha MX61!
It's equipped with solid, sleek, and great-feeling knobs and buttons. Relying on that, you can easily control internal sounds, VST instruments, and DAW parameters better.
Also, the simple and streamlined interface allows you to find, edit, and save the sound quickly. Wonderfully, it shows a template editor software that lets you tweak the interface to fit your desires.
Portability is another key feature that we're quite interested. The MX61 is light enough to carry around and not difficult to set up. That means you can readily bring it whenever you go.
Things we like
Lightweight, easy to transport
Offers thousands of lush and rich sounds
Boasts of the 128 polyphony notes
Easily records internal sounds straight to computers
Easily adjusts DAW, VST, and sounds thanks to the solid knobs
Good budget beginner synth
Things we don't like
Some dislike the plastic casting and a simple design
The keys are too light to touch.
2. Roland JUNO-DS61 61-key Synthesizer

Continue discovering another great bang for buck with the Roland JUNO-DS61 61-key synthesizer, guys! We're sure you will soon fall in love with this unit because of its ease of use, great sound, and outstanding value.
Why is the JUNO-DS61 easy to use?
As compared to other keyboards, this one has a well-organized interface. The buttons are accurately organized that allows you to access and load functions easily and quickly.
Moreover, a joystick on the left of this instrument permits you to avail and gain some effects. What's more, a set of knobs above the joystick is everything you want to adjust specific functions such as the resonance, cutoff, etc.
Of course, you can find other great functions including mix sliders, split keyboard, shift octaves, and layer patches.
Aside from having all the sounds from the JUNO-Di, the Roland JUNO-DS61 features a wave expansion slot. That means you can download new sounds like waveform, brass instrument sounds or anything from Roland's Axial site.
When it comes to connectors, this product boasts of its jack for a microphone that you cannot find in other compatible ones. Since you can use the mic input, you will get a bit more creative, mainly when performing live or recording artists.
Things we like
Ideal synthesizer for beginners
Lightweight, portable and compact
Features intuitive user interface
Easy to customize and expand the sounds
Offers loads of great connectors
Things we don't like
No built-in speakers
If you need the feel of an electric piano, you won't prefer the unweighted keys
Some prefer a touchscreen instead of editing tones by using the LCD screen
3. Korg Kross 2 61-key Synthesizer Workstation

The last best keyboard workstation under 1000 that we want to talk about is a follow-up to the original Kross model, the Korg Kross 2.
This product is loaded with gorgeous sounds to make your music lush. They include electric piano, piano, drum sounds, and over 1000 pre-set sounds.
Also, it features three primary modes including program mode (playing individual sounds), Combi (playing layers and splits), and Seq (creating songs).
The arpeggiator is one of the most wonderful things you'd like to enjoy. There are dozens of parameters and patterns for tweaking. Besides, the 16 pads allow you to program new beats within the preset loop for the Drum Track.
By running on six AA batteries alone, the Korg Kross 2 lets you play impromptu anytime and anywhere you want. Even, if you're availing a DAW, you can use this synthesizer workstation as a controller.
In a word, this instrument is preferably suitable for those who love to discover and experiment with a huge range of effects and sounds.
Of course, its sound quality is impressive. Even, you are able to use it to create excellent tracks for hip hop or make your own EDM songs.
Things we like
Extremely lightweight and portable
Easy to use from studio work to live performances
Offers thousands of great sounds for live settings
Features impressive effects and sequencer
Includes an adapter and batteries
Things we don't like
No built-in speakers
Some dislike the semi-weighted keys
Top 3 Keyboards From 1000 – 2000 Dollars
1. Yamaha MOXF8 Music Production Workstation

As a professional composer or musician, it's best to invest your money in buying the best keyboard workstation ranging from $1500 to $2000.
And the Yamaha MOXF8 here is one of the best highlights of the MOX synth series that we want to show you. It's loaded with a vast array of realistic instrument patches like acoustic and electric piano, wind and brass instrument sounds, fantastic guitar, drum and bass sounds, etc.
Additionally, the "performance mode" feature lets you combine a great number of patches to perform live.
Even, it does an excellent job in recording the music for those who are working as studio musicians. It's capable of connecting to the computers through USB and controlling the DAW well.
Another reason that you will fall in love with the MOXF8 is its built-in audio interface that can catch both the internal sounds of the audio or synth from two extra mic/guitar inputs.
Wonderfully, it comes with Prologue Synth, Steinberg Cubase AI, and other effects, permitting you to make music straight out of the box.
Things we like
Provides enough 88 stiff keys, giving ivory feeling like playing the grand piano
Features 128-note polyphony, 1200 preset voices, and tones
Delivers great and impressive sounds
Ultra-lightweight and compact
Comes with a great interface
Lots of inputs and outputs
Things we don't like
Menus are a bit hard to use
The price is a bit high for some newbies
Not includes built-in speakers
2. Korg KROME 88-Key Music Workstation Keyboard & Synthesizer

If you prefer the 88-key keyboard with a huge spectrum of sounds for live performances, Korg KROME Music Workstation is what you need.
This instrument comes with the excellent selection of sounds available on any keyboard, allowing you the voices of the essential instrument from electric piano, drums, strings, and other fantastic sounds.
Even, it highlights a collection of un-looped stereo piano samples such as German D Grand, Japanese, etc.
One more exciting feature that makes the Korg KROME outstanding is an 800×480-pixel display. It shows parameters so that you can get a view of everything.
Since it's a resistive touchscreen, you easily control by using the knobs directly on the screen.
As it comes to design, this product has a metallic color. Though its aluminum panel brings  a sense of high quality. Even, it looks sleek with two different panels.
Additionally, you are able to connect the Korg KROME to your computers via USB or avail an SD card for storage.
Furthermore, the KROME Editor and Plug-in Editor allow you to edit from the computer while seeing large numbers of parameters at the same time.
All in all, this is the keyboard workstation that is sure to satisfy all your demands, no matter who you're an amateur or professional.
Things we like
88 weighted keys
Ease of use
Impressive sounds and great sounding samples
Comes with a large TouchView color display
Easily connects to the computer
Gives a professional look
Things we don't like
No built-in speakers
The screen tilts, so it's hard to see when seating to play
Take a closer look at the Korg KROME:
3. Roland 61-key Music Workstation (FA-06)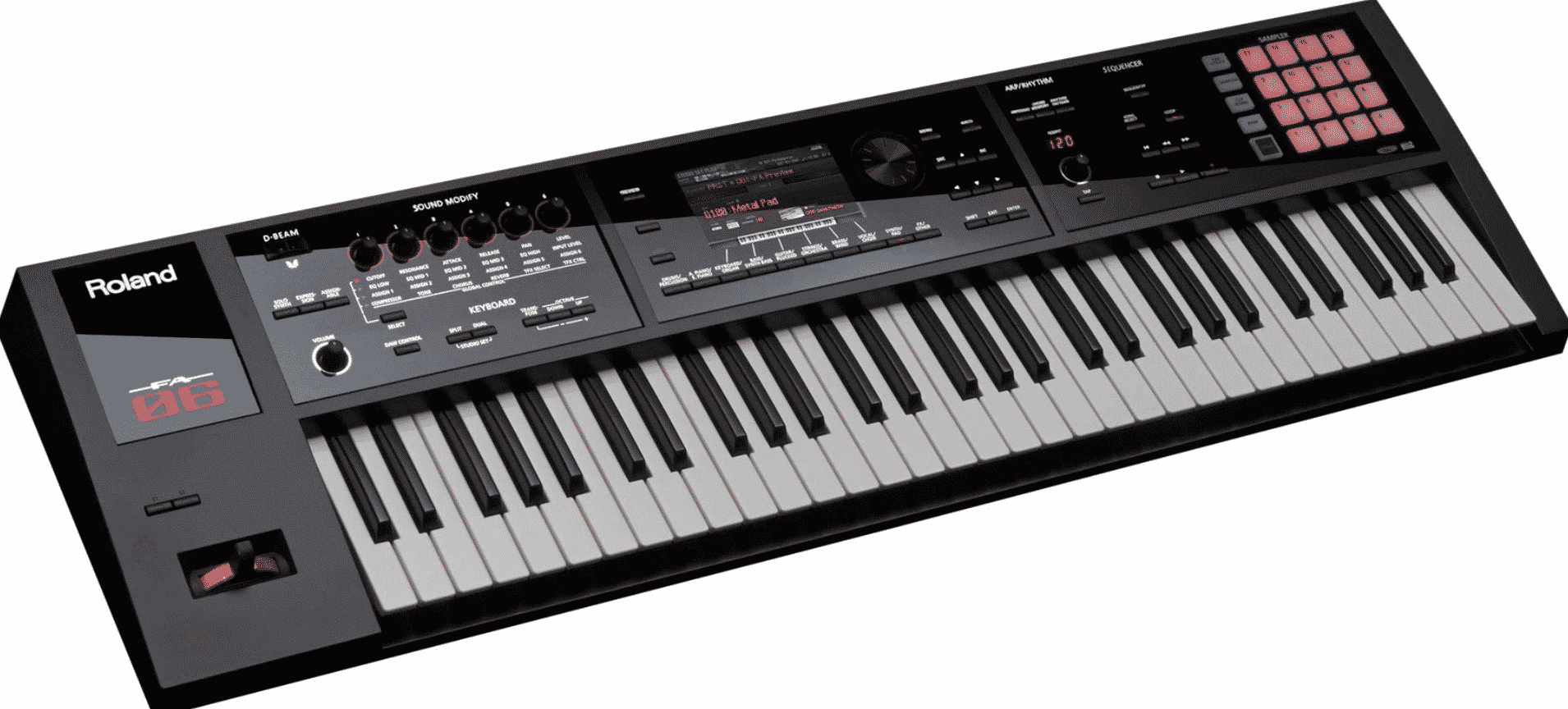 Another complete keyboard workstation under 2000 that is perfect for composers, stage musicians, and anyone who wants to craft their music is the Roland FA-06.
Indeed, this product connects the space between the studio and live keyboards, offering a lightweight, portable and versatile instrument.
It also includes more than 2000 sounds from the flagship INTEGRA-7 sound module. Aside from SuperNATURAL synth, piano and drum sounds, it adds more tones such as waveform.
Thanks to a 16-track sequencer with non-stop loop recording, you can make the whole tracks with minimal troubles.
Even, it's easy to export your sequencer songs to an SDHC card as a stereo mix as compared with other compatible units.
Or you may export them as multi-track audio or MIDI data within your DAW. What's more, the FA-06 is useful for recording artists and guitars via the Mic/Guitar line input jack.
One more reason that you should opt for this product is that it allows you to play more and think less.
It is capable of powering up quickly and easily and is ready to go at all times. It comes with a big color LCD to access sounds and functions as well. And everything is set out clearly and logically on its panel to follow.
Things we like
Lightweight and portable
Ideal for those prefer a combo of the keyboard, workstation, and DAW
Delivers high-quality sounds
Ease of use
Full of features and effects
Offers great SD card support
Things we don't like
Only comes with 61 keys
The manual lacks information, need to download more from the website
Watch a demo of the Roland FA-06:
Last But Not Least: From Dollars 2000 And Above
Yamaha Montage 8 Synthesizer Workstation

It can be said that the Yamaha Montage 8 is the "big daddy" to our list of the best keyboard workstation. To be honest, it does offer lots of excellent features than anything here. That's why it comes at a high price, especially if you are a beginner.
One of the greatest things that make this unit outstanding is its super knob. It's easy to use with one hand and control sound modifications and effects while playing.
For instance, if you want to play with both hands, just assign the super knob to become a foot controller and a pedal.
The Montage8 boasts of two different sound engines that can provide crazy yet cool synthesizers.
A programmable control matrix of the Motion Control Synthesis Engine allows making a deep, expressive and dynamic sound. Meanwhile, the Motion Control lets you create new sounds.
So, in case you love to make chillwave 80's pop to EDM or want some buzzy leads and basses, this keyboard is what you want.
Another cool function that helps to convert audio into a control source for various kinds of synthesizer parameters is an Envelope Follower. Besides, this unit boasts of a touchscreen that allows you to select and change directly and easily.
Things we like
Comes with 88 keys
The sound quality is impressive
Features two great sound engines and Envelope Follower
Offers an excellent super knob to control
Has an interactive and responsive touchscreen
Provides a huge range of sounds options with a 128-note polyphony
Things we don't like
Pricey
No sequencer features
View a demo of the Yamaha Montage 8:
Keyboard Workstation Buying Checklist and Things to Consider
Without knowing anything about what you will use the workstation for, it's hard to find exactly which the best keyboard workstation is. Aside from showing the 10 top rated products above, we also point out some essential factors that help you better.
Sounds
No matter what you're going to use the keyboard workstation for music production or playing purposes, the sound quality and quantity are what you should care firstly.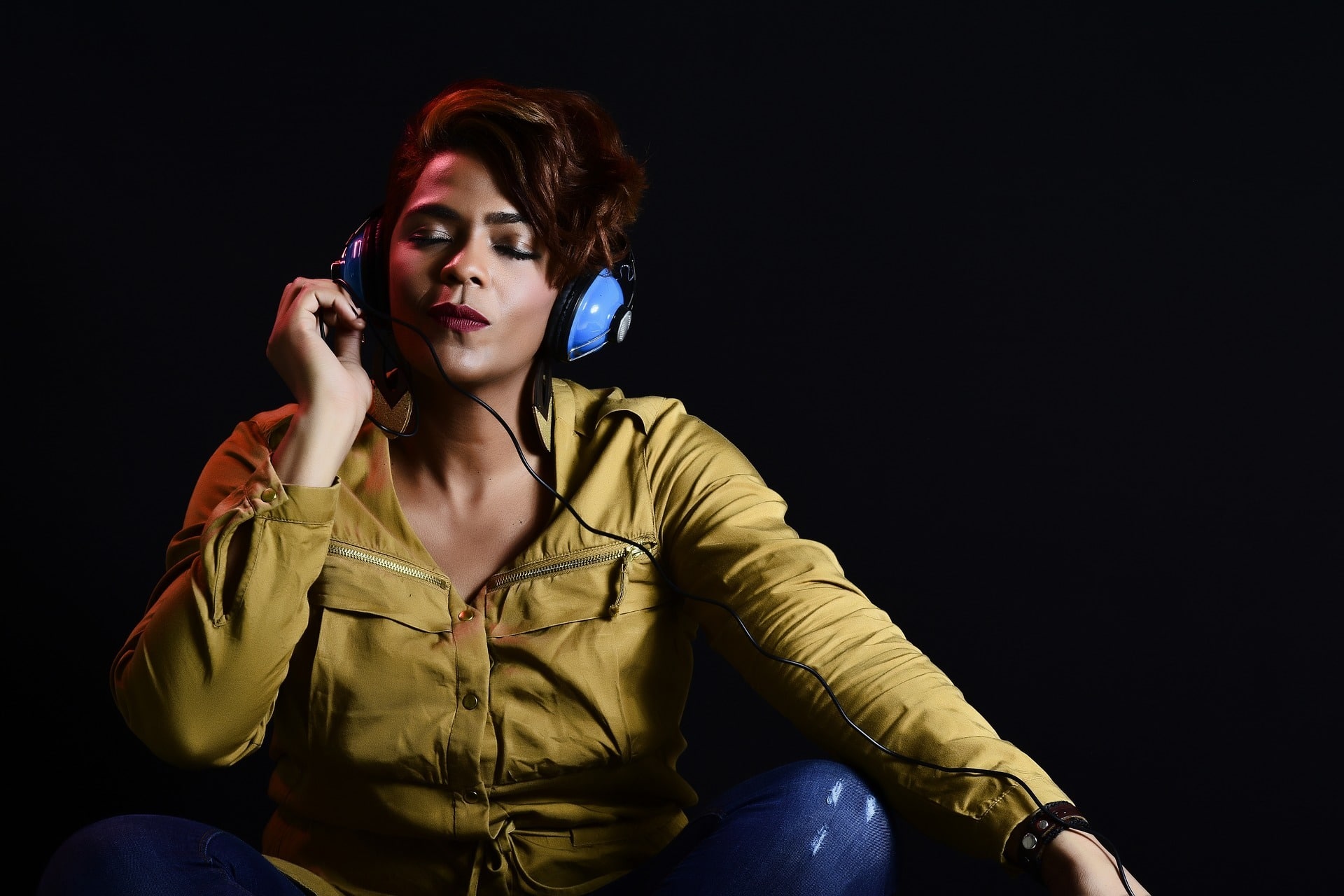 If you need an authentic reproduction of sounds like percussion, strings, piano or brass instrument, you should opt for a simple playback synth. In case you want to combine electronic music, it's best to pick up the workstation with an analog modeling synthesis.
When it comes to the sound quantity, you must find the unit that can control and offer enough polyphony for recording and playing. Note that the more notes it can manage, the more you can enhance your use of recording and sequencing lots of tracks.
Sequencing And Recording
As you know, the keyboard workstations are designed to focus on production and composition demands. That's why the main features you need to care are their sequencing and recording abilities.
Some units already come with built-in MIDI sequencers for adding, editing, and capturing tracks. Meanwhile, others have a MIC or line input that allows you to incorporate audio to sequenced tracks.
Read more: Casio CTK 7200 Review
Effects
Another crucial feature to consider that might make sounds or songs to the next level is onboard effects. Most workstations are equipped with the basic built-in effects that are suitable for every track and the whole mix. Additionally, some come with audio recording abilities with dynamic and EQ effects.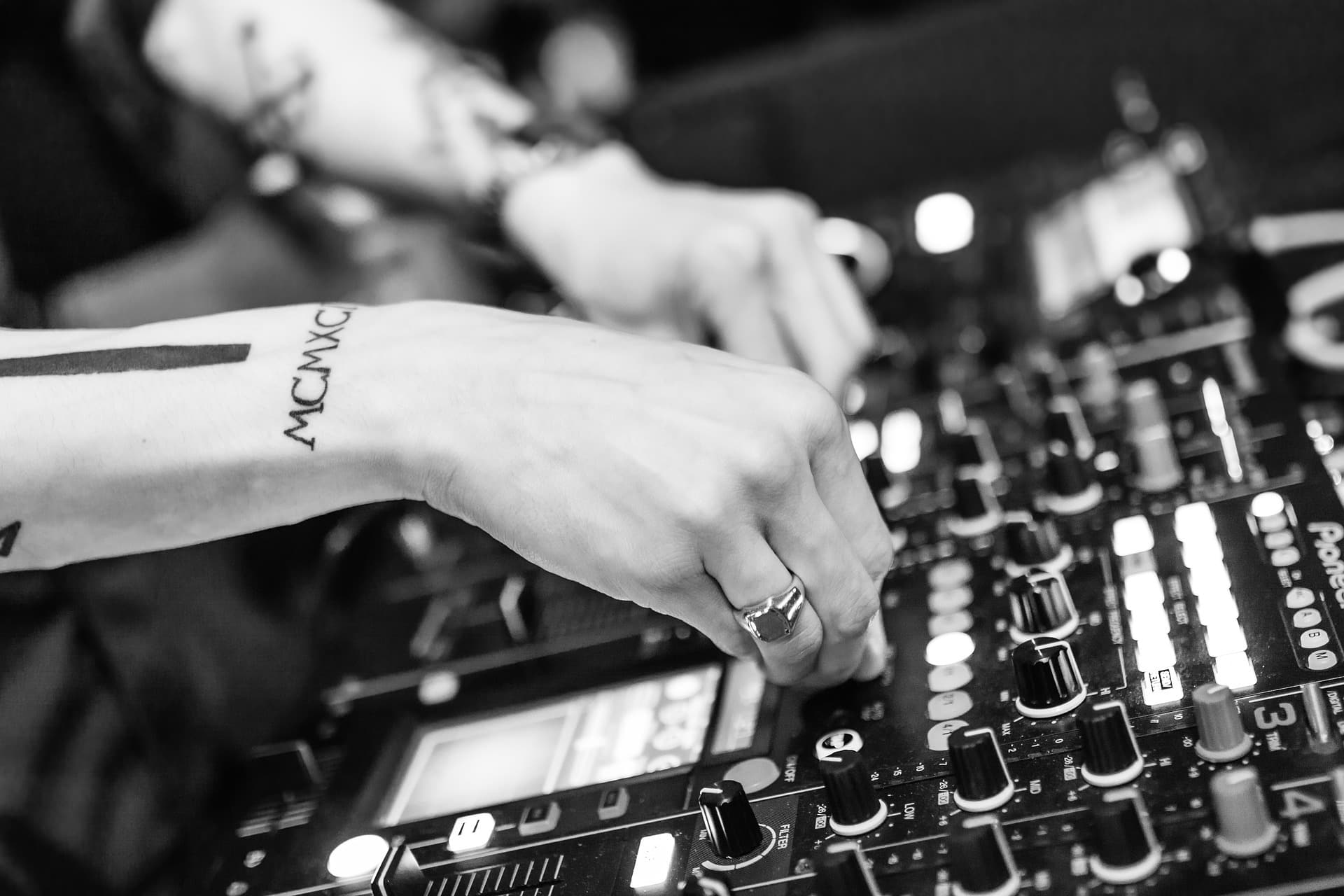 Keys
Depending on your preferences, you can opt for the keyboard with 88 keys, 76, 61 or even 49. But, remember that the keys will likely not be weighted when buying the workstation with less than 88 ones.
Computer Interface
Most of the keyboard workstations come with a USB interface so that you can transfer data with ease. If the workstation has built-in audio interfaces, that means you can save your money because you don't need to invest in extra software for recording.
Conclusion
As we were saying earlier, finding the best keyboard workstation mainly depends on your budget. It's because there is no competition in the current workstation marketplace.
If you need a winner under 500, we highly suggest the Casio WK-245. This one features 76 keys and impressive features as well as effects. Since you just pay a similar amount of money for buying the Yamaha PSRE453, the Casio offers a bundle with enough devices.
For the winner under 1000, you should opt for the Yamaha MX61. To the best workstation under 2000, the MOXF8 from Yamaha is what you need.
On the whole, we hope you enjoyed our reviews of the top-rated keyboard workstations on the market. And don't mind sending us any question you're wondering.
Or in case you want to know more about the music world with different instruments such as best digital piano or best beginner keyboard, we have all, guys. Just find more posts here, and we're sure you will update lots of useful information.
Once again, thanks for reading!

Jack is the leading publisher of Fire Inside Music. He is teaching piano at a music school in Los Angeles. Since he was a teenager, Jack has had a great passion for music, the thing he enjoyed most was singing and playing the piano. He has excellent keyboard experience, works with William to help players select the best instrument to invest.