Yamaha is a huge brand, and not just in the world of keyboards and digital pianos. There are affordable, decent quality keyboards all the way up to exceptional models that replicate the sound of an acoustic piano. We've reviewed the best Yamaha keyboard options in this guide.
It's hard to make an informed choice if you are new to keyboards. The number of options in the Yamaha range can be really overwhelming. Which features do you need? How much do you need to spend to get a good keyboard? Which features do you want to prioritize?
We've looked at the full Yamaha range, including new models and some older models, and the different types, such as controller keyboards, digital pianos and MIDI keyboards. We've created a list of the best 10 Yamaha keyboards for a variety of different needs. There's something for everyone on the list, from beginners to pianists with professional aspirations.
Types Of Keyboard
This can be one of the most confusing things to work out if you are new to keyboards and digital pianos.
Most of the Yamaha range are either digital pianos or keyboards, so what is the difference
A digital piano is usually 88-keys, and designed to mimic the sound and feel of an acoustic piano. They normally have weighted keys which are sensitive to how hard they are pressed. Yamaha digital pianos are modeled on their acoustic pianos.
A keyboard is not designed to be as realistic to the touch. Instead, it will probably have a lot more tech features and multiple sounds inbuilt. They don't prioritize feeling like playing an acoustic piano.
There are some other types of keyboard. A MIDI keyboard is a controller for software, and needs to be used in conjunction with a DAW (digital audio workstation). There are also synthesizers, which provide the chance to create new and exciting sounds, but don't strictly feel like a piano to play.
Number Of Keys (and Weighted Keys)
The number of keys is another vital consideration. The standard number of keys for a digital piano, like an acoustic piano, is 88. You will find 88-key keyboards, but there are a number of other standard sizes, too.
As well as 88, 76, 61 and 49-key models are available, and for MIDI keyboards and controllers, a 25-key model isn't uncommon. Think about whether you want to be able to play with one hand or two. Eventually, most people want to graduate to playing two-handed. A 25-key model makes this impossible, and 49-keys make it tough.
The "standard" size for a digital piano, based on the size of an acoustic piano, is 88-keys. Keyboards, in general, may be a little smaller.
Bigger digital piano models will also have weighted or semi-weighted keys. This allows a bit more expression, but can come at an extra price. If you want a true piano experience, it might be essential.
Some keyboards don't offer "weighted" hammer action, but they are touch sensitive nonetheless. This means the harder they are pressed, the louder the sound they trigger.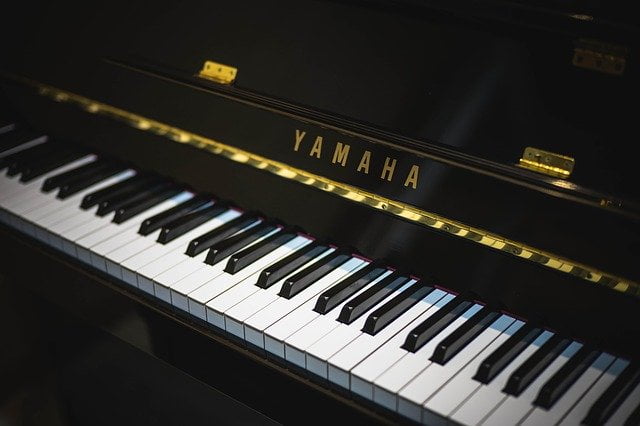 Tones And Voices
This is an area where keyboards usually provide more choice than digital pianos. Some of the best models of Yamaha digital pianos have hundreds of different tones and voices.
A "voice" is simply a different sound that can be played on your keyboard. Some models allow you to switch between piano sounds, strings, synth sounds, horns and more. A lot of synthesized sounds are included on Yamaha keyboards.
Some of the models in the range have over 750 sounds, and some have effects you can add to alter those sounds, too, for nearly endless possibilities.
It is important to consider both the number of voices and the quality. It's not much use having thousands of sounds if none of them are good enough to use in your compositions or practice.
Learning Features And Functions/Modes
A lot of piano enthusiasts start to learn how to play on a keyboard, and Yamaha keyboards are very popular. The learning features can be a big part of the decision if you are looking for a keyboard for beginners.
Some of the Yamaha range can be used with apps that can help with lessons, and teach beginners how to play simple songs. Other models even have lighted keys. This is a method of learning by following the lights on the keys.
Some modes have specific modes to help with learning. "Duo" mode helps by splitting the keyboard into two identical ranges that two people can play at once. A teacher showing a student, for instance. Some keyboards also have "split" and "layer" mode for multiple sounds to be played.
Connectivity And Speakers
What can you connect your keyboard to? Do you need the option to connect to a computer or external speakers? As the technology has improved in modern instruments, so has connectivity.
Most Yamaha keyboards come with a decent set of speakers, which are certainly good enough for practicing. Also, the newer models usually have a headphone output. Listen to your practice in private through your earbuds or even use this to plug into an amplifier. Both 3.5mm and 6.3mm connections can easily be used to link to external speakers.
Some models even have Bluetooth connection or aux inputs. This means that people can connect their devices and play their favorite songs. You can play along and try to learn the melody of a song, or you can even play a backing track to practice improvising over.
Portability
How portable is your keyboard? A lot of people want to buy keyboards that they can take to their shows and to practice. Portable keyboards are usually the more lightweight options. Of course, a lower number of keys means that the keyboard can be a little smaller, too.
The portability can also be determined by how the keyboard can be powered. Some models rely on AC power, and all of the products on our list have the option to be AC powered, but some also have the option for battery power.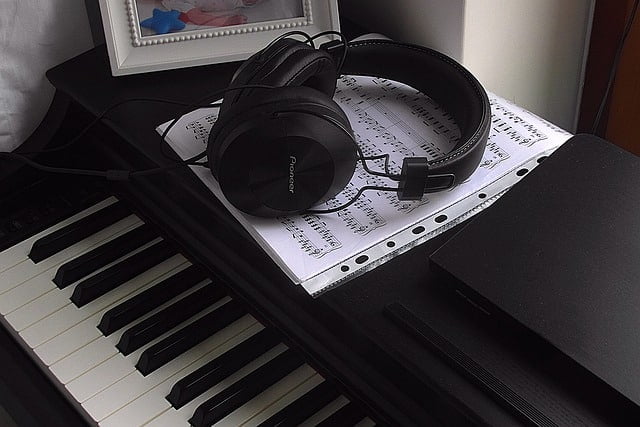 This means you can play anywhere, even in public places. Not everyone wants to practice in the park, but hey, it might be fun.
A simple X-type stand is another way a keyboard can be more portable. This is an alternative to a furniture stand that keeps the keyboard in one place.
Benefits Of A Yamaha Keyboard
Why buy a Yamaha model? What are the benefits of a keyboard and why buy a Yamaha model?
Brand Respect And Range
Buying a Yamaha model is a popular choice. It is not an exaggeration to say that Yamaha is one of the biggest brands in the world when it comes to instruments. They manufacture all sorts of instruments including some iconic and popular keyboards.
The range is pretty big, and has models to suit everyone, with numerous sizes and features.
Yamaha Warranty
There are a lot of affordable brands entering the market. Cheap keyboards can be a good place to get started, but they don't tend to offer the same warranty as established brands like Yamaha. Yamaha give 2 years of protection on most of their range, to protect purchases.
Yamaha Sounds
The access that the brand has to a huge amount of sounds, synthesizers, and their acoustic pianos, means that they can cram some iconic sounds into their keyboards. Some of the models have over 500 different voices you can use.
Top 12 Amazing Yamaha Keyboard
Yamaha PSR EW410 Keyboard – Best Yamaha Keyboard
In terms of tech features, the PSR EW410 is hard to beat. As well as lots of sounds being included, there are also loads of dynamic ways to change the sound to suit your preferences such as onboard effects.
Features
76-keys.
AWM Stereo Sampling for tone generation.
Polyphony (max.): 48.
758 voices.
Inbuilt effects including reverb and chorus.
USB flash drive compatible.
AC adapter or battery power for portability.

For a serious musician, or someone who is keen to learn, the PSR EW410 is a very good option with a professional sound, touch sensitivity and lots of different options in terms of sounds.
758 voices is great in itself, but you can also play around with the inbuilt effects to leave your own stamp on the sound. Other tech features include connection to USB flash drives to play back music or save recordings. Not many keyboards even have a record function.
Pros
Over 750 sounds.
Connectivity including USB flash drive, USB/MIDI and an inbuilt interface.
Touch sensitivity can be set to your preference.
Inbuilt effects to alter the sound.
Plenty of power from the dual 12W speakers.
Cons
More expensive than a lot of the other keyboards.
Can be tough to learn all the controls.
Yamaha PSR E463 Keyboard – Best Workstation Keyboard
Another of the PSR range. This has some similar features to the EW410 but it is smaller, with 61 keys instead of 76. It can connect to other devices and computers via the USB connection. There is also an aux-in so you can play along to your favorite tracks.
This keyboard also comes with lesson functions and split modes for learners.
Features
61-keys.
AWM Stereo Sampling for tone generation.
Polyphony (max.): 48.
758 voices.
Aux-in with "melody suppressor"
USB flash drive compatible.
AC adapter or battery power for portability.

If you are happy with a 61-key model then this is a great option, especially if you love tech features and loads of voices.
You can record straight to USB flash drives on this keyboard and it has other modern functionality such as multiple learning modes and the option to play along to your favorite music. You can aux input your phone or other device.
The 758 voices, generated with the AWM system, are much higher quality than a lot of the other Yamaha keyboards.
Pros
Over 750 sounds.
Record straight onto a USB flash drive.
Lightweight and portable, with 61 keys.
Quick sampling mode to sample your own sounds.
Cons
Speakers aren't as powerful as some options.
Can be difficult to learn all the modes and controls.
Yamaha PSR E273 – Best Portable Keyboard
If portability is your main goal, this could be a good option, it has stripped away a lot of the larger controls to keep it very compact, and this means it is easy to take out and about with you. Perfect for practicing on-the-go or just storing in your home.
The PSR E273 is also packed full of features for beginners, it has learning modes and quiz modes that can help people to learn simple melodies and get started with keyboard. It's especially good for children in this regard.
Features
61-keys.
AWM Stereo Sampling for tone generation.
Master EQ.
401 voices.
Aux-in.
AC adapter or battery power for portability.
'Keys to Success' and 'Y.E.S' modes as well as a quiz mode.

People who are looking for a small and lightweight model may find that this is one of the best choices. It has a very simple design so it is easier to control than some of the other Yamaha keyboards. You can quickly get used to the interface.
This is a popular model for kids, too. The 'Keys to Success' and 'Y.E.S' modes are ideal for youngsters to learn, and almost turns keyboard practice into a game.
Pros
Lots of learning functions and modes.
Very lightweight.
Over 400 tones and voices.
Portable power with AA batteries.
Cons
Speakers aren't as good as some other options in the range.
Feels a bit childish in some of the learning modes.
Yamaha PSR-E263 Portable Keyboard
This is an earlier version of the E273. It has some similar features, a digital display and it is easily portable. This isn't too different from the E273 in many ways, so if it is a preferable, affordable option then there is no harm in going back a generation with the E263.
Features
61-keys.
AWM Stereo Sampling for tone generation.
384 voices.
Aux-in.
AC adapter or battery power for portability.
Reverb, Chorus, and Master EQ effects.
Nine-Step Lesson Function.

The key difference between the E263 and the E273 is the lesson function. This has a "Nine-Step Lesson Function" which is not as advanced as the Y.E.S education suite included with more modern iterations. If you don't mind not having this same level of learning functionality then there's no big downside to the E263.
Pros
Easily portable. Lightweight and battery powered.
Easy to control with a simple layout.
Almost 400 voices to experiment with.
Inbuilt effects including reverb and chorus.
Cons
Learning features are not as advanced as the E273.
Yamaha PSR-F51 – Best Affordable Yamaha Keyboard
For those looking for an affordable, but no-frills option, the PSR-F51 could be a good choice. It is a way to get the Yamaha brand and some of the Yamaha sounds and features without having to spend a huge amount of cash. There are some features left by the wayside if you are looking for a top-of-the-line Yamaha keyboard, but for the price there is plenty on offer here.
Features
61-keys.
Duo mode.
100 Voices.
AWM Stereo Sampling for tone generation.
Max polyphony 32.
Headphone output.
AC adapter or battery power for portability.

For a keyboard under $100 it is pretty impressive to get so many different voices and not have to worry about poor quality. The Yamaha build quality and warranty is still in place. It isn't perfect, for instance, it does not have any level of touch sensitivity, but if you are just looking to learn the basics then this can be a good choice.
The LED display and 100 different voices make it easy to use a lot of different sounds and experiment with your playing. The AWM stereo sampling is still in place. The polyphony is only 32, so it can't play overly complex melodies, but this is a simple and affordable option for beginners.
Pros
100 voices.
Still uses the AWM stereo sampling generator in spite of low price.
Easy to navigate LED display.
Just 7 lbs 8 oz, easily portable.
Metronome and duo mode help learning the instrument.
Cons
Only a 32 note polyphony.
No level of touch sensitivity.
Sounds aren't all as high quality as other models.
Yamaha EZ220 61 Key Lighting Keyboard
The Yamaha EZ220 61 Key Lighting Keyboard is quite unique to the Yamaha range. It has a fantastic lighted function which means that it can show you exactly how to play chords and full songs. For learning how to play, this model can be a good choice for people who are trying to get the basics perfected.
It's not an absolute elite option in terms of sound, but for starters, the EZ220 61-key keyboard is worth exploring.
Features
61-keys.
Touch sensitive with lighted mode.
392 Voices.
AWM Stereo Sampling for tone generation.
Max polyphony 32.
Headphone output.
9 Reverb effects.
AC adapter or battery power for portability.

The lighting feature is not just a novelty to try and encourage newbies. It really works well for people starting their journey. Intermediate players shouldn't need it, but for those who don't know their way around the keyboard, the EZ220 is a good choice. Also, you don't have to use the learning modes, and actually, a good keyboard is still on offer.
The 61-keys have touch sensitivity, and there are an impressive 392 voices. On top of that, there are reverb effects to alter the sound.
Pros
iPad compatible with popular learning apps.
Comes with inbuilt effects.
Almost 400 high quality AWM sounds.
Great for learners with visual, lighted mode.
Cons
Touch sensitivity is not adjustable.
Speakers are not very powerful at all compared to other models.
Yamaha CP73 73-Key Digital Stage Piano – Small Digital Stage Piano
This model is quite different to a lot of the other keyboards on the list. It is actually marketed as a stage piano. It's definitely more digital piano than keyboard, but the fact it is a bit smaller than most, with 73-keys, means we've included it on the list of best Yamaha keyboards.
The CP73 has a realistic feel to it and is modeled on acoustic pianos. Those who want something authentic and wish to eventually shift to acoustic piano can start with a model like the CP73, though it does come with a cost.
Features
73-keys.
Balanced Hammer Action.
Advanced Yamaha sound engine.
Max polyphony 128.
Headphone output.
Delay, Reverb, Master EQ, and Insertion Effects.
CFX, S700 and Bosendorfer Imperial 290 piano voices.

The advanced sampling on the piano sounds is definitely a big selling point. People who have ambitions of becoming concert pianists could get started with the hammer action and beautiful tones of this keyboard. The hammer action actually mimics the feel of an acoustic piano by recreating the feel of the tiny "hammer" triggering the sound.
It's an expensive model, and there's a "quality over quantity" approach to the sounds, but this could be exactly what you are looking for from a Yamaha keyboard. High polyphony and 73 full-sized keys give a piano vibe to the CP73.
Pros
Comes with inbuilt effects.
High polyphony, great for complex melodies.
High-fidelity sampled piano sounds.
Hammer action.
Cons
Costly compared to other keyboards.
Not as many sounds as some other models.
Yamaha P-45 Digital Piano – Best Yamaha Digital Piano
This is another model that is marketed as a digital piano and is actually somewhere between a digital piano and a keyboard. It has a lot of features of a digital piano and 88-keys, so it is the same size as an acoustic piano. However, there are some features that make it suitable for those looking for a keyboard. Not least of all, the affordable price tag.
Features
88-keys.
10 Voices
Advanced Wave Memory sampling.
Max polyphony 64.
Headphone output.
USB-MIDI control.
GHS (Graded Hammer Standard) weighted action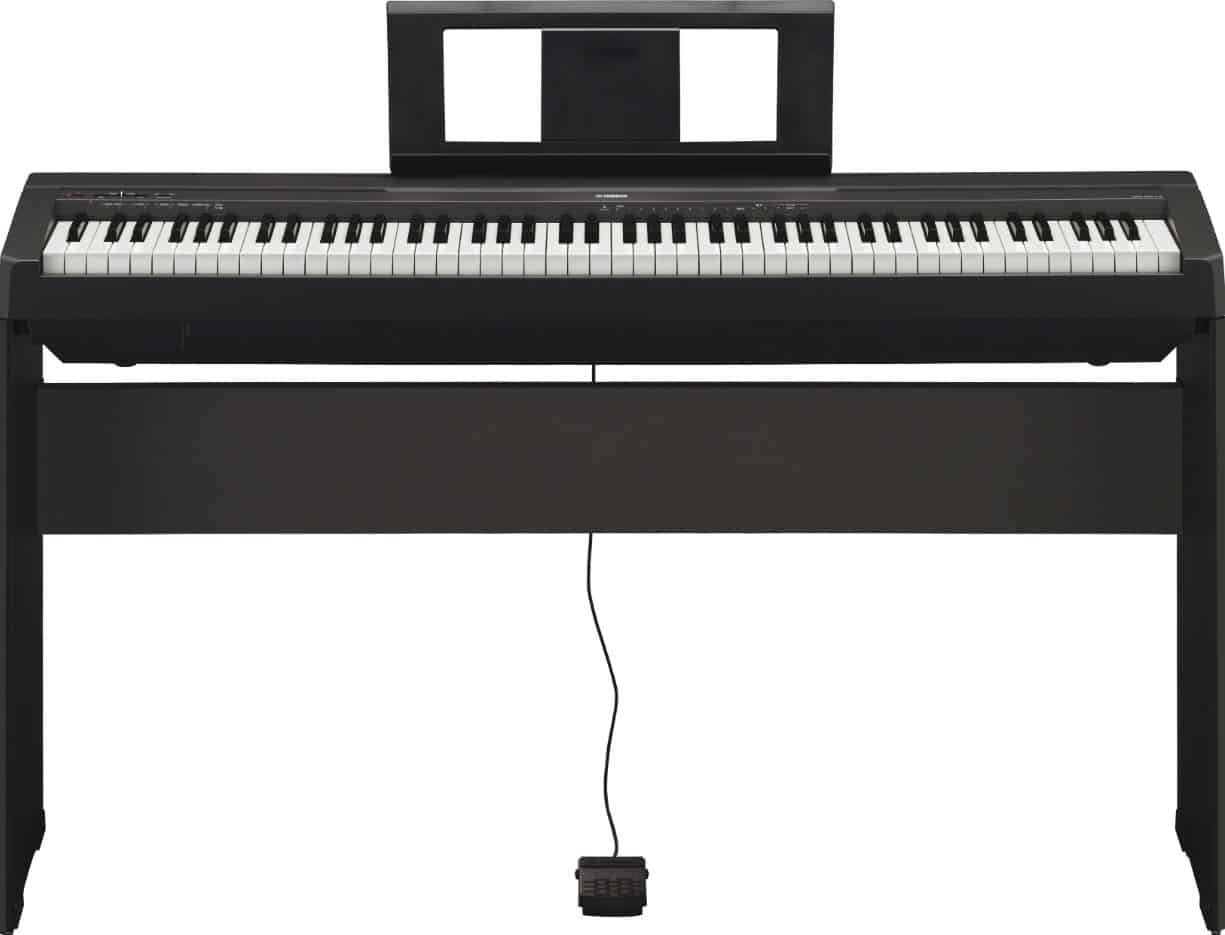 If you are looking for a realistic piano feel on a budget, this could be a good choice. It has a graded hammer action, making it heavier in the lower register.
It can seem weird that this has so few voices included. The 10 included are high-quality and replicate real piano sounds to a good standard. You can expand this by using the USB-MIDI functions and controlling DAW's or other software.
For such an affordable price, the realistic feel is rare to find. The P-45 has proven popular, and it is sold under the name P-71 as an Amazon exclusive. The two models are identical in all but name.
With all of great features but come with such an affordable price, there is no doubt that P-45 (P-71) is absolutely best digital piano for beginner.
Pros
Excellent piano feel including hammer action.
Good quality piano voices included.
Often sold bundled with accessories.
Full-sized. 88-key range.
Cons
Only 10 voices to choose from.
Not as portable as some other keyboards.
No inbuilt effects.
Yamaha YPT360 61-Key Touch-Sensitive Portable Keyboard
This is an option to get plenty of functionality on a budget. The Yamaha YPT360 has lots of sounds and functions that intermediate and advanced players can enjoy as well as beginners, but it doesn't cost as much as some of the competing options.
61 keys with a touch sensitive action makes it a good choice for those who want a bridge from keyboard to piano.
Features
61-keys.
Touch sensitive keys.
574 Voices.
AWM Stereo Sampling for tone generation.
Headphone output.
"Keys to Success" learning program included.
AC adapter or battery power for portability.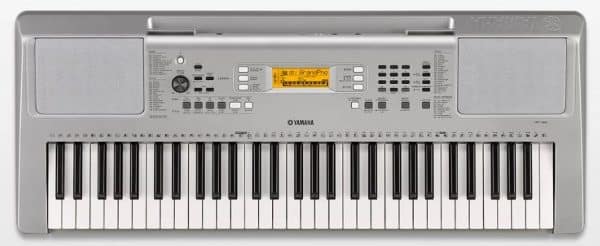 The Keys to Success program is easy to follow and makes this a suitable choice for beginners, but it isn't just a learning keyboard. The 574 sounds and touch sensitive keys make it much more than this, and you can start to learn proper piano technique with this model.
It's an Amazon exclusive product from Yamaha, and it has USB-MIDI connection, something the preceding option, the YPT260, did not offer.
Pros
Touch sensitive keys.
Loads of sounds, almost 600 in total.
Lesson modes included.
Easily portable and can be battery powered.
Cons
The touch sensitivity is not as expressive as some options.
Speaker power is not as high as some competitors.
Yamaha PSSA50 Portable Keyboard
We wanted to include one of the mini keyboard options from Yamaha too, and the PSSA50 is a good choice if you are looking for the minimum necessary size. It is not big enough to play complex, two-handed melodies, but it is suitable for triggering sounds live or learning some basic sounds.
Features
25-keys.
138 voices included.
Phrase recorder for looping and playing back
Filter, portamento and pitch effects.
Headphone output.

This keyboard really does offer an awful lot crammed into a tiny package. It's a great portable option and can even help with on-stage setups for musicians. You can use it to loop sounds and trigger some awesome sounds and inbuilt melodies.
There are 138 voices, but these are made more flexible and versatile with the portamento, filter and pitch bending effects that allow a bit more expression to playing. You won't be playing Chopin on one of these, but for simple melodies live, or practicing one-handed on the go, this could be a good choice.
Pros
A lot in a small, affordable package.
138 voices and effects inbuilt.
Loop sounds to improve live performance.
Cons
Only big enough for one-handed play.
No touch sensitivity.
Yamaha MODX6 61-Key Synthesizer – Best Yamaha Synthesizer
This Yamaha synthesizer can give you virtually unlimited options for the sounds you can create. Whereas the keyboard options have preset sounds, a synthesizer like the MODX6 allows you to create your own from scratch. You can control things like the attach, decay, sustain and release of the sounds.
A lot of people see a synth as a more effective device for making their own music, due to the fact they can tailor the sounds exactly instead of relying on the presets.
Features
61-keys.
AWM2 tone generation.
ADSR control.
192 note maximum polyphony.
Aux-in.
Analog Delay, VCM Phaser effects as well as Amp Simulators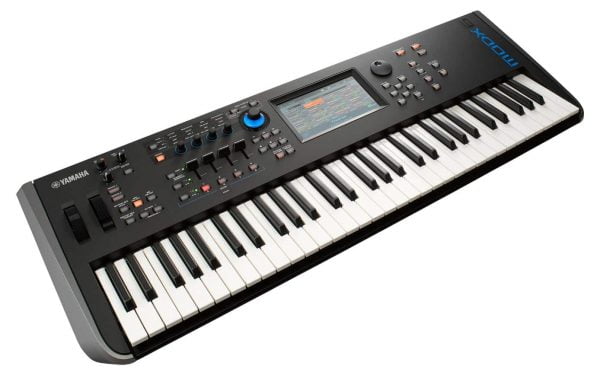 This is an incredibly versatile keyboard and offers great value-for-money. The 128 parameters that can be controlled means you will never run out of sound options. This is a professional feeling model that is good enough for using on stage or in a recording studio. The tones it can generate span from old-style, 80's retro to modern EDM and electronic sounds.
For all these sound options and customization you definitely do pay a premium, and if you just want to learn the keyboard then you might not be worrying about these features. However, for some, the option to compose using totally new and unique sounds is beneficial.
Pros
Full control over the sounds using ADSR.
Many effects that aren't on the other Yamaha keyboards.
Sampling and MIDI sequencing capabilities.
Envelope follower means it can interact with drum machines.
Cons
More expensive than a lot of other options.
No learning features included.
Yamaha PSR-S670 Arranger Workstation Keyboard
This keyboard is a great option for arranging and playing full compositions, making it a companion for use on stage as well as in the studio. It has a lot of features and functions that make it link perfectly to your DAW, and with most software it will seamlessly integrate, helping you turn compositions into live performances.
Features
61-keys.
128 Voice polyphony
416 Voices (including MegaVoices).
Aux-in.
Drum sounds included.
Multiple playing modes including specific "live" sounds.
5-Band Master EQ.
LCD display.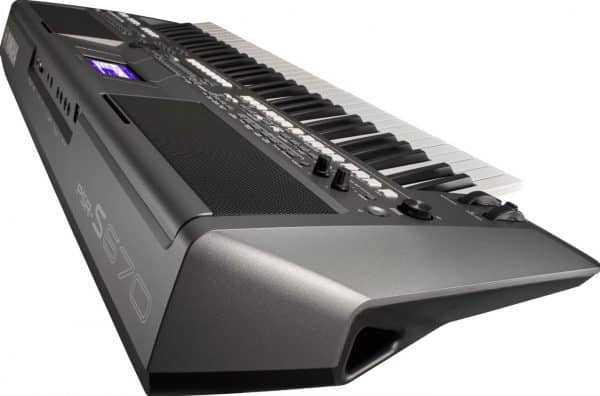 If you are looking for a live companion, this could be a very good choice. It isn't a keyboard for learning how to play, for instance. The 400+ voices are fantastic but they also have extra controls and levels of expression.
You can use this keyboard for sequencing or linking to a USB device or laptop with ease. The audio recorder and player is great, and records in high-quality wav files, you can even use these in your compositions if you wish.
Pros
Helpful layout for live performance.
Lots of control over the sounds and 400+ voices.
5-band EQ.
Inbuilt effects.
Expandable memory. You can add new voices and drum kits to expand the performance.
Cons
No ADSR controls.
More expensive than many of the other keyboards.
No learning modes included.
Frequently Asked Questions
Can I Learn Piano on a Keyboard?
While the feel of a keyboard is different to a piano, the theory and the notes assigned to the keys are the same.
While there is an adjustment period when switching from keyboard to piano, the theory can be learned just as easily on either. You will be able to graduate from keyboard to piano eventually.
A lot of the Yamaha keyboards include touch sensitivity which makes them feel a lot more like a piano.
If you are really serious in learning, then get a digital piano under $500 is a good investment for starting out.
How Many Keys Do I Need?
If you want to be able to play two-handed, we recommend a 61-key model as a minimum. Some songs can be played with both hands on a 49-key model but not always. Most pop songs or rock songs will definitely be playable on a 61-key keyboard or digital piano.
If you just want to trigger a few notes or simple melodies then a mini keyboard might be an option, with 25 keys.
If you want to be a concert pianist eventually, go for a bigger size such as 88-keys, 76-keys or 73-keys.
How Much is a Yamaha Keyboard?
This is a question with many answers! The range of prices for the Yamaha brand is huge, especially if you expand the search from keyboards to digital pianos. The best options can cost many thousands, while the cheapest are under $100.
There are some good value-for-money options within the Yamaha range, and $200 is a decent budget for a good beginner keyboard. For 88-keys or a more pro feel, $400 and above is a more realistic price tag.
Read more: Best Casio Keyboards
Conclusion
Opting for a Yamaha keyboard means you get decades of experience from the brand, and a big range to choose from. There are loads of options with exceptional voices inbuilt, plenty of tech features and even learning modes. Not many (if any) brands can offer the same wide range that Yamaha manages to create.
Before buying, you should consider the size you need, both in terms of portability and in terms of number of keys. Whether you want a 25-key mini keyboard or a full-sized, 88-key model, Yamaha has you covered. A lot of the keyboards reviewed on this list are 61-keys in size.
The Yamaha PSR EW410 Keyboard is our top-rated product overall. It has modern features including over 750 different voices, recording options and even touch sensitive keys for added expression and a piano vibe to the keyboard. The speaker system is powerful, too.

Jack is the leading publisher of Fire Inside Music. He is teaching piano at a music school in Los Angeles. Since he was a teenager, Jack has had a great passion for music, the thing he enjoyed most was singing and playing the piano. He has excellent keyboard experience, works with William to help players select the best instrument to invest.