Are you looking for a keyboard with all fantastic features yet comes at a moderate price?
Well, Yamaha MX49 might be the one for you!
We take a look at this specific model, let's first understand its origin – Yamaha. This brand has been a very well-known brand specializing in making the cheapest but most impressive keyboards for years.
Yet for about the past ten years, Yamaha's storm of never-ending unfulfilling products has left us all dissatisfaction. With the launch of a low-cost Yamaha MX49 with incredible features, everything changed.
Then, what is so great about the model that brings an excellent comeback for Yamaha?
Brief Through Specs Of Yamaha MX49
Dimensions: 32.67″ x 3.58″ x 11.73″
Weight: 9.11 lbs
Number of Keys: 49
Tone Generator: AWM2
Maximum Polyphony: 128 notes
Multi Timbral Capacity: 16 parts (Internal)
Preset voices: 1,106 Normal Voices + 61 Drum Kits
Tempo (BPM): 5 – 300
Songs: 27 Demo Songs
Display: 3 digit LED + 20 x 2 line character LCD (backlit)
Accessories: AC adapter + Owner's Manual + Online Manual CD-ROM + DVD-ROM x 1
Outstanding Features
Sounds
Built on the marvelous Yamaha AWM2, the MX49 are well-known for its fantastic set of sounds named as ' Voices '. Those voices are classified into 16 categories starting with Acoustic Piano, and ranging from organs, guitars, strings, and so on.
These amazing sounds come from the MX61's multifunctional audio engine with the updated Motif XS's Waveform / Preset library. This update is valuable as it gets feedback directly from the initial Motif and EX5 experience, providing a better sound than any of its previous versions.
Does the sound attraction of this keyboard stop there? No, it isn't.
Not only do you get 16 voices to play from the keyboard, but it also provides many forms from the computer / DAW so that you can play well.
It allows users to be more flexible in creating and listening to their own music pieces thoroughly.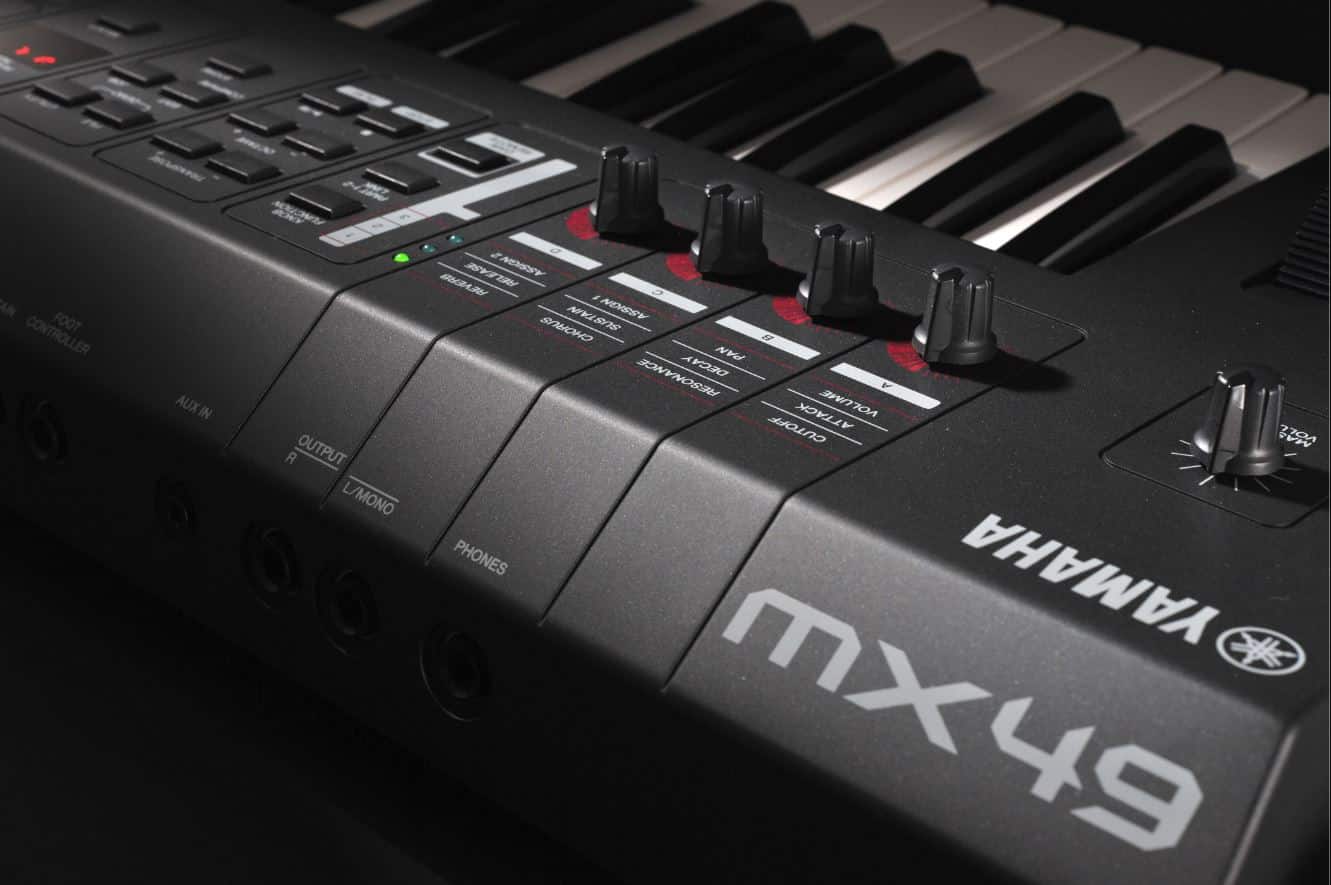 Besides, one of its sound uniqueness is the ability to store edited voices in up to 128 user memory slots and another 8 for drum patch. There is no "patch" mode on the MX49, and everything is stored in a Yamaha "Performance mode."
For your information, each Voice within the performances is called a "Part". This somehow may create some frustration during your first few try as it can get quite complicated to control.
To be specific, each Part places on a single MIDI channel from 1 to 16. Part 1 and part 2 then can perform separately as a single sound, either in layers or splits, while parts 3 to part 14 cannot do the same.
This function brings you the capability to add the four different Parts separately and allocate all of them internationally with chorus, reverb or EQ. Besides the use of ' Reverb ' and ' Chorus, ' you may even raise the intensity of each part without the need to add further effort.
How about the ability to present the arpeggio of a song?
There are 15 types of an arpeggio also present in the MX49, which breaks down in Voices and Drum Kits, as well as Primary Controller Information. You can also configure Arpeggios for specific (usually higher) MIDI levels.
Overall, using the same The Yamaha MX 49 is the perfect solution for various studios because it has many of its sounds extracted from the MOTIF. The keyboard helps you to toggle effortlessly through all the sounds you have, and it can influence even the most creative artists.
You can listen to how this model can create a fantastic song here:
Connectivity
The back panel of the keyboard is simple and functional from a practical point of view. There is 1 MIDI in it and 1 MIDI out. "MIDI Thru" is not available. Nevertheless, it has USB ports (types A & B) and may suit many uses (including memory cards/sticks).
In reality, you can use the MX49 to track your whole DAW system, which is useful for both beginners and on-the-go musicians. You can save a large, professional-level on your DAW / Laptop without additional audio I / o interface via USB.
Besides the Midi and the USB, you have an audio-phono jack (so you can track from your mobile, tablets, or other devices), a regular 1:4-inch stereo, left and right input (the right side also double as output).

Control Panel
You can assign mod and timing wheels to the Top Panel of the MX49. There is also the master volume up.
The top panel includes four (4) assignable pins, which allows you to control cut, resound, chorus, reverb, attack, decay, support, release, volume, and pan. It allows you to use the "ASSIGN 1" & "ASSIGN 2" for any MX49 option internally.
You may connect parts and trigger "DAW REMOTE," pass files and functionality (including MIDI) with a 1/2 step or an octave, increase or decrease information by wheels or keys, modify the temperature of effects and arpeggio, change from the piano to the pad quickly.
Not only that, you can even interrupt, acts, continue, and pause the Arpeggio or "Rhythm Sequence". This is where Yamaha has the reputation of being the best keyboards that contributed to any style of music creation that users prefer.
Size
Though it came with a lot of features, the Yamaha MX49 only weighs for 9.11 lbs with a dimension of 830 x 91 x 298 mm. This is the perfect size that can fit in well with other furniture without taking much space in the house.
Still, consider?
Deeper Review Of Its Key Features
Firstly, It Is An Affordable Option!
The rates for the MX49 are incredibly moderate. It would not be a low price, though, for the features that it contains, it is a cost-effective investment.
Secondly, If You Want To Begin Producing Your Music With Ease, Here It Is.
Artists in the development of music like you would be glad to have this masterpiece.
You want to create many songs at once without any interruption? Don't worry; you will get up to 48 albums, 64 midi tracks, and software for the album using MX49.
Or do you want an easy-to-do option? The MX49 has plenty of simple monitors. You can take over the keyboard and use the onboard interface. All you need to do is controlling the noise you will produce with Slider and knobs.
Besides, the keyboard even allows you to integrate a program with your computer. Also, you can have full access from your device via a USB as well. These features make it even easier for first-time users like you or even pros who want to save time.
Still not enough? Guess you are a picky user like us. If that is the case, we want to remind you that there are a ton of voices existing to you. In the electronic keyboard setting, voices are a crucial part, which offers you a more full range of choices for your masterpiece.
You can feel secure on the sound quality. We tested it many times, and it is proven to be good overall (except for the bad interference when the filter is used at the level of high resonance). It can blend all sounds very well into a combination of digital to classical music.
The buttons are great for adjusting live or in-studio playback in real-time. For example, splitting and layering would only require you to click the Layer built-in key or press "Break" on the left, and then click ' Split ' to the top.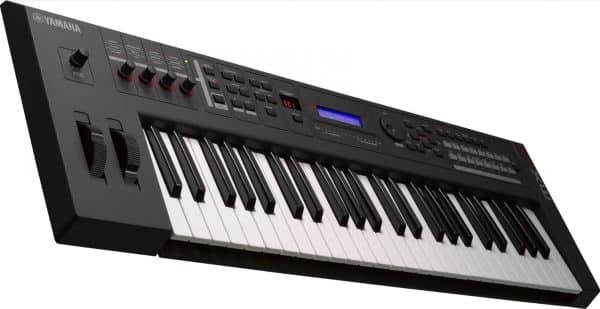 You will be able to build a full development on your own with all the tools you get here.
With this device, the amount of resources you get for your cash is – not a doubt – worth it.
Thirdly, In Case You Are Also Looking For Seamless Editing, Don't Hesitate.
In the era in which we stay, if this piano did not have an app, it would be strange. The software, dubbed the FM Essential Synth App, is available for MX49 users.
The software makes it easy for you to control your panel apps. You can also easily access your videos from the phone for added convenience. The device is very handy.
Without the software, you can still use the keyboard as usual. However, for those with exposure to this program, it is merely an additional benefit.
Hold On, Not Everything Is Perfect. There Are Some DOWNSIDES That You Should Be Acknowledged.
To be realistic, you may have to consider the cost carefully before the issues get too trapped. The expenses of the board are very low. The same idea pianos also cost what you pay here for three to four times.
Some of the sounds (including the Organ tone) we found were not as rolling as they might be. Nevertheless, this sort of thing comes with the place. The fact is that almost no keyboard has a perfect sound catalog from the beginning to the end.
The keys themselves are also a question.
This is not a problem to clarify, but it'd better that you should think about it.
The keys do not count. Instead, they use the synth-style, with almost springy keys.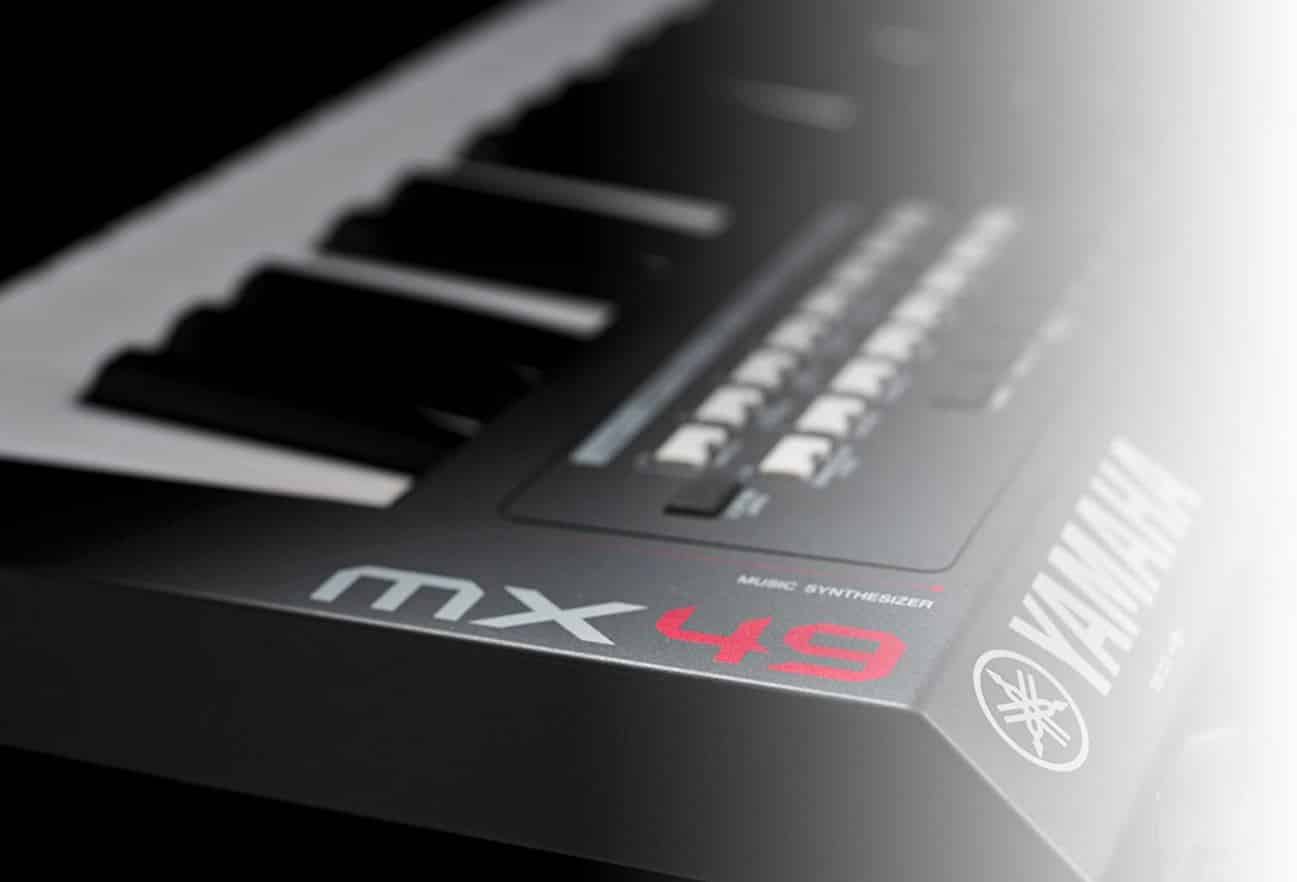 Generally, you may have to test the weighted keys before the purchase. Nonetheless, this case is somewhat special. It's going to be great if you're searching for a synth-style board. You have to note that it will not perform like an acoustic piano.
Besides, regarding the app, it is only for iOS, which would make the feature not be so conveniently available to everyone.
In terms of problems, there is really nothing to discuss. You'll want to note that it's just a keyboard. Accessories such as holders and speakers must be purchased separately. Apart from this, the keyboard is nice for a very fair price.
Pros
Reasonable price
Provide a wide range of voices
Exhaustive tools for publishing songs
Comes with app
Easy to control
Cons
App available for iOS only
Some tones lack quality
Further Comparison For The Yamaha MX49
Comparison Within The MX Series
There are three major iterations of the MX series: MX49, MX61, and MX88, different in numbers of keys.
| | | | |
| --- | --- | --- | --- |
| Dimensions | MX49 | MX61 | MX88 |
| Weight | 3.8 kg /9.11 lbs. | 4.8 kg / 10.5 lbs. | 13.9 kg / 30.6 lbs. |
| Width | 83 cm / 32.6″ | 98.4 cm / 38.7″ | 132 cm / 52″ |
| Depth | 29.8 cm / 11.7″ | 29.9 cm / 11.7″ | 40.5 cm / 15.9″ |
| Height | 9.1 cm / 3.58″ | 11.2 cm / 4.4″ | 16.8 cm / 6.6″ |
Besides, while the MX49 and MX61 come in 3 different colors, blue, white, and black, the MX88 only has the black option. Other technologies of the series remain the same among all 3 models.
With its smallest in size, the MX49 would be the best option for portability. If you are not going for more keynotes, MX49 would be the most suitable one already.
FAQ
Does it include a user's guide in Spanish?
The user's Guide of Yamaha models comes in many languages. You may find it here
Which other models are competitive to the MX49 at the same price?
Users suggested a competitive model that has similar features of USB Flash Drive – Casio CTK-7200. However, it does not come with the full set of other features as MX49. Another suggested model is Roland Juno – DS having the same quality in a similar price range. Other models are seen as not have Piano's voice as realistic as these two.
How do the unweighted keys feel?
The keys actually provide a more secure and stable sound than the other unweighted keys of other models. You can feel as natural and smooth as it can be in a traditional piano.
Is this good for composing orchestral type music?
The model comes with many orchestral types of voices, including grand pianos, violins, cellos, contrabasses, and combined strings, plus drums including timpani, woodwinds, and brass samples.
The quality is good as well, so you may compose a pretty good one using those voices. To start with it, you can play around with those to see which one is more suitable for you.
Does this have transpose?
Both semitone and octave transpose are available in a good term on this MX49 model.
Can an amplifier be connected directly?
The Yamaha MX49 is capable of connecting to the amplifier directly without the need to connect through a computer.
Is it powerful enough for a workstation?
The MX is much better than it looks and comes with some helpful software features. Though it may be hard to implement all of the powerful features actually, it is worth the money if you put more effort and time to get it started.
Final Words
This is the end of our review for Yamaha MX49. It's now time for you to decide. Remember that the MX61 is a standard replay tool, with some simple onboard synth editing. Though the model only consists of 49 keys, it is a good start for a professional workstation.
It can help you to create a quick masterpiece with different voices and effects and record it to the USB drive. You don't even have to worry about the price as its reasonable rate already includes all significant features for a musician.
This is an excellent board for beginners and a good board for pros who want to attach any clever sounds to their repertoire or have an easy-to-carry keyboard for displays. If this sounds similar to your desire, check it out now!

Jack is the leading publisher of Fire Inside Music. He is teaching piano at a music school in Los Angeles. Since he was a teenager, Jack has had a great passion for music, the thing he enjoyed most was singing and playing the piano. He has excellent keyboard experience, works with William to help players select the best instrument to invest.