Pianoforall is one of the most popular piano courses out there today. To look at their website, you will notice that they make some big claims about what you can achieve when you start their course. This Pianoforall review is all about establishing whether or not the Pianoforall course lives up to expectation. Can it be a viable way to learn to play the piano at home, or are there better options out there?
With so much free information on playing the piano out there, it is natural that you'll want to check the quality of a course before spending money on it.
Luckily, this course has a lot to like. There are so many different aspects of the course and tons of information. We go into more detail of the Piano for All below.
On to the full review. How does the course work? What sort of things will you learn? Who is this course for? We look at the realistic expectations you can have when you are looking to play the piano. The Pianoforall course has you covered
How Does the Course Format?
How is the course presented? Is it easy enough to follow? The course is actually presented in a very logical way, which is not something that can be said of every piano course.
Some feature a lot of information, but the way it is bundled together can make it really tough to follow.
That's not the case with Pianoforall. The way it has been bundled together is actually a real strength of the course.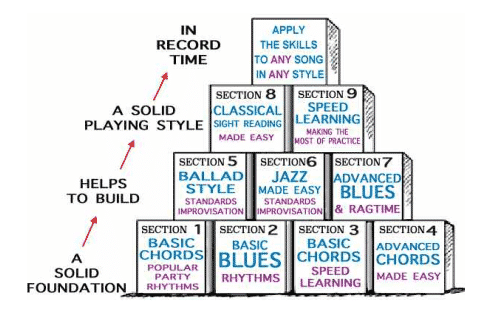 It is split into nine different books. Don't worry, though, that doesn't necessarily mean lots of reading.
The books feature a lot of diagrams and interactive media. You can simply press a button and you are able to bring up videos showing what the text or diagrams on the page are explaining.
Whether you learn better through reading, watching demonstrations or through a combination of both, the Pianoforall course has you covered. The simple layout is easy to navigate, too.
The way the nine books are presented means that you can learn the basics first. Understand how the piano works before you move onto other information and more genre-specific techniques.
The books move onto different styles and more "nuanced" information as you continue to go through them.
Though it might be best to go through the course as intended, with one book at a time. It is also possible to spend more time on the areas you are interested in.
Pianoforall is not completely genre-specific, but it does have different books focusing on different areas, and this means that you can learn more about jazz, rock, blues, ballads, or whatever else you are most interested in.
Simple Tech Requirements
The course doesn't require a great deal to use with your technology. There's no complicated requirement to install big pieces of software.
The ebooks now come with 2 different versions: 'EPUB' format for using on devices and PDF format for printing.
With EPUB format, you can see the videos and hear the audio that has been embedded in the ebooks.
If you are using iPhone or other Apple devices then it will open in your 'Books' App which is already installed on your device. This will allow you to access the full functionality of the course, and the embedded ebook content.
Windows and Android devices may also need an additional app which can show embedded content. So you might need to download something like Kotobee Reader.
Luckily, if you get stuck, the Pianoforall website has a detailed guide to help you to understand exactly how the installation process works and how you can access all of the content you have purchased. There's troubleshooting information in case things are proving difficult.
PianoforAll Review: What You Will Get?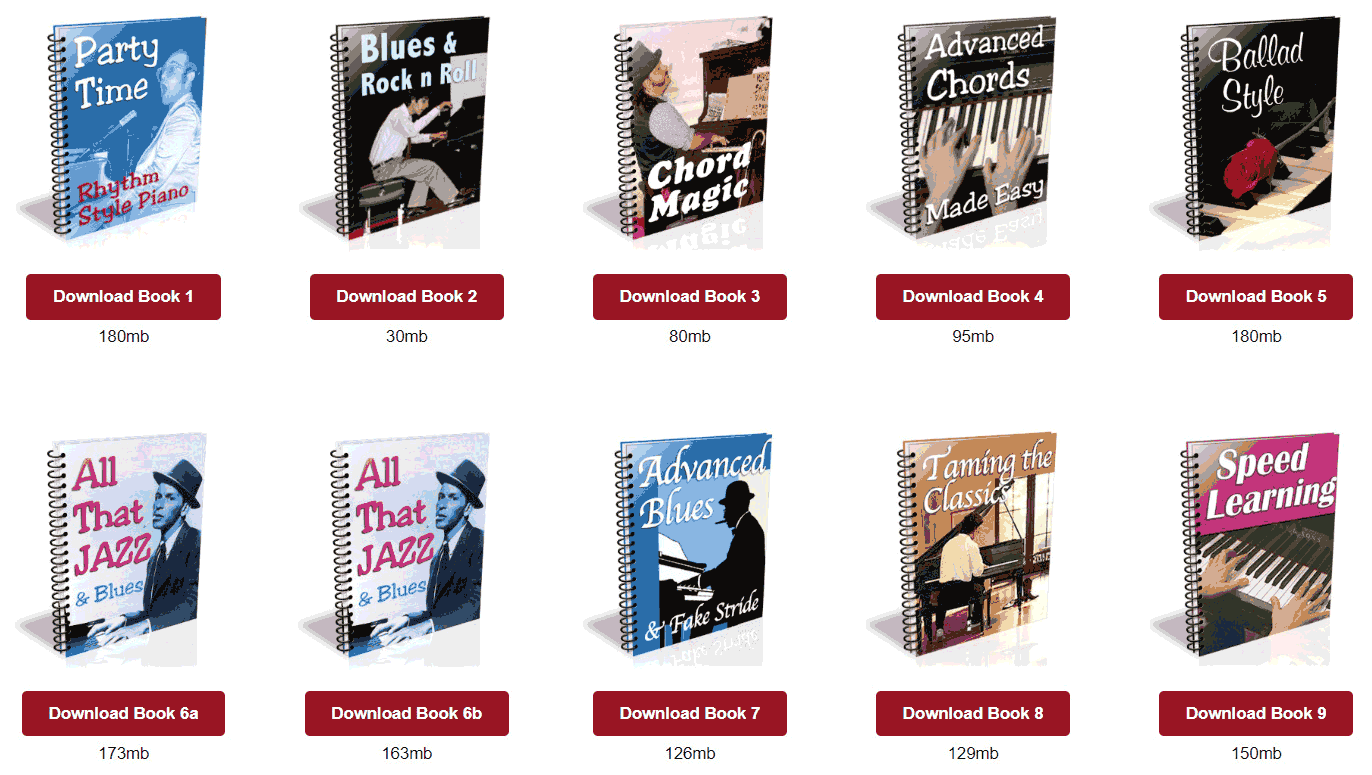 The course includes:
9 e-books and a bonus book – 600 pages in total
200 video lessons – over 10 hours in total
500 audio tunes and exercises
Time to go into more detail about the actual content of the course. There are 9 different books in the Pianoforall course.
Some people will spend a lot of time on each book, others will simply pick and choose the information they need. It's laid out as a full curriculum. This is a fantastic way to do things.
If you have the patience to simply go from start to finish in this one course then there is every chance that you will gain clear knowledge with no confusion or convoluted messages.
It is often a good idea to stay one path from start to finish so that you can learn piano step by step as the course is designed.
You don't have to do this. If you wish, you can certainly combine the information on Pianoforall with a lot of other different courses, online tutorials, and more. But the way the book is laid out seems like a very logical way to do things.
Book 1 – Party Time – Rhythm Style Piano
This is about showing you the layout of the course, and the layout of the piano.
The very basics are laid out in this book, and it is a great way to start the course.
Eventually, Pianoforall moves on to far more complex and advanced techniques, but the grounding in book one is essential first.
It shows information about notation, rhythms, and a few basics of the theory of playing. But, it also shows how to play some songs and practical knowledge you can put into practice so that you can actually start playing!
You could spend years learning the theory first, but it isn't essential.
The basics are covered relatively quickly, and it seems like the course wants you to get playing as quickly as possible.
It teaches ten rhythms and 11 chords in the first book. You will learn how to understand what the chords and notes of a piano mean.
By the time you move to book two, you should be able to play some songs. This is one of the incredible benefits of the course, it keeps it fun and interesting by allowing for actual songs, and building towards playing the "Amazing Broken Chord Ballad."
Book 2 – Blues And Rock And Roll
No matter what type of music you want to learn, it is a good idea to go through the course in order.
If you have an interest in playing the blues or rock and roll then book two can be a good way to do this.
It advances on the chords that you will have learned in book one.
PianoforAll builds on this initial platform of knowledge and teaches more about playing bluesy rhythms on both right and left hand.
It teaches some of the foundations of Blues piano. You can use it to learn how to play the twelve-bar blues and even start to come up with your own music ideas.
We presume that this book has been put second as it is reasonably straightforward.
Book 3 – Chord Magic
This book can really start to advance your knowledge. Chords are a huge aspect of playing piano, especially if you want to play as a method of accompaniment while you are singing. Book three can be a little dense and contains a lot of information.
However, one of the great things about this is the fact that it comes with an "all chords memory trick". With this trick, you will learn  techniques to get to grips with all of the chords quickly.
It covers all of the basic chords (yes, all of them) and the circle of fifths concept. You can learn a little more about how chords work together.
This is excellent knowledge to pick up if you want to compose as well as learn to play other people's songs.[/su_column][/su_row]
Book 4 – Advanced Chords Made Easy
Having built your knowledge regarding playing chords, the guide then moves onto another, more advanced, chord-based book.
It teaches what all of the chord symbols mean within songbooks. And there's even information on how to bluff more advanced chords.
Once again, this is built around being able to play a piece of music. "Manilow Mood" lets you learn some new techniques and then even allows you to start to create a Barry Manilow style piece of music before you move on.
It teaches you about diminished chords and cluster chords. You can very quickly start to play these types of chords, especially if you have remembered everything from previous lessons.
A list of Beatles songs is next up, which shows you how to play with rhythms and chord progressions you have already learned.
Book 5 – Ballad Style
However, one of the great things about this is the fact that it comes with an "all chords memory trick". You will learn techniques that help you to get to grips with all of the chords quickly.
It covers all of the basic chords (yes, all of them) and the circle of fifths concept. You can learn a little more about how chords work together.
This is excellent knowledge to pick up if you want to compose and learn to play other ballad songs. As well as learning more about scales, this is where we start to learn how to improvise and learn things like Christmas carols, too.
The information contained within is pretty vital for a lot of reasons. It focuses a lot more on aspects such as melody and playing right-handed melodies to go with chords on the left-hand.
Book 6 – All That Jazz and Blues
This is a fantastic way to start to learn jazz piano, which is notoriously difficult with a focus on improvising.
If you are looking to learn to play this type of piano, it might seem frustrating to have to wait until the sixth book to do so. But the other foundations of your knowledge are important.
Blues and jazz improve, scales and melodies are covered. There are also some example pieces for you to learn how to play.
Follow these by listening first and then following the guide to try and get to grips with the jazz style.
The final lesson is about "seventh" chords which are notoriously used in blues, and often in jazz, too.
Book 7 – Advanced Blues And Fake Stride
This book can help you to play a bit more two-handed, and can also teach you some of the signature bluesy sounds like tremolo, slides and "turnarounds".
It also focuses on stride piano and eventually helps you to learn "The Entertainer" one of the most famous pieces ever composed on the piano.
Two-handed techniques are covered in-depth here, and even if you aren't into Bluesy music then this can be vital to learn about.
Book 8 – Taming The Classics
A lot of the aspects of the course up until this focus on a lot more "quick" methods to learn blues piano melodies and chords, or to take on slower ballads.
If you want to get to the point where your piano skills sound classically trained then you might want to spend a bit more time on this section.
It also focuses on sight-reading, one of the tougher aspects of playing music. If you can get to grips with this then you will be well on your way to sounding professional.
The pieces that you should be able to play after this include Beethoven, Bach, and Chopin. What a way to wow your friends.
Book 9 – Speed Learning
The final book of the course. This focuses on a lot of the mainstays of playing and how to practice them. Things like scales, triads, and other brick and mortar techniques you will need in order to properly master this art.
It's designed to help you to practice smoothly, and show you different routines and memory techniques, to help you to learn piano more quickly and understand the piano a little bit more easily.
Although we can understand why this has been put last on the list of books. It does have information that can be really helpful for the other aspects of the course.
If we were to be super critical then it might be worth thinking about how some of this can be incorporated earlier in the course. Or to encourage people to skip back and forth to book nine even as they are starting to learn piano step by step following the course guideline.
Pros and Cons
Pros
There is a lot of different information covering a wide variety of genres and styles.
Go through the course at your own pace.
The Pianoforall course is designed in nine simple-to-follow parts.
Can all be accessed from one central location, the eBook acts as a centralized hub for all of this information.
You can go from an absolute beginner to an intermediate player in a relatively quick period of time.
Once you've downloaded, you can access a lot of the course offline. Lots of visual information. 600 pages of information can sound a little bit dense, but there is a lot in there in terms of diagrams and embedded video and audio.
60 Days Money-back Guarantee
Cons
Book nine techniques can be helpful earlier in the course, so the order maybe a little "off".
You might need to get a specific app or a browser to fully access all of the media contained within the eBook.
A little short on some of the technical information people might need such as hand positions.
Who Is This Course For?
It's worth considering the tagline Pianoforall uses to describe their course. "Pianoforall will take complete beginners to an intermediate level in a very short space of time".
The course is great for people with no prior knowledge. Reading through the first ebook (there are nine in total) you will find that you pick up an incredible amount of knowledge even if you are coming into the lessons with no experience whatsoever. It does a great job of walking you through the very basics before it tries to build on your knowledge.
The course also cleverly uses a variety of different techniques and can help people learning piano even if they don't want to learn how to read music. If you do want to gain the knowledge of learning to play music then this is absolutely possible, too.
The course is good for adults, and though the videos included and language used aren't overly complex. Robin Hall does not designed specifically for children.
It is made for people who are happy to sit down and read through some information, so younger children might lose some of their enthusiasm when going through the course, but adolescent children and older should be totally fine using Pianoforall, finding it understandable and useful.
Pianoforall's Students Review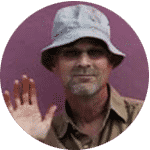 Mike, Nashville TN, USA
"Hey Robin, Just wanted to say thanks for this course. I live in Nashville TN and so naturally I write songs. I play the guitar but I wanted to start writing on piano. This is a great way to get up and running fast for song writing on the piano. Hopefully in the next six months I'll have some piano style demos up on my website to go with the ones that are already there. I feel like I owe you more money."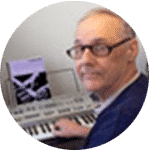 Don Shonk, Michegan, USA
"I've perused thru all 10 books and from what I've seen so far, I must say, this is a great course and you have an unique approach. One I haven't seen before and I've tried a lot of them. Unsuccessfully, I might add. Your course seems to be what I've been looking for for quite a while. I seen a gazillion of them out there but nothing compares to the way you present piano lessons. Good luck with it."
Pastor JD Loveland, Santee, CA, USA
"Dear Robin, I just wanted to Thank You for the incredible program that you have put together.  I must say that you over delivered on this one. I couldn't believe it, and neither could my wife!  Within an hour, I was making music. My whole family can't believe I really learned all I have in less than 3 days! I will tell everyone I know, who's ever thought about playing or keys that this is the real deal and I hope if you use this testimonial that all who read it will believe me."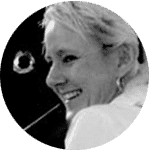 Toni Le Busque, USA
"Hi Robin, I bought the lessons a few weeks ago I'm virtually ecstatic with how I've finally managed to play after a year of slogging away trying to learn to read music. I've given up on that and I'm really learning so quickly now by applying what you teach."
Joy T. Dwight Kidd, Alabama, USA
"I'm amazed! Once you get the rhythms down, you really can sound like a pro! Great fun! Thanks for making this available at such a reasonable price. Anyone who doesn't grab this up is going to go the long way home!"
FAQs
How Long Does It Take To Complete PianoforAll?
This is a question that most people have when it comes to learn piano, but it is basically impossible to answer. The best way is to estimate instead.
Different people pick up the knowledge more quickly, some will practice more thoroughly. There are a crazy amount of different aspects that come into consideration.
As well as nine books (none of which are tiny) there is a lot of other information. 10 hours of video lessons, combined with over 180 downloadable resources.
The way the course is laid out means that you can pick up some level of knowledge pretty quickly. You might be able to play songs after only a few hours of practicing. To gain the full level of knowledge, you could spend many months completing this course in detail.
We can't give you an exact length of time. Everybody is different, but a few months of dedicated practice can get you to a fairly high level of playing ability if you get things right.
But the course states that you only need to practice about 20 to 30 minutes every day to making process.
What is The Result After Finishing The Course?
The Pianoforall course doesn't make any brazen claims about being able to teach you how to play the piano in a matter of a few days. It isn't unrealistic, and it promises to take your knowledge from beginner to intermediate.
If you plan to learn how to play rock and pop songs then the knowledge within will be more than enough to get to a high level of playing ability and impress your friends. You could even start to play keys or piano in a band.
If you want to get to a classical level, the course will simply lay the foundations of this knowledge, allowing you to build upon this to get to a more advanced level in the future. It isn't a case of being a complete guide to teach you from start to finish. If you want to become a concert pianist then you will need to carry on and take your knowledge to the next level.
The course creator, Robin Hall, says the course is a way to "play piano by ear, improvise, create compositions, and then eventually read piano sheet music". It certainly delivers on this promise, but you have to be a dedicated learner to get to a decent level of playing ability.
Another one of the biggest benefits of going through this course is the fact that it can prepare you for writing music, too. A lot of the information is geared toward composers as well as those who want to play other people's songs. Do you want to become an established musician and learn how to write music, too? Pianforall can help.
Which Keyboard Should I Use to Learn?
It's important to have the right piano or keyboard to go through the course and something that can give you all the required functionality. You will want the keyboard to have a realistic piano feel, but also, you probably won't want to spend too much as a beginner. Our solution is Alesis Recital 61 Keys.
The Alesis Recital range of digital pianos is a great, budget option with a fairly realistic feel. One of the things we love about it is the fact that it has semi-weighted keys, so you can play it as if it were an acoustic piano, with a similar feel to it. If the time comes in the future to shift to an acoustic piano then you will potentially be ready to do so.
There is an 88-key model available, and a 61-key model. Though the 88-key is great if you need a full-sized digital piano, you might find it a bit harder to store and it is not as portable. 61-keys should be enough for people who want to get started playing. Unless you are playing complex classical pieces, then 61 keys should be enough.
This piano calls itself "the ultimate beginners digital piano". Some of the other benefits of the Recital digital piano/keyboard include:
Adjustable touch response and semi-weighted keys for a realistic feel. 10 voices to choose between.
Come with inbuilt effects including chorus and reverb. 20W speakers give plenty of power.
Can be played portably as it is compatible with 6D cell batteries if you don't have access to power.
Can be used with sustain pedals.
Other modes including split, layer, and lesson modes make this a flexible digital piano.
All-in-all, this is a digital piano with a lot of top features for beginners and it doesn't cost a huge amount. It is better to find a responsive model such as this, so you get used to the touch-sensitivity of the keys. For more options, check my post "Best Beginner Digital Piano and Keyboard" for more detail.
Conclusion
The course is affordable and has been tweaked over the years it has been available. One of the great things about it, and a huge vote of confidence, is the fact that it has been used by over 250,000 students. This means that it is trusted by a lot of musicians and potential musicians.
It is a good course to follow, but we wouldn't call it totally complete. It might be worth supplementing this with some more information to get a more nuanced overview.
The course is designed in quite a specific way, which features some shortcuts that are helpful. But it's not a universal language when it comes to music. You might not understand the way it is presented elsewhere.
One of the quotes from the creator, Robin Hall, is that "learning should be fun" and we think he achieves exactly that. Pianoforall is not something you're going to find to be difficult and overly dense, especially if you are an adult. The lessons are simple, and it keeps you learning based on songs. You get the constant rewards of learning new pieces of music to show people!
Overall, this may not be the one-stop course to learn every aspect of the piano, especially if you want to be a classical pianist. However, for an enjoyable course to get to a high level of playing ability, this can be a big part of your learning strategy.
If you like the course then don't hesitate because it has 60 days Money-back Guaranty to all customers. Get PianoforAll here!

William Cramer, the founder of Fire Inside Music, started to learn music in 2012 with a piano. He has continued to level-up his playing skills and wanted to share his journey and knowledge with other beginners. He launched Fire Inside Music in 2017 to make playing music more approachable for everyone looking to master a musical instrument.