Hi piano lovers!
Today, I want to tell you about the Yamaha P Series P105 in a detail review.
It's so amazing with outstanding features! Let start it now.
Yamaha P105
This is one of the good-quality products that come from the Yamaha brand, which is a respected name in the piano making industry, so you don't have to worry about its quality.
What you should consider is whether or not it suits your demands.
Let's see my case:
This instrument is affordable, user-friendly, and intuitive, so I decided to buy it for my daughter. However, then I recognized that it even exceeded my expectation.
Do you want to know more?
Follow me to discover in details:
Specifications Of The Yamaha P105
88-key keyboard with Graded Hammer Standard action
Touch sensitivity keys: Fixed, Medium, Soft, and Hard
Tone Generation Technologies: Pure CF Sound Engine
128 Max Polyphony notes
14 number of built-in voices
Sound effects: four reverb types, IAC (Intelligent Acoustic Control)
Functions: Dual/Layers, Split, and Dual
Two-track recording and playback function (recording one song)
Number of preset songs: 50 preset piano songs and 14 demo songs
Overall controls: Tuning Functions, Transpose, and Metronome
10 built-in styles
10 built-in rhythms
Connectivity: USB to Host port, AUX out, one sustain pedal & two headphones jack, DC IN
Two speakers: 12 by 5 centimeters, and W + 7W
Weight 36.4 pounds
Dimensions: 58.1 x 15.1 x 11.1 inches
Yamaha P105 Review
Although Yamaha P105 has a small and compact size (around 52 inches in length and 11 inches in width), it's not entirely a portable keyboard.
Why?
Its weight is 36 pounds, heavier than a standard portable keyboard (about 25 pounds).
However, if you want, you can carry it with you to perform anywhere you want. You should transport it with a car for ease.
In my opinion, this piano is beautiful. Its black finish is a wonderful solution to beautify my room.

Here is its drawback:
Though the P105 is packed in a music rest, this product doesn't include any accessory such as pedal, stand, or adapter.
If you need additional accessories, please consider L-85.
When buying L-85, you will have sostenuto, sustain pedal, and soft pedal, especially, the half-pedaling function.
Now, let's go more in-depth:
Built-in Tones, Rhythms And Similar Features
The Yamaha P105 has 14 high-quality built-in tones. Once you start playing,  you can immediately recognize the differences in quality.
Some of you may find that 14 tones are too few, but this is not a disadvantage.
It is an undeniable fact that the current market has a wide range of keyboards with hundreds of voices. What the Yamaha P105 offers is the quality instead of quantity.
The amazing combination of the high quality and the Pure CF sound engine will guarantee you an outstanding f performance.
The CF sound engine of Yamaha P105 is an exact replica of the world's CFIIIS concert grand piano. Coupled with the 128-note polyphony, it sounds greater than others.
Graded Hammer Standard Keyboard
Yamaha P105 comes with a simple and basic hammer action – Graded Hammer Standard action. These hammers provide each key of the whole keyboard with resistance to make you feel like playing a classical piano.
Moreover, the action is graded, which leads to a variation in tension across the entire keyboard, just like playing an acoustic piano.
You can't expect a perfect product, however. Please take a look at its drawbacks:
Duo Mode
The P105 features some common function modes like Split and Layered. Thus, I will focus on describing the Duo ​​Mode, which few piano models provide.
Specifically, it allows two players to play the keyboard at the same time, which is very convenient for those who need to practice for a duet.
What's more, this is also a fantastic solution for learners because they can play along with their tutors.  This will help you learn faster and more effectively.
Connectivity

You can have several ports for connectivity, from the USB to Host, and an auxiliary line, for example.
These ports allow you to hook your piano to your computer for expanding more functionalities. Thus, the lineout makes this Yamaha P105 terrific for your live performances.
Pros
High-quality sound
Compact instrument
Useful headphone jacks
Cons
No accessory
Small speakers
Comparison
Here are two other choices if Yamaha P105 doesn't suit your demands:
Yamaha P105 Vs Yamaha P45
P45 is also an excellent option for beginners who don't want to spend a lot of money on an acoustic model. It is useful enough to help you learn the first lessons and gain more experiences.
Design
Yamaha P45 is designed with full of 88 keys, which allows users to improve their skills after learning the necessary knowledge.
It also has a compact design with a high level of portability, so you can easily carry it everywhere for your performances. With 52.2 inches in width, 6 inches in height, 11.6 inches in depth, you can store this piano in a small place when not in use.
Features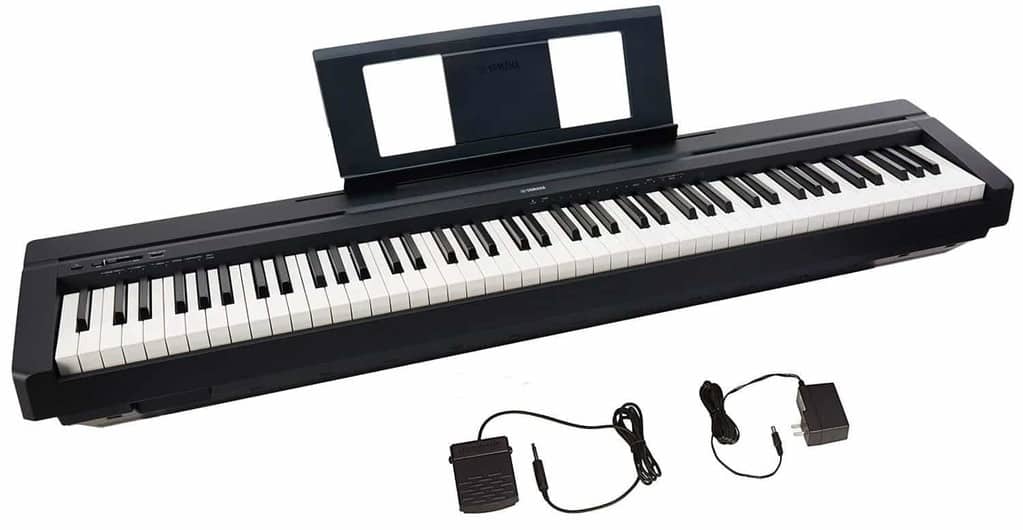 Yamaha P45 also features the Graded Hammer Standard like Yamaha P105.
The hammer action gives off the sense of a real piano thanks to the little hammers inside the keyboard. In sum, this device features a heavy touch in the low end and lighter touch in the high end.
It has a touch-sensitive keyboard, which will create different timbre or volume, depending on how you press the keys. You can see this feature in the rich, dynamic range of a grand piano. Feel free to pick up one of the four levels of sensitivity: fixed, hard, medium, and soft.
This piano sounds like an acoustic instrument because it is integrated a dynamic sampling technology with true stereo sound recorded from the full concert grand piano.
There are ten instrument sounds, including two electric pianos, two grand pianos, two pipe organs, two harpsichords, vibraphone, and strings.
This model allows you to perform both duo mode and dual-mode. While the dual-mode is for layering the sounds, the duo mode will divide the whole keyboard into two equal sections for two people to play at the same time.
Compare With Yamaha P95
Like Yamaha P105 and Yamaha P45, this digital piano is also designed for both beginners and seasoned musician.
It not only gives you the feel a real acoustic digital piano but also a flashy look to decorate your house. It is convenient to bring along and perform elsewhere thanks to the compact size. Last but not least, when you are not in use, you can keep the item in a small corner.
Design


The sleek and compact design makes the piano an appealing decor in your room
Features
Like two products above, the P95 works based on the graded hammer action,
The P95 can produce high-quality sounds thanks to the advanced sampling system.
Depending on how strong you press the keys, they will create loud or soft sounds.
If you want to listen to how a voice will accompany a different kind of music or you want to play along to a track for practice, the 50 loaded piano songs are available for you on display.
So A Worthy Investment Or A Waste?
With a reasonable price, I think that Yamaha P105 is a worthy investment. How about you? Which one have you purchased? Please let me know your ideas and experiences by leaving your comment in the section below.

Jack is the leading publisher of Fire Inside Music. He is teaching piano at a music school in Los Angeles. Since he was a teenager, Jack has had a great passion for music, the thing he enjoyed most was singing and playing the piano. He has excellent keyboard experience, works with William to help players select the best instrument to invest.