If you are thinking about getting a professional digital piano from the Yamaha, our Yamaha DGX650 review here will be helpful for you.
It is the latest product in Yamaha's DGX line, which is the most appropriate option for beginners and semi-professional players. With educational features, this model is valuable for both teachers and students.
Despite the reasonable price, the DGX650 can deliver a classic and clean sound, which is similar to a digital grand piano.
Let's take a few minutes to read the review and figure out whether it is the best option for you at the moment!
Specifications
At first,  bear in mind that the DGX650 is very suitable for those who want the same experience as an acoustic piano. However, it may not be an excellent choice for those who need to control and manipulate the sound of the instrument.
Check out some quick specifications about this model before digging into details of the Yama DGX650 review!
88 weighted keys
USB input and output
128 note polyphony
Four levels of touch sensitivity, including Hard, Medium, Soft and Fixed
A full dot LCD
Pure CF sound engine with Damper Resonance
35 kinds of Reverbs, 237 DSP effects, 44 kinds of Chorus, and 4 Master EQ effects
Weight: 96.4 pounds
Dimensions: 55 x 17.5 x 5.75 inches
Our Yamaha DGX650 Review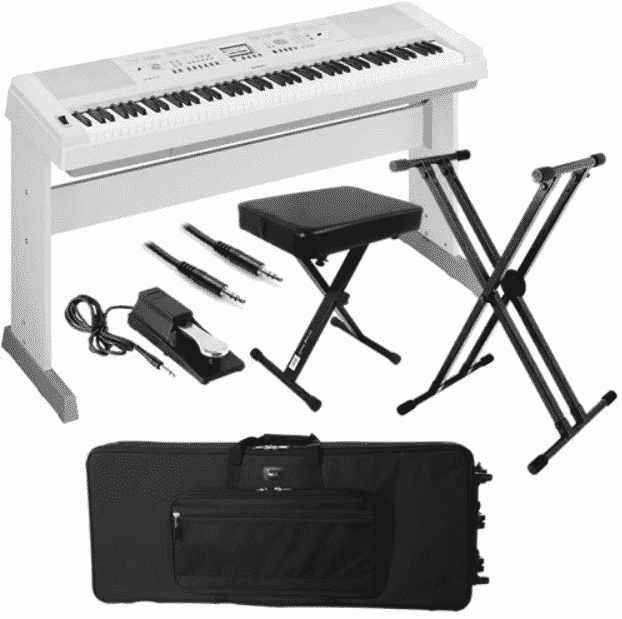 Have you ever used digital pianos that have a variety of songs? If yes, you probably understand how amazing their versatility could be.
When it comes to the DGX650, the experience will be much more incredible and go beyond your expectations of a particular digital piano.
It supports a massive number of hits from the most reputable artists nowadays, such as Coldplay, Elton John, or Adele.
You won't find any other models similar to this DGX650. Let's take a look at its outstanding features right now!
Sound Features
We claimed above that the DGX650 is not appropriate for customizing sounds. However, do not think that this model fails to produce impressive soundbank in its specific right.
There are more than 500 preset sounds in the DGX650, from woodwind, brass instruments to percussion, choruses, and strings.
While you can do a lot of things with this product, professional users may find the shortage of buttons and knobs to change these sounds comfortably, instead of going through endless presets.
Voices
The combination of damper resonance and a pure CF sound engine helps generate the fantastic tone of this Yamaha model. Besides, the CF sound engine is responsible for many dynamic levels between pianissimo and fortissimo.
There are 128 notes Polyphony in this piano, which means that it is possible to hear 128 notes at a time. The slipping notes even enable you to get particularly dynamic Duet Action.
Key System
Like most other models of Yamaha, this product comes with the GHS weighted system which provides realistic acoustic senses.
You will find out that keys at the bottom are more massive than those at the top.
Nevertheless, there is a significant improvement in the DGX650 – the realistic harmonic action.
This model will elevate the realness level of your piano if you use a separated damper pedal and strike a key.
The note can vibrate sympathetically within its special harmonic series.
Connectivity
Connectivity is one of the best features of the Yamaha DGX650 as you can connect it to a variety of devices. A USB slot is available to help you insert a flash drive for storage or transfer WAV files or MIDI audio recordings.
Besides, it is possible to make an output transfer from this model to your iPad or computer. Though, you cannot transfer from the computer back to its keyboard.
Running a traditional line to your external speakers is not possible with this model. However, you can use the headphone jack to connect your external speaker with this model.
Pros and Cons
Pros
Realistic audio: With a simple CF sound engine, the DGX650 delivers the closest sound to the real thing.
Professional quality: Even professional users will be impressed by the feel, action, and sound of this model. It is a suitable option even for professional recordings or performances.
Simple usage: Even though the DGX650 contains many outstanding features and functions, it is straightforward to use.
Resembling a real piano: You will get the same experience as an acoustic piano thanks to a variety of features, such as weighted keys, superb sound sampling, or touch sensitivity.
Great action: With its touch sensitivity and hammer resonance, you will find its keys very responsive, which has a significant impact on the activity.
Great speaker sound.
Ability to connect with many different devices to improve your playing or recording experience.
Cons
Big and heavy build
Difficulty accessing the menu of the piano, so you may struggle to switch options when you are playing
Comparison
Yamaha DGX650 Vs DGX660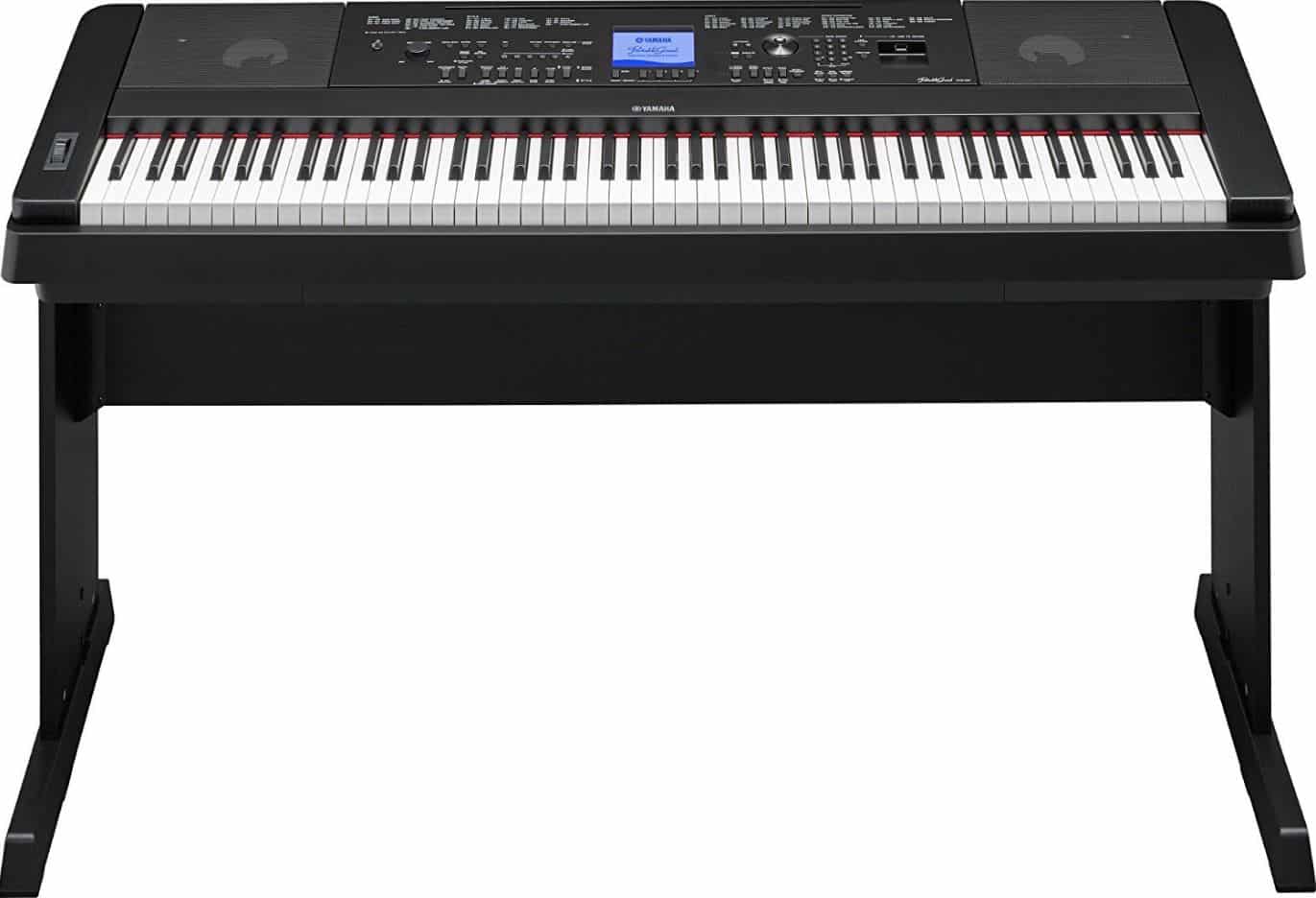 In comparison with the traditional instrument, the Yamaha DGX650 has a specific approach, so it can be the one you are searching for.
Nevertheless, you can find some other piano models which have the same, but more additional features.
The one we would like to make a comparison is the next generation – the Yamaha DGX660.
Compared to its previous model, the DGX660 provides up to 192 Polyphonies.
It also has some extra features that you cannot find in the DGX650m such as the score display, XLR audio input, or lyric display. 
Besides, it can give you more powerful sound, creating about 198 sounds at one time.
On the other hand, the price of the DGX660 is a little higher. If your budget is limited, you can go for the DGX650 which has a lower price but most features.
Yamaha DGX 650 Vs Yamaha P115

These two models are both excellent digital pianos, although there are several major differences.
If you are new, the DGX650 will be a great beginning electronic piano option thanks to many interface features.
Live music lessons are available and free in the DGX650.
However, for professional setup, you can go for the Yamaha P115, which has the auxiliary output. Besides, you can control it through an app on iPhone.
FAQs
The manual is always available to help answer your questions about the product.
Nevertheless, we have collected several frequently asked questions and tried our best to give some answers to help you understand and use the product immediately.
Q: What do you get in the box?
A: Typically, you will get everything you need for playing in the box. There will be a keyboard, power supply, stand, music stand, as well as the manual.
Besides, some customers may need a sustain pedal which should be purchased separately. You can choose between the FC4 and LP7 Three-Pedal Unit. The second one provides extra playing choices, but you need to take its connectivity into serious consideration.
Q: Do you need to buy a bench separately?
A: Yes. A bench should be bought separately as it is not included in the Yamaha DGX650 box.
Q: What are the advantages of digital pianos compared to traditional acoustic ones?
A: There are various benefits to getting a digital piano.
First of all, digital pianos are often more compact and lightweight than their counterparts. And it is also more versatile in terms of usage. They are suitable for both professional performances and silent practice at home with the support of headphones.
Besides, connectivity is a great benefit as most digital pianos support the connection with computers or other recording equipment easily. The USB ports will support the connection while flash memory cards available in some models enable you to transfer music easily.
Also, the price of digital pianos is usually more reasonable than that of acoustic ones. Also, you do not need too much maintenance for digital pianos, while acoustic pianos require regular tuning.
Q: What should you look for in a digital piano?
A: With a wide range of types in the market, you need to understand the fundamental criteria when looking for a digital piano. Here are several factors to help you choose the best digital pianos:
Number of keys: If you are not a DJ, 88 keys are the ideal number for all types of keyboards
Simple features: Check the speaker installation or inputs/outputs
Sounds: Some digital pianos give you many sounds, while others do not. You should concentrate on the qualities, rather than quantities.
Touch sensitivity
Maximum polyphony: This refers to how many individual notes your piano can play at a time. Some manufacturers tend to boast about their 256 polyphonies, which seems quite unrealistic. 128 is the ideal number.
Summary Review
No matter whether you have just started the journey of playing the piano or been a professional pianist for long, the Yamaha DGX650 is an excellent choice.
Despite some drawbacks in the above Yamaha DGX650 reviews, this model is still the best. It is not to mention that it was one of the most outstanding digital pianos under $1,000 when it was released.
With the support of weighted keys as well as four levels of touch sensitivity, the sound will be exceptional and satisfy even the pickiest pianists.
What is your opinion on this model? Let's share your experience or idea by commenting below. If you like our reviews, do not forget to share the article!

Jack is the leading publisher of Fire Inside Music. He is teaching piano at a music school in Los Angeles. Since he was a teenager, Jack has had a great passion for music, the thing he enjoyed most was singing and playing the piano. He has excellent keyboard experience, works with William to help players select the best instrument to invest.