Many people, especially those are new to piano, feel torn between purchasing a digital keyboard or an acoustic piano.
The earlier is sound-genius but hard to play. Not to mention, it is bulky in size and the price is costly.
The keyboard is a good alternative which is feature-rich, more pocket-friendly, and compact.
When you read this Casio CTK 4200 review, you do agree with it – right?
Why Should You Choose A Casio Brand?
To tell the truth, the piano never goes very cheap.
That's why you should be considerative when it comes to purchasing decision.
Choosing a well-known brand is a quick and safe way.
Casio's piano & keyboard has so far been one of the leading musical instrument brand of the industry.
For good reasons:
Affordable Price
Hardly there is any piano brand which can beat Casio for its price.
The company focuses on low-cost manufacturing while ensuring high quality as well. It means you can purchase a piano as good as Yamaha pianos at a surprisingly lower price.
Excellent Functionalities And Key Actions
That Casio pianos are less expensive than other plans does not mean you have to trade off the music quality.
In contrast, they secure reliable playing.
Casio even won the Annual MMR Dealer's Choice Awards for Pro Digital Piano Line of 2017 and many other titles voted by customers.
With uncompromised sound quality and responsive key action, Casio pianos deliver the feelings of the authentic piano with realistic sounds.
Notably, the digital keyboard series earn big love.

 They combine perfectly between the aesthetic functionality and advanced technology as we will explore in the Casio CTK 4200 review in the next part.
Portable Construction And Visual Design
As a plus, Casio pianos are very lightweight and convenient.
Take CTK series for example. The keyboard is transportable so that you can bring the piano almost everywhere – on the go, at home or on stage.
Besides, those CTK pianos are user-friendly with different types of keys to suit your level well.
If you are a newbie or you buy the piano for your kids, for instance, you can go for standard and illuminated keyboards.
They have a visual learning and practicing system to play and practice.
Casio CTK 4200 Review
CTK series are good, particularly for the beginners, of which the Casino CTK 4200 is among the best.
Even better, it comes with an X-style stand, a pair of headphones, and the power supply within a package.

Specs Of CTK 4200
61 touch-sensitive keyboard
600 onboard tones
180 rhythm accompaniment patterns
48 note polyphony to make various sounds at one time
A large backlit LCD with notation and fingering display
Packed with 5 songs and 6 track recorder, as well as the Step-up Lesson System
The support of USB MIDI port to exchange data between the keyboard and other devices at ease
Audio line input, headphone output, and power adapter included
As an affordable deal, this 61-key keyboard provides the players with a wide range of groundbreaking sounds.
Even you are the very beginners to the piano; you can be quickly engaged thanks to Casio CTK 4200's supportive keyboard and lessons.
Responsive 61-note Digital Keyboard
Now, get insight into the outstanding features of the CTK 4200 to find out why it is worth your money.
The lightweight Casio keyboard is truly responsive that you feel as if you were playing an acoustic piano.
However, you must take some time to get used to them at first.
Various rhythm loops, tones, and built-in lessons are available for you to grow your techniques and accomplishment.
Good practice!
The key action is velocity-sensitively dynamic to play loud or soft accordingly your pressure on the key.
This feature is exciting enough to learn how to control your finger movements to produce delighting and right-note sounds.
The Sound Recording
The sound produced by Casio CTK 4200 is typical of MIDI tones – not like the sound of an expensive authentic piano, but unexpected sharp and clear sound for the price.
With the bank of 600 onboard tones and 48 note polyphony, CTK 4200 produce true sound samples of different instrument types like the piano or the organ.
It is subtle enough for you to learn and practice new tunes.
Interesting enough, the keyboard supports recording sounds/keys in a large backlit LCD in the notation and with a visible fingering display.
Thus, you can learn virtually and visually how to read notes.
Check sound recording in actions (from 2:00)
Compliant MIDI Connectivity
Casio CTK 4200 is equipped with a MIDI port to connect this digital keyboard to almost every device having the USB port.
This connectivity turns out providing you with tons of benefits.
For example, you can take advantages of interactive lesson software and apps such as the Casio's renowned Step-up Lesson System.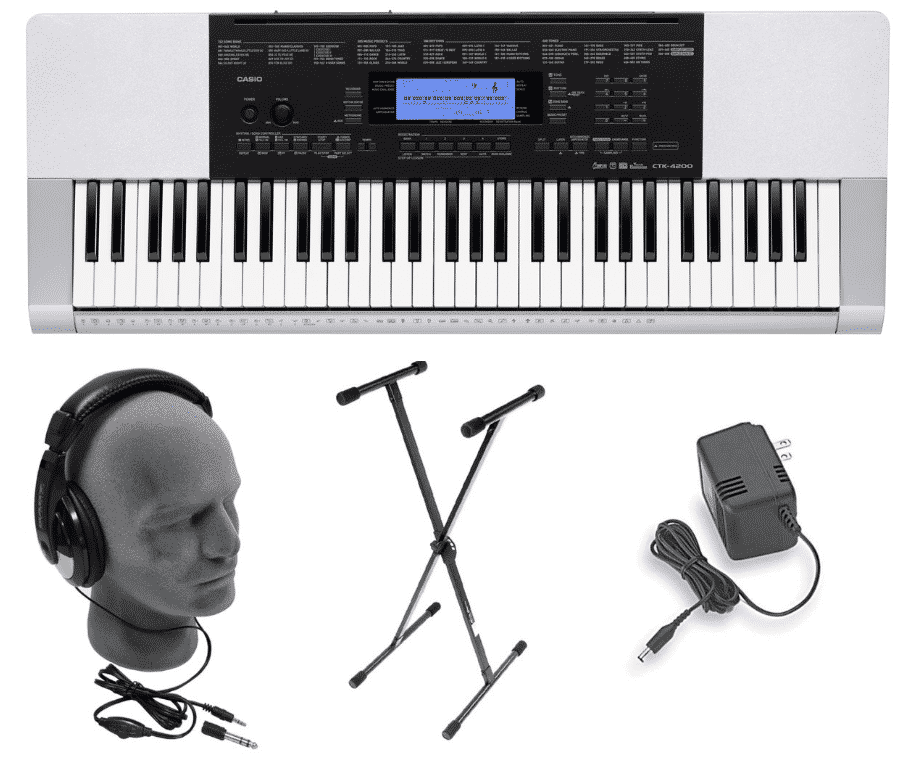 Even better, you can enter bass lines to the keyboard or edit drum tracks as wished.
The possible issue is that you need to have some knowledge about the MIDI process to make it quick and proper.
Thankfully, the Casio CTK 4200 Manual is available for your reference at any time.
Power Supply
Casio CTK 4200 digital keyboard uses 6AA-size alkaline or zinc-carbon batteries which can last for nearly 3-hour continuous operation on alkaline batteries and 2 hours more on zinc-carbon batteries.
The power adapter is included in the package.
What We Like
Portable and touch-sensitive keyboard
Rich in tones, rhythm, and notes for better practices
Decent sound quality
MIDI connectivity
Affordable price with headphones stand, and supply power included
Built-in Lesson System – extremely good for beginners
What We Don't Like
The non-weighted keys are useful on the one hand to make the keyboard lighter. But, the players might feel a little bounce back when it comes to the acoustic piano.
Week stand that might cause unexpected falls and damage the keyboard
Easy-to-broke headphones. Some reported about this issue, so check the headphones carefully on arrival of the package.
FAQs
Q: Is there sustain pedal in the package?
A; Many players want the keyboard to have a sustain pedal so that when they press the pedal, all the damped strings are sustained.
Accordingly, the strings vibrate freely, and all notes continue to sound until the release of the pedal or the natural stop of vibration.
Thankfully, Casio CTK 4200 does support several pedal effects for you to choose from.
To know more about the settings, please go to page E-17 of the Casio CTK 4200 Manual.
Q: Casio CTK 4200 vs. Yamaha PSR e343, which is better?
A: When it comes to digital keyboards, almost all first-time buyers put Casio and Yamaha under the serious weigh.
These two leading brands have different advantages. Here we focus on the Casio CTK 4200 and the Yamaha PSR e343.
At a glance, they have similar specifications. The Yamaha PSR even has fewer voices and rhythms than those of the CTK 4200. Yet its price is much higher.
This is because the Yamaha PSR has a better speaker system and recording features. Hence, the sound quality is higher.
All in all, the Casio CTK 4200 is better in price, and the Yamaha PSR e343 is better in sound.
Q: Should I Use The Touch Response Function?
A: The Touch Response is another excellent addition, yet it is more suitable for professional performance.
At the first stage of using the CTK 4200 keyboard, this feature is not very necessary. However, you can practice with it once your skill is improved.
The touch response adds a certain feel, rhythm, and dept into the pieces of music so that the sound seems far fetched.
Besides, you can understand the keyboard and piano better.
So, try this exciting feature later.
Q: Can I hook the keyboard to personal devices, such as my iPhone?
A: Yes, you can.
As above, Casio CTK 4200 supports the USB MIDI port. If you want to connect the keyboard with your MP3 sources like iPhone, buy using 1/8″ stereo jack.
Get one side of the stereo jack to that of the headphone jack of the keyboard while plugging the other end to the PC's line in.
Q: What if the plugged headphones get no sound?
A: In case you have already connected the headphones to the keyboard, yet nothing happens. You need an adapter and make sure its connection into your Casio CTK 4200.
After reading this review and you feel a portable keyboard is not what you need. Why don't you take a look at the CTK 7200, a home keyboard or the CTK 6200. It's a good option to consider.
Read more: Casio CTK 4400 Review
In Conclusion
The Casio CTK is not the greatest-in-feature entry level electronic keyboards. However, it is among the best affordable.
Not to mention, the feature list is much richer and higher-quality compared to the similar keyboard at its range.

Jack is the leading publisher of Fire Inside Music. He is teaching piano at a music school in Los Angeles. Since he was a teenager, Jack has had a great passion for music, the thing he enjoyed most was singing and playing the piano. He has excellent keyboard experience, works with William to help players select the best instrument to invest.