Are you a piano beginner? If yes, let's take part in this team which includes lovers of Casio LK 280. This digital keyboard piano works as a virtual teacher. It has a lot of functions as well as true portability.
For me, it is one of the best Casio portable keyboards I can find out. Now, let's discover this product completely in Casio LK 280 review before learning how to play:
An Overview Of Casio LK 280
The Casio LK-280 portable piano keyboard is the combination of the start-up keyboard piano's portability and the amazing standard features which you may find out in the professional keyboards.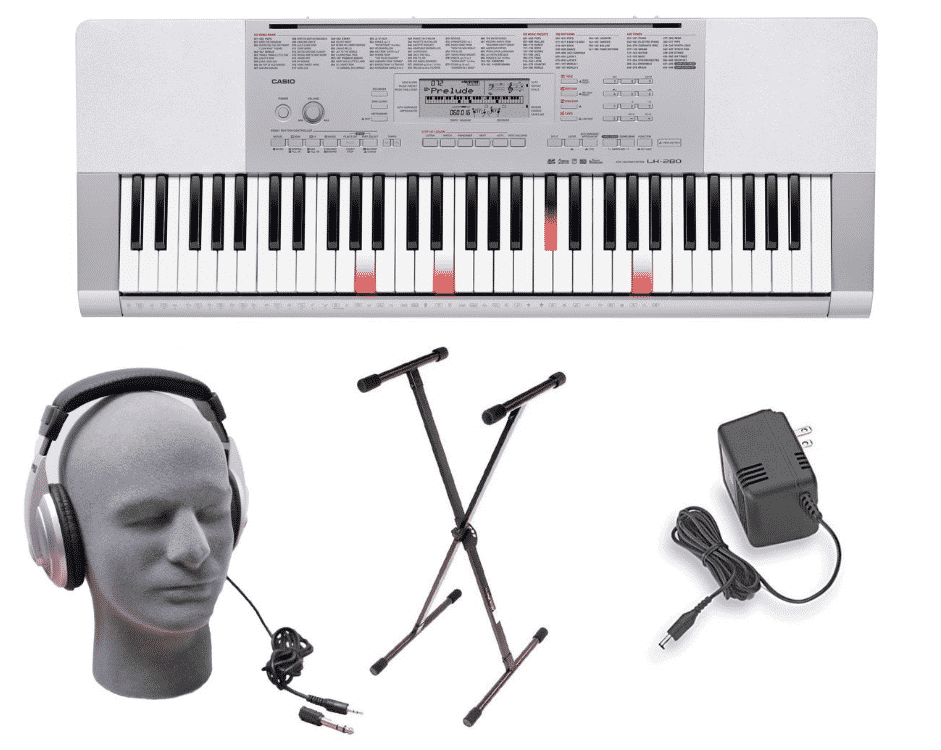 Specs
Specs of Casio LK 280 include:
45 x 9 x 22 in of dimensions,
61 touch responsive lighted keys
152 built-in songs including 50 practice songs
5-song recorder
600 built-in tones
Chorus and reverb
A USB port for using music software or an MP3 player by transforming the keyboard into a stereo speaker system.
48 note polyphony
AUX input
LCD with notation and fingering display
SD card storage
Power supply
The features of digital Casio LK 280 piano can meet the basic demands of beginners. So, if you look for the best beginner digital piano for learning, Casio LK 280 supports you to learn faster and more properly.
Basically, it has a lightweight and compact construction, an intuitive design as its space is enough for 2 speakers. A slot for SD cards allows you to upload or download songs from any computer.
Apart from functionality and performance, this model features the followings:
A Major Sound Library
There is no limit in integrating sounds to the Casio LK 280. In particular, it can boat 180 rhythms and 600 tone presets. You are free to play and experiment with a huge source of 150 songs.
You can set your mind at rest seeing that these are unflavored and distinct audio files. All experienced sampling procedures which make them immune to tone loss.

Concerning sampling, its built-in microphone can sample sounds from your voice or a surrounding source in order to integrate them into your rhythms.
Other effects of the Casio LK 280 include chorus and reverbs. All of these things make sure that it has enough arsenals to satisfy your demands.
Perfect For Piano Learners
The Casio LK 280 is integrated with a step-up lesson system serving as a digital instructor on how to play the piano.
In particular, it separates songs into many pieces which enable you to familiarize all of them at your pace. Thus, it's hassle-free to learn notes and concepts.
An outstanding feature is that the performance assessment of the system will rate your progression. You are provided a guide on the LCD screen to finger properly.
What else can you get from this system?
It allows you to practice with one or 2 hands.
Touch Sensitive Keys
Perhaps most of you know that LK pianos don't come with a weighted mechanism, but the Casio LK 280 is an exception.
Why?
This is thanks to the touch-sensitivity feature which allows you to set the keys' sensitivity to 3 levels.
However, if you disable the sensitivity, the volume will be the same no matter how soft or hard you press the keys.
This model's keys have a lighting system permitting all keys to light up.
However:
This depends on each note you play.
Yet, I am sure that you will love this assistive function.
What We Like
The light up keys allow you to add midi files to play and use as lesson material.
Learn a song quickly.
You are allowed to divide a loaded song into portions.
Lets you slow down the tempo and take each song very slow to ensure that you can learn well
Comes with 2 books
Easy to use
What We Don't Like
Not great to read music
Doesn't feel realistic
Many users don't know how to use without a manual or Youtube tutorials
Compare LK 280 Vs Yamaha EZ 220
When searching in some Casio forums, I see many people want to compare with Casio LK 280 vs Yamaha EZ 220, Casio LK 280 vs 265. However, there are many articles about the comparison of Casio LK 280 vs 265. That's why I write this part. They have many similarities as well as differences:
Both Yamaha EZ 220 and Casio LK 280 are designed for beginners. They come to 2 different companies at a competitive price but there are a lot of rich features.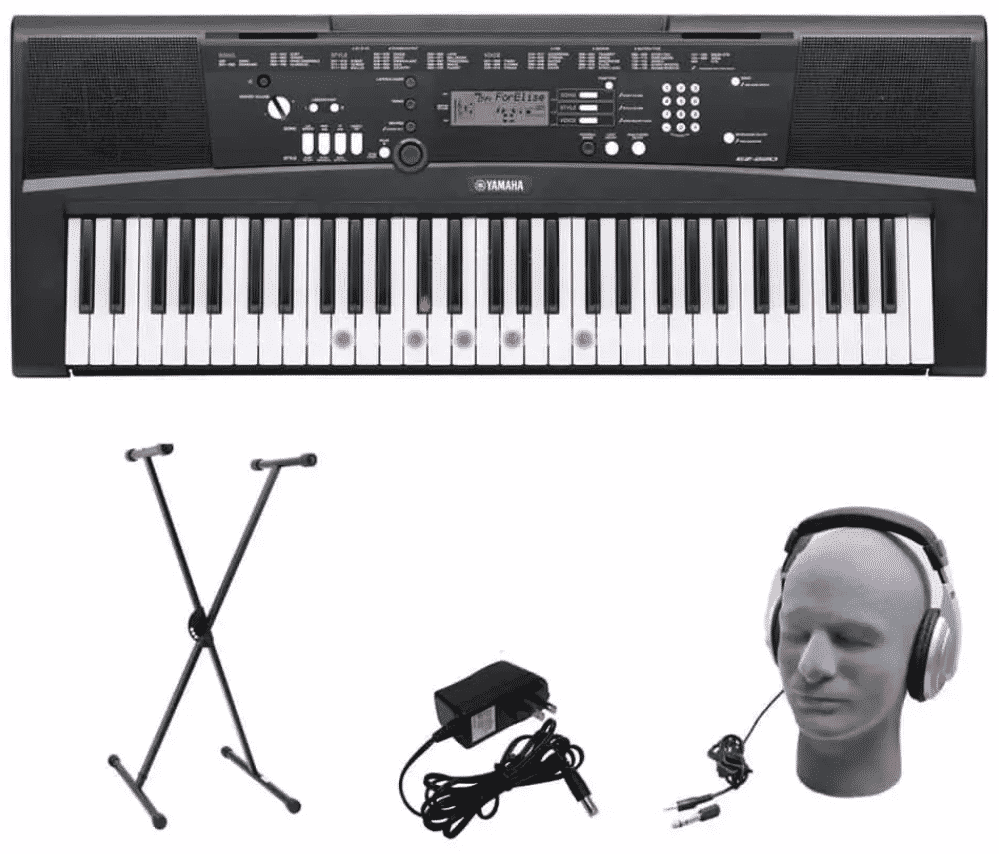 Which one is better?
Let's discover:
The keys of Yamaha EZ 220 are light so it suits children and beginners who want to play without a teacher.
It's designed to play on your own place.
How?
There is a song book including 100 popular tunes. What's more, it also has  392 instrument voices such as drums, brass, guitars, strings, synthesizers, and pianos with 32 note polyphony count. You have 3 learning methods: waiting, timing, listen and learn.
If you spend more money, you will have an extra power adapter, piano stand, and headphone to play indiscreet.
In case you need to play it with a wider range of music programs, let you use a USB to Host port to connect it with your computer.
Check here for the Yamaha EZ 220 detail reviews
When it comes to Casio LK 280:
This model also has lighted keys which are good for beginners who want to play by themselves.
In a package, you will have a stand, the power adaptor, and headphone apart from the piano.
It allows you to practice 48 polyphony notes, 152 built-in songs because of its 5 song recorder, 600 built-in tones, and digital effects.
Even you can use an SD card slot to play any MIDI file or record your song.
Here's my favorite feature:
There is a karaoke mode that can connect microphone in the input and put MIDI files in the SD card.
We also recommend the Casio CTK 4400, it has a lot of newbie-friendly features, you can check our CTK 4400 review for more detail.
Read more: Yamaha YPT 255 Review
Social Proof
When visiting music forums on the Internet, you can easily see a good Casio LK 280 review.
How about retailers?
This is still a reputable product.
For example:
The majority of piano users highly appreciate its sound quality.
You can't see its sound in other products.
According to users' feedbacks, The Casio LK 280 digital piano is ideal for children because of its compact, lightweight, and durable design.
Some Casio LK 280 User Reviews
There is a man who used to hesitate in purchasing Casio LK 280 at first. However, now, he spends most of his free time playing this item.
He said that it had exceeded his expectation. He likes the lighted key system the most because it helps him learn how to play a particular song quickly.
A mom bought this as a gift for her teenage daughter. The little girl is so happy. In the past, she hated piano lessons as she can't remember anything after learning.
Now:
She just follows the built-in lessons of the LK 280, everything is wonderful.
Who Will And Won't  Love Casio LK 280?
Casio LK 280 is a great entry level keyboard for students to practice and develop their  playing skills.
But not many professional players love this model. Jordan Rudess is a typical example. You can't find Casio LK 280 as his gear.
Frequently Asked Questions:
In case all my information above can't clear up your queries, the following questions from users and customers may help:
​Can You Play A Song Or Sing Along With It?
The Casio LK 280 is created from the Lighted keys section and the multi-use display.
The Lighted keys section highlights the keys pressed while the multi-use display shows the precise notation, fingering, and notes played. Through these things, it's very convenient for a learning curve and the comprehension of any song. Besides, you can turn on the integrated metronome, speed up and slow down the track.
​Do You Know Why I Called It A Virtual Teacher?
The above features are combined with the Casio's step-up lesson system.
There are 50 practice songs but each of them is divided into smaller phrases, the main section, highlight keys, the fingering and notation which assist players in playing easier.
In case 50 songs can't satisfy you, let you use SD-card slot allowing you to play MIDI file basically.  You can even record your own songs via the built-in-6-track recorder (around 5 songs). What is more, you are allowed to store thousands of tunes because of the up-to-32GB SDHC support.
​Have You Ever Wondered How To Turn On The Karaoke Mode?
Now, follow my steps:
Place a MIDI file in the SD-card.
Connect a microphone in the Mic input on the rear side.
​Can You Perform Like A Pro With Casio LK 280?
The 61-key, touch response, and piano-style model provides the similar feeling of a real digital piano in spite of the lack of a weighted hammer-action keybed. Its 2 levels of sensitivity provide a soft response if you play softly. And it leads to a louder sound if you play with more dynamics.
It is combined with the 48-note polyphony and the AHL Sound Engine's piano sampling, thus the sounds are very nice. There is also a one-touch button allowing you to change from Piano to Organ preset quickly.
This choice is perfect for church musicians.
​Are The Key Of Casio LK 280 Weighted?
Like the majority of keyboards in this price range, Casio LK 280′s keys aren't weighted.
​Are The Lighted Keys Turned Off?
The short answer is yes.
How to do this? Easy.
What you have to do is to press and hold the Function or Key Light button. After that, press (-) button continuously until the screen displays Keylight is turned off.
If you want to turn on the lights back, press the (+) button.
Is this keyboard integrated with a special SD card or can you use with any regular one?
It's possible to use a regular SD card. Nonetheless, you have to make sure that it is not corrupted or damaged.
​Can You Connect To A Sustain Pedal?
Of course, you can. However, you must buy it separately. Don't worry if you have a tight budget. It's pretty cheap.
In case you would like to play for a long time, you should seriously consider.
​Can You Easily See The Finger Position On The Screen?
Normally, the screen isn't colored and backlit. However, when you have sufficient lighting, you will see the finger positioning.
Moreover, the machine can guide you verbally via a voice fingering guide.
​Can You Download MIDI Songs?
Yes, you can. It allows you to download MIDI songs through the USB port.
In A Conclusion
If you are a beginner, I believe that you will love this digital piano. It is user-friendly, intuitive and downright.
In general, the Casio LK 280  provides a variety of outstanding features which you can't find in other products at the same price range.
After reading my Casio LK 280 review, have you clearly understood this musical instrument? Do you want to invest in one? Please let me know.

Jack is the leading publisher of Fire Inside Music. He is teaching piano at a music school in Los Angeles. Since he was a teenager, Jack has had a great passion for music, the thing he enjoyed most was singing and playing the piano. He has excellent keyboard experience, works with William to help players select the best instrument to invest.