The number of the best jazz piano players is impressive. You can get a long list of unique and innovative artists that have taken musical creation and performance to new heights.
Although you might get depressed with your own playing when facing such greatness, I will point out that there is one thing all of them have in common.
They were influenced and inspired by those who came before them.
That's why I've made this list of the most influential and famous jazz piano players, not only for me but also for many music lovers.
If you are a newbie that is interested in learning jazz, you should not miss it for sure.
By reading my recommendations and listening to these pianists' compositions, I believe that you will soon immerse in the world of jazz music and get better at playing.
Keep reading to know.
30 Most Influential Jazz Piano Players Of All Time
1. Art Tatum (1909 – 1956)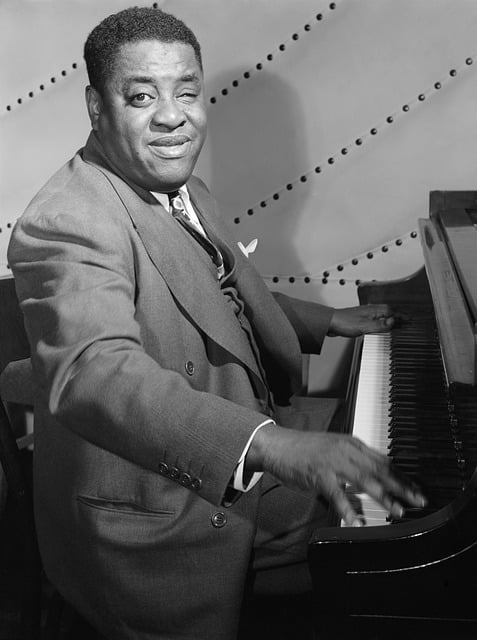 Art Tatum, an American jazz pianist, was known as one of the most virtuosic pianists in the history of jazz.
Although he was visually impaired from birth, he learned to play by ear and quickly surpassed at this instrument thanks to his blessed pitch.
Moreover, he had a stunning technique and could perform at incredibly fast speeds, especially on a recording of "Tiger Rag."
Aside from playing perfectly at dizzying speeds, he was equally at home laying back on the ballad and relaxed piano songs.
It can be said that any of his solo or group recordings always showcase Tatum's effortless and extraordinary talent.
2. Thelonious Monk (1917 – 1982)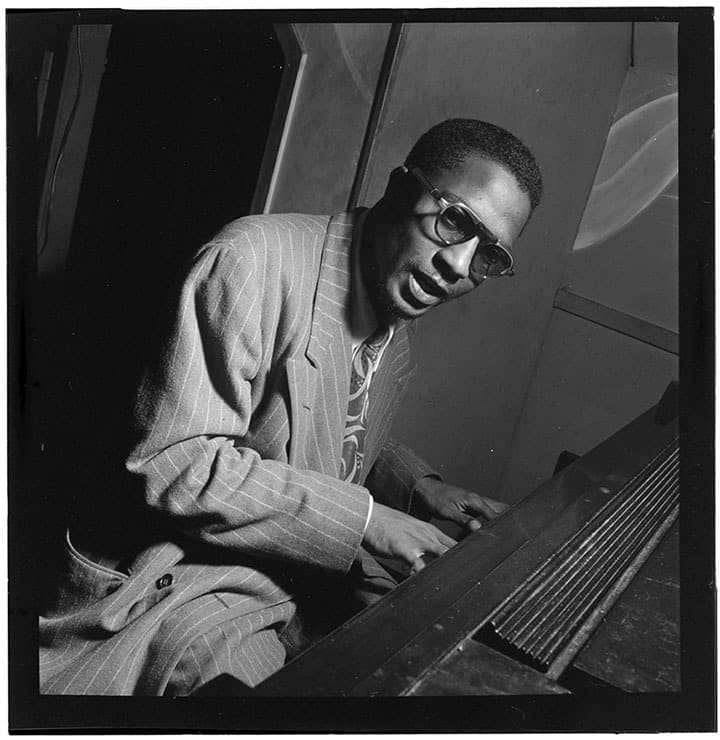 Known for unusual pauses, angular yet hummable melodies, Thelonious Monk is regarded as one of the most original jazz players.
He taught himself piano when he was 9. And in the bebop dawn of the 40s, he started to pursue his own path to make a unique musical universal.
While being  a pianist, he recorded some albums of the unaccompanied piano like the classic "Thelonious Alone in San Francisco."
As a piano jazz musician, he was responsible for writing standards to the jazz songbook such as "Straight, No Chaser" and "Round Midnight."
3. Oscar Peterson (1925 – 2007)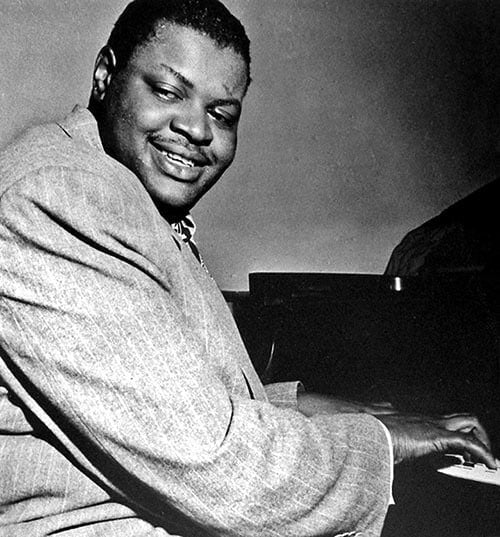 Canadian Oscar Peterson played over 200 recordings and won eight Grammys during his  career, making him one of the greatest jazz stars in the world.
Influenced heavily by Art Tatum, he practiced six hours per day for decades. His playing was littered with extraordinarily rapid and swinging 32nd-note melodic improvisations.
Try to listen to his famous discs such as "Night Train" or "The President Plays with the Oscar Peterson Trio" to feel how he excellently played each note.
4. Nat "K

i

ng" Cole (1919 – 1965)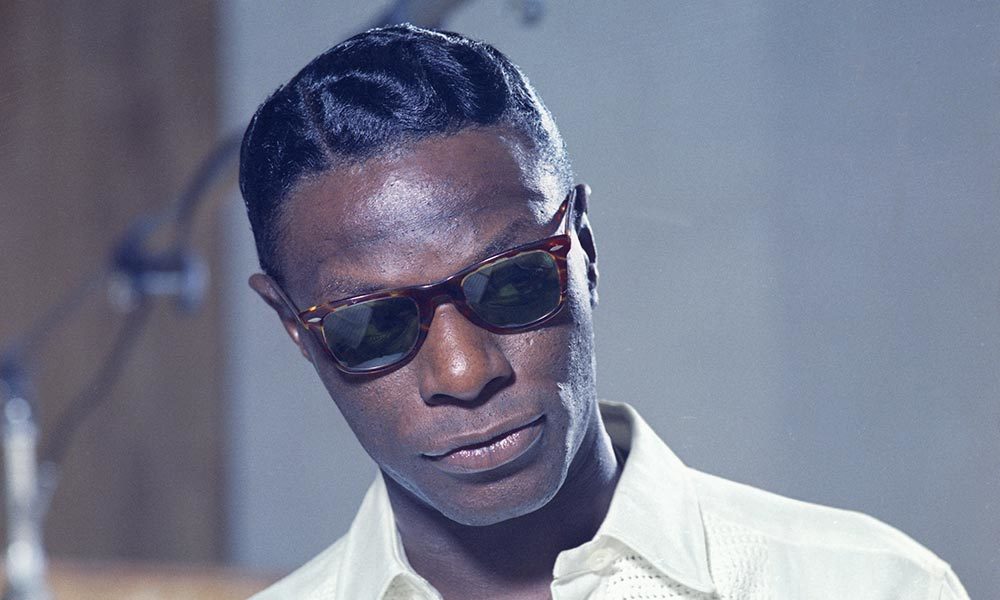 Nathaniel Adams Coles (aka Nat "King" Cole) was a famous American jazz player and vocalist.
He started out playing gospel music before being formally trained in piano. He also recorded more than 100 songs that became popular on the pop charts.
Aside from expanding beyond the field of jazz, he also had his television series, appeared in some films and played on Broadway.
5. Herbie Hancock (born 1940)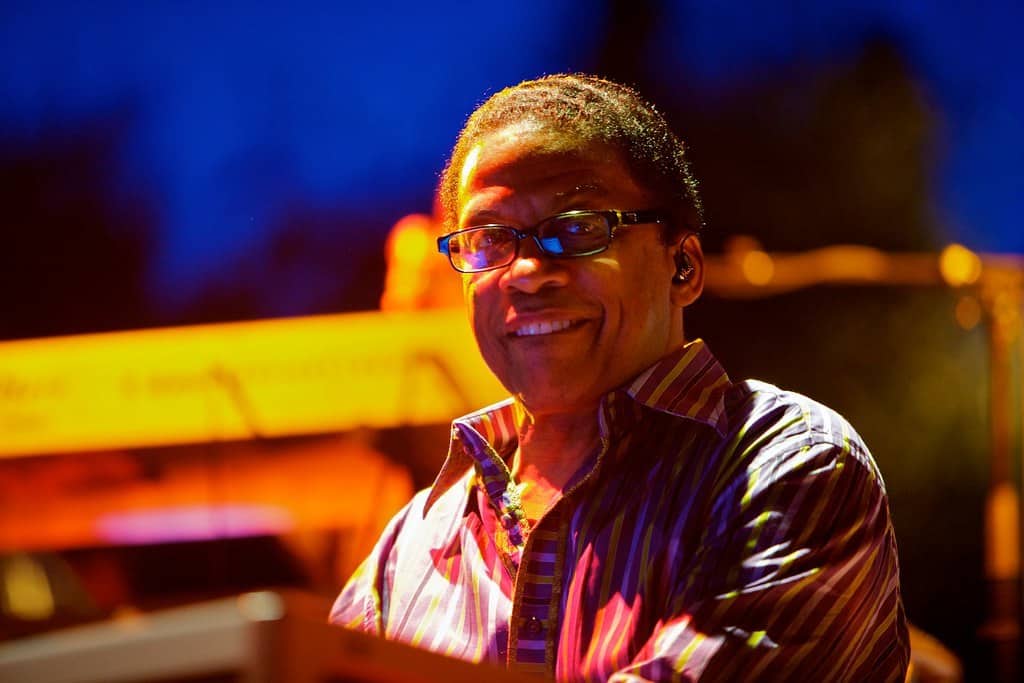 As a living legend, Herbie Hancock remains one of the best jazz pianists of all time.
At age 7, he studied music and became a child prodigy.
But his career was officially started when he played with Miles Davis Quintet in 1963.
He changed his outlook on how to grow accompaniment harmonically and then was one of the leading architects of the post-bop sound.
Throughout the 70s, he experimented in jazz fusion, electro, and fun styles. However, he is a committed jazz player at heart.
P/s: He is also in our list of the best piano player alive.  Check out the list!
6. Chick Corea (born 1941)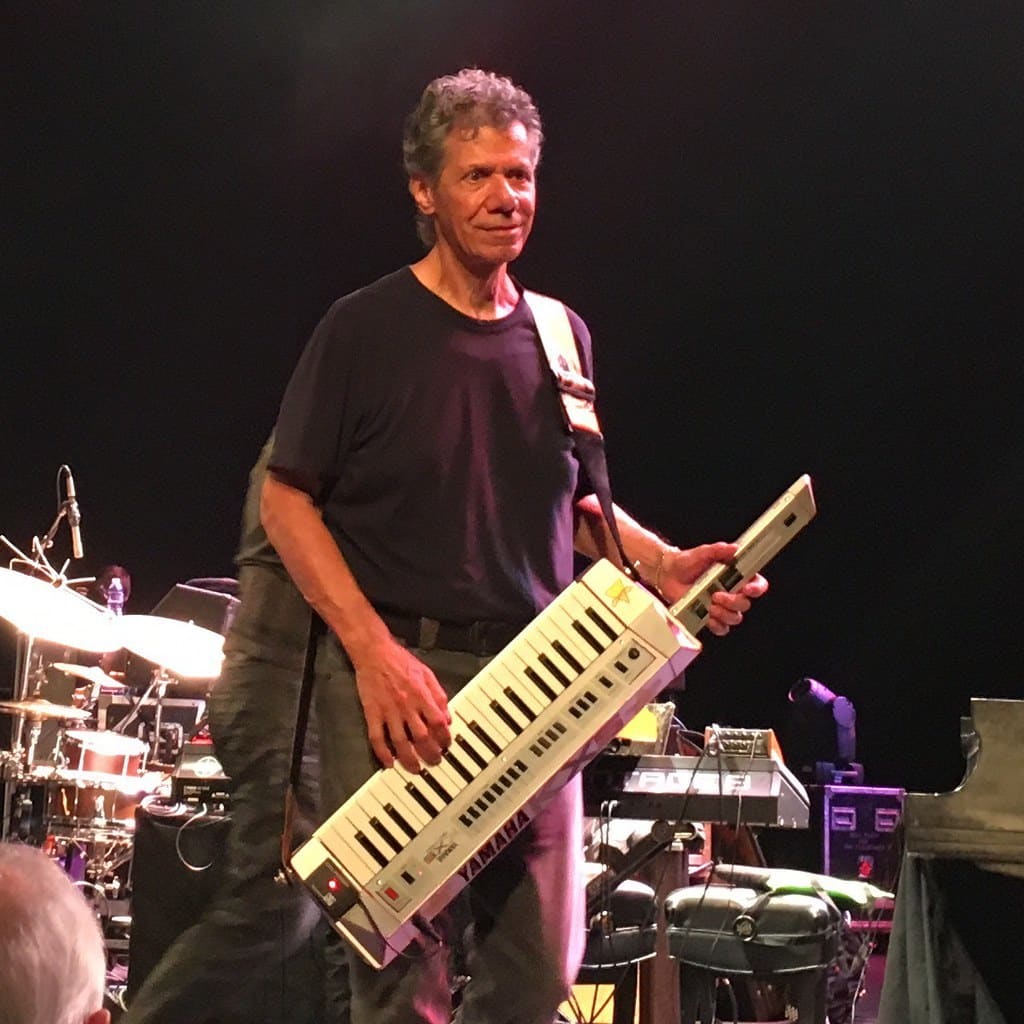 Chick Corea was an early player since he began to play at age 4. Then he won fame as a sideman with the great Miles Davis Quintet.
His famous compositions like "500 Miles High," "Spain," Windows," and "La Fiesta" are considered  jazz standards.
During the 80s and 90s, he pursued many collaborations to discover his musical styles. Additionally, he is popular for fundraising and promoting some social issues.
7. Ahmad Jamal (born 1930)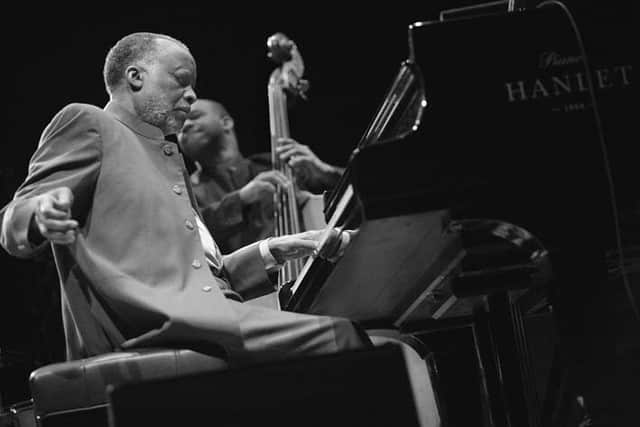 Ahmad Jamal started studying piano when he was only three.
And at age 7, he was trained by Mary Cardwell Dawson, the teacher and founder of the National Negro Opera Company. When he was 11, he began performing professionally.
During his long career, he played lots of popular recordings like "At the Pershing: But Not For Me," "The Awakening and Freeflight," "A Quiet Time," and so on.
8. Fats Waller (1904 – 1943)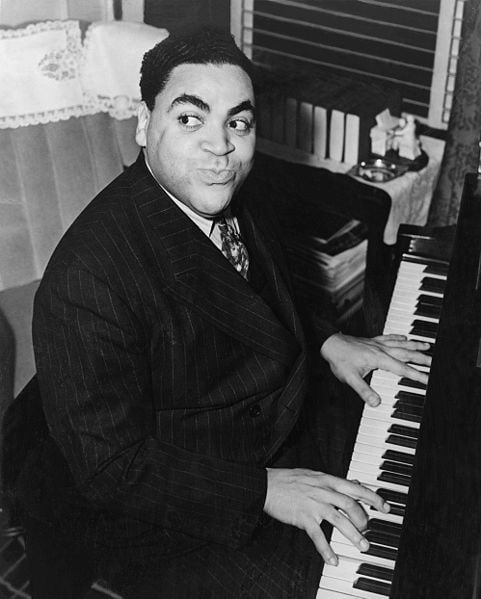 Fats Waller studied the organ when he was 6 and performed frequently at his father's church.
After meeting James P. Johnson, he became captivated with jazz music and his musical destiny was determined later.
Although he didn't live to welcome his 40th birthday, he proved to be an influential piano player in contributing the highly rhythmic stride style to the world.
9. McCoy Tyner (born 1938)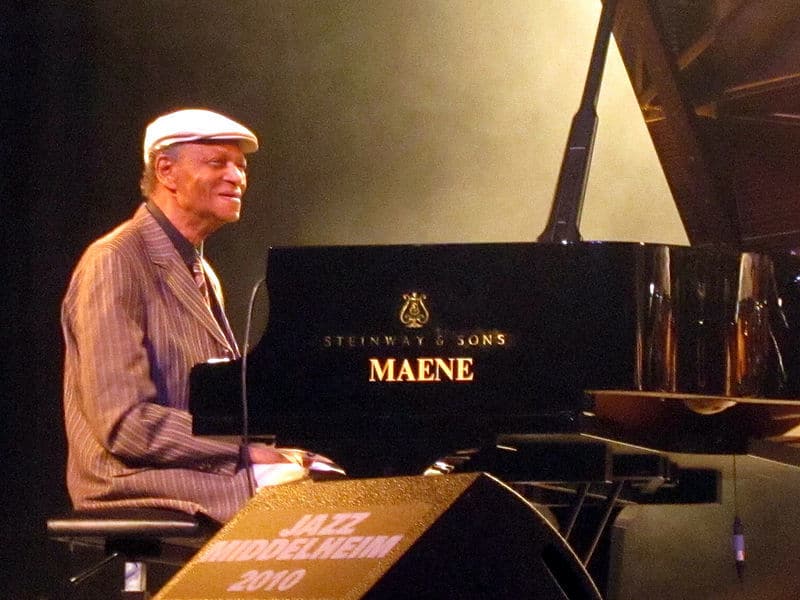 McCoy Tyner discovered music at age 13. As a teen, he played a significant force in John Coltrane's classic quartet, a legendary jazz saxophonist.
From there, his reputation continued to develop. He also made some great contributions to modern jazz piano, including his approach to chord voicing.
Until now, he performs at different clubs and festivals around the world.
10. George Shearing (1919 – 2011)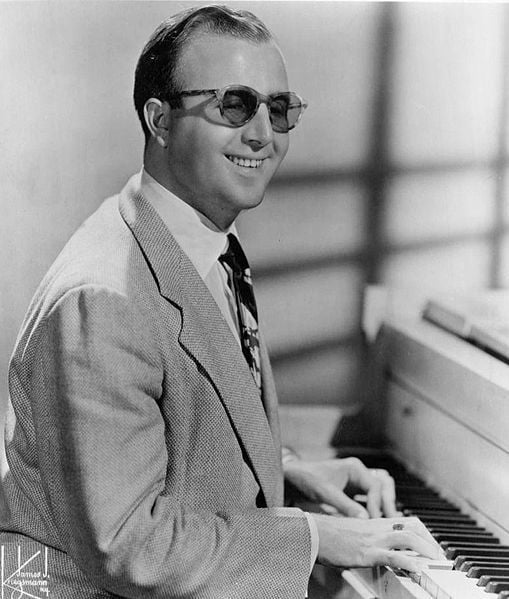 Another famous blind jazz pianist in this list is George Shearing.
He was born in London and soon demonstrated ability for the piano at an early age. But until he emigrated to the US in 1947, he started to become famous.
He was a composer of more than 300 titles like "Conception," "Lullaby of Birdland," etc. as well as the owner of lots of albums on the Billboard charts during the 50s, 60s, 80s, and 90s.
11. Bill Evans (1920 – 1980)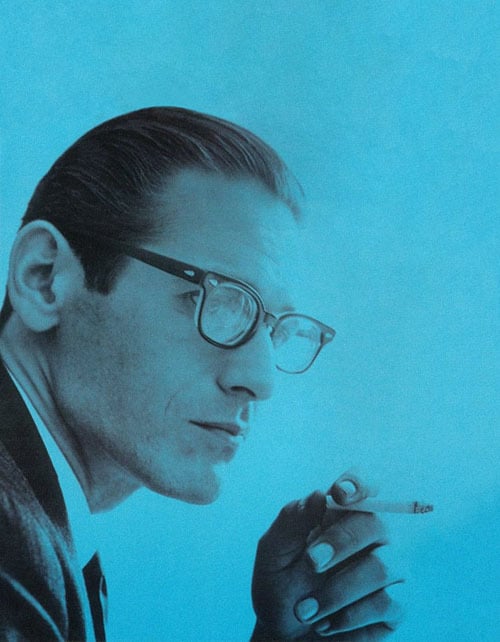 Bill Evans was a New Jersey jazz player who is best known for his work with his trio and for his performance on the best-selling jazz record of all time, "Kind of Blue."
Additionally, he possessed well-known compositions like "Waltz for Debby," which has become standards, performed and recorded by other artists.
He was honored with lots of Grammy nominations and awards.
12. Keith Jarrett (born 1945)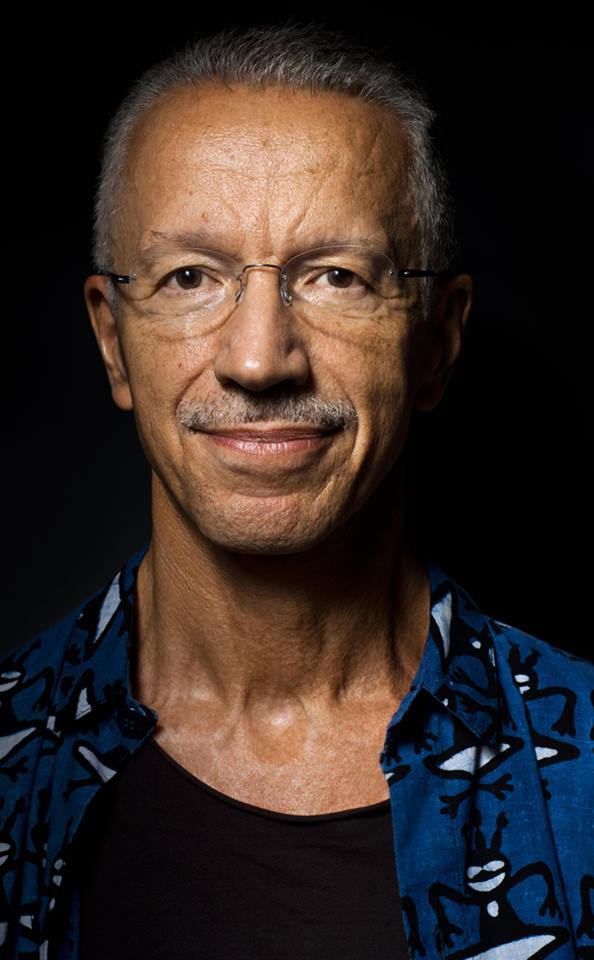 Keith Jarrett took up piano at age 2 and quickly blossomed his talent in classical music. As a teen, he was enticed by jazz and rapidly became fluent.
During his long career, he has recorded lots of brilliant classical albums.
Among, the best-selling solo album in jazz history, as well as the best-selling piano album of all time, is "The Köln Concert," with 3.5 million copies all over the world.
13. Bud Powell (1924 – 1966)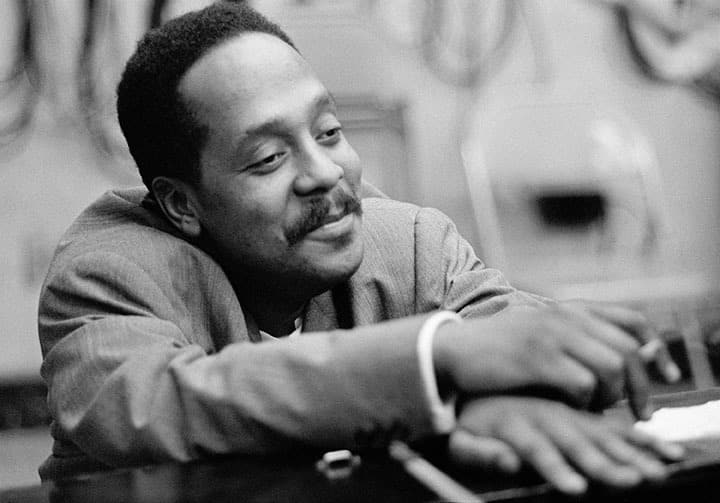 Bud Powell, along with Thelonious Monk (his close friend), played an essential role in a new era of jazz – bebop.
Though his most significant piano influence was Art Tatum and Charlie Parker.
Despite his short career (he died at aged 41 after spending time in mental hospitals), he made legendary compositions such as "Bud Plays Bird,"
"The Amazing Bud Powell," Bouncing With Bud," "Parisian Thoroughfare," and more.
14. Brad Mehldau (born 1970)
Brad Mehldau is known as one of the pioneering pianists in contemporary jazz.
But his influences are diverse and massive, ranging from rock, pop, classical music to country, bebop, and even electronic music.
It can be said that he has extracted them into a unique style.
15. Vince Guaraldi (1928 – 1976)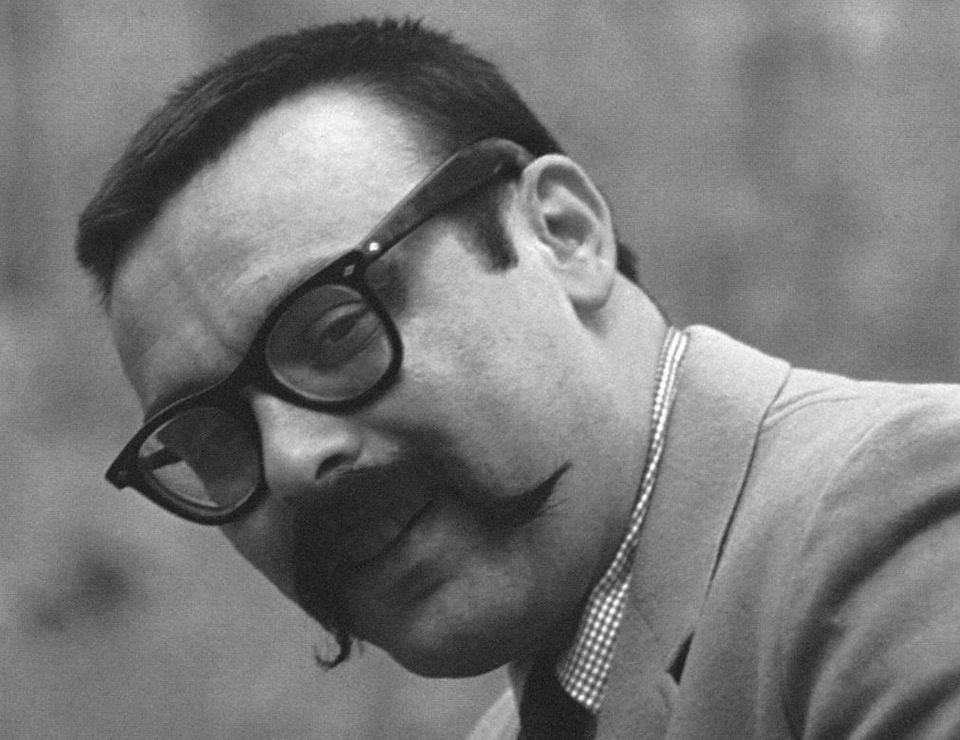 Vince Guaraldi is a well-known American jazz player for writing the music for animated television "Peanuts" series or the film of "A Boy Named Charlie Brown."
Moreover, his solo lines are greatly melodic and often sound like what a singer or a saxophone player would play than a pianist.
Although his playing is in contrast to some of the best jazz piano players in the list, his style is obviously unique.
16. Dave Brubeck (1920 – 2012)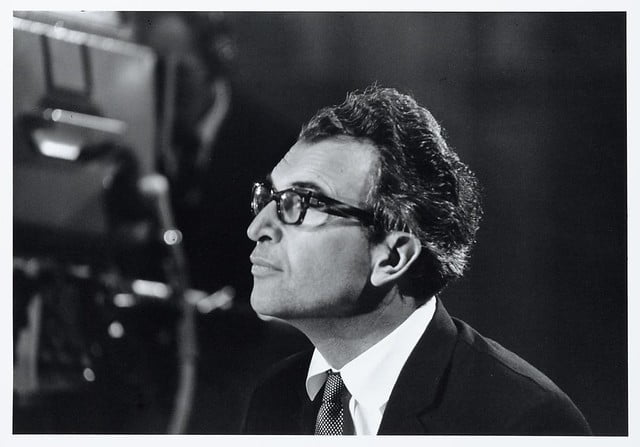 Dave Brubeck grew up on a ranch, learned to become a vet yet turned to music during college.
When listening to his songs, you recognize that his style was a contrast of bombastic block chords and improvised sing-song melodies with accented rhythms.
Among his many jazz standards, the top-selling record is "Time Out," which consists of two notable classics like "Blue Rondo A La Turk" and "Take 5."
17. Duke Ellington (1899 – 1974)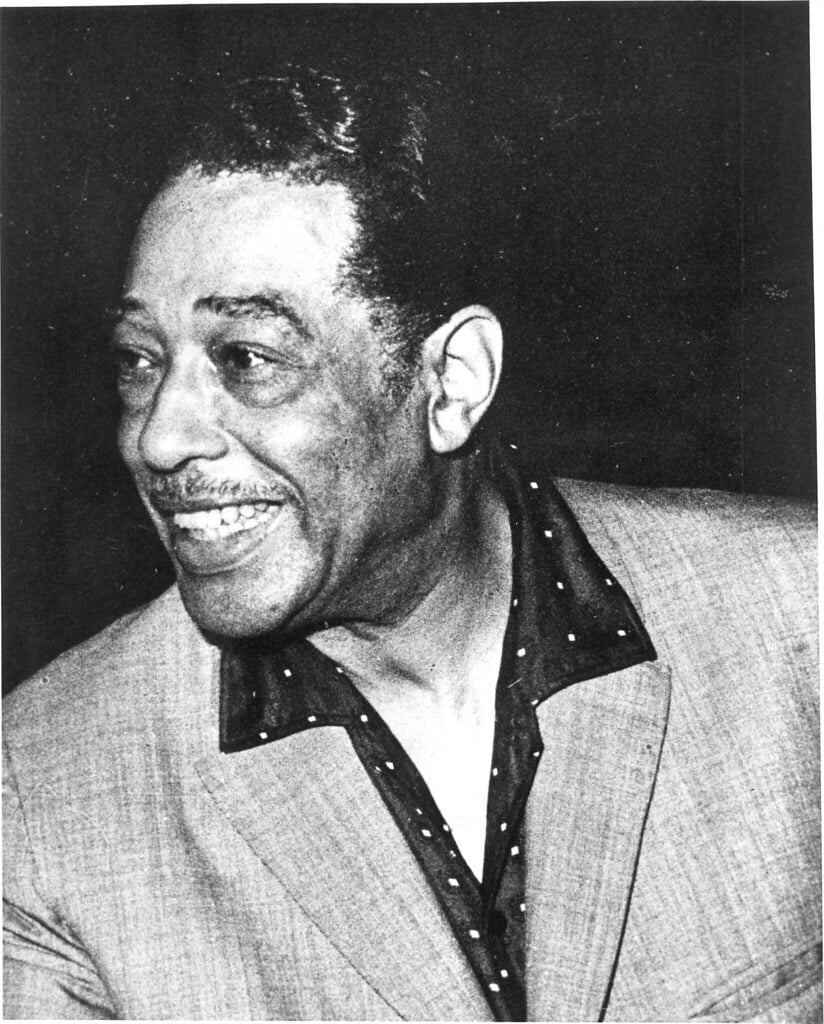 Duke Ellington is widely honored as a typical American piano jazz musician with his intimidating style.
It is because he gained greater fame as a famous composer, pianist, and bandleader during the 30s.
With more than 50 years of his musical career, he created over 1,000 excellent compositions and earned lots of awards and honors.
18. Hank Jones (1918 – 2010)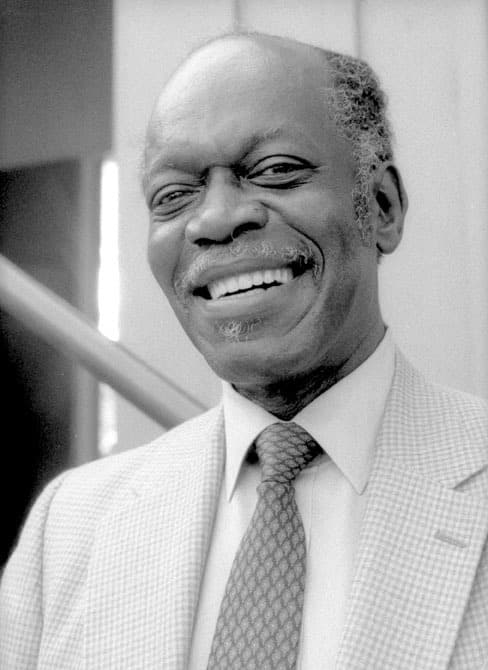 It can be said that Hank Jones is an outstanding student of Fats Waller, Art Tatum, and Earl Hines. Though he fell under bebop's spell later.
He also had a chance to record with Charlie Parker and Ella Fitzgerald before starting his solo lifework that grew well in the 50s.
His career consisted of over 60 albums under his name and countless others as a sideman.
In 1962, he played the piano to celebrate the birthday of the USA president John F. Kennedy.
19. Earl Hines (1903 – 1983)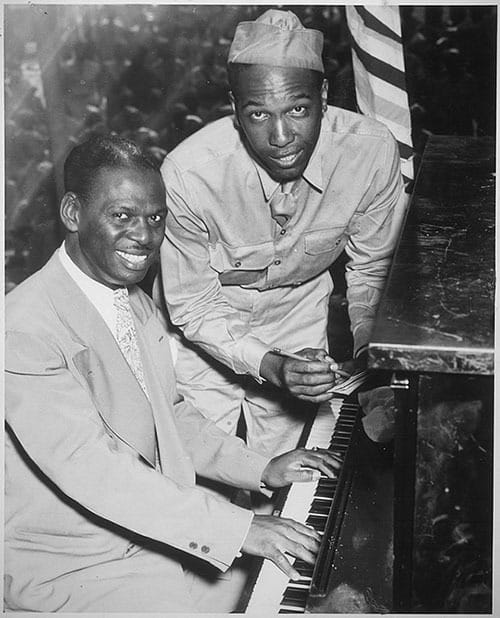 On the left
Earl Hines was described as one of the most influential figures in the growth of jazz piano. Or he was known as the pianist whose playing formed the history of jazz.
He began as an orthodox stride-style player yet soon presented innovations.
In a band group, he often started melodies with octaves and used a tremolo effect to create real jazz and real swing.
That's why he is still recognized as the father of modern jazz as well as a BIG influence on many players after him.
20. Ray Charles (1930 – 2004)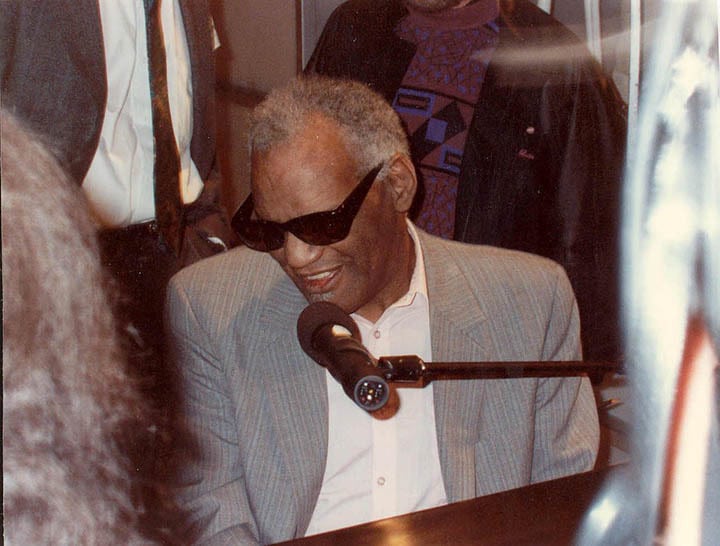 Ray Charles was known as a famous black jazz pianist, singer, and songwriter.
Similar to Art Tatum and George Shearing, he was visually impaired, but he was blind when turning 7.
At age 15, he was self-taught and started winning acclaim for his southern blues music style.
However, he also recorded famous jazz songs like "The Great Ray Charles," "Soul Brothers," "What'd I Say," etc.
Aside from his successful musical career, he was an impressive businessman. He even built a foundation and gave scholarships for deaf children.
21. Willie "The Lion" Smith (1897 – 1973)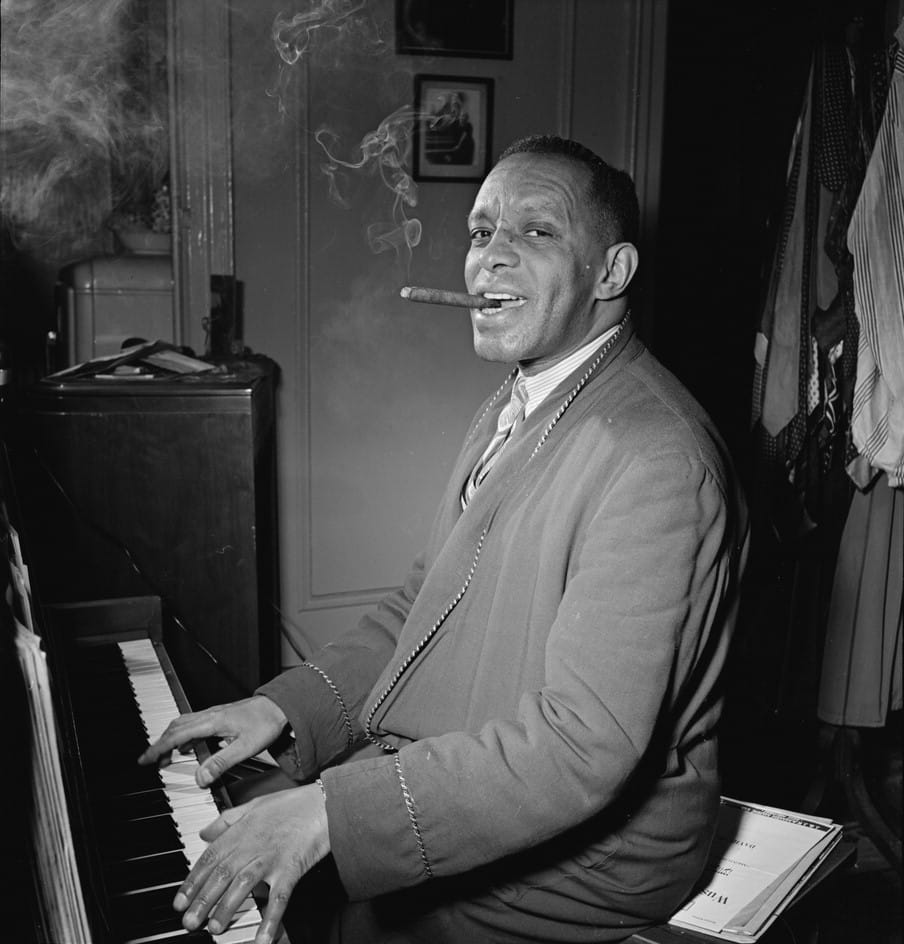 William Henry Joseph Bonaparte Bertholf Smith (aka "The Lion") was another well-known American jazz player.
Together with Fats Waller and James P. Johnson, he was also one of the three greatest masters of the stride styles in the 20s.
It can be said that his dynamic and propulsive style utilized a profound influence on George Gershwin's and Duke Ellington's approach to the piano.
22. Scott Joplin (1868 – 1917)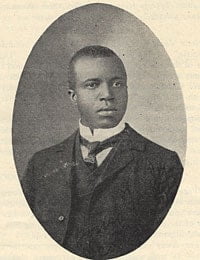 Scott Joplin was born into a musical family and learned music from the local teachers.
His style represents the earliest predecessor of jazz, in the shape of the classic ragtime. And in his heyday (first years of the 20s), he was crowned King of Ragtime.
Although his recordings didn't exist, his status as one of history famous jazz piano players is assured, thanks to piano sheet music from the time.
23 Jelly Roll Morton (1890 – 1941)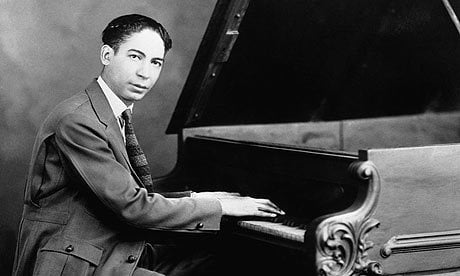 Ferdinand Joseph LaMothe, known professionally as Jelly Roll Morton, was born into a family of Creole heritage in New Orleans.
Acted as a pianist, composer, bandleader, and arranger, he was described as a seminal figure in the evolution of early jazz.
He was also a notable piano player whose jaunty, propulsive style developed out of ragtime and prepared for the stride growth.
24. Erroll Garner (1921 – 1977)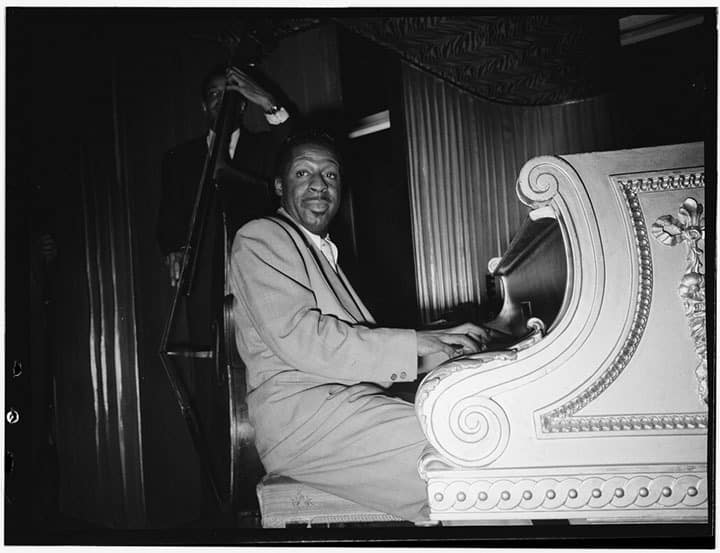 Erroll Garner was a child piano prodigy since he could play anything that his teacher demonstrated. With an "ear player," he was self-taught and never learned how to read music.
Although his first recorded was done in the 40s, his fame blossomed in the 50s and gained the high position of the best jazz pianists of all time.
One of his famous standard jazz compositions is "Misty," which was created in 1954 and recorded many times after that.
Moreover, his compelling album "Concert by The Sea" in 1955 quickly made him a stable symbol in the jazz world.
25. Bob James (born 1939)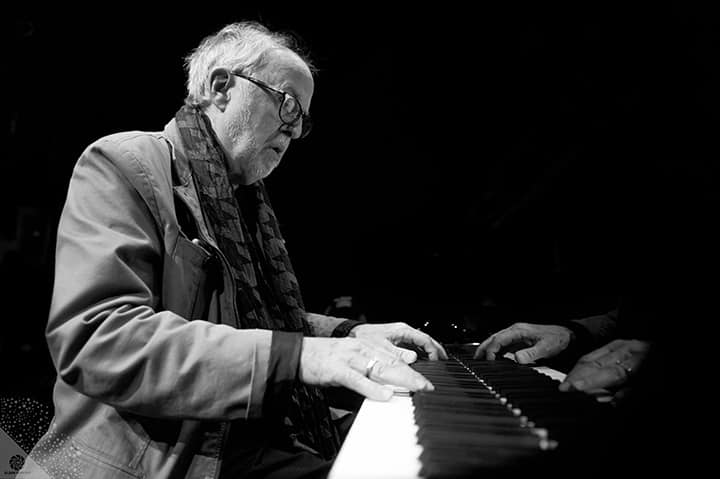 As an American Grammy award-winning jazz keyboardist, record producer, and arranger, Bob James' career bloomed in the early 60s.
From there, he was on the rise. He created four favorite, radio-friendly albums for CTI, where he set up himself as the leader of a lighter and more accessible version of jazz-fusion.
Here are some of his famous compositions, including "Nautilus," "Heads," "Touchdown," Sign of the Times," "Just One Thing," and more.
26. Michel Petrucciani (1962 – 1999)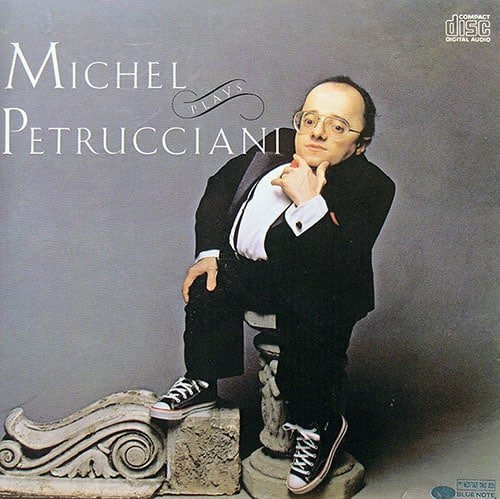 Although Michel Petrucciani was suffered from a genetic disease that stunted his development, he withstood the odds to become a famous jazz pianist in France.
At age 13, he was performing professionally. And at age 18, he was recording for the first time.
Then he became one of the most accomplished jazz players of his generation despite his short stature.
27. Duke Pearson (1932 – 1980)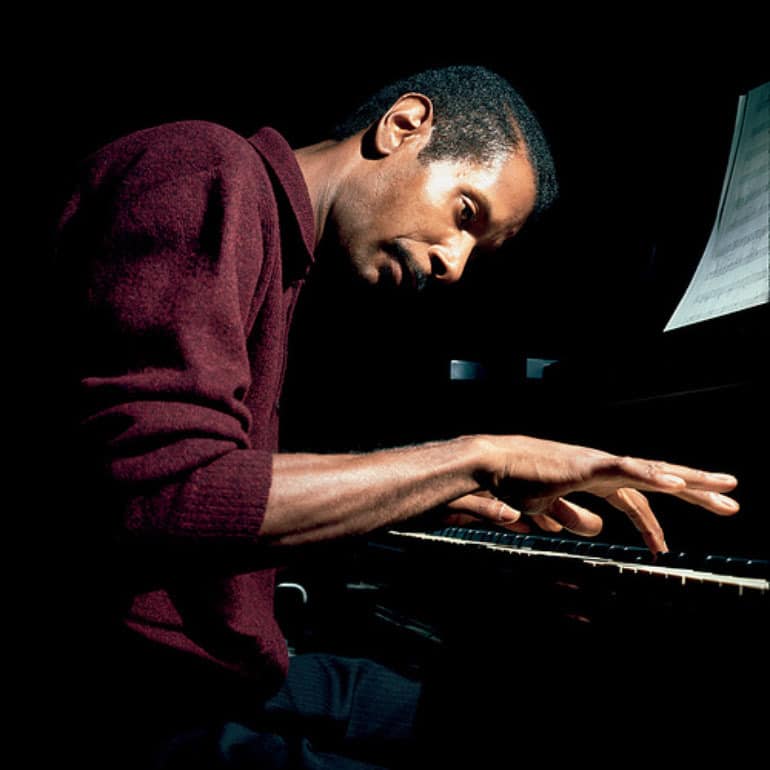 via ntslive.co.uk
Duke Pearson started to learn piano when he was 6, but he turned his interest in trumpet during high school.
Until 1959, he decided to switch to the piano again after meeting the pianist Wynton Kelly.
That was also the year he recorded his debut album for Blue Note and then became one of the best jazz piano players.
As a versatile and capable pianist, his records often veered towards the soul jazz style.
28. Harold Mabern (born 1936)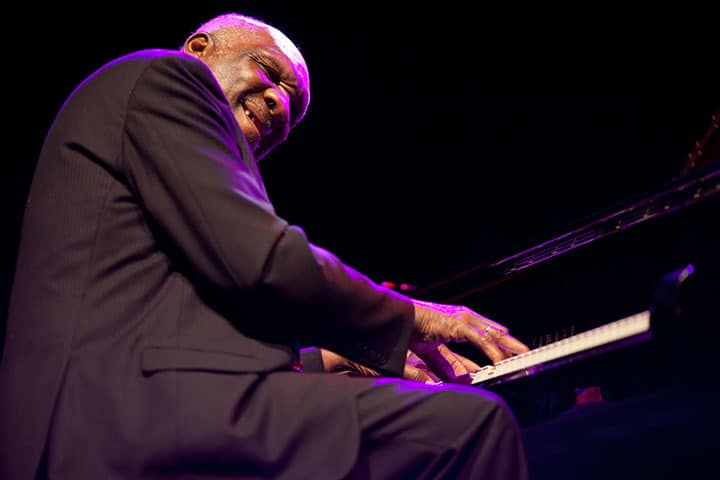 Among the famous jazz piano players, Harold Mabern is unique since he started as a drummer before switching to playing the piano.
Before beginning his recording career at Prestige Records in 1968, he was known as a go-to sideman in the late 50s and 60s.
After that, he has gone on to record about 20 albums as a leader.
Being a virtuoso who is fluent in bebop, post-bop, and modal jazz styles, he is still performing and recording today at the age of 83.
29. Andrew Hill (1931 – 2007)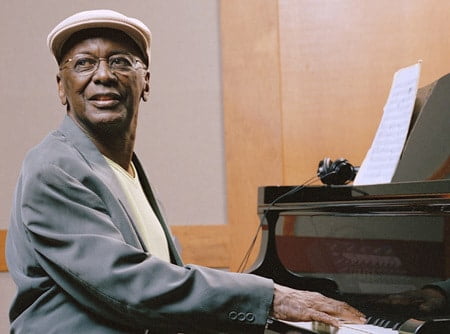 As a child, Andrew Hill joined the University of Chicago Experimental School and learned from famous jazz composers.
During the 50s, he started as a sideman. And when moving to New York in 1963, he began a long association with Blue Note Records and produced 16 albums.
His main influences included Art Tatum and Thelonious Monk; however, he shaped his complex and distinctive style, both as a composer and pianist.
30. Kenny Drew (1928 – 1993)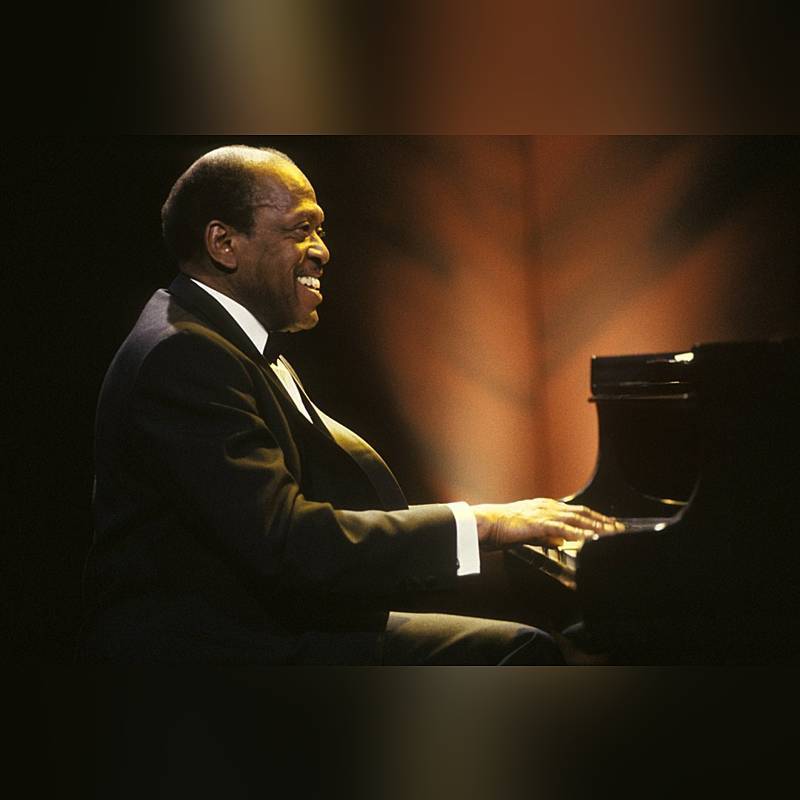 via shazam.com
New York City-born Kenny Drew began his piano lessons when he was 5.
Then he served as a sideman for Charlie Parker, Buddy DeFranco,
Lester Young, and Coleman Hawkins before becoming a highly-regarded bebop piano player and composer.
From his first solo in 1953, he recorded a variety of noted labels up until his death.
Conclusion
Although this list of the best jazz piano players isn't comprehensive, each of these pianists' legacy and creativity gave them a vital position in the history of jazz.
As a beginner jazz piano, it is fine to start learning easy jazz piano at first.
Then if you need to sharpen your skills, please spend your time listening to songs from these talents and later try to copy a short riff from one of them.
Don't mind taking risks, ask any questions you are still wondering, and try to teach yourself to play better.
Good luck to you.

Jack is the leading publisher of Fire Inside Music. He is teaching piano at a music school in Los Angeles. Since he was a teenager, Jack has had a great passion for music, the thing he enjoyed most was singing and playing the piano. He has excellent keyboard experience, works with William to help players select the best instrument to invest.