Today, all major manufacturers seem to apply a common approach for their electric pianos that is to provide users the same feel and actions as that of acoustic pianos. However, not everyone can get the right choice among today's different choices.
If you want to become a pro pianist, getting around with the best keyboard for a long run will be a perfect choice. While the competition between hammer action vs weighted keys is becoming stronger, people are getting more confusing to choose one.
So, which one will give you the kind of performance you desire to get? For those who are new to digital keyboards, it is important to find out your best keyboard for the most authentic experiences. Today, we will let you know everything about that.
What Does A Weighted Keyboard Mean?
A weighted key action is made to offer more resistance and balance than a standard "organ touch" keyboard. Keyboards built with weighted keys will simulate well the grand piano's gravity hammer-action. Thus, they are built for learning.
So, what really a weighted keyboard refer to? Let's read on and keep all of our pieces of information in mind to get a better understanding. It's time to become a piano enthusiast!
New developments in digital piano technology have produced a gravity hammer action that is even more similar to a grand piano's touch. These are the ultimate choice for digital piano buyers.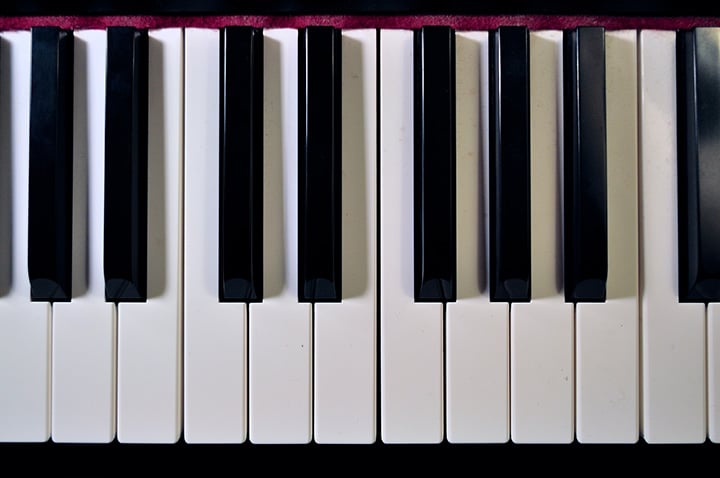 So, what is a weighted keyboard? While weighted keys do add some weight to your perfect keyboard, that's not all they do. If you still don't understand, think back when you press any key on acoustic pianos. Do you feel some resistance?
Even when your pressing is slow, sounds still come out. That's the way weighted keys on digital piano work. The heavier feeling in the back of the keys and the resistance felt when you press the keys down are created by the weighted keys in acoustic pianos.For electric pianos, weighted keys also do the same thing. These instruments do have built-in weights in the key system to ensure the realistic feeling when you play the best sounds.
Types Of Weighted Keys You Should Know
Everyone has their preferences and opinions about their perfect choices. But, before going to the last decision, getting better an understanding of your choice will be a great help.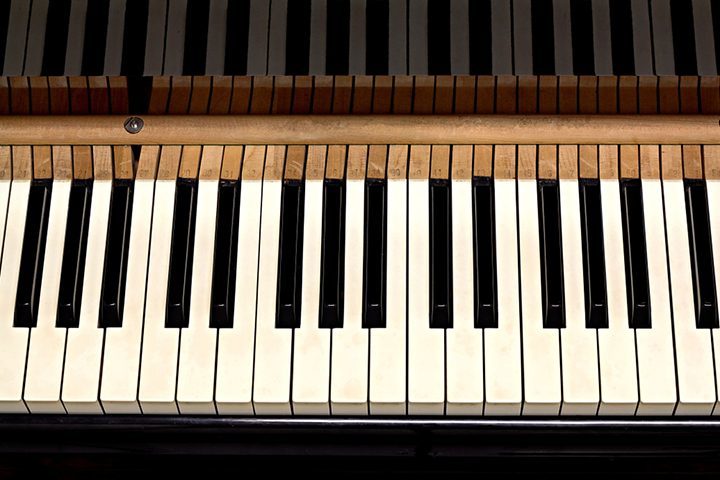 As we have mentioned before, weighted keys and hammer action are somehow the same since hammer action is developed based on weighted action. So, let's see if you can't find the information about hammer action here or not. All electronic, digital, and acoustic pianos are divided into the following types for touch sensitivity and feel of "realism."
1. Not Weighted
This one is built in almost pipe and home electronic organs commonly seen in recital venues and churches. For beginners, the ideal is coming to good entry level keyboards.
2. Semi-Weighted Keyboards
This kind of keys can be found in budget-end and portable keyboards. This type of keyboard uses a clever spring mechanism combined with weights so that pianists will show off their amazing performances effortlessly.
Spring-action keys are built with more resistance than budget-end keyboards. That's why the discussion on hammer action vs semi-weighted and semi-weighted vs weighted keyboards also grows to find out the best instrument for performance.
3. Hammer Action Keys
The hammer action key mechanism brings users the same feel like that of acoustic pianos. Here, you will find a small hammer attached by a smart lever system next to the key instead of a spring.
4. Graded Hammer Weighting
What does graded hammer action mean? Keyboards with progressive hammer-action or graded hammer weighting will perform heavier touch on the instrument's low notes as well as a lighter touch on higher notes. Some high-end models offer wooded keys rather than plastic for further enhancement of the playing feel.
If you know just something about digital pianos, you are probably wondering if there is any distinction lying between weighted and hammer action pianos or not. And, now, you've got something in your mind. Weighted keyboards are such a broadened definition of hammer action keyboards. But, they are still somehow different.
To understand more about the differences between the two types of instruments, continue reading the next part. We're sure that it will help you a lot in considering the final decision for your most astounding performance.
The Basic Differences Between Hammer Action And Weighted Keys
Weighted keys and hammer action are different in the level of resistance. For keyboards designed with hammer action, users will feel the same characteristics as that of acoustic pianos. Here is something that makes two types of keys different:
In Hammer Action Keys
You also know that hammer action is an upgraded type of weighted keyboards. But, does hammer action mean weighted? The answer is here. The bass keys are a bit heavier while treble keys get a lighter touch. In contrast, weighted keys are balanced with the similar heaviness from the keyboard's top to bottom.
Additionally, much like common acoustic counterparts, digital pianos with hammer action get a "click" sound whenever you press the keys. This feature makes these digital keyboards with the hallmark of premium quality.
Weighted-Key Digital Pianos 
Weighted keys are also designed to match users' playing experience, but differing from hammers, weighted keyboards depend on springs to promote the acoustic piano "feel."
And, the touch sensitivity ensures that lighter keys will lead to soft sounds while louder sounds are created by harder strikes. Things are totally different from that of hammer action keys, right? That's maybe a side of a problem.
And, if you don't know, we have to mention that two kinds of keys are the same. While piano-like hammer mechanisms are applied to the keys for a "real-life" piano feel, weighted actions offer the keys more "heft" to remove springy and plastic-like experience of all the entry level digital pianos.
Whatever they do, two kinds of keys seem to add more diversity to the market. And, that's why the discussions over hammer action vs weighted keys seem never to end.
Why Hammer Action Is Better
Now, after knowing all about weighted and hammer action keyboard, you seem to understand that hammer action is such an updated choice of weighted keys for all. That's why hammer action wins the round in giving the realism of your playing feels like a real piano.
Your better choice is here If you are going to invest in the best digital keyboard, the best ideal is to go with a hammer action one. The perfect choice will give you the following advantages:
Overall Development
Yeah, that's what we said. Hammer action is such the best deal for you to aid your entire muscle development as a real pianist.
Hammer action is important to develop a real feel and inspiration for piano playing whenever pianists encounter one.
Practicing piano is much like a unique sport for your hands and soul. Our developmental success is significantly affected by our kind of equipment.
Well, hammer action keyboards enable us to create unique sounds, practice accurate dynamics, and even execute articulations including accents, staccatos, and legato.
Better Performance
Traditional instruments built with weighted keys only allow you to create "traditional" sounds which are not easily achievable.
Meanwhile, digital pianos with hammer mechanism do a good job of enabling whatever we can do with our arms and hands to produce an accurately amazing representation.
Thanks to the awesome technology, these incredible keyboards will quickly calculate the right amount of power and force you should play with, offer realistic key depth, and the nice kind of resistance and rebound to make it completely feel like a real piano.
Ease Of Use
If you are just new to digital pianos or an entry-level pianist, quickly practicing for a stage performance will be extremely easy. Instead of study the very first notes with acoustic pianos that bear difficulties physically, going with a digital piano with hammer mechanism will be a perfect choice.
No need to follow the speed of an acoustic piano that is such a struggle to you, your muscle will be gradually developed with the slower speed of a hammer action keyboard. As a result, creating dynamics will be much easier for you.
In short, hammer-action pianos seem to go a step further than weighted keyboards in replicating the real playing experience. You will never get trouble with hitting the treble keys in these awesome pianos.
Top Best Hammer Action Keyboards Available
Buying a pro piano for your greatest performance will be an extremely big investment, so you must take things into consideration carefully and do a lot of searches. And purchasing a piano may be a chore for seasoned pianists.
We believe that all the pieces of information provided will make you understand that hammer action keyboards are the better choices for you to go with regardless of your playing style and levels.
Are you just new to the world of digital keyboards? Don't worry! We're right here to help you with the most comprehensive review of the best, highest-quality, and cheapest keyboards on today's market. It's time to keep an eye on the best options:
Yamaha P-115B 88-Key Graded Hammer Standard Digital Piano
The brand name Yamaha is certainly not any strange to the fans of pianos all around the world. That's why professional piano-making experts have offered the world tons of the best state-of-the-art instrument, P-115B.

Best For The Budget
Obviously, no one has said that this one is a standard piano for all, but it is best for the price. This digital piano is completely perfect for those whose budgets are always friends with the number zero these days.
Amazing Sound System
Being digital, this piano is easy for users to interact with. The touchscreen controller makes your interaction even much easier and faster. For the sounds, you will be highly impressed by the most beautiful sounds that you can get with this one.
The signature Yamaha's CF sound engine allows users to access an incredible polyphony of 192 chords. That's why pianists will receive all chord possibilities with this awesome piano.
You will shock your audiences with the great sounds that you will show off. Feel free to enjoy the familiar things that you can feel from a common acoustic piano. This keyboard is more than excellent for a beginner since it helps build proper and certain fingering techniques for the simplest to the most difficult notes.
Slippery Is Not A Matter Of Concern
Thankfully, the matte-finished keys keep users avoid sudden slippery to the maximum. Thus, the digital piano is built for long-term use. Once you've unboxed the instrument, you will get ready to play it right away. The box is filled up with full parts such as a power adapter, sustain pedal, music stand, etc. Grab all you need!
Casio PX350 BK 88-Key Privia Digital Piano
So, here comes another masterpiece from the Casio family. This exceptional quality and affordable piano create a big chance for you to touch the audiences' hearts with your most awe-inspiring sounds.

The Sound Effects Are No Joke
Yeah, you've got it. Casio has brought out the market a piano that sounds extremely realistic and natural. Thanks to the patented sound source called AiR (Acoustic and intelligent Resonation), users will enjoy realism and the piano details.
Plus, the piano's fantastic sound engine delivers your most powerful performances every time you play. And, the sustain pedal strongly contributes to the sound effect. The new Damper Resonance Stimulator will give rich and full sounds when used.
Real Feel Is Offered
Now, let's talk about the keys. The Casio PX 350 has 88 keys come with three sensors for each so that you can capture every dynamic and nuance everytime you play. The hammer action keys allow you to dive into the greatest sounding instrument ever made.
Wait, let's stay for a bit longer. Excellently mimicking a real acoustic piano, this product using the familiar dynamics as that of acoustic pianos to quickly enhance your experience. Simulating how differently-sized hammers move at different speeds, the digital piano does work wonders.
You will never enjoy the most fantastic piano sounds ever as a happy pianist, we swear.
Casio Privia PX160BK 88-Key Full-Size Digital Piano
You probably don't expect much from digital pianos costing under $500, but we believe that this option will quickly change your mind and thought. This interesting product will give pianists an immediate run for the best performance.

We highly appreciate the fact that, this brand highly focuses on its details. But, here, it's time to come to the details. Let's discover what makes this product special and outstanding from the majority.
Magical Keys
Magical here, we mean that they are high-quality and high-performance for an inexpensive model like this. 88 keys do work well for your performances. And, with this instrument, this product also uses the Casio proprietary AiR sound technology as an assurance for high-quality sounds.
Incredible Speakers
Of course, we won't forget to mention the fantastic speakers. The installed high-quality speakers built-in in this excellent unit is such a plus for you to keep an eye on this product. Coming with a portable line-out slot, users will easily connect the external speakers to enjoy the best sounds immediately.
Built For Convenience
Moreover, two outputs designed for headphones will help for those who sometimes need having a quiet performing environment. Will you be pleased and satisfied with the sounds? Yes, of course.
There is also another good feature of the model that we want to share with you before moving on to the last part. The "class compliant" USB connectivity will make it easy for people to use the keyboard on your Mac or Windows computer. And, that's why you won't even have to download a driver.
Final Words
Thinking of purchasing an ideal keyboard? And, wanting to point out the final result of the discussion on weighted vs hammer action keyboards? Yeah, now, you get your right answer, but we don't want to apply our standard to all users' choices.
It is necessary for you to choose your best instrument with the great response and touch. If you are expecting to get the best piano keyboard with hammer action or weighted keys, do careful research before purchasing yours.
The best model will ensure a high-quality sound and reliable components that fit your needs, preferences, and budget. Also, take a look at our recommended choice for superior sounds and unlimited tonal combinations. Get ready for the best playing moments now!

Jack is the leading publisher of Fire Inside Music. He is teaching piano at a music school in Los Angeles. Since he was a teenager, Jack has had a great passion for music, the thing he enjoyed most was singing and playing the piano. He has excellent keyboard experience, works with William to help players select the best instrument to invest.