Are you a musician, a professional artist, or someone who likes to play the piano on the stage? Do you need an 88-key keyboard with full of features and can be easily moved around for your shows?
Stage pianos are the right choice for you. Many famous manufacturers make this type of instrument with international standards and thorough testing. One of them is the Yamaha brand.
Do not let you wait any longer. Now we will introduce to you one of the best keyboards from Yamaha. Are you ready to explore the Yamaha CP40 Stage Piano review?
First of all, let's get to know the main specs of Yamaha CP40.
Specification Of The Yamaha CP40 Stage Piano
Yamaha is always innovating to produce high-quality musical instruments in every detail. Therefore, this piano is no exception.
Generally speaking, the Yamaha CP40 Stage Piano is an excellent instrument for real musicians. Here are some of its amazing features.

Check them out:
GH keyboard
88 weighted keys, Graded Hammer action
LCD display
24 voices, 297 presets, and 62 VCM effects
15 CFIII Grand Piano sounds and 35 Vintage electric piano sounds
Number of Polyphony (Max.): 128
Tone Generation Technology: Spectral Component Modeling (SCM), and AWM2
Connectivity: Line Out and OUTPUT jacks, headphones jack, Sustain and Assignable Footswitch jacks, Foot Controller jack, MIDI In and Out terminals, USB types A and B terminals
Other Controllers: Pitch bend wheel, Modulation wheel, Data dial, Master Equalizer slider, Part slider, Master Volume dial
Dimension: 1332mm x 163mm x 352mm
Weight: 16.3 kg
Colour: Black
Package: AC adaptor, FC3 foot pedal, Owner's Manual, Online Manual CD-ROM (containing Reference Manual, Synthesizer Parameter Manual, and Data List)
Warranty: 3-year part and labor
Our Review Of The Yamaha CP40 Stage Piano
If you are still not familiar with this piano, our experience will help you better understand this piano. What makes it the right one for your stage performances?
We will find out the answer with a more detailed review.
Best Companion On The Stage
Despite being equipped with 88 keys, this keyboard is still quite light and compact. You will quickly bring it everywhere to show off your music playing on stage, in the studio or live events.
It is also convenient for you to store after the performance and travel away from home with your favorite piano.
The First Impression Of The Keys
The Yamaha Grad Graded Hammer keyboard makes the CP40 feel realistic.
When you touch the keys, you feel like playing an acoustic piano.
Therefore, the weight in and around the keys is slowly diluted.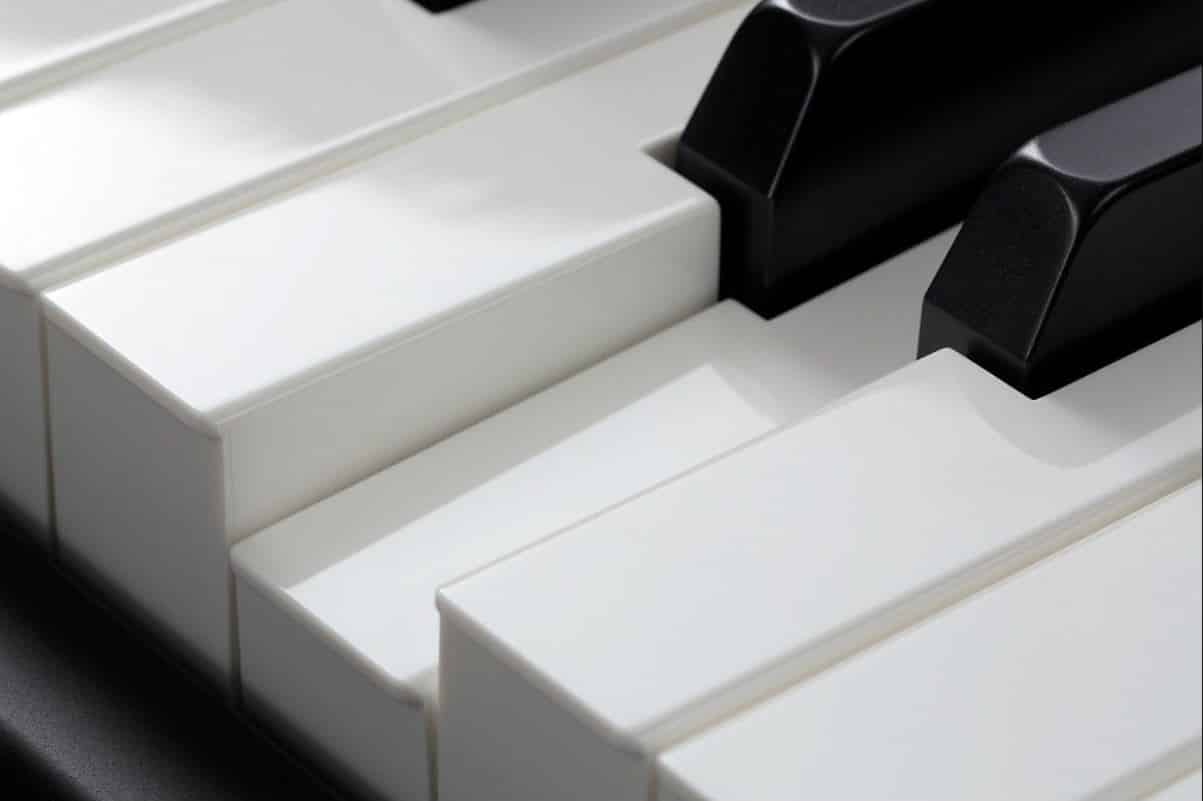 It is heavier if you play the lower tones and it is lighter when you lift the tones.
Without a natural wooden hammer and ivory keyboard, you'll find the Yamaha CP40 a bit plastic to the touch.
But the premium appearance still impresses you thanks to the construction of product details from Yamaha.
True Sound And Diverse Effects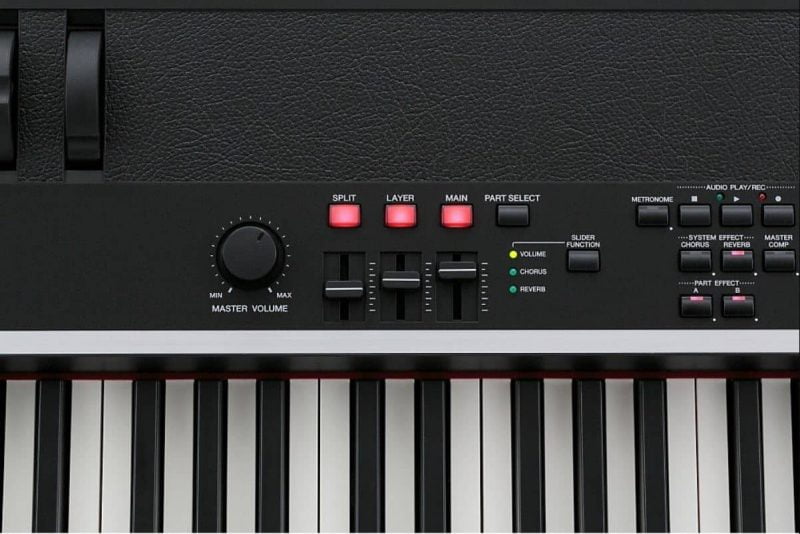 The Yamaha CP40 Stage Piano has a very easy-to-play and responsive keyboard with an impressive sound range.
You will also find quality 15 Grand Piano CFIII sounds from Yamaha development.
They work great for big concerts and all kinds of music like pop, country, rock, and more.
Also, there's S6, and CFX piano sounds for classic players to achieve symphony orchestras, soothing vocals, and ballads.
Beyond that, this model has 247 voices, including bass, organ, strings, pads, and voice library based on the MOTIF Synthesizer.
Is it enough sound for you to rock the stage? If not, take a look at its sound effects.
The Yamaha CP40 integrates up to 62 Virtual Circuits Modeling including reverb, compressor, choir, and 3-band Master EQ. When you want to create more unique sounds, you have the functions of layer and split.
The layer function plays different voices at the same time while the split function helps you to achieve two sounds on each half of the keyboard.
Simple And Easy Usage
The ease of use helps Yamaha CP40 reach more customers.
The intuitive user interface allows you to access the keyboard functions very quickly.

What is the most important thing for a performer?
You can master on stage in many situations to bring excitement to the audience.
In case the stage is not lit, the giant illuminated buttons of the Yamaha CP40 will help you control it conveniently.
Not only that, but you can also access the Yamaha CP40's sound from a Category Select menu easily.
Thanks to that, you locate all the functions of the piano effectively.
And all you need to do is to comfortably show your music talent to a lot of "your fans."
Here is something interesting for you.
You can return to playing the full piano on this keyboard thanks to the magic Solo button. Finally, you can be proud to bring on the stage an elegant and sophisticated keyboard.
Are you ready to be the star of the show today?
Pros
Sophisticated design in a luxurious style
Illuminated buttons
Lightweight and compact
Super realistic sound
Great feedback and sensation
Simple-to-use functions
Easy to move
Cons
There are no onboard speakers
It has a quite high price
Sudden temperature changes cause the risk of condensation
Are you still with us? Coming next is our analysis of differences between Yamaha CP40 and two other Yamaha models.
Comparison Of Yamaha CP40 Stage Piano And Other Products
Yamaha CP40 Vs. P255
First off, these two models have some notable differences. The Yamaha P255 has a pair of 7W speakers that can emit an excellent sound to practice while the Yamaha CP40 doesn't have an internal speaker.
Note that the Yamaha CP40 is a bit more expensive than the Yamaha P255.
You know what? Many users like the GH weight action and a massive collection of 297 built-in tones of Yamaha CP40.

The CFIIIS Premium Grand Piano Voice provides full and bright sound with the firm and resounding bass.
Unfortunately, it only has polyphonic 128 notes. On the other hand, Yamaha P255 has integrated 24 tones.
Its GH keyboard and synthetic ivory keyboard offer excellent performance and authenticity.
It has three pedals and the sturdy stand for more control and stability. Furthermore, it features 256-note polyphony to ensure uncompromising performance and handle the most complex tracks.
In short, a dedicated pianist likes to choose the Yamaha P255 for a better sound thanks to its wide range of polyphony and three pedals.
Yamaha CP40 Vs. Yamaha CP4
Firstly, you can see that these two-stage pianos come from the CP series of Yamaha. So they have many similar excellent features. Both CP4 and CP4 have 88 GHS weight keys.
However, the CP4 has a unique wood feeder set with synthetic ivory keytops. It means that CP4 can have better durability and sound than CP40 because it is made of high-quality materials.
Also, the two models have the same amount of impact as up to 62 virtual circuit presentation effects and 297 preset buttons.

And the big bright buttons make layers and parts less demanding. With the higher price, the Yamaha CP4 offers you more specs to use.
For instance, there are 45,000 piano sounds and 341 sounds (47 antique electric pianos) on the CP4. This model also has 43 presets and 62 virtual circuit effects.
Compared to the CP4, the Yamaha CP40 has 15,000 piano sounds and 247 sound (35 antique electric pianos). To sum up, if you can spend more money, CP4 can bring you to a higher level than CP40.
FAQs
Q: Is the Yamaha CP40 the Right Choice for Beginners?
A: No, it is not. Its name tells you that it's a piano played on stage live by well-trained professionals.
But if you can afford it, you can buy it without hesitation, even if you start to learn the piano. There is no harm to play the expensive piano with awesome sounds like Yamaha CP40. It can give you the motivation and excitement to keep up the training.
Q: How Can I Protect My Yamaha CP40 When Traveling?
A: It is clear that this piano is not a piece of furniture in your house or a teaching tool in the class. It is designed to move around and shine on stage. However, the typical risk of Yamaha CP40 is the condensation.
When you visit a new place, check for sudden changes in temperature and humidity.
You should make a gradual transition by adjusting the humidity to about 40%, staying away from vents and windows, and closing any door window in your piano room to prevent condensation.
Q: Is the Yamaha CP40 a Good Value for Your Money?
A: In terms of stage performance, Yamaha CP40 is an excellent instrument with quite a lot of advantages that you will enjoy exploring.
With the affordable price and portability, you can bring this piano everywhere to stand out of the crowd.
The advanced features and technology that Yahama equips with the CP40 will help you play a variety of music with beautiful and clear sound.
Do you want to buy this product now? Bring home one and start to play your favorite music on the stage.
Please share your opinion or any questions here, so that we can discuss more this perfect piano. And do not forget to help us send this article to someone who looks for the Yamaha CP40. Thank you and see you in our next piano review.

Jack is the leading publisher of Fire Inside Music. He is teaching piano at a music school in Los Angeles. Since he was a teenager, Jack has had a great passion for music, the thing he enjoyed most was singing and playing the piano. He has excellent keyboard experience, works with William to help players select the best instrument to invest.