Nowadays, our living standard is improved significantly, and our entertainment demand is increasing outstandingly.
Hence, music is an integral part of our life. Let's imagine how boring and tedious if music and sound disappear and don't exist in our life.
While some people love listening and enjoy music, others like playing an instrument.
Nowadays, our living standard is improved significantly, and our entertainment demand is increasing outstandingly.
Hence, music is an integral part of our life. Let's imagine how boring and tedious if music and sound disappear and don't exist in our life.
While some people love listening and enjoy music, others like playing an instrument.
Playing a musical instrument, especially digital piano, has a lot of benefits such as: increasing your memory capacity, your concentration, relaxing, reducing stress, etc.
So why don't you choose for yourself an instrument and try playing?
If you don't know what the best instrument is, let's take a look my Casio CDP 135 review to see its remarkable features and why you should choose this digital piano.
Quick Summary
Casio is a well-known and prestigious for a piano instrument for an affordable price, various selection, innovative feature and great functionality.
Like other successful product, Casio CDP 135 is one of the unbeatable digital pianos with the naturally tuning sound like an acoustic piano.
With great sound from 88 fully weighted keys, it will bring the high performance for you to practice.
Let's follow carefully for more information about this product.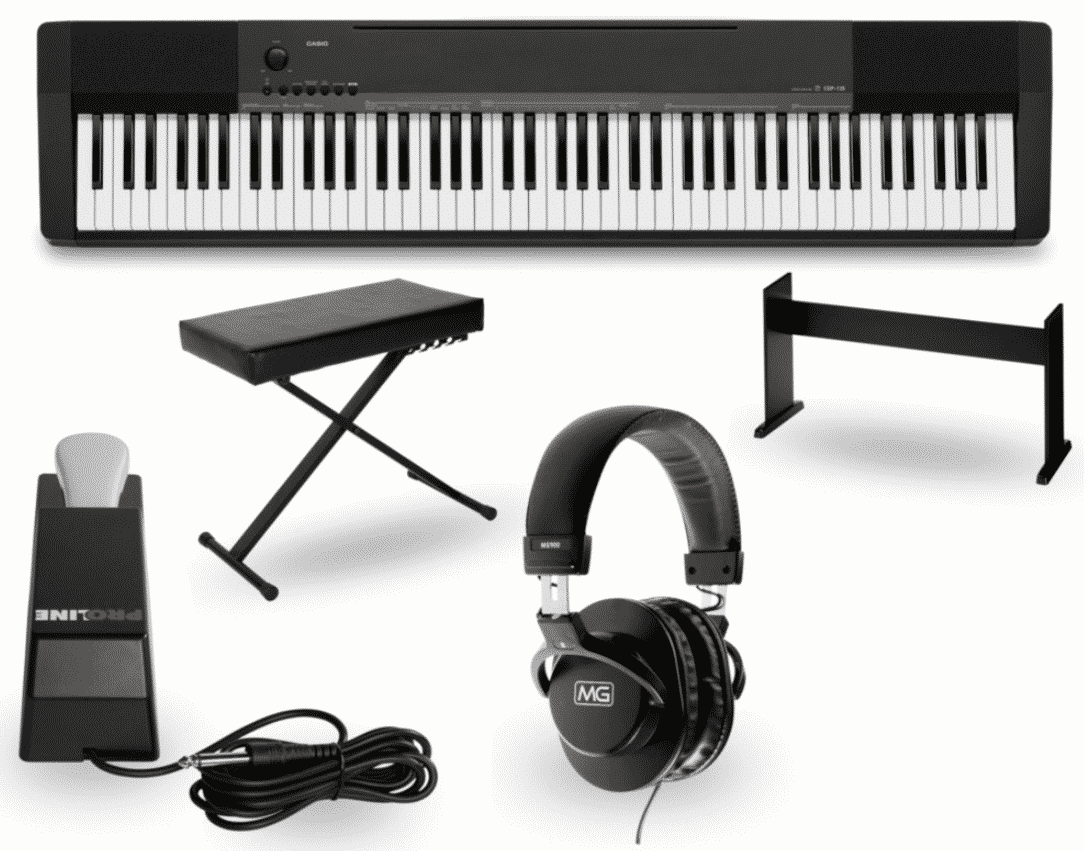 Keyboard
88 keys with scaled hammer action
Key size: Full with piano style
Velocity or after-touch: Three types and off
Sounds
10 tones (stereo grand piano and 9 other tones)
64-note polyphony
Split: Yes
Layers: Yes
Connectivity
Class-compliant USB MIDI controller
No AUX input, line input
Line output: yes
Headphone jacks: 1
Expandability available: No
Pedal inputs: 1
Storage type: Not applicable
Onboard Features
No recording or playback
No pitch bend or modulation
Display: Panel select
Effects: Reverb and chorus
5 preset songs
Built-in speakers system
Other controls: Not applicable
Accompaniment styles: Not applicable
Dimension And Other Features
Dimension: 52 x 5 x 11.25 (width x height x depth)
Weight: 23.8 lb.
Batteries: Not applicable
Power adapter: Included
Stand or bench: not included
*Warranty: One year warranty for parts and labor on all keyboards (power supply is included).
Why Is Casio CDP 135 The Perfect Friend For The Piano Player?
Most people tend to turn down the digital piano and choose the acoustic one because they think that digital piano can't generate the authentic sound like the acoustic.
However, the CDP 135 here with the weighted and resistant keyboard can offer the realistic acoustic sound with the accurately scale from the lowest to the highest key.
Its built-in speaker system is extremely clear and powerful due to the effect from ten instrument tones including 3 electric pianos, 3 pianos, harpsichord, 2 organ strings and well hall reverb, which can generate the beautiful grand piano sound.
The polyphony with a maximum of 64 notes allows you to play the complex classical music.
Besides, thanks to layers mode, you can play bigger chords without the dropped notes problem.

With the lightweight and compact design, Casio CDP 135 is an ideal digital piano for home use. Thanks to class-compliant USB connection, your home studio will be controlled perfectly.
You can use your tablet, computer or any other devices and no need to download the driver.
Although it doesn't include a MIDI recorder, duet or split function for easily practicing lessons, CDP 135 has a USB port and other standard features such as transpose, metronome and layering function.
The price is supreme affordable comparative with the high quality and amazing performance.
Don't hurry to conclude that the quality isn't good enough due to the low price.
To sum up, all of its excellent features such as a keyboard with scaled and weighted hammer action, built-in speaker system, stunning sound, affordable price and lightweight design will contribute to making Casio CDP 135 become a first-rate piano instrument selection for many musicians.
Things We Like
Clean and simple design, convenient portable
Affordable price, suitable for beginners or students
High-quality 16W speaker
88 keys with graded hammer action
Authentic and realistic sound like an acoustic piano
Things We Don't Like
No split mode
No Duet play function
Don't have MIDI recorder
You can check out Casio CDP-135 Digital Piano demo here:
Compared With Some Similar Instrument
Casio CDP 135 Vs. Yamaha P45: Which Is Better?
Keyboard: 88 keys with GHS weighted action like an acoustic piano
64 polyphony notes
Tone generator: AWM Stereo Sampling
10 built-in tones (2 pianos)
Weight: 25.3 bl
In general, Casio CDP 135 and Yamaha P45 have some similar features such as a keyboard with 88 keys, 64 polyphony notes.
However, there are some certain differences between the two kinds of pianos for you to consider. The digital pianos of Yamaha often provide mellow tones while Casio piano sounds are brighter.
While P45 has a keyboard with GHS (Graded Hammer Standard) weighted action, CDP 135 has excellent value with weighted and accurately scaled keyboard action.
Both of them have 64 polyphony notes, which can improve the quality of tones and sounds significantly.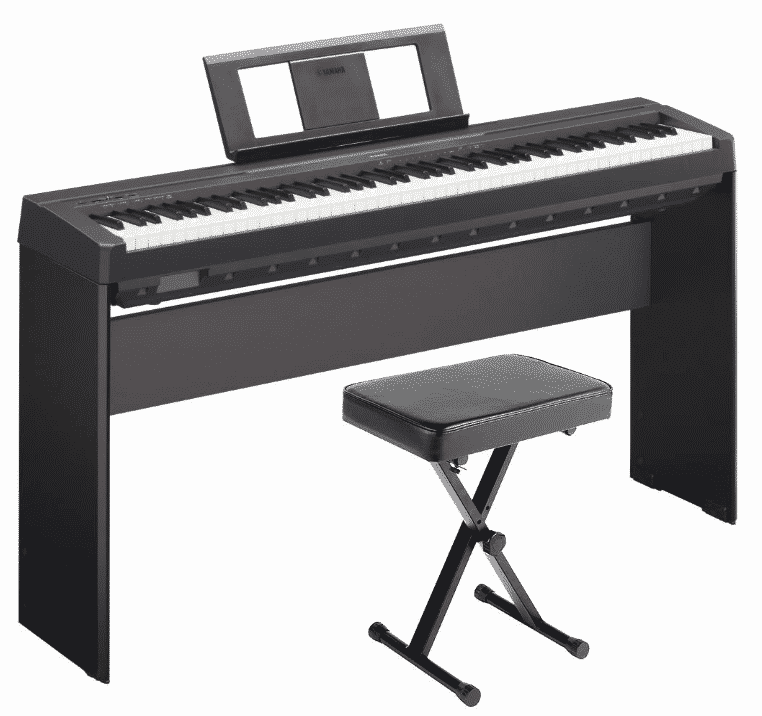 Due to the package of double braced keyboard stand, the dimension of CDP 135 is a bit greater than Yamaha P45, so it's perfect for home use while P45 is easier for transportation.
However, you can remove the stand if you want to go with it anywhere.
About the price, the determined factors of most people in a tight pocket, Casio CDP is much cheaper than any other digital pianos, but not cheap sound.
P45 is one of the top choice for beginners, but CDP 135 with excellent quality is perfect for any level of musician.
Wrapping up, Casio CDP 135 vs. Yamaha P45 also has a great value of each brand Casio or Yamaha. You should consider carefully based on your demand and pocket.
And If you need to know more, you can read the review of Yamaha P45 here.
What Are The Superior Point Of Casio CDP 135 Vs. PX 135?
Features Of Casio Privia PX135:
Keyboard: 88-key with new 3-sensor Hammer Action
128 Polyphony sounds
Touch Response: 3 levels, off
18 built-in tones (5 pianos)
Damper pedal
MIDI terminal
Tuning control
Casio Privia PX 135 is one of the perfect digital instruments for education purpose. You don't need to worry about manual tuning, rusting problem with piano string or any moisture problem relating to inoperative function.
Thanks to lightweight design and connection via USB, you can go anywhere with it, from your home to your school, even church without any inconvenience. The features with duet mode will let students and teachers practice easily.
88-note keyboard with scaled hammer action and 3-sensor system will promote the touch sensibility and provide authentic sound like an acoustic piano.
Besides, it also captures your performance detail and nuance. The scaled hammer action may offer the great resistance, feel and weight but no lesson the portability.
These features are quite similar to CDP 135, but the CDP 135 uses 2-sensor technology.
This PX 135 piano with 128 polyphony notes has enough horsepower for layer sound ability and musical passages.
Besides, the damper pedal will not cause the dropped notes, while the CDP 135 has just 64 polyphony notes with the single pedal.
In addition, thanks to the duet mode, two equal ranges from the keyboard can help students and teacher to play simultaneously.
The built-in two-track recorder can keep the creative moments and ideas, so you can practice any tempo then listen back later what you've played while the CDP 135 has no duet play function and recorder.
Generally, besides the similar features and design, you can't deny the more outstanding performance of PX 135 than CDP 135.
However, the price of CDP 135 is super reasonable than PX 135. You should consider carefully with your current budget. CDP is not a bad option for friendly-pocket digital piano.
Vs Casio CDP 130
Features Of CDP 130
10 high-quality tones
Digital effects: Hall, Reverb, and chorus
Full Force Sound Speakers
88-key with Scaled Hammer Action
48 Polyphony sounds
Sustain pedal included
Touch sensibility: 3 types, off
Casio CDP 130 is quite similar to its relative, CDP 135. These instruments with the effect function have brought the warm and rich acoustic sound.
You will have the viscerally immediate performance at the concert hall.
The dual element AHL (Acoustic and highly-compressed Large-waveform) sound source has all acoustic and piano tones included in built-in tones. This feature will create the better sound than ever.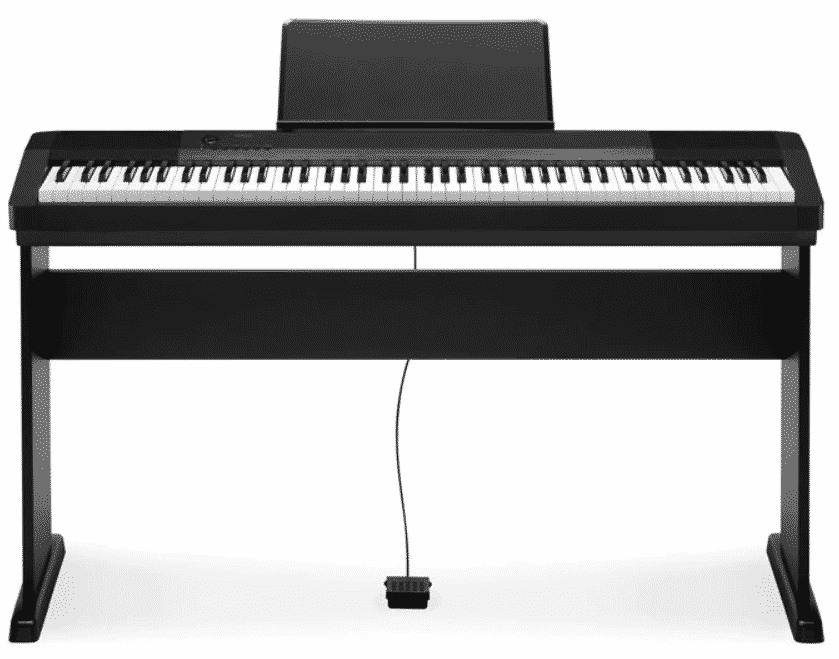 Like CDP 135, the springless and scaled hammer action keyboard with 88 keys give the naturally firm touch.
Moreover, it's also similar to the grand piano key that the higher notes play relatively lighter than lower notes.
However, Casio CDP 135 has maximum 64 polyphony sound while CDP 130 has just 48 polyphony sound. This means CDP 135 provides higher performance than CDP 130.
Maybe, that is the reason why the price of CDP 130 is lower than the CDP 135. The money you pay is likely to be comparable with the value you get.. If you interested, your can read more information about the CDP 130 in our review.
Read more: Casio CDP 100 Review
Vs PX 160

Keyboard: 88 keys with Hammer Action Weighted keys
Touch sensibility: 3 types, off
Tone generator: Multi-dimensional Morphing Air
128 notes polyphony sounds
18 built-in tones (5 pianos)
MIDI Recorder: two tracks
60 songs lesson function
Weight: 24.5 lbs
The Casio PX 160 has an amazing value in this price range.
Firstly, it is equipped with the famous keyboard of Casio: Tri-sensor Hammer Action keyboard, which makes use of the 3-sensor detection system and creates Ebony & Ivory surfaces, while the CDP 135 goes with 2-sensor technology and without Ebony & Ivory surfaces.
The technology of this 3-sensor detection system makes notes repeat faster, and the Ebony & Ivory surfaces can help your piano to absorb moisture well with good grip when your fingers are sweaty.
Sound quality couldn't be better at this price. The sound source of Multi-dimensional Morphing Air with 9 foot grand piano will generate the sound excellently and naturally.
While the CDP 135 has a 16W speaker system and 64 polyphony notes, the Casio PX 160 has the speaker system, and polyphony notes up to double 128 notes.
​These specs will promote its sound quality and optimal performance.
Coming to the features, this digital piano will not let you down with authentic sound even in electric piano or pipe organ.
Thanks to 18 built-in tones (5 pianos) and 13 other musical instrument sounds, you are surprised a lot by its sound performance than CDP 135 with 10 built-in tones (2 pianos).
Also, the two-track MIDI recorder can record your right-hand and left-hand part separately to different tracks so that you can play back as one song.
The standard keyboard also offers the great function such as dual mode, transpose, metronome tuning function.
In general, you can see this PX 160 instrument has many superior features to CDP 135. Consequently, it's much more expensive than CDP 135. If you are in tight budget, CDP 135 is probably the ideal option.
Maybe you are afraid of the quality of the lower price, but it's not always true that the lower price goes with the second-rate quality.
If you enjoyed playing digital piano, CDP 135 is not a bad option.
By the way, if you interested in Casio CGP series, we've picked this model for you. The CGP 700 is one of the best Casio digital piano in the series. We got a comprehensive Casio CGP 700 review, you will find out a lot of information there.
Vs Acoustic Piano
Now I will compare the digital piano vs acoustic piano to see the differences between them in sound quality, touch sensibility, price, etc.
First, about the sound quality, the acoustic piano will generate warmer and more authentic sound for musical expression than a digital piano with sample sound.
You may feel some digital sound is quite similar to the acoustic counterpart, but in fact, it couldn't be as authentic as.
However, with fully weighted and graded hammer action, the sound of CDP 135 is tuning naturally like the acoustic piano sound. While normally, the acoustic one needs tuning from once to twice a year.
The tone of the sound is commonly determined by the strength and movement of your fingers, called as touch sensibility.
The acoustic piano has greater touch sensibility due to the better-weighted keys. You have controlled the musical tone better with this mechanism.
Most musicians choose acoustic piano instead of the digital due to its lack of touch sensitivity. This also makes the acoustic one is heavier than the digital.
In other words, CDP 135 with fully weighted keys can improve the sensitivity significantly.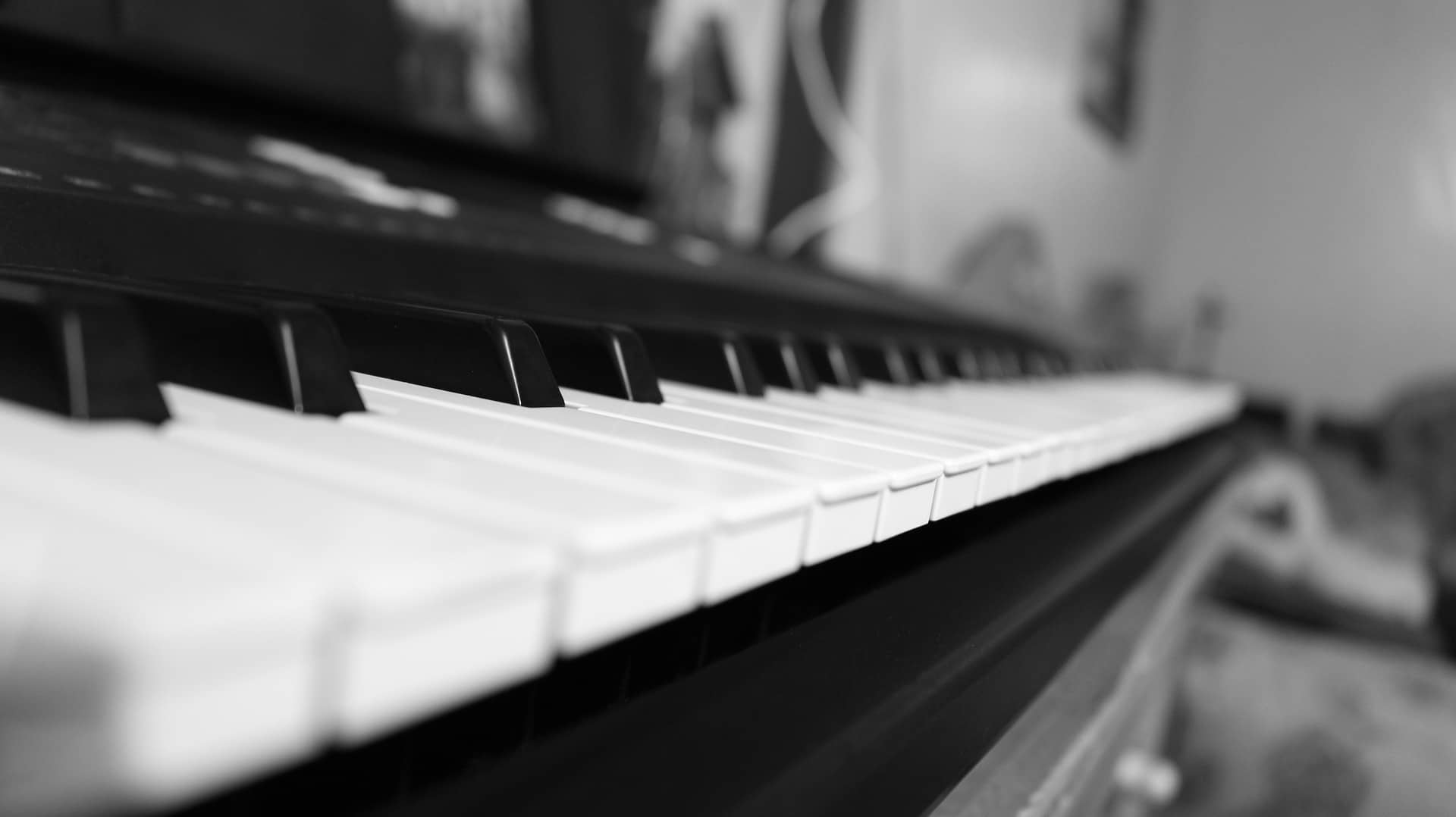 Furthermore, CDP 135 has some more convenient features than acoustic. For example, thanks to its good portability and lightweight, you can bring to anywhere alone without any favor.
The price of an acoustic piano is much higher than the digital.
An upright acoustic piano costs averagely from $1000 to $3000 for the low to mid-rate, while the average price of any digital is $200 to $500.
That CDP 135 has an extremely lower price with the relatively similar quality as acoustic. Why don't you hurry to pick one for yourself?
Best of all, each instrument has distinctive features to fit players demand. You should base on your personal preferences to have the best decision.
It's up to your music genre, proficient level, practice hours, location and your budget.
Particularly, the professional musician often chooses acoustic piano as your partner, while the CDP 135l is perfect for beginners or students.
Conclusion
In conclusion, with superior features and specs to any other digital piano from my Casio CDP 135 review above, it is worthy of the best instrument and a great friend of a piano musician.
Let's try learning playing Casio CDP 135. I believe you will be surprised and interested in its sound. You will feel your life is more wonderful than ever.
Now, don't hesitate to pick one up if you are looking for a digital piano.

Jack is the leading publisher of Fire Inside Music. He is teaching piano at a music school in Los Angeles. Since he was a teenager, Jack has had a great passion for music, the thing he enjoyed most was singing and playing the piano. He has excellent keyboard experience, works with William to help players select the best instrument to invest.