I wanted to buy a piano for my birthday this year, so I visited some websites. I discovered a great piano – Yamaha DGX-660, which comes with brilliant sounds, effects as well as other wonderful features and a user-friendly manual.
It is a flagship piano of Yamaha "Portable Grand" line – one
Whether you play piano for fun or desire to follow the professional path, this instrument can live up to your expectations.
Now, let's start my Yamaha DGX-660 review:
Yamaha DGX-660 Specifications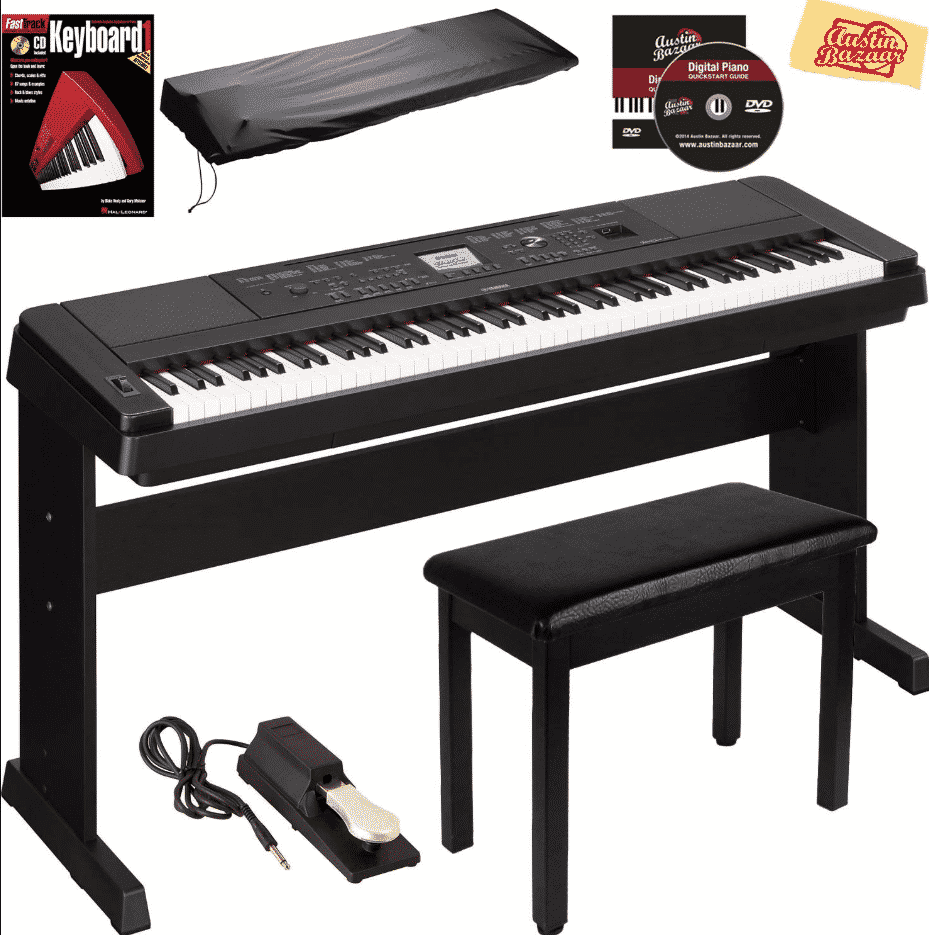 88-key fully-weighted keyboard with matte black keytops
Touch Sensitivity (fixed, soft, medium, and hard)
Graded Hammer Standard action
Display: 320 x 240 LCD (+score or lyrics display function)
Sound: Pure CF Sound Engine
554 built-in sounds (388 XGlite, 15 Drum Kits, 151 panels)
192-note polyphony
100 songs
205 styles (Al Fingered, Full Keyboard, Multi-Finger)
Modes: Dual, Split
Effects – Chorus: 44 types, Reverb 41 types, Harmony: 26 types, Master EQ: 5 types, DSP: 237 types
Metronome, Fine-tuning, Transpose
Lesson Function: Yamaha Education Suite
Speakers: 6W + 6W (12cm x 2 + 5cm x 2)
USB Audio recorder: WAV (44.1 kHz, 16 bit, stereo)
6-track MIDI recorder (five songs)
Connections: Sustain jack, Mic In, Aux In, Headphone jack, USB to Device, and USB to Host
21kg (46lbs. 5 oz); with stand 28kg (61 lbs. 12 oz.)
1.397 x 445 x 146 mm (55" x 17.5" x 5.7")
Our Piano Yamaha DGX 660 Review
In my Yamaha DGX-660 review, the item has the following outstanding features:
Design
As I mentioned, the DGX-660 is a part of the Portable Grand line, but it isn't  completely portable.
Why?
Although the Yamaha DGX-660 is one of the wireless devices, the keyboard of DGX 660 is bulkier compared to other pianos in the same line.
However, this size and weight are standard for a full 88-key keyboard. I don't  recommend this product for someone who needs to move their instrument place to place regularly.
As you reached this line, some of you may want to close the tab, right?
Please be patient!
If portability is a defining factor in your demands, you should consider Casio CGP-700, which consists of similar features but with a compact design, which I will mention in this article as well.
You can expect more wonderful sounds, features, as well as connectivity options in Yamaha DGX 660.
The matching stand is sturdy and well-built enough to hold the big keyboard.
This piano is packed in a pretty big and bulky box (around 100 pounds), so you will need the help of someone for unpacking and assembling the model. The instruction is very clear, so it only takes you about 25-30 minutes for assembly.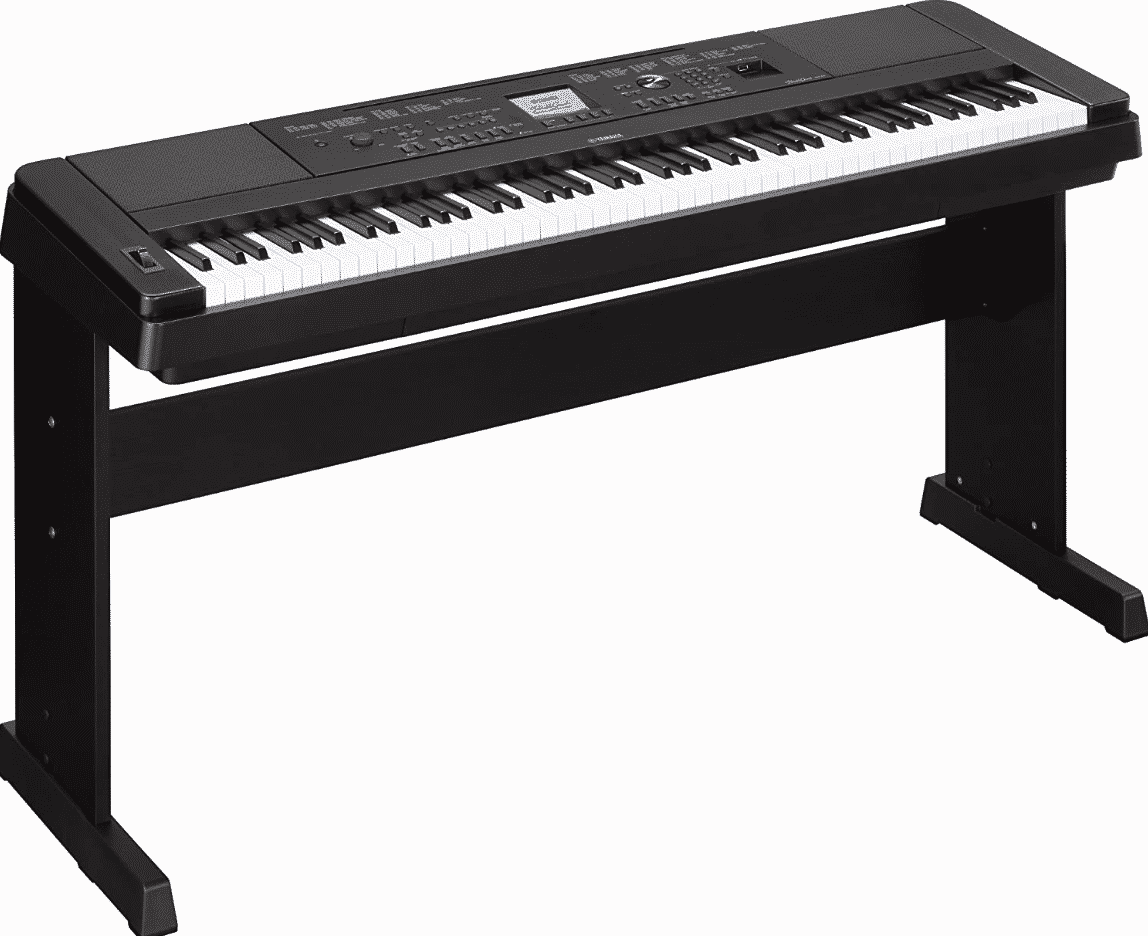 ​Many people consider the DGX-660 decor to beautify their space because of the contemporary-looking design with functional wooden elements (side panels and stand), suiting classic rooms. Moreover, there are available two choices of colors: black and white.
The device is designed with a lot of buttons on the control panel, allowing you to access all the settings and functions in some presses quickly.
Here is my favorite feature:
The 320×240 LCD screen of the DGX-660 allows you to practice with the keyboard at ease because you can see the current settings, the scores, and the lyrics of songs while playing.
Keyboard
The keyboard of the DGX-660 is a touch-responsive device, so the harder you press the keys, the louder the sounds are.
Like the Yamaha P-45 and P115 digital pianos, The DGX-660 also comes with the same keyboard action – Graded Hammer Standard (GHS).
This action uses graded hammers attached to the keys to help you improve your piano performance on the stage.
Thanks to this feature, the control is in your hand. You can play the most expressive sounds, from the softest to the strongest, even the boldest fortissimo.

Depending on the playing style, you can adjust a suitable level of the sensitivity among four settings, including soft, medium, hard, and fixed.
The fixed setting means your keyboard will become non-touch sensitive. No matter how hard you press your keyboard, the volume will stay the same.
The glossy finish of the white keys and the matte black keys will protect your fingers away from slipping when they become moist.
Sound
Like Yamaha P-255, P-115, and pianos from the Arius line, the heart of the DGX also comes with Pure CF sound engine, which can play the meticulously recorded sound of the Yamaha CFIIIS concert grand piano.
It's free to create with the DGX 660 thanks to ten different piano sounds, and hundreds of other instrument sounds.
Please take a look at some among 554 instrument sounds as follows:
​14 Saxophones
9 Trumpets​
16 Strings​
9 Bass Guitars  ​​
14 Guitars  ​​
5 Accordions  ​​
14 Organs  ​​
12 Electric pianos  ​​
10 Pianos (Studio Grand, Warm Grand, Pop Grand, Live Grand, and Natural Grand)
The major library of the DGX-660's sound effects includes exciting and unique sounds:
26 types of harmony effect add harmony notes to your performances.
44 types of the chorus make your sounds richer and thicker by timing variations and simulating the subtle pitch, which is useful for many performers playing the same part in unison.
41 types of reverb help you simulate the acoustics of several environments such as stages, rooms, concert halls, and other exciting reverbs: club, tunnel, basement, and canyon.

Besides, when bending notes up and down, the Pitch Bend wheel of the DGX-660 will reproduce a few exciting effects like choking, vibrato, and guitar.
Meanwhile, Master Equalizer (EQ) is capable of tailoring the sound as desired. It has five types: normal (default setting), soft, bright, piano, and powerful.
DSP (Digital Signal Processing) is used to further customize and transform the sounds over 230 different sounds effects (distortions, echoes, choruses, and reverbs)
Polyphony
Polyphony means many (poly) sounds (phony). It expands from 128 – 192 notes, so feel free to play and layer many sounds at a time. There is no need to worry about notes dropping out because you can use backing tracks as well as accompaniment styles.
Speakers
This model is designed with 12cm x 2 + 5cm x 2 built-in speakers and 6W amplifiers for rich and well-balanced sounds.
This open-faced speaker will direct sounds toward your face to create a clear and muffle-free experience.
The Intelligent Acoustic Control (IAC) function can adjust bass as well as tremble frequencies effectively for clearer and more balanced sounds at low volume levels.
However, these speakers are more suitable for small performances and home practicing. To perform in a bigger space, you should invest in an external amplifier or PA for more powerful sounds.
Features
There are many ways to use DGX-660. Apart from the realistic piano experience, this piano has a lot of features on the arranger keyboard.
It's straightforward to use this product. After pressing the button, the main Grand Piano tone and the optimum settings are ready for you to alter.
You can also change the piano settings to your liking.
Select one of the four following piano types: Honky Tonk, Warm Grand, Pop Grand, and Grand Piano.
Even it's fine to change the lid position to reach the appropriate sound effects.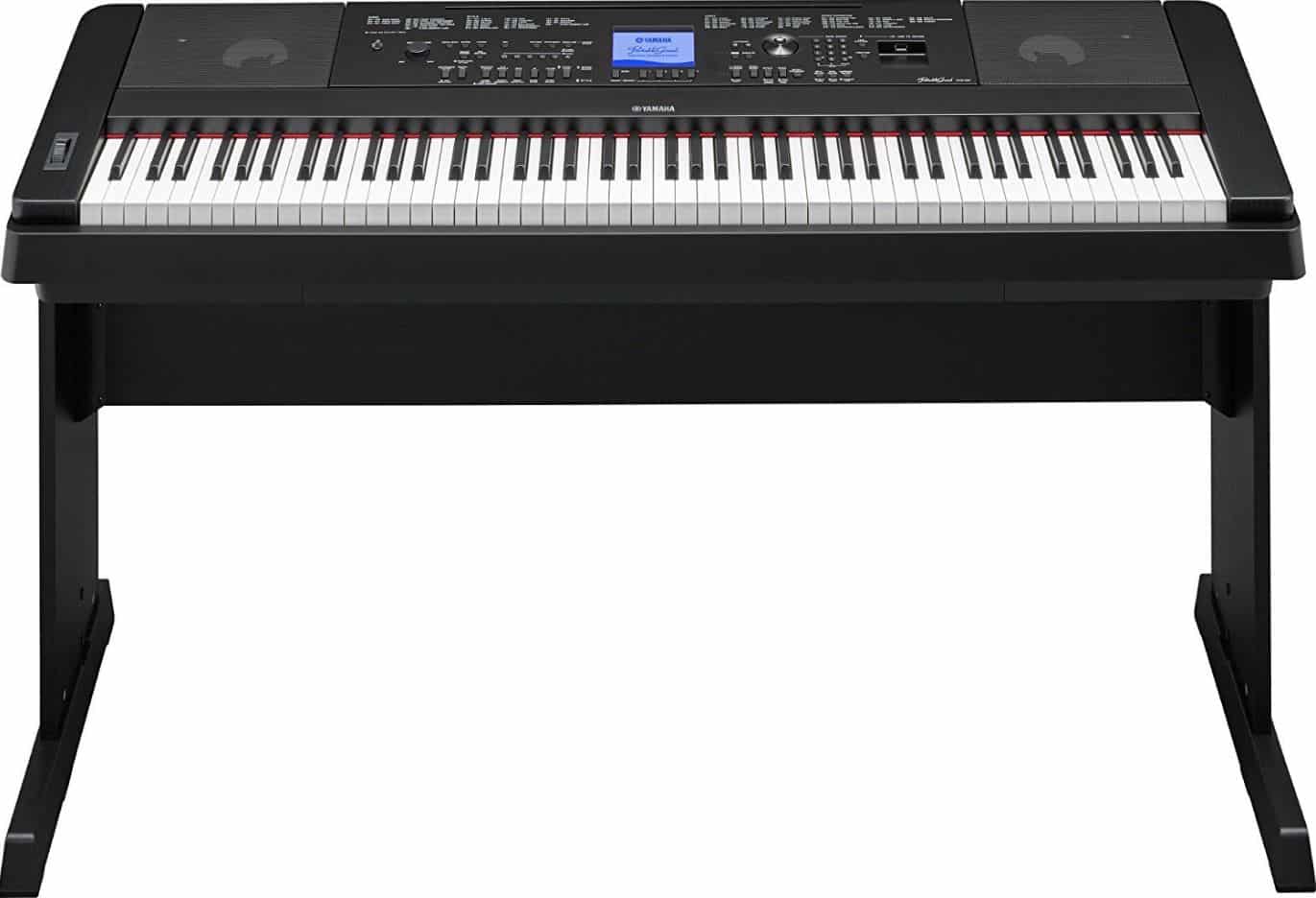 You can also configure the following parameters:
Turning (adjusting the pitch in 1Hz steps)
Touch-response (three levels)
Damper resonance (on/off)
Environment type (reverb): Concert Hall, Recital Hall, Stage, and Room
Modes
There are two modes: split and layering.
The split mode divides the whole keyboard into two sections, allowing you to assign a different instrument sound.
Here is an example:
When you play piano in the right-hand section, you can drum in the left-hand area.
Meanwhile, the layering (dual mode) is also divided into two equal sections. It allows two players to sit side by side to produce two sounds at the same time over the whole keyboard.
For instance, you can combine a harpsichord with an electric piano or put strings over the top of the sound for the best string voice.
Recording And Playback
The DGX-660 allows you to record and playback your piano performance in MIDI and audio formats.
MIDI data doesn't record the real sound of any instrument.
You can play back your recordings through the keyboard or programs of the computer such as Winamp, Quick Time, and Media Player.
The internal flash memory of the DGX-660 allows you to store and record up to five songs. With each song, you can record up to six tracks and play back as one song. Even you can mute what you don't want to hear, such as accompaniment, percussion, and melody.
After recording all tracks, let's adjust the tempo of the song by fast-forwarding or rewinding it, setting an A-B repeat.
Audio means you will record or playback the actual sound of the keyboard.
You can record up to 80 minutes for every recording and save it to a flash drive.
Then, play the music via a smart device such as a smartphone, music player, or laptop. You can share your audio recordings on social media.
Lesson Function
The Yamaha DGX 660 comes with Yamaha Education Suite (Y.E.S), which is useful for beginners.
Why?
You can use MIDI songs, including 100 internal songs or songs downloaded from the Internet. It's easy to apply your right-hand, left-hand, or both-hand lessons.
Keep this thing in your mind:
In left-hand lesson, you will play the left-hand part of the song while the rest t is automatically played or vice versa.
The DGX-660 includes three types of song lessons: Waiting, Your Tempo, and Minus One.
When it comes to "Waiting," as the name suggests, the Yamaha DGX 660 will wait until you play the notes  shown on the screen, then it will continue to playback the song. Furthermore, there is no need to read music because the keys will be on display.
The "Your Tempo" mode requires correct timing and the playback tempo, which depend on the speed you are playing.
Wrong notes slow down the melody while the right ones helps the tempo gradually returns to the original.
The last lesson allows you to play a part of a song (left or right-hand part) along with the playback of another part at the regular tempo.
Other Functions
When performing with a wide range of auto-accompaniment styles and rhythms of the DGX-660, it sounds like you are playing with an orchestra or a band.
Among more than 200 styles of different music genres, I highly recommend three Fingering types:
Multi-finger allows you to play all chord variations, single-fingered/ full chords.
Full keyboard means you can use the whole keyboard range to specify cords.
Al Fingered will try to predict what you want to play next.
In case you don't know which style and voice you need,  choose your favorite music genre (more than 300 variations), and the built-in Music Database will help you set the optimal settings.
The style recommend function helps you pick up a suitable style based on the rhythm you are playing for a few measures.
If you don't know how to play suitable chords or want to try accompaniment, the smart cord which supports you to practice with only one finger is an ideal solution. But, make sure that you know the key of music to play.
The onboard metronome improves the accuracy of your timing and your playing speed.
Transpose or Tuning function allows you to adjust the pitch of the keyboard.
Pros
A major library of songs
A lot of connectivity options
An LCD screen
A sturdy matching stand
An excellent choice for both beginners and professionals
Cons
Heavy
Not too portable
Very basic sustain damper pedal
​The plastic material of the keyboard
Comparison With Yamaha DGX-660
After checking my email, many readers want to know about the similarities and differences of Yamaha dgx 660 vs p115, vs p225, vs Casio cgp-700, here is what you are expecting:
Yamaha DGX-660 Vs Casio CGP-700

First, I will talk about Casio CGP-700, which equips similar features with DGX-600 in a more lightweight and compact design.
Please take a look at their similarities:
Both of them have a versatile keyboard, providing you with a realistic piano experience and many outstanding features for learning and music production.
They have a firm integrated stand combined with two low-frequency speakers (40W of full).
The CGP-700 features the 5.3" color touch screen. Though it is only a non-touch monochrome screen, it is intuitive and convenient.
Compared to the GHS keyboard of the DGX-660, the well-known Tri-sensor Scaled Hammer Action Keyboard II simulated Ivory and Ebony keytops offers a more realistic feel.
​Instead of using the famous Multi-dimensional Morphing Air Sound Source as other Casio digital pianos, the CGP-700 features MXI sound processor (Multi-Expressive Integrated), creating vibrant and natural piano sounds.
This piano doesn't have a Mic In jack, but it comes with a dedicated Line Out jacks.
In sum, the DGX-660 provides slightly more sounds, effects, styles, a better piano sound, and a higher polyphony count.
Meanwhile, the CGP provides more powerful speaker system, a more realistic keyboard action, and a convenient 5.3" touch screen.
Yamaha DGX 660 Vs Yamaha ​​​P115

The learning function of Yamaha DGX 660 is an amazing source for beginner players because it can record many tracks at once.
Furthermore, there are 540 choices of sounds, especially both performance applications and inputs are better than the Yamaha P-115.
Both of them have the similar amount of polyphonic abilities, the key action feeling, and the sampling for the grand piano sounds, but the DGX-660 has more things to present than the P-115.
I love this feature of the P-115 which is lighter almost half than the DGX 660. But, this benefit leads to another drawback that is you can't use P-115 for live performances due to the limited sound options.
Of course, to have these wonderful features of the DGX-660, you must pay more money than buying a p-115.
Generally, the P-115 is a piano designed for learners and beginners while the DGX-660 is for pro players.
Yamaha DGX 660 Vs P225

​At first sight, P225 seems to be bulkier and heavier than DGX 660, but it is only 38 pounds, even the P225 is a portable piano allowing you to carry everywhere.
If you are a minimalist, the P225 is a more suitable choice because of a seven-segment screen. For me, I deeply care about the full dot LCD screen with 320×240 dots of the DGX 660, having more functions.
​Although both of them work with the same sound engine, there is a small difference in the authentic piano sound. The P225 has a slighter feel and sound than the DGX-660.
Read more: Yamaha DGX 650 Review and Top 12 Amazing Yamaha Keyboard
​It's Time To Play!
Yamaha DGX-660 is terrific for both beginners and professionals because of its great features. Although it's pretty heavy, it is worth an investment for the price, right?
Is it great? Do you want to invest in this piano? If you bought it, please let me know your moments and experiences with it in the comment section below.

Jack is the leading publisher of Fire Inside Music. He is teaching piano at a music school in Los Angeles. Since he was a teenager, Jack has had a great passion for music, the thing he enjoyed most was singing and playing the piano. He has excellent keyboard experience, works with William to help players select the best instrument to invest.