Why is the Yamaha MM8 is a great synthesizer?
The Yamaha MM8 came out in 2008 with a classic design like a real grand piano.
The instrument gives you access to great pro-level MOTIF voices, a wealth of sounds, creative controls, rich arpeggiator, full backing for live performance and musical composition, natural touch, and a full-length 88-key keyboard.
Also, it is sold at a relatively moderate price.
Read our reviews to know more about the Yamaha MM8.
Specifications Of The Yamaha MM8
Keyboard: 88-key Graded Hammer Standard (GHS)
Dimensions, Weight: 1,340(W) x 445(D) x 157(H) mm, 15.6kg
Power Consumption: 12W
Connectivity: R (standard phone jack), phones (standard stereo phone jack), sustain foot switch, USB to Device, two foot controller jacks, output L/Mono, Midi In/Out, DC  Inlet
Display: 320 x 240 dot Graphic LCD (Backlit and Contrast)
Accessories: AC Adapter, Owner's Manual, Supplied Disk
Tone Generation Technology: AWM2 with 418 MOTIF-derived voices
The Most Outstanding Features
Keyboard
People always check the keyboard first when they look at an electric piano. It is understandable because they often use this part of the instrument.
The weight and feel of the keyboards of the Yamaha MM8 are similar to those of a grand piano. They are weighted and graded with high notes of lighter feel and low notes of heavier feel.
Sounds
MM stands for "mini-mo". It means the sound setup of the Yamaha MM8 is made based on the typical MOTIF XS series of Yamaha's pro-level instruments.
The Yamaha MM8 sounds live and smooth. The Master EQ and a variety of other quality effects generate these real sounds. Unlike other models, these sounds are categorized for easy searching.
The Yamaha MM8 is an 88-key synth with more than 400 voices and 22 onboard drum kits. This helps you play any style of music and have total control over your sound.
However, the limited 32-note polyphony sound causes difficulty for those who need the keyboard to play live because it lacks the flexibility of the polyphony. However, this sound engine still produces pretty sounds like the guitar patch.
Youtube demo for Yamaha MM8:
Connectivity
The connector system of the MM8 includes a headphones jack, foot controller, sustain, Midi In/Out, R standard phone jack, DC inlet, and USB ports that let you connect to a computer of an external USB storage drive.
The MM8 can work as a MIDI Controller Keyboard via an external USB storage drive to transfer data between devices. The USB connection lets you save all your MIDI songs, pattern files, performance settings, and all other data you have created. Then, you can bring these data to a computer to archive and organize later.
Plus, you can save up a total of 64 performances to the device using a USB memory stick. You can also record up to 5 songs right to the instrument or save a maximum of 400 songs externally via the USB terminal or thumb drive
Outstanding Features
The arpeggiator: It is the most outstanding feature of the MM8. Rich and robust arpeggiator mode (213 different types) provide useful and exciting patterns for song creation. This also makes the MM8 like a pro-grade synthesizer.
The beautiful guitar emulator: It is another exceptional feature of the MM8. When you load the guitar patch in the arpeggiator and play the instrument, you will hear the nuances of a guitar. It sounds smooth, convincing, and realistic at best.
The control knobs: They are also an impressive feature of the MM8. They deliver fairly standard fare. These controls help you customize and manage your sound, attack, release, and filters easily.

Performance settings: What are the performance settings on the Yamaha MM8 intended for? You can use its performance setting to switch between sound sets effortlessly.
You are allowed to record five whole songs on the instrument or save all 400 songs to a USB terminal or thumb drive. It is the must-have feature of any instrument today. The Yamaha MM8 is also used to create songs and make demos.
Playing experience: The MM8 has 22 Drum Kits and 418 Voices. They are created on the realistic sounds of the pro-level MOTIF series synths.
The convenient Category Search function lets you select the kind of instrument you want to play. Then you can choose the specific voices.
The MM8 also has a variety of patterns that come close to the real sound effects, including R&B, Rap, Hip Hop, etc.
Keyboard: A Graded Hammer Standard keyboard offers the natural touch and feel of a real grand piano for the Yamaha MM8.
The lower notes become heavier, and the higher notes are lighter. This gives the player the expressive control over the keyboard with gentle weighted action.
Dimensions And Weight
If you are looking for a lightweight keyboard, consider the Yamaha MM8. Why?
The MM8 is light in weight, only at 34 pounds. It is much lighter than almost every other graded-hammer instrument.
The dimensions of the MM8 (1,340(W) x 445(D) x 157(H) mm) in a lightweight package make it easy for users to carry.
User Manual
The manual is user-friendly and clear to the point. Everything is intuitive and written for musicians.
It does not take a long time to study the manual.
Our Yamaha MM8 Reviews
The Yamaha MM8 has an enormous variety of dynamic, realistic, and plain powerful Voices, which help you create amazing music. The instrument brings you total control with real-time tweakable knobs.
It also gives you unique Patterns that provide full backing – drums, bass, and chords – for your live performance and songwriting.
The Yamaha MM8 will suit the one graduating to a higher level. But a beginner or a pro should find better options within this price range.
This keyboard is designed for those who want a synth with great sound for performances rather than those who desire to use it as a composer/arranger keyboard.
The Yamaha MM8 is a lightweight keyboard that will be easy to carry. It has a luxurious arpeggiator setting, an array of sounds, and impressive effects.
However, it has greatly weighted keybed with Graded Hammer action like a grand piano.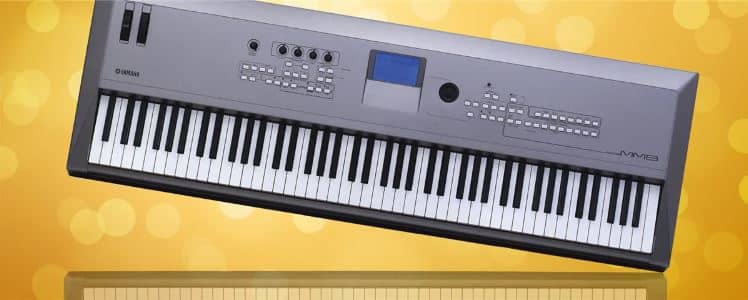 The keyboard has only 32-voice polyphony. It should have been equipped with 64 notes instead. You will find many other competitors with better keyboards than the MM8.
However, you can use EQ settings to apply your own reverb, chorus, flanger, etc. And there is also a host of effects that help you take command over the sounds you need.
In the end, the Yamaha MM8 is an excellent keyboard with fantastic sounds, rich arpeggiator, solid quality, and reliable features. An instrument is a comprehensive tool that you need at a reasonable price.
That is the end of our reviews. And now, let's take a more in-depth look at the pros and cons of the MM8.
Pros
Compact, portable and lightweight for a full size
With 88-key weighted and graded keybeds
Intuitive layout with easy to use controls and interface
Fantastic synth sounds, including fantastic guitar patch
Effects come with an enormous variety of controls
Control real-time sound with the knobs
Incredible range of sounds
Good price
Easy to use interface
Superior arpeggiators work well
Easy to use controls and interface
Cons
Limited 32-note polyphony sound
Some outdated features compared to present-day options
Only a single custom rhythm track uploaded
Conclusion
The Yamaha MM8 is a high-quality synth in the world of instruments. It has a range of great features that suits a specific type of player.
Of course, some players will find the 32-voice polyphony a bit limiting. However, it is not a big concern if you want to take your keyboard out for gigs, and if you have a little experience with a tight budget.
The Yamaha MM8 is the right choice for its best features, reliable quality,  and lightweight package. In case you need an all-in-one instrument at a reasonable price, you will find the Yamaha MM8 to be the right instrument for you.

Jack is the leading publisher of Fire Inside Music. He is teaching piano at a music school in Los Angeles. Since he was a teenager, Jack has had a great passion for music, the thing he enjoyed most was singing and playing the piano. He has excellent keyboard experience, works with William to help players select the best instrument to invest.