Let us introduce you to Casio – a brand well-known for its affordability yet high level of proficiency. Making a name for itself by crafting reliable products that come with a wide range of prices, Casio will not let you down.
So what is the magic that Casio keyboard brings for you this time?
Tada, let's welcome the Casio CTK 3200. If you are new to the music industry, then Casio CTK 3200 will be your optimal choice. It is a basic keyboard, but it has managed to remain popular ever since being launched into the market.
If you want to explore the merits of this product, keep scrolling to find out more.
Casio CTK 3200 Review

2012 marked the year when the Casio CTK 3200 first hit the market. With a price range at around $150, Casio CTK 3200 fits the budget of the majority of customers.
Any further introduction will be redundant because the advantages of this product can make a whole list. So why don't you scroll down and see in details about Casio CTK 3200? Rest assured that everything will be mind-blowing.
Specifications
An Impressive Number Of Songs Available
With 110 built-in songs, Casio CTK 3200 prides itself on the variety of melodies, designed to fit the needs of learners.
Coupled with the Step-Up lesson feature, amateur pianists can play along on these 110 songs without getting lost.
Such an amazing detail for those who wish to take piano-learning seriously, right?
Tones And Rhythms
With 400 Tones and 150 Rhythms, Casio CTK 3200 can guarantee you an exquisite experience with playing the piano. You can adjust your playing style easily, and the versatility of the tones will back you up.
This wide range of voice database makes sure your music can be more expressive, as well as more emotional. Needless to say, playing on a keyboard with 400 tones is much better than something with merely 100 tones, do you agree?
Polyphony
Polyphony refers to the fact that many tunes of music are played at the same time. This technique ensures that piano-learners do not get freaked out when their notes are being incoherent.
To solve the problem, Casio CTK 3200 incorporates 48 different notes to accommodate the needs of players. You will notice a difference when you play on a keyboard with a limited amount of polyphony. The music coming out will not be as layering as the one you play on a Casio CTK 3200.
And do not forget about the pedal! Sustaining the pedal while playing the keyboard will help you achieve the desired effect better. Yay!
MIDI & USB
Nothing sucks as having to download the drive to connect your piano keyboard and end up realizing that you can't do it properly.
Worry not, because Casio CTK 3200 has implemented a MIDI USB port for you!
This MIDI USB port is highly compatible, which means it can fit pretty much every type of USB connections. Both Windows and Mac laptops will be able to connect with a Casio CTK 3200 thanks to this wonderful feature.
AC Adapter 
Unlike most portable piano keyboards who rely on either battery or electricity, Casio CTK 3200 takes a step further and makes sure it can extract energy from both sources.
Don't be too surprised when you find out about the AC Adapter inside the package. This tool allows you to be flexible with how you control the power of the piano keyboard. Now, pianists will have no difficulty in charging the keyboard wherever they go!
Sound Source
AHL refers to Acoustic and Highly compressed Large waveform, which plays the role of the main sound source in every Casio CTK 3200 ever.
The AHL sound source is strengthened by the built-in songs, the polyphony as well as the tones and rhythms available. This feature helps the players to deliver a perfect acoustic performance on stage.
Keyboard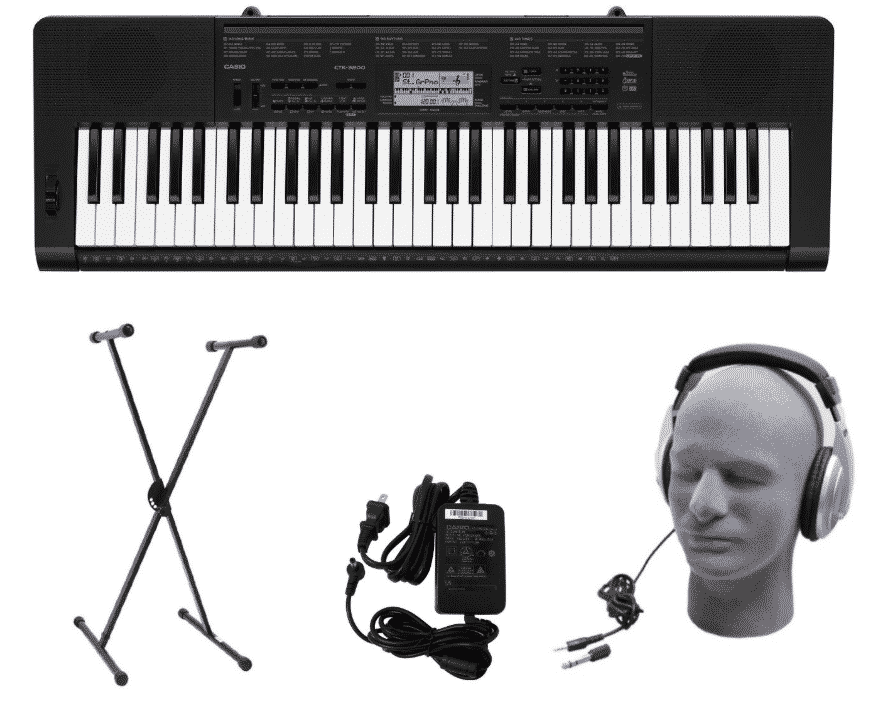 With 61 keys imitating a full-size piano, Casio CTK 3200 makes sure that players can experience an authentic feeling when they flick their fingers through the keyboard.
Besides the convenience, this 61-keyboard piano style has an aesthetic trait that light up the whole scene. Simplicity is the best form of beauty, and Casio CTK 3200 design has certainly lived up to the slogan.
Touch Sensitive keyboard. Casio CTK 3200 incorporates the Touch Sensitive feature on every single key, making it easier for you to play a song effortlessly.
With subtlety and grace, you can run your fingers through the whole keyboard and produce the best sounds ever, without having to bump your palms onto the device!
Digital Effects​
Similar to a guitar, a piano can use a little help from reverbs and other sound effects. With 10 Effects and 10 Reverbs available, Casio CTK 3200 is more than eager to add a touch of ambiance to your melodies.
Jack System
Are you worried that you cannot connect your portable keyboard to another audio device?
Casio CTK 3200 takes care of your little problem with it Audio in Jack.
Now, whether you are trying to connect your keyboard to a CD player or an MP3 player, rest assured that Casio CTK 3200 will not let you down.
You can use the audio port to mix the music available on your other devices, and then play the keyboard on your own to match that particular song.
Sampling 
The jack system we have mentioned before plays a vital role in the sampling function here. Once you have connected the Casio CTK 3200 to a musical device, all you have to do is to open a piece of sample music on that device.
The speakers on the keyboard will then play out loud the sample, and it is up to you whether you want to play along or not. Feel free to add in new tones or sounds, everyone. You can even show your music mixing skills by adding your performance to the sample.
Music Challenge Feature 
If you want to have a test on your musical skill, Casio CTK 3200 will gladly welcome you with its Music Challenge.
Once you activate this feature, multiple notes and keys will appear on the LCD screen display. If you want to win the game, you have to use the correct fingers to press the correct key. Not only is this game challenging, but it can actually help you increase your reaction to music.
Step-Up Lesson 
You don't have to hire a professional pianist if you want
to master playing the keyboard. Why don't you have a look at Casio CTK 3200 and see why this feature is excellent for your musical tutorial?
First off, once you choose to activate the Step-up Lesson, the keyboard will pick out a song or a melody.
It will divide the song into smaller parts so that you will not feel overwhelmed by practicing a lengthy piece of music.
With each fragment, you will have a chance to listen and memorize the tunes.
Afterward, the LCD screen will display the keys required to compose such a song. You can choose to watch, or you can watch and play along at the same time.
Finally, let's move to the final step. If you are confident that you have remembered the keys of a certain part of a song, you can start playing on your own. There will be no display or visual support, you have to do things on your own!
Dimension And Weight
Casio CTK 3200 comes in the size of 44 x 8 x 21 inches. The weight of the product is 21 pounds, which is pretty lightweight compared to other competitions.
Pros
Affordability.
User-friendly interface.
Package includes an X stand, headphones, and an AC Adapter.
Lightweight and highly portable.
Sensitive keyboard.
Compatible with different music devices.
Comparison
Casio CTK 3200 Vs Casio CTK 3500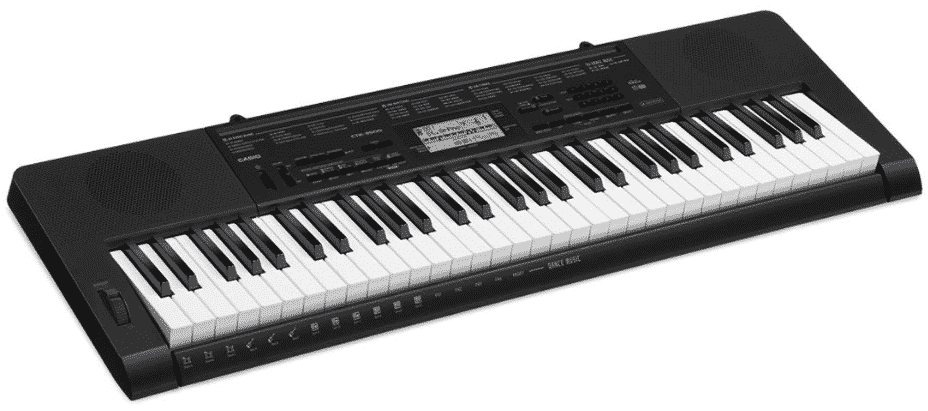 Since Casio CTK 3500 is an upgraded version of Casio CTK 3200, so there will be certain differences.
However, when it comes to built-in songs, Casio CTK 3500 has only 60 choices compared to 110 songs provided by Casio CTK 3200.
Besides this minor difference, Casio CTK 3200 and Casio CTK 3500 are relatively the same.
If you want to be economical, you may as well choose the former because it is on par with the other model.
Read more: Casio CTK 6250 Review
Casio CTK 2400 Vs Casio CTK 3200

Because they both come from a same brand, Casio CTK 3200 and Casio CTK 2400 share the black-and-white outer coat. There are some features that these two models have, such as the 61 piano keys, the AHL system and the sampling function.
However, since the Casio CTK 3200 is an updated version, it has some details that the Casio CTK 2400 lacks.
The 2 levels of touch sensitivity or the music games included in the machine are what Casio CTK 2400 does not have.
Vice versa, the Casio CTK 2400 has a more advanced sampling function compared to its counterpart.
Its sampling tone can go up to 10, while the Casio CTK 3200 does not include this detail.
For further information about this model, we've written a specific review for the CTK 2400. Please check the review and let us know your opinion when compare it with the 3200 at the comment below.
Conclusion
If you want to see more details about this product, let's have a look at Casio CTK 3200. We highly recommend that you try it out, as it will be a worthy purchase.
While some people may get put off by the idea that cheap products are failures, Casio CTK 3200 defies the odds by being a highly proficient piano keyboard.
We would like to mention once again about the notable features of a Casio CTk 3200. The keyboard consists of 61 keys crafted in Piano Style, and guess what? All of these keys are Touch Sensitive, meaning you don't have to press too hard to produce a sound.
With 400 Tones and 150 Rhythms, Casio CTK 3200 makes sure you can practice playing with a variety of choices. So what are you waiting for? Let's give Casio CTK 3200 a try and experience everything with your hands.
Should you find our review helpful, please do not hesitate to share it around. It is 2019 and sharing is loving!

Jack is the leading publisher of Fire Inside Music. He is teaching piano at a music school in Los Angeles. Since he was a teenager, Jack has had a great passion for music, the thing he enjoyed most was singing and playing the piano. He has excellent keyboard experience, works with William to help players select the best instrument to invest.