Do you love piano songs? Do you feel that piano sounds are extremely powerful in reducing your stress? When you are tired, bored, annoyed or under pressure, a gentle piano song can help you to calm efficiently.
Playing piano instrument is also an excellent idea, which not only improves your brain capacity, your memory but also increases your concentration on working. Those who can play an instrument are often admired by most people.
Now, let's choose for you an easy-to-play piano and start learning. I think your life will be more colorful and wonderful than ever. If you are stuck in the various options on the piano market, keep an eye on my Alesis Recital review. That will give you an awesome reference.
Product Overview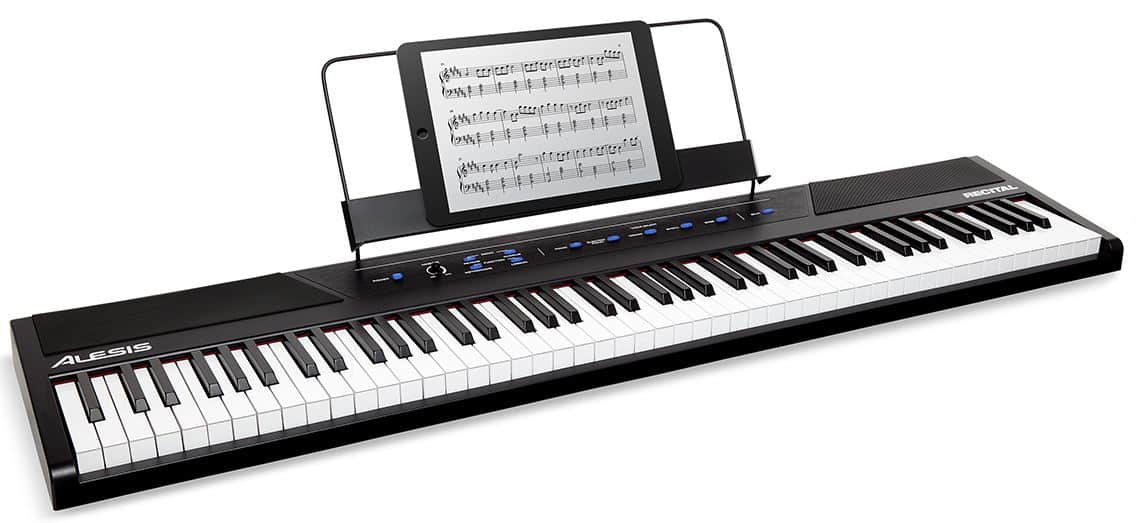 The Alesis Recital is a reliable beginner digital piano. This piano is often designed for educational purpose with outstanding specs and features such as an 88-key keyboard with full size and semi weight, premium and realistic sound, affordable price. It will help you to progress quickly even you start learning.
Built-in speakers, 128 polyphony notes, multiple output, and connectivity will make Alesis Recital to have the best performance. To know the reason why Alesis Recital is the perfect choice for a beginner, let's follow my review carefully.
Remarkable Features And Specs
Keyboard: 88 keys with full size and semi weight
Optimal sound: 5 realistic built-in voices (acoustic piano, organ, electric piano, bass, and synth)
Maximum polyphony: 128 notes
Connection: RCA stereo output and USB – MIDI connectivity (not included pedal input)
Chorus and reverb effect
Standard, lesson, split and layer mode for the educational purpose
20W built-in speakers
Dimension: 50.5" x 11.5" x 3.96", weight: 15.7 lbs.
The Reason You Should Choose Alesis Recital
Full-Sized Keyboard
You will be impressed at first glance due to a fantastic style of Alesis Recital: simple and modern. The full-sized and semi-weighted keyboard with 88 keys is the perfect tool for beginners to improve their finger skill. The key sensitivity is quite adjustable from low to high level.
Moreover, this keyboard also generates the amazing timbre due to the combination of 5 instruments such as organ, bass, synth, electric piano and acoustic piano.
You can pick an acoustic piano voice for rich, full tone, organ voice for vintage timely sound or synth option for techno feel. An electric piano voice will give players the feel of rich, cool pop or the bass voice with awesome low-end tone.
Optimal Sound Performance
In addition to the amazing voice of 5 instruments, the polyphony with 128 notes will bring the excellent performance. You will be satisfied with its overflowing timbre like a real acoustic piano.
The customization capacities of reverb and chorus make your sound flourish. Furthermore, two 20W built-in speakers can promote the sound more realistic for awesome playing experience.
Thanks to layer mode, you can mix 2 different sounds like your preference or test the flexibility of your musical item. The split mode is useful in separating 2 voices over the right and left side. You are likely to have more chance to practice on your piano with 60 default songs and 2 demos.
Portable Feature And Educational Purpose
With the size of 50.5" x 11.5" x 3.96" and weight of 15.7 lbs., it's rather portable and convenient for you to go anywhere like school, church, … You can install the stand for it if you want.
You don't need to worry about the playing interruption due to the battery. With 6 D-cell batteries, your piano can be played throughout the day as a smoothly and portable running piano.
As I've said that Alesis Recital is created for education, so it also includes lesson mode. This mode dividing the keyboard into 2 areas will allow students and their piano teacher to play together for effective training. This makes the learning process simpler and hastener.
Online Instruction Tool – Skoove
This digital piano also has an online tool for keyboard – Skoove, which can give you some manual instructions to advance your musical expertise and gain your goal. You just set the learning tempo as you want and practice. Additionally, Skoove can hear your playing sound and feedback by setting the tempo that's appropriate for your level.
Realistic Effect And Adjustable Built-In Metronome
Chorus effect, reverb, and pedal resonance combine to make the amazing sound. These effects will make your sound more expressive and creative. Besides, the built-in metronome with the range of beat from 30 to 280, so you can adjust manually to match your learning style for excellent performance.
Multiple Means Of Connectivity
These means allow your Alesis Recital can connect to other devices easily such as power plugger, headphone, USB, and MIDI. Headphone output can help you to play privately and silently without being influenced by surround sound or disturb other people with your sound.
Sustain pedal can allow the synthesizers, consoles, recorders, speakers and other devices in the sound system to connect with your digital piano. USB connectivity makes the recording into a digital audio spread out MIDI easily and directly in your track. From that, you can write the different smooth tunes.
Furthermore, the digital piano MIDI is intended for live performance. RCA stereo output at the rear of the keyboard can help you to plug into speaker or amplifier system with RCA or AUX input.
​
Pros And Cons
Things We Like
Affordable price for beginners
Lightweight for great portability
Realistic sound with full-sized keyboard
checkMultiple output options
checkHeadphone output help to play without annoying around people
checkCompliant with Skoove
checkFlexible power
Things We Don't Like
A sustain pedal is not included, so you must buy separately
Few sample tones
The external sound system is needed for louder sound
In general, with the pros and cons above, I guarantee this Alesis Recital sound will meet your all hard requirements, especially the low price. With this affordable price, you will be surprised by the great sound performance. It's a perfect choice for beginners to pick up.
Compared With Some Related Product
Vs Alesis Recital Pro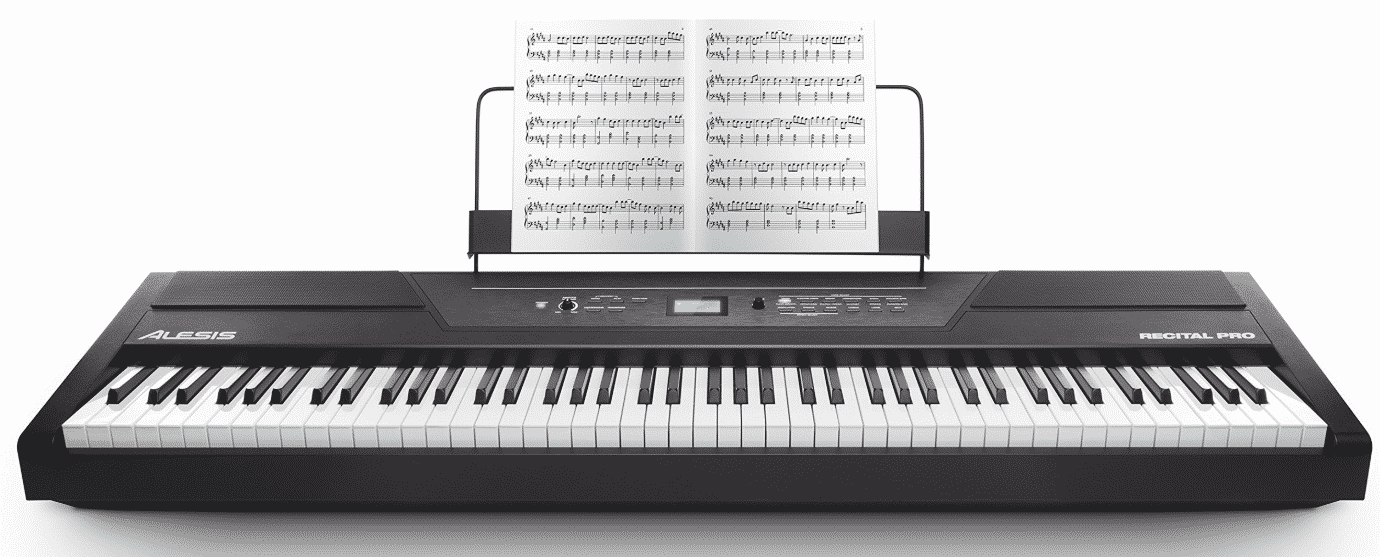 Impressive Features And Specs
Keyboard: 88 keys with hammer action
12 built-in voices: Electric piano, synth, acoustic piano, acoustic piano (bright), vibraphone, harpsichord, organ, church organ, strings, clavi, fingered bass and acoustic bass
Built-in 20W speakers
Lesson mode and record mode
Chorus and reverb effect, adjustable modulation
USB-MIDI output
Maximum 128 notes polyphony
Generally, Alesis Recital and Alesis Recital Pro look rather similar with some same features.
Both of them have a keyboard with 88 keys, but the keyboard normal Alesis Recital is full-sized and semi-weighted while the Pro has hammer-action keys with adjustable touch response.
Maybe, you feel the sound from the hammer action greater than normal. However, it's up to your sound requirement.
The combination of 12 instrument voice: electric piano, synth, acoustic piano, acoustic piano (bright), vibraphone, harpsichord, organ, church organ, strings, clavi, fingered bass and acoustic bass will provide the excellent performance.
While the Alesis Recital has only 5 instrument voices, so the sound quality couldn't be better as the Pro.
Also, there are other similar features in these both digital pianos such as built-in 20W speakers, 128-note polyphony, lesson mode, chorus and reverb effects. In general, under sound quality consideration, the Pro digital piano is more ideal than the normal.
However, everything has distinctive pros and cons. The price of Pro piano is much higher than normal. Hence, if you are in the tight pocket, the Alesis Recital isn't a bad option for beginners.
Check Alesis Recital Pro on Amazon
Vs Williams Legato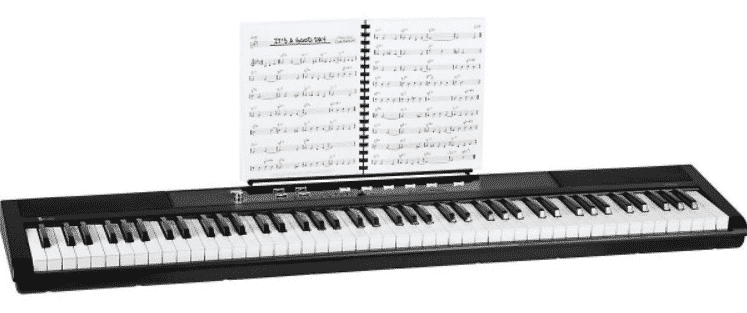 Impressive Features And Specs
Keyboard: 88 keys with semi-weight
32-note polyphony
Dimension: 50" x 3.5" x 11" with the weight of 19 pounds
Sustain pedal
5 built-in voices
Spit and layer mode
Reverb and Chorus effect
Let's compare the Alesis Recital vs Williams Legato to see the superior features between two digital pianos. These have semi-weighted keyboard with 88 keys that you will find it not too difficult or sensitive to press. The built-in speaker output and metronome also improve your created sound better.
However Williams Legato has polyphony with only 32 notes while Alesis Recital polyphony is up to 128 notes. Therefore, the performance of this Recital is more fantastic than the Legato.
Furthermore, this William Legato is heavier with the weight of 19 pounds. It's not portable and convenient to go with as Alesis Recital.
At the relative same reasonable price, the quality of Alesis Recital is greater. Do you have your selection?
Vs Yamaha P45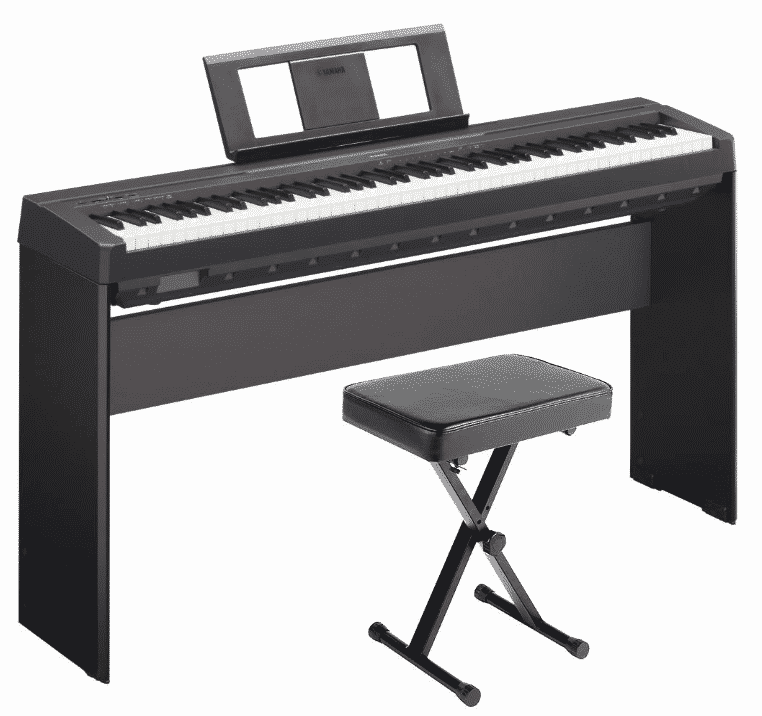 Impressive Features And Specs
Keyboard: 88 keys  – graded hammer standard weighted action
64 polyphony notes
10 built-in tones: 2 grand pianos (bright and concert), 2 electric pianos, 2 harpsichords, 2 pipe organs, vibraphone and strings
Weight: 25.3 bl.
2 6W built-in speakers
The keyboard of this P45 has the lighter touch for high end and heavier for the low end. This like-acoustic piano feature brings the more authentic sound than Recital.
Thanks to 10 built-in instrument tones, the sound quality is likely more perfect than the Recital of just 5 tones. However, the Recital has up to 128 polyphony notes, which allow you to play the more complex classical pieces than P45.
The 6W built-in speakers generate the sound not as well as the Recital with 20W speakers, so if you want to listen louder sound, you need an additional speaker. It's so heavier than Recital for portable movement.
The price of P45 is reasonable for beginners, but the price of Recital is much lower. With the price and recommended feature, you should consider which can fulfill your requirement to have the best digital piano.
Read more: Yamaha P45 Review
Conclusion
After reading my whole Alesis Recital review, are you attracted by the remarkable features of this fantastic digital piano?
Choosing a digital piano is quite challenging and never easy. I hope my review will shorten your seeking-piano-for-beginner journey.
This Alesis Recital piano will help you to experience the wonderful learning and playing time. Why don't you hurry to get hold of an Alesis Recital when you have demand on buying a digital piano and recommend your friends as well?

Jack is the leading publisher of Fire Inside Music. He is teaching piano at a music school in Los Angeles. Since he was a teenager, Jack has had a great passion for music, the thing he enjoyed most was singing and playing the piano. He has excellent keyboard experience, works with William to help players select the best instrument to invest.