Are you new to the world of musical instruments? Or, you want to buy your kid a digital piano.
So, the best way is to go with Casio- one of the high-quality and reliable instrument brands worldwide.
Making music has never been easier with a perfect digital instrument. And, this Casio SA-76 will be one of the most fantastic options for beginners.
This Casio sa 76 review will let you know why this music making tool is a must to all new music makers.
Specifications
The fact is that Casio pianos and keyboards have been proudly displayed across the market for decades.
Their high-quality instruments make Casio a trusted brand that meets the requirements of people all around the world.
Today, let's go deeper to the features and specs of this fantastic music-making tool!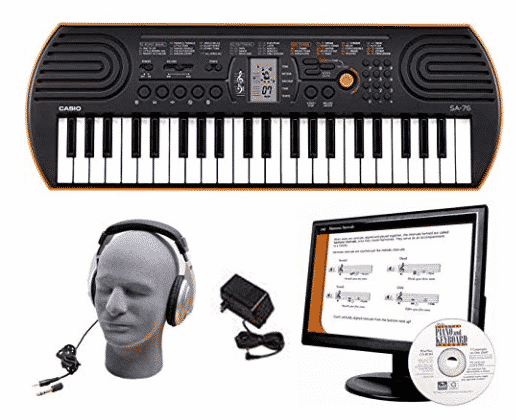 Sounds
Though this mini digital keyboard is slightly smaller than others, you should not ignore this product.
The 44 mini-sized keys with amazing functionality turn the keyboard into the perfect ultimate portable beginner keyboard.
This keyboard comes with 10 demo songs, 50 rhythms, and 100 built-in tones.
The most outstanding sound is the Grand Piano sound, which is precisely out of this world. Just try it and see the result!
Above the keys, there are 5 different drum pads to quickly help the users identify the sounds they want when playing them.
And you can expect more than that.
Design And Outlook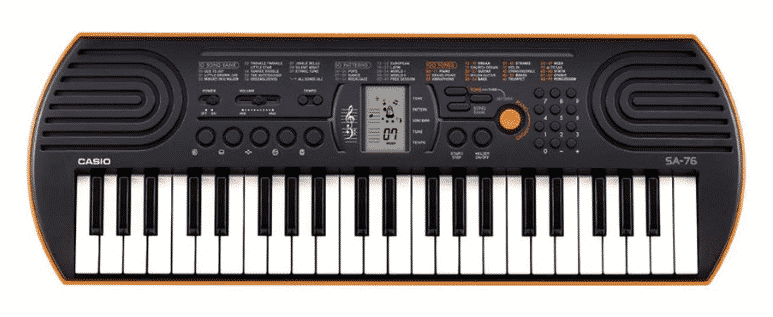 The Casio SA-76 does not come with a sophisticated look. Casio made this black with a brown underside. Kids will quickly fall in love with the simple design.
Two speakers on the keyboard's sides deliver a suitable output of 1.2 Watts.
So, that's enough for beginners.
Casio designs the tool with a lot of knobs and buttons on the control panel.
You may be impressed with the LCD. With this appealing addition, the users will easily navigate the keyboard.
Features
10-song bank, 50 patterns, 100 tones
44 mini-sized keys
Tone, tune, pattern buttons, and song bank buttons
5 drum pads
2 x 1.2W speakers
Weight: 3.1lbs
Overall dimensions: 23 13/16" x 8 5/16" x 2 1/4"
8-note polyphony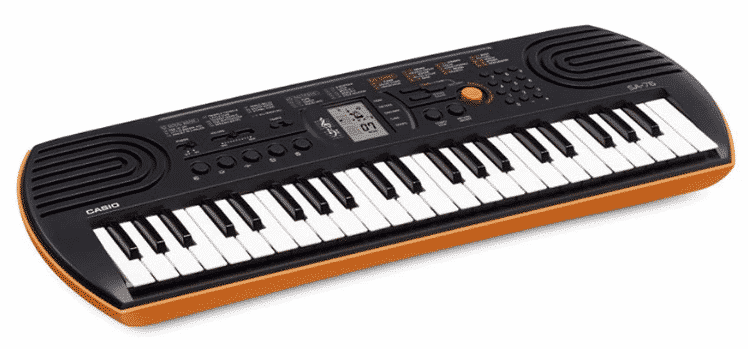 Connectivity 
The Casio SA-76 comes with limited smart functions and perfect connectivity.
Unlike other regular full-fledged digital pianos, this keyboard won't come with any port for computer or USB connectivity.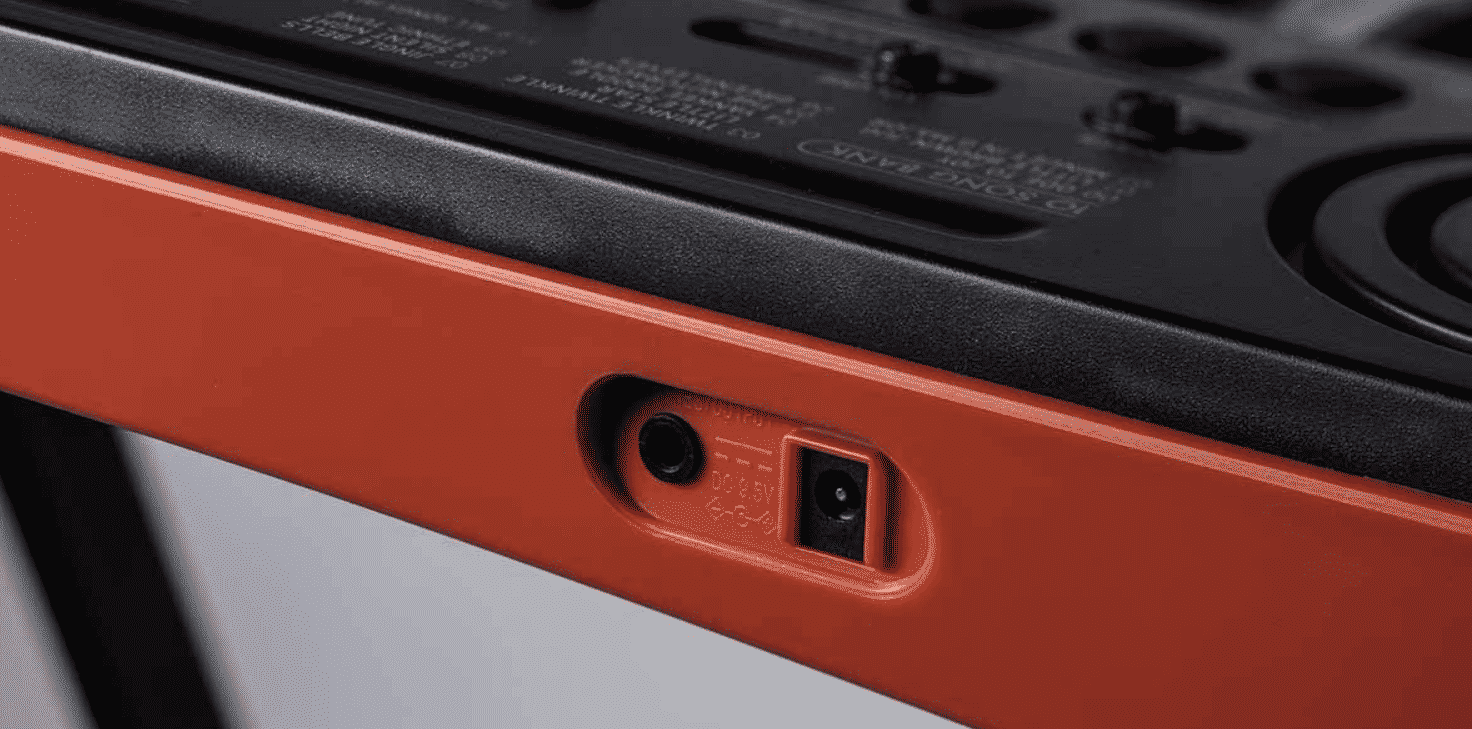 However, the headphone jack will keep your playing time private and avoid disturbing other people.
Keys
Coming with 44 keys, the Casio SA-76 is perfect for all young piano players. The small set of its keys makes it much easier for the players to focus on where they place their hands.
And, users will meet no difficulties stretching their fingers to anywhere on the keyboards. Sounds good, right?
Learning Function
Yes, we can't forget to mention the Melody Cut Rehearsal System an advanced learning function on the keyboard.
Even when you have just started your music-making journey, you can build your piano skills quickly.
This system will help you practice by playing the right hand first. And, when you improve, you can move on to the other.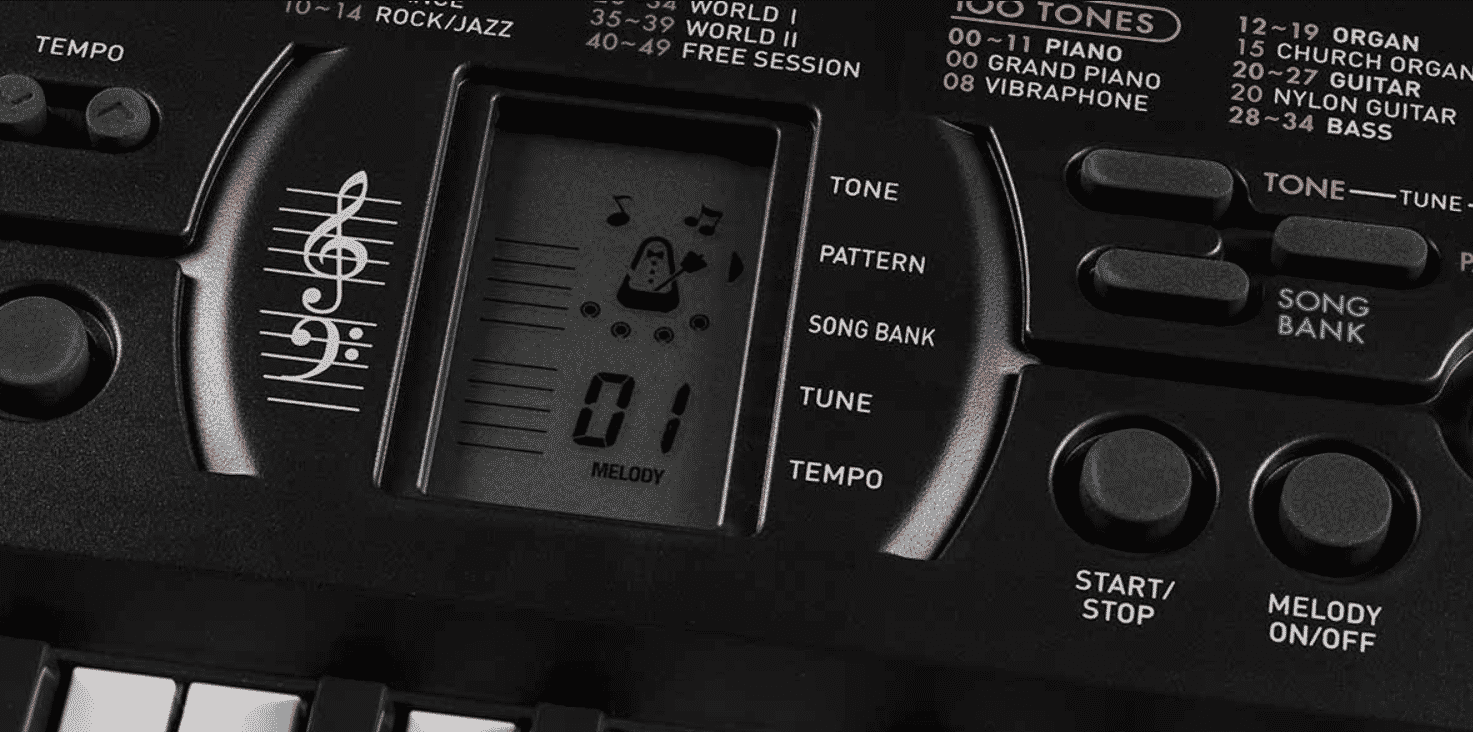 Waste no time on sophisticated pianos! The useful user manual will be beneficial for you to start producing awesome sounds instantly.
Our Casio SA 76 Review
Well, we seem to mention a lot about the features of the keyboard on the previous part.
So, it's time to go further into the details on how we feel about the tool and the main benefits it brings to the users.
Let us tell you through this Casio SA 76 review!
Amazing Portability
At the very first time you look at the Casio SA-76, you may notice that it is compact and lightweight.
Generally speaking, it is one of the most portable freestanding keyboards that exist.
With only 25 ½ inches in length and 10 inches in width and 4 pounds in weight, feel free to carry it around the house or anywhere you want.
And, you won't have to think about ways to store or place it since it easily fits almost anywhere in your home.
And, think back to the list of all the digital pianos you've ever played in your life, this one is exactly one of the most compact music making tools you've ever had.
A Mini Library Of Awesome Sounds
Surprisingly, there are 100 tones offered by the Casio SA-76; this number is higher than that of most digital pianos on the market.
And, you can try to play your favorite songs out of 50 different rhythms contained.
They are wonderful and viable options for a young musician with a good sense of composition and rhythm when playing his music.
Try salsas, waltzes, ballads, and other possible modern rhythms too.
Moreover, the 10 practice tunes and 5 different drum pads allow the beginner to hear the sounds when the keyboard is played and try to play along with.
Also, the piano contains five different drum pads.
Easy 
Playability
This 44-key keyboard with absolutely no sensitivity may not be an ultimate choice for a professional, but this one is perfect for beginners, especially kids and small people.
Simply pick a tune, make it match some beats, and get ready to play heart-shaking sounds.
Long-lasting Battery 
Hmm. This keyboard comes with a matter of concern, which is the lack of power adapters.
You may not find it convenient when you have to spend money on buying a separate adapter to plug it in.
However, batteries last quite long, which is enough for its size.
And, for attracting the intended audiences, it is not entirely necessary to waste your money for power adapters.
You may not need an adapter since the equipment already comes with one perfect set of batteries to play along.
What We Like
Offer plenty of amazing sounds and effects.
Portable, even for kids & reasonable priced
The self-teaching system ensures a more comfortable learning process.
Amazing connectivity & functions.
Easy to use
Provide enough voices, rhythms,  and tunes to keep the users entertained for hours
Demo songs → easier practice without a tutor.
The LCD screen makes it convenient to control while playing.
What We Don't Like
Doesn't come with available power adapters
Need to offer more built-in songs that fit the music taste of adults
It is better with the midi outputs, device function, and available music programs
No memory card on the device, too much space is for the speakers
Casio SA-76 Vs. SA-77
Yeah, as you may know, the SA-77 and the SA-76 is brothers in a family. You may mistake one for another at the very first time looking at it since they are visually similar.
But, today, we will show you what we've found after doing enough research on these two. Let's start now!
Sounds
Both the SA-76 and SA-77 are built with 50 different patterns, a 10-song bank, and 100 tones to play along.
You can comfortably play with the demo practice program/tutorial, even for those who are just new to the world of musicians.
One thing is that both two models ensure that the players will play clean and vintage sounds, which are pleasant to your taste and ears.
That's what even the lifelong musicians appreciate.

Display
The SA-76 seems to stand out from the SA-77 in this aspect. While it visually stands out with the large screen in the middle part, the SA-77 gets the smaller one.
Thanks to the bigger LCD screen, the users can display the tones, patterns, songs, tunes, and tempos easily.
Keys and Buttons
The Casio SA-76 also comes with a large orange button with 3 settings of piano/organ/harmonium, which are applied to the two different piano/organ settings.
The buttons and features of the two machines still stay almost the same and at the same place.
And, a lot of customers say that this seems to mark the recognition of Casio on the market.
Moreover, there are some more that you can feel impressed by the two versions.
For example, the cool pedals, musical toys, switches, and some awesome stuff plug into a headphone jack.
And,  the possibilities of the two piano versions are just endless.
They also offer videos online, which can be run through line devices or a PA system.
Sum-up The Comparison 
Yeah, now, you know that the battle of the SA-76 vs. sa 77 or vs. sa 78 seems to last forever. Also, the results of this round are tight enough.
And, we won't set any standard for a perfect keyboard so you can choose the one based on your priority and needs.
How about the SA 76, SA 77 vs SA 46 or vs SA 47. Please go for this SA 47 review. We got all the information you need there.
In Conclusion
So, now, it's time to sum this Casio sa 76 review up. Beginners will have a fun time playing this keyboard thanks to its play-ability, amazing sounds, and the user-friendly design.
And, one thing we should take note is that this compact keyboard price will not break your bank account. It's one of the best keyboards at a reasonable price right now.
Just tick it on your musical instrument list, and you will surely not waste your money. Trust us!

Jack is the leading publisher of Fire Inside Music. He is teaching piano at a music school in Los Angeles. Since he was a teenager, Jack has had a great passion for music, the thing he enjoyed most was singing and playing the piano. He has excellent keyboard experience, works with William to help players select the best instrument to invest.