​Are you planning on buying a digital piano to train your creativity with music? And are you primarily looking for an excellent instrument from Yamaha?
Check out this in-depth Yamaha MOXF8 review to make the best decision!
Based on the Motif XF workstation, Yamaha introduced this exceptional MOXF8. When creating this 88-key instrument, Yamaha aimed at minimizing the weight and price, while maximizing the features and performance.
So, did it succeed?
To answer that question, below are all about the good and bad of this Yamaha MOXF8 as well as some comparisons with other top quality music workstations in the market. Let's begin!
An Overview: What Is Inside Yamaha MOXF8?
First of all, before jumping to the review, let's take a look at some specs of Yamaha MOXF8! Below are what you will get when purchasing this digital piano:
88-key Graded Hammer Standard (GHS) keyboard
Two 1GB additional flash memories allowed
Sounds: 741 wave samples, 128-note maximum polyphony, 1150 different tones, 16-part multi-timbral capacity, 8000 different phrases
Connectivity: USB Audio/MIDI interface
Package: external AC adaptor, USB cable, DAW / VST software bundle, user manual
Dimensions: 60 x 20.2 x 11 inches
Weight: 14.9 kg (32.9lbs)
Our Yamaha MOXF8 Review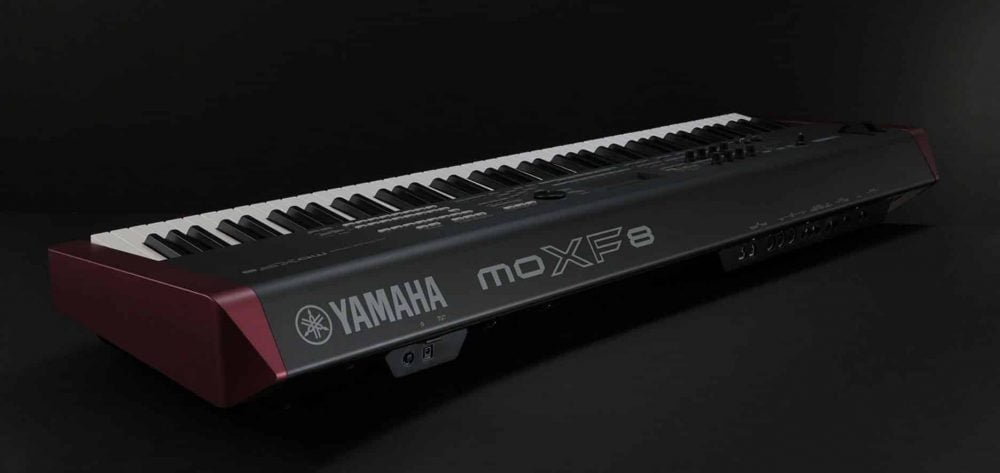 It's time for our in-depth review of the Yamaha MOXF8. Now, we will discuss more details on some essential features of this music workstation!
Design
As you can see, the Yamaha MOXF8 has a stylish dark appearance, which mainly takes after its father – the Motif XF. The arrangement of buttons and wheels on the instrument is also quite similar to Motif XF.
The most remarkable thing about the design of Yamaha MOXF8 is its weight. This keyboard is incredibly portable and compact. Only 14.9 kg heavy, Yamaha MOXF8 enables you to bring your music on your trip freely.
However, there is a tradeoff for this lightness. To reduce the weight of the chassis, Yamaha decided to build it with plastic materials, which are usually considered a minus of quality.
But still, the plastic doesn't affect its splendid look! Also, the keyboard seems to be amazingly long-lasting.
Keyboard
With the 88-key version of Yamaha MOXF, you will receive the Graded Hammer Standard (GHS) keyboard.
This keyboard takes a significant part in reducing the price of the workstation down to a surprisingly low level.
This choice was a wise strategy of Yamaha to make the item more attractive to buyers.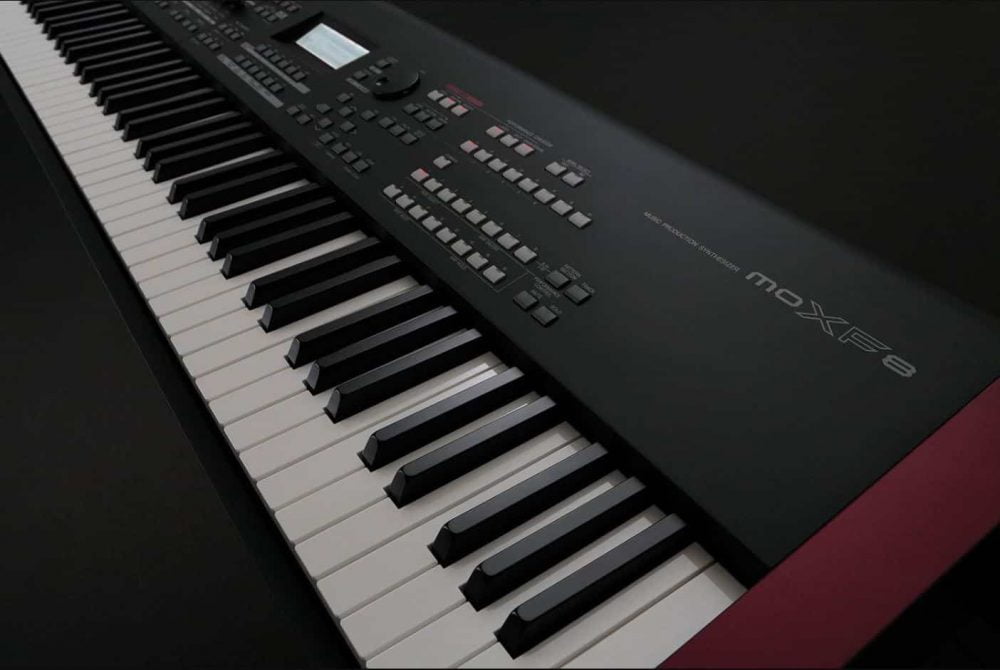 But in return, the performance of the keyboard is not as excellent as its competitors who use the weighted hammer action keys.
There are some reports that the keys are a bit stiff to play; however, they do not cause any dramatic problems to the musicians. Therefore, this Yamaha MOXF8 is still a great bargain, compared to tons of features that you will get.
Sound Quality
Here comes the best part of this Yamaha MOXF8. The sounds produced by this digital piano are out of heaven!
In this model, Yamaha offers an enormous array of voices, along with numerous novelty sound effects. Pianos, electric pianos, strings, wind instruments, orchestral sounds, guitars, basses, and drums are just some of those voices available.
Also, you will receive the unique vintage and modern synth sounds to assist your music production. No matter in what style you play music, this Yamaha MOXF8 can always meet your needs.
But that's still not all!
In this MOXF8, Yamaha added the state-of-the-art Performance mode. What can you do with it?
Turn it on, and you can mix up to 4 voices together on a single MIDI channel only. Playing layer sounds is now nothing out of a digital piano's reach! And your creativity is also unlimited!
With a super reasonable price at just under $2000, imagine how much fun you can have with this Yamaha MOXF8!
Memory Expandability
The next thing that we want to discuss in our Yamaha MOXF8 review today is the flash memory expandability.
When playing a digital piano, it's vital to have massive external storage for additional voices that you may need to make music.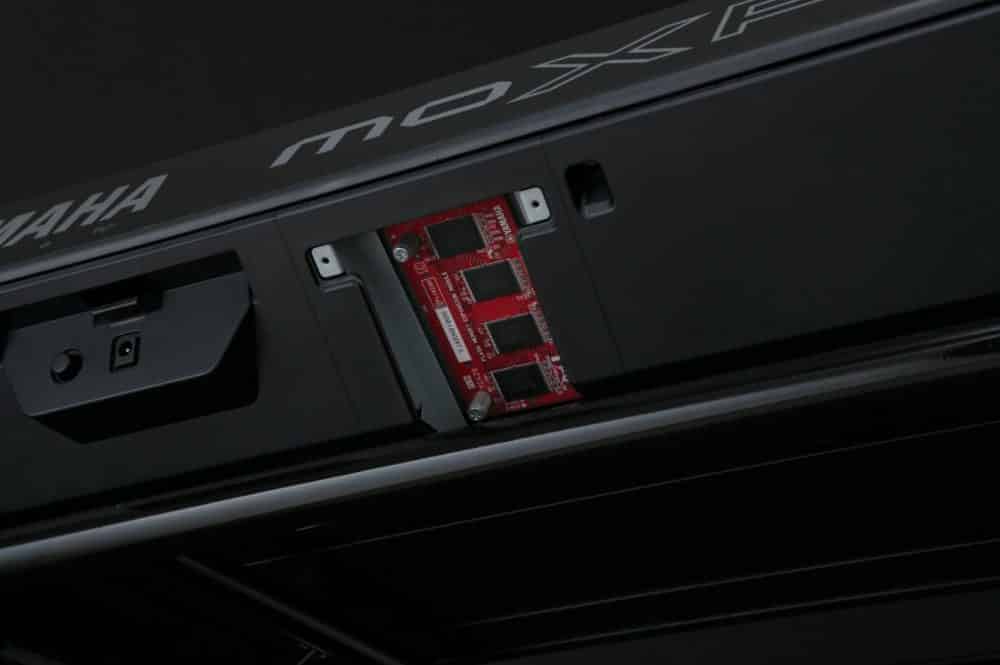 So, what is special about Yamaha MOXF8 memory expandability?
This instrument allows you to install up to two flash memories for heavy-duty uses.
The maximum capacity of each flash memory can be up to 1GB. Now you can have everything you need in this item.
But the best thing here is: You may not even need any extra flash memory! Why?
Inside this music workstation, you will find an incredibly colossal sound list that contains almost everything you need to make music. From tones to waveforms and phrases, Yamaha has prepared all for you.
Music Software Pack
Another feature of Yamaha MOXF8 that you also need to know is the music production software that comes with it. This workstation provides a large bunch of innovative tools for music-making.
Some of them are the MOXF Editor and MOXF Remote Editor. These are convenient and useful programs that help you polish your music in the best way.
And the one in the list that we found most noteworthy is the Cubase AI 7. This is an updated version of Steinberg's DAW (Digital Audio Workstation).
Made for Yamaha devices, this program is an ideal assistant in recording music, adding effects and other editings necessary.
On top of that, you can also use it to record different instruments, and then transfer the record to your computer.
And how to transfer data from the Yamaha MOXF8 to your computer?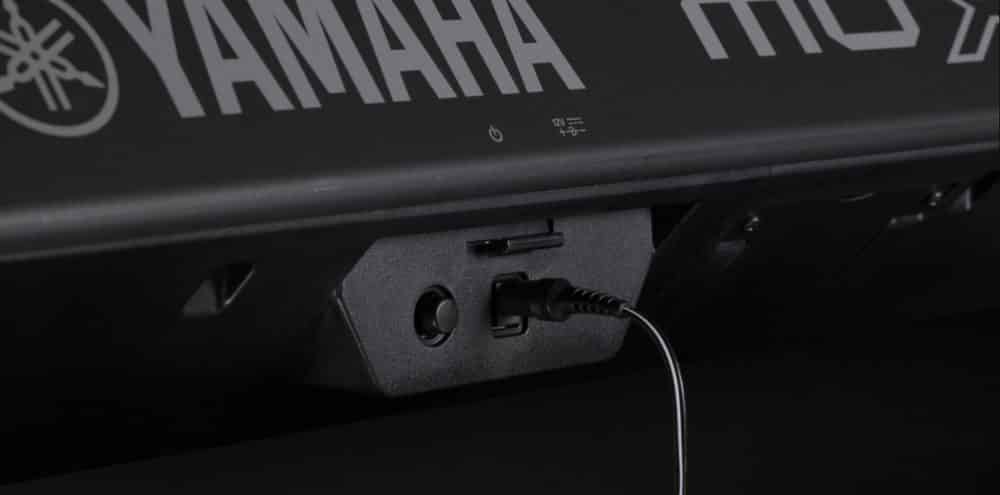 All you need is a USB cable, which is also included in the purchasing package. Yes, many more things that you can do with this keyboard now!
Above are some prominent characteristics of the MOXF8. Well, it's impossible for us to list out all the fantastic features inside this little digital piano.
So, to continue our Yamaha MOXF8 review, we will brief out the pros and cons of this music workstation from Yamaha. Here they are!
Pros
Outstandingly lightweight design which is perfect for on-the-go
Spectacular sound quality with a wide range of voices and effects
High computer integration to bring your music with you anywhere
Large memory capacity expandable at 1GB maximum
Helpful and advanced music production software
Compatible with various other products
Remarkably low price for tons of features
Cons
Stiff GHS keyboard
Small LCD display screen which is hard to read
Too complicated interface for beginners
Unclear tutorial book for using
And now, if you cannot make up your mind yet, let us help you more! For the best reference, check out our comparisons of the Yamaha MOXF8 with some other top-notch music workstations in the market!
Comparisons With Yamaha MOXF8
Here we have picked out the two leading names that can be ideal alternatives for the Yamaha MOXF8. What are they? How well do they work? Let's find out!
Yamaha MOXF8 Vs Korg Krome
If you are a beginner, the Korg Krome may be a better choice for you. Featuring a multi-touch color touchscreen, this digital piano gives an amazingly user-friendly interface.
Besides, this item also includes a vast array of voices in which the most favorable ones are unlooped piano and drum sounds.
And the exclusive Kronos-derived sound engine is what provides all these voices.
As we mentioned earlier, the Yamaha MOXF8 uses the GHS keyboard, which is pretty good yet not the best one. And in this case, Korg Krome is significantly a better option with the 88-key hammer-action keyboard.
What's more? All these awesome features come at a slightly lower price than that of the Yamaha MOXF8.
However, if you are looking for a music workstation that can handle all of the steps in making a complete song, the Yamaha MOXF8 will be more suitable for you.
Yamaha MOXF8 Vs Roland FA-08
The 88-key Roland FA-08 is quite a distinctive workstation among the various products in the world, especially for professionals. Why?
The first thing to mention is its unique user interface. On the digital piano, you can see that the touchscreen is divided into intuitive sections, along with a huge color LCD display.
This Roland FA-08 allows you to manage your work in the most conveniently.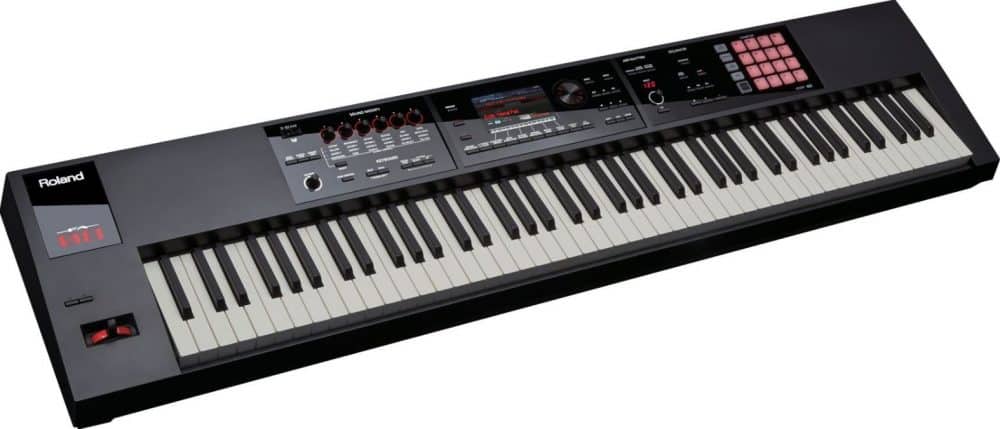 What if you want to run a live show?
This Roland FA-08 will be an excellent companion. Featuring multiple real-time controls, this workstation gives a super-fast workflow, ensuring that you would have a smooth performance.
Moreover, this device uses the Ivory Feel-G keyboard.
This type of keyboard is not the best one in the world though, still better than the GHS keyboard of Yamaha MOXF8.
But there is one thing that may make you pass this extraordinary workstation in the shops. The price tag of the Roland FA-08 is a bit higher than the Yamaha MOXF8.
So, if you are not going to handle heavy-duty jobs and prefer an affordable solution, the Yamaha MOXF8 may overwhelm the expert Roland FA-08.
To Sum Up
And that's the end of our Yamaha MOXF8 review!
We have introduced to you some notable features of this digital piano as well as its strengths and weaknesses. Moreover, we also compared this workstation with the first-rate Korg Krome and Roland FA-08.
So, does the compact but powerful Yamaha MOXF8 seem attractive to you?
If it is your ultimate choice, do not wait any longer! Grab this terrific Yamaha MOXF8 music production workstation into your shopping cart now!
But before you leave the page, don't forget to give us a like and share this article. And if you need further advice from us, please let us know in the comment section below.
Finally, thank you for reading, and have lots of funs with your new keyboard!

Jack is the leading publisher of Fire Inside Music. He is teaching piano at a music school in Los Angeles. Since he was a teenager, Jack has had a great passion for music, the thing he enjoyed most was singing and playing the piano. He has excellent keyboard experience, works with William to help players select the best instrument to invest.