Purchasing a piano may be a big investment. Before deciding to buy one, you need to consider carefully and do a lot of research.
Even for professional players, grabbing the right one is not easy at all.
From brand, price, length, size, weight to the number of keys, and different sounds, etc. – all play a big part when choosing the suitable piano for you. Feel a little overwhelmed, right?
But do not worry, we are here to help you.
We have spent many hours researching as well as consulting thousands of customer reviews, and finally picked out a product we thought was the best – Casio SA 47 Electronic Keyboard.
Great quality and affordable price make it a perfect choice, especially for beginners.
If you still wonder if the model is worth the money, read our in-depth Casio SA 47 review below for more details. Now, let's get started.
Casio SA 47 Overview
Let's have a look at Casio SA 47 if you are looking for a decent enough electronic keyboard for newbies.
This model is extremely easy to use.
With great features that set it apart from many other Casio keyboards available on the market.
First, check out its specs before going into details:
Keyboard: 32 mini-sized keys
Weight: 1kg
Tones: 100 built-in tones
Patterns: 50 built-in patterns
Songs: 10 built-in songs
Maximum Polyphony: 8
Drum pads: 5
Lesson function: melody on/off
Speakers: 2 x 0,5W
Display screen: LCD
Input/Output terminals: Headphones output
Dimensions: 446 x 208 x 51mm
Power supply: 6 AA-size batteries or power supply unit (both are optional)
An In-Depth Casio SA 47 Review

This Casio SA 47 review will highlight its qualities, features, as well as pros and cons; thereby, you can consider whether this product is suitable for you or not. So, let's dive right in!
Portability
Everyone, from kids, teenagers to the most experienced music professionals, can get plenty of use out of Casio SA 47, mostly because of its portability.
For newcomers, this mini keyboard with 32 mini-sized keys is much smaller than others.
Being compact but full of essential features and options make Casio SA 47 an ultimate portable keyboard.
Its weight is also only about 2,8 pounds, very convenient for you to take it wherever you want.
Try doing that with a full-sized keyboard – well, it can be a big problem!
Simplicity In Design And Use
Casio SA 47 managed to fit into small frames. The top of the keyboard is full of shortcut numbers to bank songs, tones, and different patterns.
Right below that are the volume, power, and a digital screen displaying the tempo, pattern, tone, and more.
This keyboard also features drum pads with icons on it to quickly identify the sound you want when playing, including a button to up and down the tempo, a button to start/stop songs and patterns, and a button to on/off the melody.
The headphone jack allows you to sit and play without disturbing anyone else.
This feature offers you the privacy you need to dive into the music.
For beginners, who have no prior knowledge of piano, using a large or full-sized keyboard may be challenging. With a minimalist design,
Casio SA 47 has become a great tool to get used to using all ten fingers to play notes before switching to a larger keyboard in the future.
High-Quality Keyboard
Casio SA 47 has 32 mini-sized smooth-action keys for producing clear tones.
Its high-quality keys ensure a seamless playing experience and splendid feel.
If you want to learn the fundamentals of music, this keyboard will be a perfect start.
Various built-in rhythms, tones, patterns are available for you to improve your technique and performance.
The keyboard also turns off automatically after about 4 minutes without any key being pressed. It is truly an excellent feature, which helps you save battery and energy.
Sound
It offers up to 100 built-in tones and 50 patterns, which express a wide range of styles and genres of music and make it fun to play along.
Also, the song bank shows a variety of styles and types of music and make it enjoyable to play.
Also, lessons are available, helping amateur musicians easily get acquainted with every facet of music making.
Functions
Let's face the truth – not many mini keyboards on the market have tuning controls or polyphony; but fortunately, Casio SA 47 has.
They are simplified, with only eight levels of polyphony, but still, this number is more than one can expect in such an affordable model.
One-touch organ/piano button allows you to easily switch between piano and organ modes to match the needs of your playing styles.
LCD Screen
Although the LCD screen is quite small, it displays enough information to read notes, control your settings, navigate menus, and follow along with lessons.
Handle
Casio SA 47 Keyboard also comes with a handle for easy handling.
Pros And Cons
What we like
Compact design and light weight make it easy to take, practice, and play anywhere
High-quality keyboard produces amazing tones
100 built-in tones, 50 rhythms, and 5 drum pads sound better than one would expect at this price range
10 built-in songs help you easily start learning to play along with the songs
8 levels of polyphony are not much but good for an entry level keyboard
Lesson functions provide an easy way to practice the songs and improve your piano techniques
The price is affordable
What we dislike
Onboard memory for adding or recording the song is not available
Plastic construction could break easily
The song bank has only 10 songs, less than other models
A Comparison Between Casio SA 47 And Other Keyboards
Casio SA 47 Vs. Casio SA 46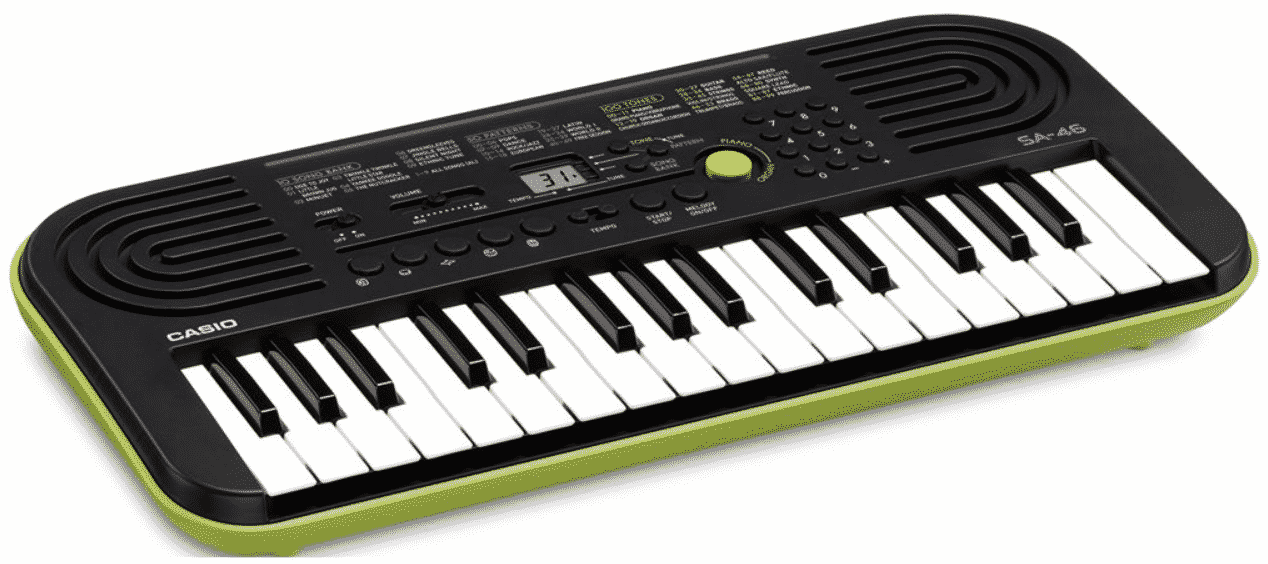 If you are interested in music, probably you are already familiar with Casio because it has been a trusted brand for many years.
In terms of layout and features, Casio SA 46 and 47 are quite similar.
They all have 32 mini-sized and offer 100 tones, 50 patterns, and 8-note polyphony.
With the simple design, both of them are perfect for beginners or children who want to learn the fundamentals of music.
The noticeable difference is the change-over switch: while on the SA 46 is "Reed Organ," on the SA 47 is "Harmonium."
One more thing, Casio SA 46 is a bit cheaper than SA 47, so depending on your needs and budget, you can choose a suitable keyboard.
Casio SA 46 Keyboard
Casio SA 47 Keyboard
Similarities
Simple design with 32 mini-sized keys, suitable for newbies

​​​100 built-in tones, 50 patterns, and 8-level polyphony
Different
Reed Organ change-over switch

Cheaper price
Harmonium change-over switch
Casio SA 47 Vs. Casio SA 76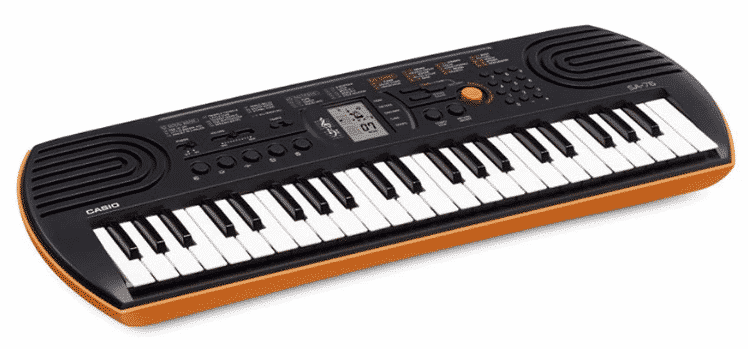 When it comes to the difference between these two keyboards, the first thing appearing in our mind is the size.
Casio SA 47 only comes with 32 mini keys, while SA 76 is with 44 keys.
With more keys, Casio SA 76 can produce more tones but may make you get confused with a wider range of keys.
On the other hand, Casio SA 47 with only 32 keys, is more compact and easier to use.
Besides that, all the feature inside are the same, from tones, patterns, to the song bank.
Therefore, let's choose the Casio SA 47 keyboard if you are just starting to learn the art of music making, and pick up the Casio SA 76 in case you want to try playing more complex notes.
Casio SA 47 Keyboard
Casio SA 76 Keyboard
Similarities
All the feature inside are the same like 100 tones, 50 patterns, 5 drum pads, and more.
Different
32 mini-sized keys
44 mini-sized keys
SA 47 is a mini keyboard that good for newbies, for a digital piano I suggest the Casio Privia PX 870. It will bring you a grand piano experience.
Conclusion
The Casio SA 47 electronic keyboard is so appealing and fun. Compact, simple to use – all make it one of the most popular keyboards available today.
Everyone can use this keyboard; however, it is especially suitable for beginners who are just starting to get used to music making.
It may be small, but with a great range of features and capabilities, it has conquered thousands of music enthusiasts around the world.
After all, do you find Casio SA 47 worth buying? Have you ever used this keyboard? If not, which is your favorite keyboard?
Please let us know in the comment section below. Thank you for reading!

Jack is the leading publisher of Fire Inside Music. He is teaching piano at a music school in Los Angeles. Since he was a teenager, Jack has had a great passion for music, the thing he enjoyed most was singing and playing the piano. He has excellent keyboard experience, works with William to help players select the best instrument to invest.