When you have an idea of buying a digital piano from Casio brand, our Casio CDP 100 review here will help you a lot.
This is an impressive instrument for anyone on a limited budget. Moreover, this least costly one comes with a full-length and graded hammer-action keyboard and lots of nice features to boot.
Are you curious about it? Is it your best choice right now?
It is time to read the review and find the answer
An Overview Of The Casio CDP 100
At first, the CDP 100 looks quite fun with all the necessary functions of a good beginner digital piano.
Let's check out some before going into details!
88 weighted hammer action keys
Touch sensitivity with 3 velocity settings
32-note polyphony (maximum)
8 digital effects including reverb (4 types) and chorus (4 types)
5 different sounds including two grand pianos, electric piano, strings, and harpsichord.
MIDI input/output (good when using with the computer)
Onboard speaker system
Dimensions: 58 x 15 x 9.8 inches
An adapter and a sustain pedal
A Thorough Casio CDP 100 Review
Features
As compared to the standard format of digital pianos from Casio, this instrument is quite compact.
In both terms of mass and features, it is very lightweight. Furthermore, its build quality is excellent and really inspires confidence. You won't find any sloppy assembly marks or anything similar.
High-Quality Keys

With an 88-key weighted keyboard and a scaled hammer action, the Casio CDP 100 can deliver better "feel" on its bass octaves that is very similar to an acoustic piano.
When it comes to the sound generation, this piano is taken care of by a capable sound engine.
Aside from 5 presets available, there are other effects like different types of chorus and reverb to make various piano sounds.
Voice
As mentioned above, there are five built-in voices, consisting of:
Two grand pianos (one is full, and the other is bright)
Electric piano
Strings
Wonderfully, you can divide them on both of the ends of the keyboard. You even dual-layer them for a more pleasing result.
Although the sound library of this instrument is quite small, it still provides an extensive music library that you can take from its music editing software.
Simply connect it to your computer via the use of a MIDI, and then you can get other sounds for free.
Additionally, the digital piano features a Touch-sensitivity setting with three different curves. And in case you want volume uniformity, it is easy to disable this function.
Spe​aker
It can be said that the speaker of this instrument explains why it comes at a reasonable price.
The 8-watt speaker set does a mediocre performance, and the maximum volume is quite low. So, if you want to improve its sound quality, you should connect external amplifiers to it or hook them to the headphones.
Performance
Despite the problem with the speakers, the performance of the CDP 100 is quite great.
Regarding the level of expression and velocity, three levels of key sensitivity permit you to get a suitable setting you can work with.
Although it might not be perfect, it is close enough.
But what makes this unit a good investment is its keyboard.
For this kind of money, getting the best-weighted action to deliver sounds like a grand piano is an excellent thing.
What We Like From It
The outstanding feature of the Casio CDP 100 is its realistic piano action. Since it feels like you are playing an authentic piano, you can express yourself with more sensitivity and finesse.
Another good thing is all about portability. With a compact and slim design, this model can be carried around and stored with ease.
The headphone jack is handy since it allows you to play anytime and anywhere without annoying others.
Last but not least, affordability is a BIG plus.
You soon discover no manufacturer offers the features and value that this model has. That's why this product is practical for anyone who wants to get an authentic sounding piano for some hundred dollars.
And What We Don't Like
Once again, the feature that most users don't like this unit is its speakers.
Instead of delivering the crisp and clear sound, it seems dull and masked. So, using headphones is an excellent way to solve this issue.
Additionally, this unit is inexpensive for a reason. Since it is made of cheap plastic, it needs to be handled well with care while carrying around.
Hence, we suggest that you should purchase a protective piano case to prevent any undesired damage.
You can see its demo here: 
Casio CDP 100 And Other Competitors
Casio CDP 100 vs. CDP 120

As an upgrade of the CDP 100, the CDP 120 absolutely comes with some new and excellent features.
Although both are equipped with 88 weighted keys and 5 different tones, the CDP 120 offers 48-note polyphony, 15 digital effects, a damper pedal, and a USB port.
Of course, the sound quality of this model hits the mark well, especially on its sound spectrum.
However, if your primary concern is the BUDGET since you are a newbie in the music industry, the CDP 100 is still a good selection.
Vs. CDP 130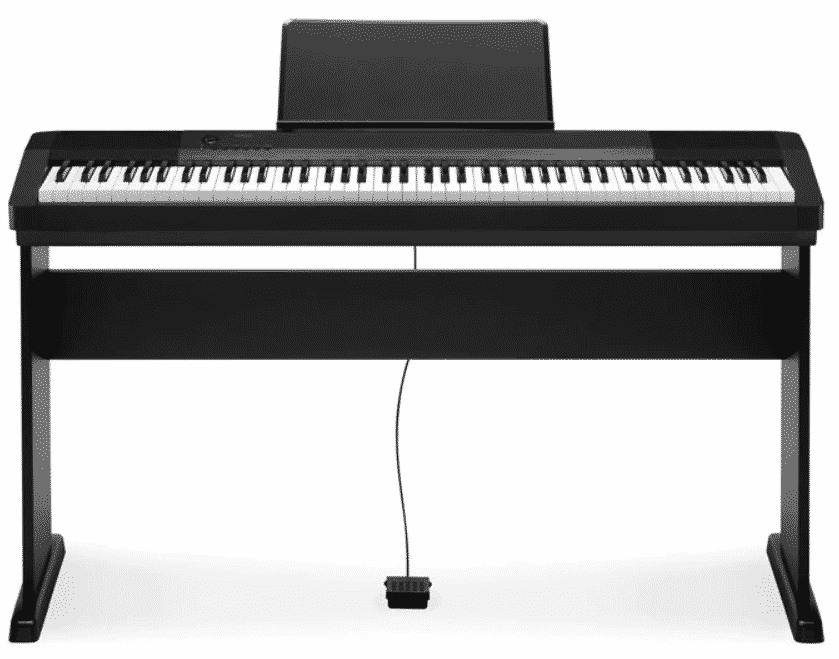 Another excellent upgrade of the CDP series is the Casio CDP 130.
As compared to the CDP 100, this model comes in fantastic options, and the amount of sounds is doubled. Wonderfully, it offers you an intuitive immediacy when playing.
But the most outstanding feature is that the sound of this instrument is improved.
The full force sound speakers actually deliver an impressive piano sound.
And thanks to the built-in Hall effect button, each music piece that you create will be unique.
One more cool thing is that the CDP provides learning options that are ideal for beginners.
You soon recognize that you will be more confident when practicing online piano lessons on this product.
Read more: Casio CDP 135 Review
Casio CDP 100 Vs. Yamaha P45
Equipped with AWM Stereo Sampling engine, the Yamaha P45 can provide something extra in terms of the sound engine.
Also, it comes with 64-note polyphony.
Although it offers 88-key scaled hammer-action keyboard, we're sure that you will get a "real" feel like playing an authentic piano than the CDP 100.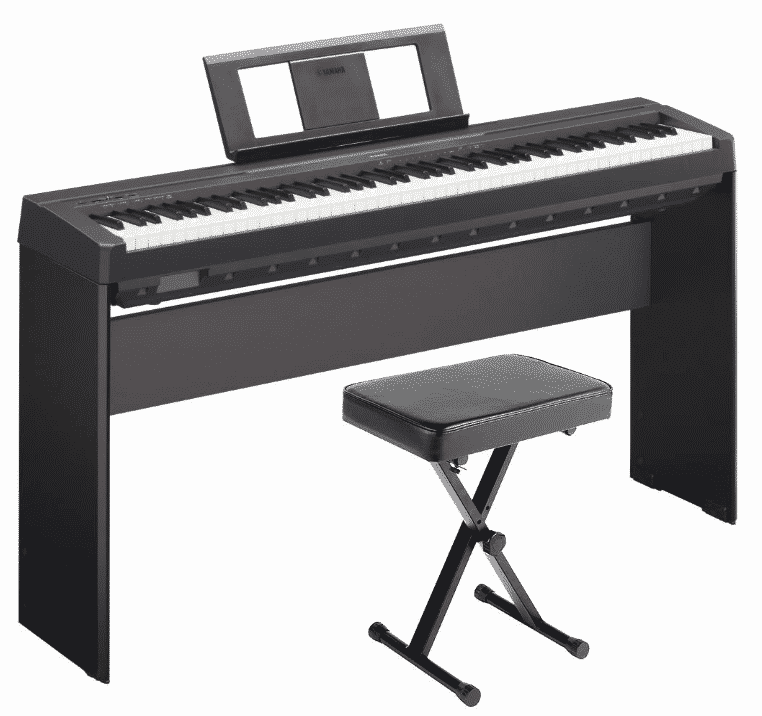 Moreover, this model has lots of great functions such as the Half-Pedal support (copies the mechanical noises of a real piano), the Duo (divides the keyboard in two), and so on.
Of course, the price of this digital piano is not low.
All in all, when comparing the Casio CDP 100 to three models above, it is easy to see that the CDP 100 is a basic digital piano, especially for beginners.
Unless you are willing to pay more bucks, you can get new features and upgrades from other products to make your music more amazing.
Also, there are a lot of people who asking for a comparison between CDP 100 and CDP 235. We've a detail review for Casio CDP 235 here and let us know which one you prefer.
Read Further: Top 10 Best Casio Keyboards and Pianos
FAQs
You easily find everything about this instrument in its manual.
However, we will list some frequent questions so that you can learn and then use the keyboard instantly. And if you have more free time, we recommend you should read all before using.
Q: How to select and play a tone?
Firstly, you need to press the POWER button. Then avail the VOLUME knob to adjust the volume level. Next, hit the TONE button you want and play.
Q: How about using tone effects?
As outlined above, there are two main tone effects including reverb (makes the notes resonate) and chorus (adds more depth to the notes). Look at the buttons of reverb or chorus and press it to cycle through the effect settings.
By checking the indicator lamps, you easily know the current one is one or off.
Q: What should you do to care about this instrument?
Don't use alcohol, benzene, thinner or any chemicals to clean the exterior.
In case you want to clean the keyboard, please use a soft cloth dampened with a mixture of water and a mild neutral detergent. Make sure you squeeze all excess moisture from the cloth before doing.
Q: What should you do to avoid damaging the power cord?
While using:
Never pull on the cord with too much force
Never twist it at the connector
Never pull on it repeatedly
Don't stretch it
And before moving the keyboard, make sure to unplug the AC adaptor from the power outlet. It is okay to loop and bundle the cord after using, but avoid winding it around the AC adaptor.
Conclusion
Despite some shortcomings in the Casio CDP 100 review above, this unit is still a good digital piano that can deliver all the essential features for you to play instantly.
If you are worried about the sound and feel, don't worry too much. We have found many keyboards in a similar price range that doesn't do well like this one.
In sum, the CDP 100 is a great buy in case you need to have a portable and reasonable option that you can play at home or carry around. And it is also a perfect deal for those on a tight budget like beginners or students.
What do you think about it?
Tell us by leaving your comments in the box below now.

Jack is the leading publisher of Fire Inside Music. He is teaching piano at a music school in Los Angeles. Since he was a teenager, Jack has had a great passion for music, the thing he enjoyed most was singing and playing the piano. He has excellent keyboard experience, works with William to help players select the best instrument to invest.